/
/
Article
/
Bhutan's National Sport
Bhutan's National Sport
If you're planning to enjoy the local customs and culture on your Bhutan treks, one unique experience is to witness the national sport of Bhutan: archery. Though you might think it strange for a peaceful Buddhist nation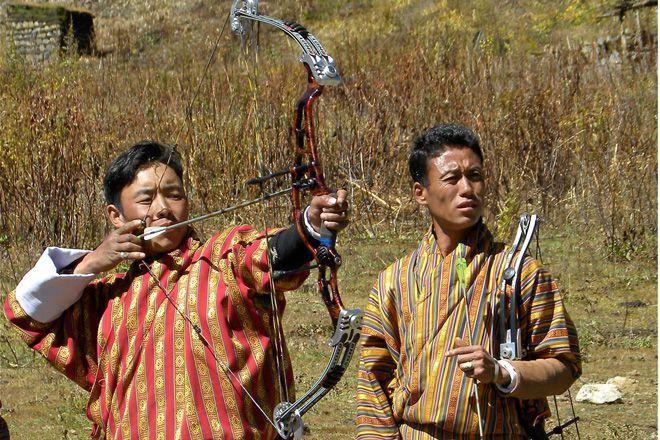 Archery- Bhutan's National Sport. Photo courtesy of B Howe
If you're planning to enjoy the local customs and culture on your Bhutan treks, one unique experience is to witness the national sport of Bhutan: archery. Though you might think it strange for a peaceful Buddhist nation to practice a sport that has its origins in ancient warfare and hunting, the bow and arrows can only be used in Bhutan for practice and sporting competition. Even when making the arrows themselves, only feathers that have been found on the ground can be used.
Every village in Bhutan has its own archery range and village teams compete against each other in loud, raucous tournaments that can last for many days. While you may not have that long to spare on your Bhutan treks, it's well worth witnessing a tournament if you get the chance. Archers are allowed to use any means at their disposal to distract their opponents and disturb their concentration, including dancing in front of the targets and hurling insults at the marksmen! A large portion of the sport goes on away from the archery range, as teams conspire to throw off their rivals.
Given its popularity in the kingdom, you'd be forgiven for thinking that Bhutanese archers would be world-renowned for their skills; in fact, the country hasn't actually distinguished itself in any international competitions. Since 1984, Bhutanese archers haven't made it past the second qualifying round in the Olympics. But archers such as Tshering Choden aim to change that soon. There remains, however, quite a difference between Bhutanese and Olympic archery. For example, taunting your opponent during an Olympic competition wouldn't strictly adhere to the spirit – or rules – of the games! But the national sport remains a fantastic way to experience the vibrant culture during your Bhutan treks; you'll see it's as much about trickery as it is sporting skill.