An interview with Harry: Tour of Vietnam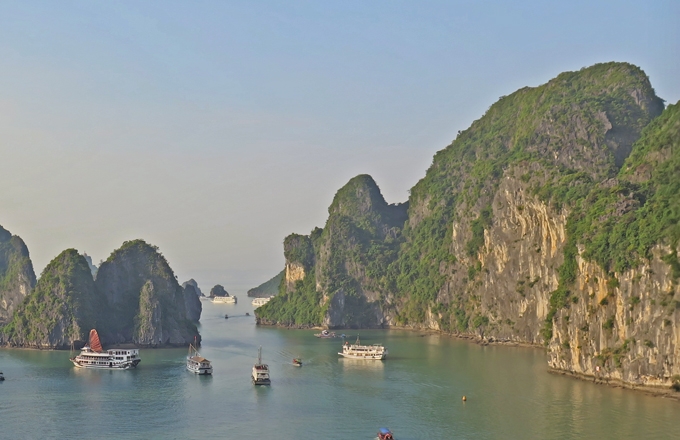 Halong Bay in Vietnam by H Gray
It's that time at Mountain Kingdoms when those in the office get to grab their backpacks and leave their desks behind in search of exciting new trips and destinations for the next brochure. Over the coming months many of us will be on recces to find new treks, walks and tours to offer you.

Back in December 2014, Harry at Mountain Kingdoms was the lucky chosen one to be invited to Vietnam for a tour of the country's top highlights. To a get a glimpse of Harry's trip and this future holiday for Mountain Kingdoms, I asked him to give us an insight into his tour of Vietnam.

Hi Harry, so last year you visited Vietnam on a familiarisation tour, we'd love to hear about it, can you briefly tell us about the main focus of your trip?
The trip was a proposal for a first class tour of northern Vietnam, an insight in to the culture, history and food of the region as well as the traditions of the northern hill tribes.

What was a particular highlight of your visit to Vietnam?
For me there were many highlights so choosing one in particular is tough! Visiting Ha Long Bay was definitely a highlight, the sheer beauty of the area was breathtaking. The staff on the boat were all very knowledgeable and every need we had was catered for.

Asia is known for their quirky foods, did you come across anything weird, and if so, were you brave enough to try it?
Food for me is always a hot topic! I had never tried Vietnamese food before but it is now up there with the best. We had a combination of strawberry sauce and fish as well as passion fruit with chicken for one of our meals, sounds slightly unappetizing... but in fact it was great! There were always spring rolls nearby and Pho (noodle soup with normally a meat) for breakfast was always a treat, along with the odd pastry or two.

Did you learn any of the local language whist there?
Whilst in Vietnam I did try to learn some of the local language. The guide, Mr Kuong, was always helpful and did most of the talking for us but it was nice to be able to show our gratitude to the locals with a simple hello or thank you. These are a few words I managed to learn: 'Xin chao' is hello in Vietnamese, 'cam on' means thank you, and 'tam biet' for goodbye.

What makes this trip different to other holidays currently offered by Mountain Kingdoms?
In many ways it's similar to what we already strive to provide in that it's a cultural experience which has left me with nothing but fond memories. But Vietnam does have its individual quirks, from the water puppet shows to the variety of accommodation, the amazing sense of humour to the old traditions that have not been forgotten, from the hustle and bustle of Hanoi to the peace and serenity of Nimh Binh Provence and Ha Long bay. This trip gives you a taste for it all.

Who would this trip be ideal for?
This trip would be great for anyone who would like to have an insight into the culture and history of a rapidly evolving country. With luxury accommodation, amazing food and short day walks it caters for all of those looking for a holiday where you can just sit back and relax and take in what the country has to offer.

What makes Vietnam a great place to visit?
Vietnam is one of the best places I have visited, this is mainly due to the people and the scenery. The people were warm and welcoming and had a great sense of humour, the food was amazing and the accommodation fabulous. It's somewhere I would highly recommend.

'Cam on', Harry. It sounds like you had a brilliant time with some lifelong memories.
If you'd like to experience the highlights of Vietnam for yourself then take a look at our North to South Vietnam tour.