/
/
Article
/
Ama Dablam Base Camp and Beyond
Ama Dablam Base Camp and Beyond
Setting off slightly earlier than usual we head gradually upwards across the Imja Dranka river and open Yak pasture towards the enormous Ama Dablam - such a fantastic sight. As we go higher we have great views of the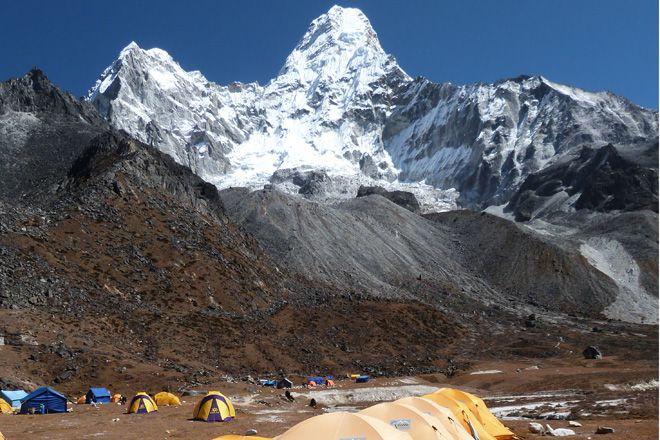 An expedition at Base Camp. Photo courtesy of V Sydenham

Setting off slightly earlier than usual we head gradually upwards across the Imja Dranka river and open Yak pasture towards the enormous Ama Dablam - such a fantastic sight. As we go higher we have great views of the pyramidal Pumori in the distance and its not long before we reach base camp (15,000 feet) where an assortment of brightly coloured tents nestle beneath the mountain. We stop here for a very leisurely lunch and a welcome cup of lemon tea and packed lunches brought up by our trek team.
Its such a great spot we don't want to leave! We all take the chance to push on a bit higher and eventually top out at 16,500 feet. Its a long walk back but what an epic day!
Our group at the foot of Ama Dablam. Photo courtesy of V Sydenham

If we thought that the highlight of the trek was now behind us and the rest would be an anti climax we need not have worried because the days that followed were just as great. Exploring trails in other valleys we really get a feel for life in the Khumbu. passing through the wonderful Sherpa country we stop at the school founded by Sir Edmund Hilary at Khumjung and then we take a short tour of the small medical centre at Khunde which is another Edmund HilaryTrust project. Everything is very tidy and organised and we are impressed by how much they can achieve so far from Kathmandu. Its fascinating to see what an influence Edmund Hilary has had in these parts. He is certainly revered by many and we see many pictures of him in lodges and tea houses. The next day we trek up towards Thame and its monastery at 13,000 feet. Walking on the same path that leads to the Nangpa La and Tibet we have wonderful views up the valley to Cho Oyu and eventually reach the monastery where we are lucky enough to see the monks perform a ritual. In Thame we pause for a while at a house where Tenzing Norgay once lived - did these views inspire him as a child I wonder? We stop for lunch at a lodge owned by Apa Sherpa who has climbed Everest a record 21 times! I really loved this valley. It had a different feel to the ones on the first half of the trek and if I come back again (that should read when!) I'd like to explore more here.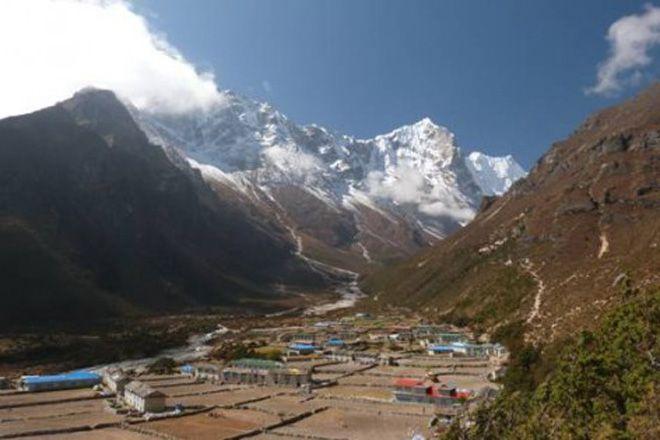 Looking down on Thame. Photo courtesy of V Sydenham

We arrived back at Lukla, all too soon and then flew back to Kathmandu. However, the adventure wasn't quite over as a further treat awaited. I'd booked an early morning flight to see Everest and I had stunning views of the great mountain and the surrounding Himalaya. This really was a fitting end to my journey.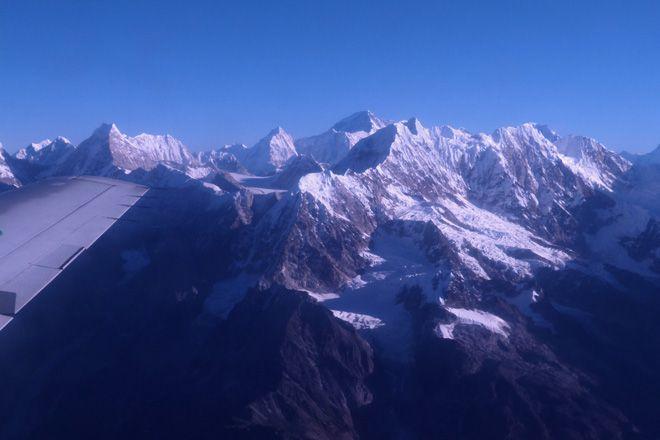 View of Everest from the plane. Photo courtesy of V Sydenham

Without doubt this has been the experience of a lifetime. Its hard to adequately put it all into words and choose the right pictures but I hope you've got a feel for just how special it was. Days filled with magnificent views, sun on our shoulders, inviting paths at our feet and feeling so alive. My thanks to the folks at Mountain Kingdoms for creating such a great trek and for allowing me to blog it all for the last 3 months. I fully intend to return one day and in the words of Dr Seuss: "Today is your day! your mountain is waiting, so get on your way!"