Call our
friendly team
Responsible Travel
Mountain Kingdoms
distinctly different
Watch our videos
Read our blog:
Travellers' Tales
Our grading system explained
Gentle
Gentle/Moderate
Moderate
Moderate/Vigorous
Vigorous
Vigorous/Strenuous
Strenuous
Expedition Grade
Read more
Spain
When is the best time to visit Spain?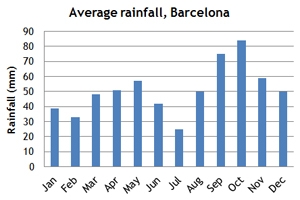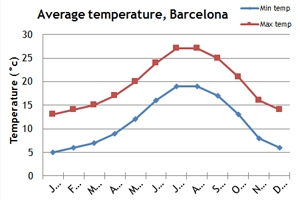 Our climate charts show the best time to visit Catalonia in north east Spain.
Undoubtedly, the spring and autumn are the best two times of the year to visit Catalonia. During these periods, the Mediterranean climate offers excellent conditions for walking and sightseeing. The daytime temperatures in spring are balmy but not too hot for walking and the evenings pleasantly cool. Towards the end of spring the region experiences up to 9 hours of sunshine each day.
Autumn temperatures are similar to the spring but there is a much higher chance of rainfall. This washes away the summer dusts, fills the rivers and makes the countryside lush and verdant. The coastal wetlands are also replete with birdlife at this time of the year.
We have planned the dates of our group walking holiday on the Catalonian Coast to coincide with these premium conditions. If you would prefer to travel at other times, please call and speak to one of our travel experts who can arrange a tailor made holiday to Spain at dates to suit you.
View our holidays here