/
Holiday
/
Highlights of the Pekoe Trail Sri Lanka
Colombo, Sri Lanka | Walking & Trekking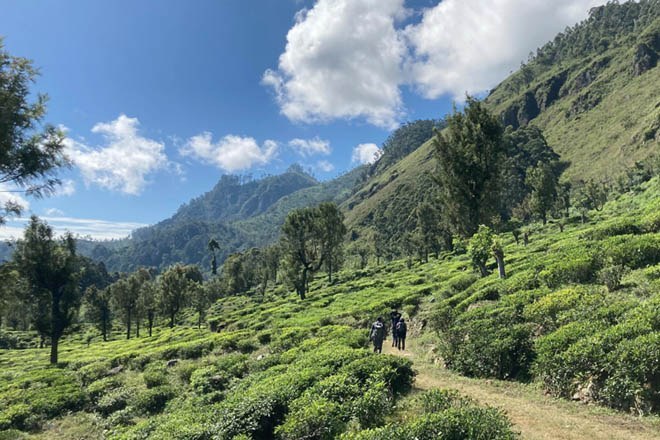 Grade:

?

Moderate / Vigorous

Moderate: Suitable for anyone who enjoys hill walking.

Vigorous: Suitable for enthusiastic hill/mountain walkers.

Find out more...

Moderate / Vigorous

Duration: 16 days from the UK
Walks on: 10 days
Private Departures Available
Flight inclusive from £2875, Land only from £1985
Walk the best sections of the new long-distance Pekoe Trail that winds through enchanting hill country and perfectly manicured tea estates.
Highlights
Follow the most scenic sections Sri Lanka's new long-distance trail in the verdant highlands
Stay overnight in characterful accommodation with extensive views
Walk to 'World's End' and discover the rich bio-diversity of Horton Plains National Park
Learn how tea is traditionally made and enjoy the delicious local cuisine
Explore the cultural sights and lively streets of Kandy
Reviews
This was my first time to Sri Lanka and definitely not my last. This trip has a combination of rewarding trekking and comfortable accommodation. Highlights included getting away from the beaten track and being able to visit villages that had very rarely seen tourists. The abundance of flavoursome food and, last but not least, a great cup of tea to start the day.
Harry Gray, Operations Manager, Mountain Kingdoms
Next
Sri Lanka is a small island with an astonishing variety of scenery, flora and fauna and a rich cultural heritage. This trek offers a chance to explore the atmospheric hill country in the heart of the island, utilising local footpaths and trails, and getting thoroughly off-the-beaten-track following the most scenic sections of the recently developed Pekoe Walking Trail.
The Pekoe Trail was designed by avid adventurer Miguel Cunat who is passionate about trekking in Sri Lanka's highlands. With the backing of the EU, Miguel has created 22 individual stages to form a single 300km/186mile long-distance walking path. The route explores diverse eco-systems, delves into Sri Lanka's history and culture, and is designed to encourage more sustainable travel and help bring economic opportunity to remote rural communities.
This holiday features the best of the stages of the trail passing through immaculate tea plantations, dense forests, open plains and expansive grasslands – all set against mesmerising mountain backdrops. You'll explore well away from the beaten track discovering old tea estates, historic hill-towns and remote villages where you're sure to meet curious locals. Each night you'll stay in handpicked accommodation in a variety of small hotels, lodges and original bungalows, all chosen for their charm and location.
The trip starts in the hustle and bustle of Kandy, with a sightseeing tour and time to relax before the trek begins at nearby Hanthana. Each trekking day you'll cover between 8 and 11 miles at a steady pace with plenty of time to rest, take photos and enjoy the beautiful scenery. You'll also visit the historic tea factory in San Pedro, walk to waterfalls, and have the chance to explore Nuwara Eliya, also known as 'Little England' and the centre of the tea industry. The trail takes you to Horton Plains National Park, renowned for its bio-diversity and stunning scenery, before finally reaching Ella with its English-village charm and world famous viewpoint at Ella Rock. As you reach journey's end you will no doubt enjoy a celebratory cup of finest Pekoe tea, to mark your achievement.
Private Departures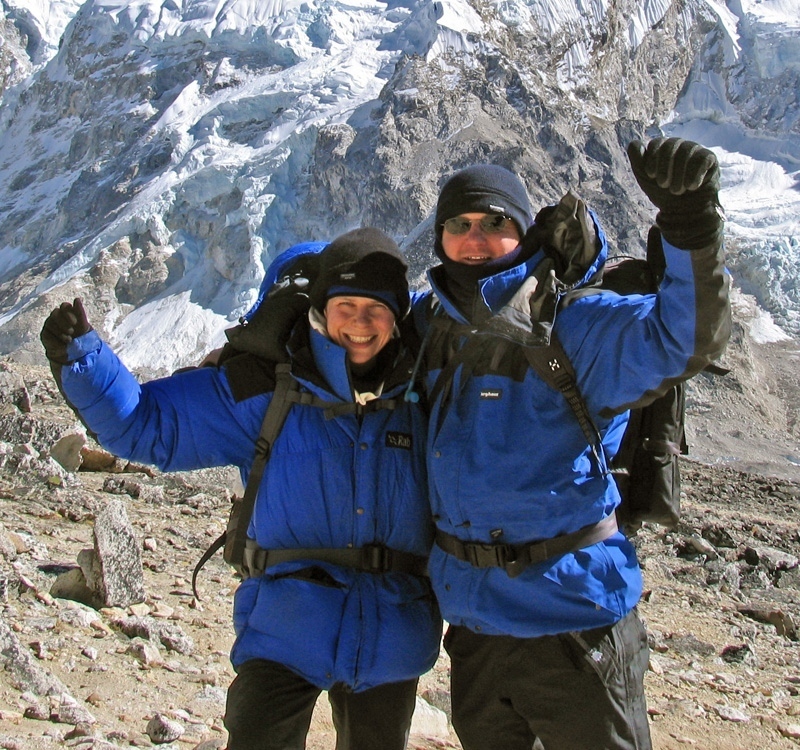 Highlights of the Pekoe Trail, Sri Lanka - Private Departures
If you would prefer to travel just with your partner, friends or family, we can arrange a private departure of this holiday. You follow the same itinerary, but travel on dates that suit you. Alternatively we can include elements of this holiday in a bespoke Tailor Made itinerary. Contact our friendly team for details and prices, and to make a booking.
---
At a glance
Grade:
Moderate / Vigorous
Duration: 16 days from the UK
Walks on: 10 days
Max. Altitude: 2,170m/7,119ft, Horton Plains, Day 12
Private Departures Available
Guaranteed to run for a minimum of 4 clients
Maximum group size: 12
Land only joining city: Colombo
Accommodation types: Hotels, Lodge, Bungalow
Meal arrangements: All meals included.
Itinerary overview
| Day | Activity |
| --- | --- |
| 1-2 | Fly to Colombo. Transfer to Kandy. |
| 3 | Sightseeing and time at leisure in Kandy. |
| 4 | Trek stage 1 of the Pekoe Trail from Hanthana to Galaha. Continue to Deltota for the first part of Stage 2. |
| 5 | Continue Stage 2 trekking to Loolecondera and to summit of Kondagala Peak. |
| 6 | Follow Stage 3 of the Pekoe Trail to Thawalamthena. |
| 7 | Walk the Upper Ramboda Falls. |
| 8 | Trek Stage 7 from Kotagala to Norwood via Dickoya. |
| 9-10 | Trek from Norwood to Bogawanthalawa and on to Dayagama - Stages 8 and 9. |
| 11 | Visit Pedro tea estate. Time at leisure. |
| 12 | Walk to World's End in Horton Plains National Park. Continue on Stage 11 of the Pekoe Trail to Udaeriya. |
| 13 | Trek Stage 12 to Haputale. Dive to Makulella. |
| 14 | Trek Stage 15 from Makulella to Ella. Continue to Nine Arches Railway Bridge - part of Stage 16. |
| 15-16 | Drive to Colombo. Fly to London. |
Leader: Pekoe Trail Guide
The trip will be led by an experienced English-speaking local guide, selected on the basis of their experience, levels of spoken English and helpfulness. Like the culture from which they come they are all very welcoming and have a love of showing you their country.
Pictured here is one of our Pekoe Trail guides, Sujan Weerakoon. Sujan has been leading trek and tour groups in Sri Lanka for more than 25 years. He holds a Diploma in Archaeology and Cultural tourism and is passionate about the natural environment in his home country.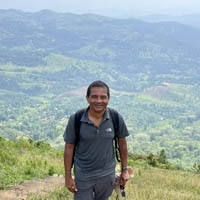 ---
Holiday Itinerary
Day 1 - Fly London to Colombo
Depart London by overnight flight for Colombo.
Overnight: Overnight flight to Colombo
Day 2 - Arrive Colombo. Group transfer to Kandy – 3-4 hours.
You will be met at the airport and driven to the bustling city of Kandy - Sri Lankas' second city and its cultural capital. Your accommodation takes you away from the vibrant, busy streets, into the steep, wooded hills that surround the city. It's a great vantage point to look down from onto Kandy and its central lake. You'll have the rest of the day to relax before your adventure begins.
Overnight: Hotel Thilanka Or Similar, Kandy
Day 3 - Sightseeing in Kandy. Afternoon at leisure.
This morning you will take a tour of Kandy's key sights, including a visit to the much revered Buddhist shrine, The Temple of the Tooth. Said to have been brought to Sri Lanka over 2,000 years ago in the hair of a Princess, the tooth is the island's most important Buddhist relic housed in a temple dating from 1687. Situated on the lakeside, the temple was once part of the Royal Palace complex of which significant sections still survive but are nowadays mainly used to house various museums.
Your tour will include a walk around the lake which was created in 1807 and is now one of Kandy's defining landmarks. There are several buildings of note dotted around the lakeside such as the Malwatta Monastery and the colonial-style Queen's Hotel. From the lake you may visit Kandy's bustling Central Market, see some of the city's handicraft stores or make the short journey out of the centre to the Peradeniya Botanical Gardens - a beautiful and tranquil contrast to the busy city streets.
Following your sightseeing you will have a chance to explore Kandy further on your own or relax at the hotel.
Overnight: Hotel Thilanka Or Similar, Kandy
Day 4 - Start Stage 1 from Hanthana to Galaha. Transfer through Galaha and trek to Deltota - Stage 2. Time trekking: 6 hours, distance: 11 miles, total ascent: 569m, total descent: 368m.
This is the start of your Pekoe Trail trek and you begin at the Ceylon Tea Museum on the Hanthana Estate, just south of Kandy. If open it is worth visiting. From here you climb upwards through small tea estates to the ridge line and, as you reach the top, you are greeted with sublime views of Kandy and the valley below. To the right of you lies the Katusu Konda also known as the 'Lizard's Back', a steep narrow jagged mountain that look's akin to a lizard's spiny backbone. Today's walking is on a mixture of small tracks and paths, winding through villages where local children come to greet you. There are also fine views of the valleys below. You will stop along the way in one of these villages to enjoy some tasty homemade snacks and a welcome cup of tea. You will then continue on the trail, towards Galaha, until you meet the road head. From here you will be driven through Galaha to reach your second starting point of the day at the Deltota Estate.
Starting off from a Hindu temple you pass a large school, where the noise of the classroom can be heard, before entering the Deltota Estate. A steady climb takes you up through the estate and past a station where the leaves plucked by the tea workers are weighed. Soon after you stop at the house of a local family for lunch. This helps support the community, gives you chance to meet Sri Lankans and to gain a little understanding of their lives. After a traditional meal of curry and rice you continue on to the small, hill country town of Deltota where your first days walking on the Pekoe Trail ends. You finish the day by being driven to your accommodation, a short distance from Deltota. Tomorrow you will resume your trek from Deltota.
Overnight: Windloft Retreat Or Similar, Kandy
Day 5 - Trek Stage 2 from Deltota to Loolecondera via Kondagala. Time trekking: 7 hours, distance: 10 miles, total ascent: 395m, total descent: 319m.
The walk today starts with a steep ascent through dense forest before emerging into open land and some truly sublime views of the verdant, hilly landscape. You climb a series of switchbacks and at each turn there is another glimpse down the valley. This path sees little foot traffic and therefore areas can be overgrown. Continuing you reach the top of the ridge and contour along the valley's edge to the pristine Loolecondera Estate.
Loolecondera was the was the first commercial tea plantation in Sri Lanka, established in 1867 by a young Scotsman James Taylor who had studied the basics of tea growing in India and went on to introduce the large-scale tea production that we know today. He spent the rest of his life here and the remains of his cottage can still be seen. You will stop at Taylor's seat, a large granite seat, where it is said that Taylor 'sat and planned the future of Loolecondera' whilst gazing out over the valley. From this point, on a clear day, you can see Victoria Reservoir and the Knuckles Mountain Range amongst many other things.
After time to savour the views, you continue steeply up for around 30-40 minutes reach the summit of Kondagala mountain and further far-reaching vistas. You then descend back to Loolecondera where you will be given a cup of tea made with leaves from the estate before being transferred back to your accommodation in Deltota.
Overnight: Windloft Retreat Or Similar, Kandy
Day 6 - Trek from Loolecondera to Thawalamthena - Stage 3. Time trekking 6½ hours, distance: 11.32 miles, total ascent: 594m, total descent: 767m.
After a hearty breakfast you will be driven to the start of the third stage of the Pekoe Trail back at Loolecondera. There is a small store at the start of the walk should you wish to buy any treats for the day. You begin with a steady ascent towards the Loolecondera Estate Bungalow and shortly afterwards pass a very colourful Hindu Kovil – a distinctive Tamil style of Hindu shrine. From here you start zig zagging through beautiful green-hued tea plantation scenery and then through cool trees.. As you emerge out of the forest the path widens and you begin to walk on the old Dimbula Road, previously used by horses and bullock carts to connect Kandy to the many tea planting valleys. You will pass through the historic Stellenberg Estate and through small tea plantation villages where you are warmly welcomed by the curious villagers. You end the day heading downhill for around 500m before you meet the road and your driver at Thawalamthena to transfer to your hotel a short drive away.
Overnight: Oak Ray Tea Bush, Ramboda
Day 7 - Ramboda Falls walk – 4km. Transfer to Kotagala – 40km drive.
You'll be taking a little detour away from the Pekoe Trail this morning to enjoy a walk to the waterfall that you could see from the Tea Bush hotel.
Ramboda Falls is Sri Lanka's 11th highest waterfall at 109m, and it is divided into three sections: Lower Ramboda, Ramboda, and Upper Ramboda Falls. The starting point of your walk is a bridge that spans the Ramboda Oya, conveniently located just after the Ramboda tunnel. You'll see the middle falls near the tunnel as well; a popular bathing spot for visitors. The path to the Upper Falls is well-paved for the most part and about three-quarters of it is stepped, although not too steep. The views of the Upper Falls at the end of the trail are delightful and you'll be able to stop and rest to enjoy them.
Returning down the path, you continue in your vehicle to your hotel near Kotagala.
Overnight: Hotel Argyle Or Similar
Day 8 - Trek Stage 7 from Kotogala to Norwood. Trekking time: 6 hours, distance: 10 miles, total ascent: 423m, total descent: 523m.
This morning you will be driven to the start of your walk in the colourful town of Kotagala. Walking through the town you will note the many brightly painted houses and buildings before branching off through the gates to the Drayton Tea Estate. Shortly after you pass by the old Kotagala tea processing factory. As you continue up the trail make sure you look back for some great views of Kotagala. Next you trek to Chryslers Farm Estate and, after a short stretch of tarmac, you cross the railway before heading up to towards Singamalai Lake, a lovely spot to take a break. From the lake you meander through the rolling hills of the tea plantations to Dickoya Village, passing the prestigious Dickoya and Maskeliya Cricket Club.
Climbing once more to the top of the valley, the path passes several Roman Catholic churches and tea plantation villages. Soon after the Castlereagh Reservoir comes into full view and you start to descend into the valley below and the town of Norwood. Here you meet your driver and transfer to your accommodation.
Overnight: Royal Majesty Bungalow Or Tea Bungalow, Norwood
Day 9 - Trek Stage 8 from Norwood to Bogawanthalawa. Trekking time: 6 hours, distance: 9.1 miles, total ascent: 582m, total descent: 358m.
A short drive takes you back to Norwood where you will start Stage 8 of the Pekoe Trail. You begin with a long but rewarding ascent through the Norwood Tea Estate, the trail weaving its way towards the ridgeline that divides the Bogawantalawa Valley and the Maskeliya Valley. Upon reaching the ridge you are greeted with (weather permitting) spectacular views of the Maskeliya Valley dominated by the distinctive cone of Adams Peak (Sri Pada) looming over Maussakelle Reservoir in the distance. A short walk further and you will leave the trail descending on quiet tracks before making your way down to Bogawanthalawa Village. En route you will pass the brilliantl blue Mary's Church where Julia Margaret Cameron, a renowned portrait photographer of the 19th century, rests.
Overnight: Royal Majesty Bungalow Or Tea Bungalow, Norwood
Day 10 - Trek from Bogawanthalawa to Dayagama - Stage 9. Trekking time 6½ hours, distance: 11 miles, total ascent: 529m, total descent: 411m.
You return to the bustling village of Bogawanthalawa and continue on Stage 9 of the Pekoe Trail. Originally the Bogwanthalawa Valley, and many other regions of Sri Lanka, were known for their coffee but in 1869 the production of coffee came to an end due to the 'blight'. This epidemic forced the coffee producers to turn to tea as an alternative crop. The valley is now home to many well-known tea estates dotting the slopes of the green hills
As you leave the village you will pass the Bogawanthalwa Tea Factory before reaching 'Jacob's Ladder', a short but steep path that zig-zags up to a pass. At first glance, Jacob's Ladder may look slightly daunting but with the help of your guide you will safely ascend before crossing over the pass to what seems another world. The change in scenery is dramatic with open lands similar to Horton Plains. This hidden valley is a place where locals come to camp and you may see them ascending Haritha Kanda, also known as the Green Mountain, in the distance. You will then pass through one of two dairy farms where your guide will obtain the permit needed to walk through this area. You continue along the farm track for some time, past vast open fields, before branching off into the woods. The forest track takes you to a small village before turning left and down to Dayagama where today's trek ends and you drive to Nuwara Eliya for your overnight stay.
Overnight: Hotel Black Pool or Similar, Nuwara Eliya
Day 11 - Visit Pedro Tea Estate. Rest of the day at leisure.
Today you will take a break from the trail and visit the Pedro Tea Estate and factory. This is one of the oldest in the country and is where the first of many tea bushes was planted by James Taylor in 1885. Here you will be shown the full process of tea production from start to finish. You will see how the freshly picked green leaves are withered, rolled, oxidised, dried, fired and sorted to become the small, black, loose leaves that we are so familiar with. It is a method that has remained little-changed and some of the machinery that is still used today dates back to the 19th century.
The rest of the day will be spent at leisure. You may wish to explore Nuwara Eliya, an English settlement considered the epi-centre of Sri Lanka's tea growing region. The town was founded by Samuel Baker in 1846 and grew throughout the 19th century as a popular resort, especially after the arrival of the railway. British influence can be seen in the architecture and famous golf course, and the town is often referred to as 'little England'. The modern town is still a focus for the tea industry as well as a tourist town for the local people.
Overnight: Hotel Black Pool or Similar, Nuwara Eliya
Day 12 - Walk in Horton Plains National Park. Trek Stage 11 of the Pekoe Trail to Udaweriya. Trekking time: 5½ hours, distance: 8 miles, Total ascent: 45m, total ascent: 434m.
Before returning to the Pekoe Trail today, you will enjoy a circular walk that encompasses the main views and incredibly rich biodiversity of Horton Plains National Park - an area of mountain moorland and cloud forest.
From the park visitor centre a broad track leads you onto the plains and via locations with evocative names such as 'Chimney Pool' or 'Leg of the Mutton Pool' to reach Baker's Falls. Although not especially high at 20m, Baker's Falls is a picture postcard spot where the rushing waters of the Belihul River plunge into a gorge filled with rhododendrons. You can view the falls first from an observation deck and then after a short climb down, from their base. Your next viewpoint will be the dramatically named World's End, where the plateau drops away in a vertical drop of some 1,000m/3,300ft to the plains below.
Following your walk in the Horton Plains National Park you will pick up the Pekoe Trail once more from the visitor centre. This is the highest point of the entire trail at 2,170m. As you make your way to Udaweriya a picnic lunch will be provided by local people.
Leaving the national park your path descends gently for a couple of kilometres before reaching the 'Devil's Staircase' – the steepest descent on the trail. The entire staircase is 14km long but you will only be tackling the top section. The views are fantastic as you zig zag your way down to the small village of Udaweriya where your lodge for the night will be. The accommodation is basic, but what it may lack in modern facilities it is made up for in abundance with its beautiful location.
Overnight: Misty Mountain Or Similar, Ohiya
Day 13 - Trek Stage 12 from Udaweriya to Haputale. Transfer to Makuella. Trekking time: 5½ hours, distance: 8.12 miles.
This morning's breakfast will have the added benefit of a beautiful backdrop as you look south across hills and valleys to the plains. Much of the route today is slowly downhill through some very remote countryside on old, narrow tea trails, walking paths and even a section of rail tracks. You pass through both tropical forest and pine forest as well as a few small settlements, some of which are long abandoned, and you will no doubt attract the attention of the locals who aren't used to seeing many visitors here.
Along with the rail lines, an historical point of interest today is Adisham Hall (or Bungalow) which is in the Tangamale Nature Reserve on the latter part of the trail. Named after a village in Kent it was built in 1931 by Sir Thomas Villiers, an English aristocrat and tea planter, who hosted many prominent people of the time. It changed ownership several times over the next few decades until it was donated to the Ampitiya Benedictine Monastery in the 1960s. It remains very well preserved with many of its original fittings and furnishings and you may be able to visit if open (payable locally).
From Adisham Hall the trail carries on down to a road and rail track before ending in Haputale. Your driver will meet you here and take you to your overnight accommodation in Makuella.
Overnight: Hideaway Trails Or Hideaway, Ella
Day 14 - Trek from Makuella to Ella and on to Nine Arches Bridge - Stage 15 and part of 16. Trekking time: 4½ hours, distance: 8½ miles, total ascent: 294m, total descent: 500m.
After a short transfer you will start today's walk through eucalyptus forest and tea bushes for a few kilometres, before you reach Ella Rock and its two viewpoints. The first point is a small deviation from the trail that opens up to some magnificent views of the valley below. Following this you make your way to the second viewpoint, again providing what can only be described as awe inspiring views of the valley. Once you've had time to grab those all-important photos you descend, steeply at first, towards Ella. As you draw closer to Ella the remainder of the walk is on rail tracks, although alternative routes may be suggested by your guide.
In Ella you will stop for lunch before continuing to one Sri Lanka's must-see sights the Nine Arches Railway Bridge. This aptly named viaduct, built in the 1920s, has an impressive span of 91 metres, and stands about 30 metres tall. It is both a feat of engineering and design with its graceful arches evenly distributing the weight of the passing trains despite any steel reinforcement. It is also in a very photogenic setting. Having spent time at the bridge you will retrace your footsteps before transferring to your accommodation.
Overnight: Morning Dew Or Similar, Ella
Day 15 - Transfer to Colombo.
This morning you will bid a fond farewell to Ella and return to Colombo, where you will have a chance to relax in the hotel or head out to explore.
Overnight: Galle Face Regency or Similar, Colombo
Day 16 - Transfer to airport. Fly to London arriving the same day.
---
2024
| Dates | Availability | Land Only | Flight Inclusive from |
| --- | --- | --- | --- |
| Sat 27 Jan - Sun 11 Feb 2024 | Available | £1985 Book | £2875 Book |
| Sat 30 Nov - Sun 15 Dec 2024 | Available | £1985 Book | Contact Us |
Hold your place
Not quite ready to book? Why not call us on +44 (0) 1453 844400 to hold a no obligation place while you make up your mind?
---
Optional supplements
Single Room Supplement
£420
No Surcharge Guarantee
No surcharges will be applied to your holiday after you book. Prices on this website are updated regularly. The Flight Inclusive holiday price, or Land Only holiday price, will be confirmed to you at the time you make your booking. There will be no surcharges after your booking has been confirmed.
Flight inclusive holidays
The 'flight inclusive' holiday prices shown on this website are based upon our preferred airlines and the best priced economy class fares we are able to secure at the time of publication.
We will be able to advise on fares with alternative airlines, upgrades to Business Class, and the options for flights from regional UK airports, please contact us for more details.
Booking your holiday
For the majority of our holidays, a deposit payment of £400.00 per person is required to secure your place(s), however a small number of holidays require a higher deposit - please refer to the holiday itinerary for more details. If the holiday departs within 60 days, a deposit of £1,000.00 per person is required.
Book now!
Book your small group holiday securely online – click the 'Book' button next to your chosen departure or visit our How to Book page
Complete and return a Booking Form available to download here.
Call us on +44 (0)1453 844400 and one of our travel specialists will talk you through the booking process.
What's included
Experienced trekking guide
All accommodation as specified
All meals included from dinner on Day 2
All transport and transfers by private vehicles
Carbon offset with the Ecoan Tree Planting Project for clients taking our flight inclusive option
Economy class return air fares from the UK & UK Departure Tax (flight inclusive only)
Single, timed group airport transfers for international flights on arrival and departure
Sightseeing where specified
A free Mountain Kingdoms Water-to-Go bottle
What's not included
Travel insurance
Visa fees
Tips
---
---
---