Travel for tea lovers
Tea remains the most popular drink in the world (after water) and there are well over 40 countries growing and producing tea for sale. China and India remain the two biggest tea producers but even in Britain we grow small quantities at the Tregothnan Estate in Cornwall. In fact, if you wanted to tour the tea producing world your travels would take you from South America to Eastern Europe, through much of Asia, the Indian Sub-continent and Africa.
Even in countries that don't grow tea, vast quantities are consumed with huge variations in tea drinking habits. Here are just some of our favourite destinations for tea lovers to visit.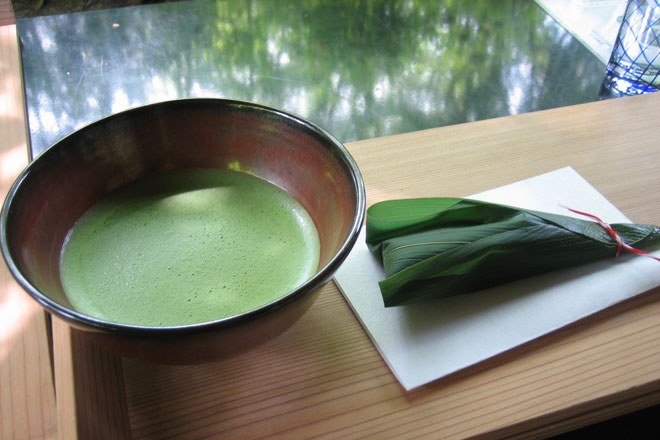 Matcha tea
In Japan the act of drinking a cuppa has been elevated to an art form with the 'Chanoyu' or tea drinking ceremony. Traditionally, matcha tea is used – a powdered green tea – which is whisked with hot water to produce a strong, slightly bitter tea. It's prepared and served in accordance with intricately choreographed rituals that date back as far as the 6th century. As the entire ceremony can take up to 4 hours it's not something you should consider if you just need a quick cuppa in the morning!
Where we add milk and sugar to our tea, Tibetans prefer butter and salt. Traditionally tea leaves are boiled for several hours before yak butter and salt is added to the strained liquor which is then churned to produce a thick, salty brew. It may not be to our tastes, but in the thin, cool air of Tibet butter tea provides important calories and fat to the local diet. Just don't let it get cold!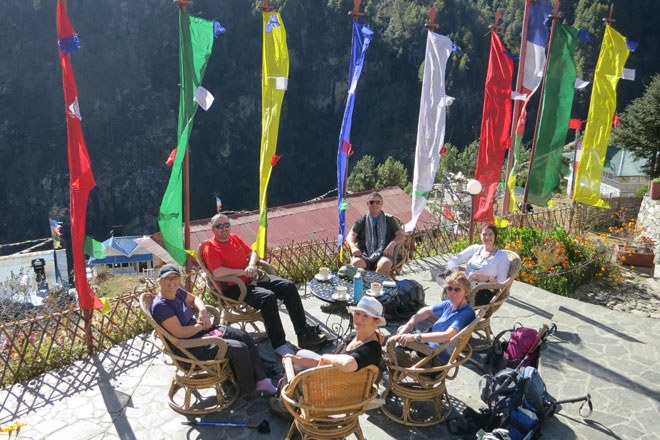 Trekkers on a tea break
If you are on trek in the Annapurnas or following the trail to Everest Base Camp, you will no doubt enjoy many, many cups of tea as you trek between tea houses. It's the staple drink in the mountains where the local people will boil the tea, water, milk and sugar together in one big pan to make a sweet, milky brew that's not too dissimilar to a traditional British cuppa. In the Everest region it's often referred to as Sherpa tea. For trekkers though, the milk and sugar is left out and weak, black tea is served in large metal flasks that appear at every meal and trek stop. We're not sure whether it's the mountain air or the need for a bit of home comfort, but tea has rarely tasted so good.
Chai is the word for tea in India where it is blended with all manner of spices, condensed milk and sugar to make a creamy, sweet and spicy brew. Visit any Indian village, town or city and you'll find 'chai wallahs' selling fragrant tea brewed to their own special recipe. Cardamom, ginger, cinnamon and cloves are just some of the spices used and the tea is often served in small, clay cups which are smashed after use. Make sure you try at least one cup of chai on your holiday in India if you want to get a true taste of the country.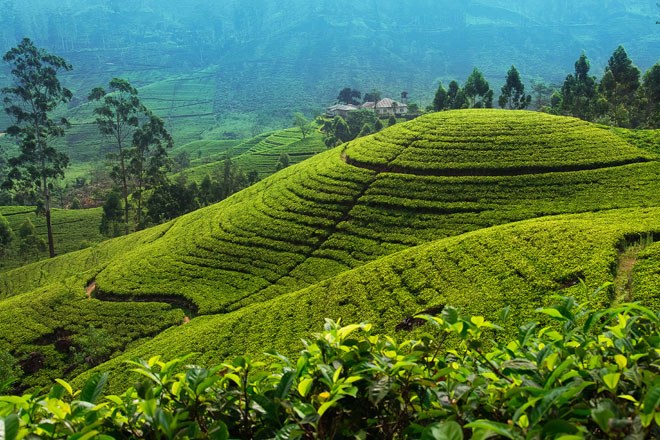 Tea estate, Nuwara Eliya, Sri Lanka
Sri Lanka may be a tropical paradise but, for the British tourist it's a real home from home. That's because, wherever you visit in Sri Lanka you'll no doubt be offered a 'proper cup of tea'. Since the 19th century, Sri Lanka has produced vast quantities of black tea much of which supplied the British market. Traditionally known as Ceylon tea, the locals also like their tea brewed strong and served with milk and sugar – preferably in a china cup. If you want to see tea being grown and made, Sri Lanka is one of the best destinations for the tea loving traveller to visit as there are numerous tea factories offering tours and tastings as well as the chance to walk through beautiful tea estates.
China is undoubtedly the cultural and spiritual home of tea. It introduced tea to the rest of the world and is still the world's biggest producer and consumer of tea. Black, green, oolong, white and Pu-erh teas are all made in China with hundreds of different varieties many of which are still hand produced using techniques little changed for centuries. As a travelling tea lover, try some of the more unusual and exquisite Chinese teas when visiting such as Silver Needles, Golden Monkey or Dragon Well.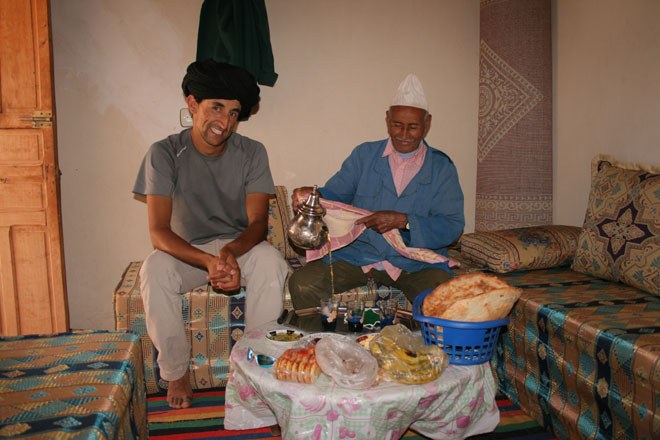 Tea is served
For travellers and tea lovers alike, Morocco is a must visit country. Wonderfully refreshing mint tea is the brew of choice served in small, glass cups and poured theatrically from a great height. Ingredients are green tea, fresh mint and lots of sugar. Moroccans are a very hospitable people and love nothing more than to serve endless cups of tea to their guests. And, in the heat of the desert, you'll find there's nothing more welcome or thirst-quenching.
Somewhat surprisingly, Argentina is the 9th biggest producer of tea most of which is exported to the States. The Argentinians prefer their own particular variant of tea called yerba mate – not strictly a tea at all, more of a herbal brew. It's traditionally drunk through a metal straw from a hollow gourd, called a bombilla, It's a very social drink as bombillas are often shared between friends but beware, when first brewed in the morning, the mate can be very strong and bitter due to the high caffeine content, but during the day the flavour mellows as the leaves are topped up with hot water. Even if you don't enjoy the mate, you can always bring a bombilla home from your holiday in Argentina – they make a great souvenir.
So, whether you want to try your tea with butter or spices, drink it out of a gourd or from a china cup, or have it served in a tea house or a desert tent you will no doubt find just your cup of tea when you travel the world with Mountain Kingdoms.