/
/
Article
/
Saga Dawa Festival on Tibet Holidays
Saga Dawa Festival on Tibet Holidays
Each year, thousands of Tibetan pilgrims attend the Saga Dawa Festival at Tarboche, which happened this year on 15 June. Commemorating the three most important anniversaries in Buddhism – the birth, enlightenment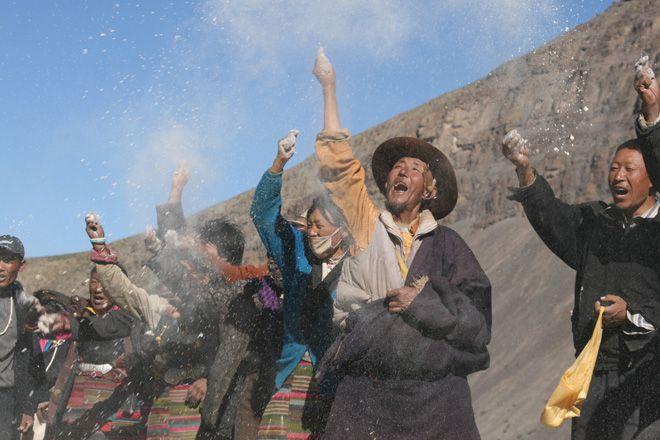 Pilgrims celebrating at the Saga Dawa Festival. Photo courtesy of J Turner
Each year, thousands of Tibetan pilgrims attend the Saga Dawa Festival at Tarboche, which happened this year on 15 June. Commemorating the three most important anniversaries in Buddhism – the birth, enlightenment and passing on of the Buddha – it is one of
the region's most vibrant celebrations and a highlight of our Tibet holidays.
In the Tibetan calendar, it falls on the full moon of the fourth month, meaning that its date in our calendar is different every year. We co-ordinate one of our Tibet holidays ('Mount Kailash and the Saga Dawa Festival') to ensure that those who travel with us get a wonderful festival experience.
The climax of the Saga Dawa Festival is the raising of a very tall flag pole. This takes days to slowly jack up, and as it gradually rises into the Tibetan sky pilgrims arrive in their hundreds and thousands, circling the pole on koras (ritual circuits), revolving clockwise and chanting. The valley becomes full of their lorries and tents. Local monks, led by a re-incarnated lama, also carry out the kora, blowing long Tibetan horns and crashing cymbals. As if that wasn't enough activity, horsemen are known to race around the pole in traditional costumes. It really is a phenomenal sight.
Visitors on Tibet holidays will witness the moment the pole becomes fully upright, when the crowd roars with approval. Around the pole, the Tibetans burn mounds of incense, throw handfuls of small printed prayers into the wind and prostrate themselves. The air is full of burning juniper.
Stalls selling Tibetan handicrafts allow visitors to pick up souvenirs directly from the Tibetan people, while 'sit in' meditation tents offer a chance to find serenity amidst the celebrations.
The atmosphere is intense and joyous. As far as we're concerned, the Saga Dawa Festival is a must-see on Tibet holidays.