An Introduction to Tibetan Buddhism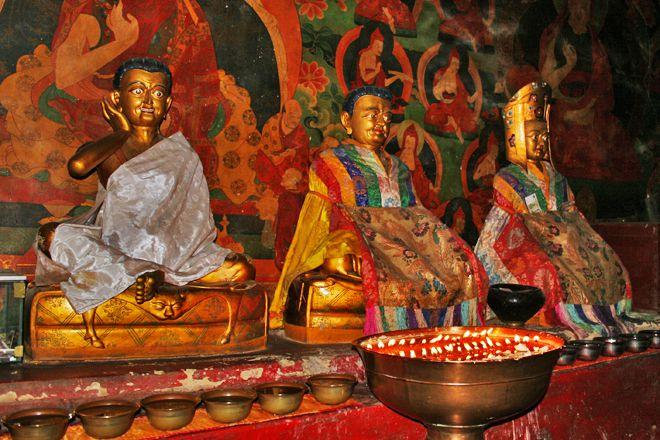 A Sainsbury
One of the joys of Everest Base Camp trekking is the chance to get to know Sherpa culture, their hospitality, traditions and – if you're lucky enough to be making your trek at the right time of year – their festivals. If you've travelled through other parts of Nepal, or Asia generally, you may have encountered many beautiful and inspiring religious practices; Tibetan Buddhism as practised by the Sherpas, and festivals like Mani Rimdu, are like nothing else you'll have seen so far.
Buddhist beliefs were brought to the Himalaya in the 8th century by the great saint Padmasambhava, or Guru Rinpoche. Before then, the mountains are believed to have been inhabited by demons, and there are many stories of how Padmasambhava fought and defeated, banished or converted them. Among Sherpa communities, elements of the Bon religion [which pre-dated Buddhism] remain and are incorporated into Buddhist tradition. The lands that you cross while Everest Base Camp trekking are still considered to be inhabited by local deities and demons, with every mountain, forest and cave having a resident spirit; rituals designed to appease them are now part of the fabric of Buddhism.
For those interested in discovering more about local beliefs and practises while Everest Base Camp trekking, a visit to Thyangboche Monastery is a good place to start; here, it is possible to pay respects to the Buddha, and learn about everyday religious rites and ritual objects. Those trekking in October-November are in for a treat in the form of the Mani Rimdu festival, the three-day public culmination of a nineteen-day period of ceremonies commemorating the founding of Tibetan Buddhism. The public festival includes an empowerment ceremony, fire ritual, and loud, colourful dances performed in fantastical costumes, and masks to re-create the arrival of Padmasambava and his conflict with the demons. The whole community gathers to watch – a rare chance for trekkers to see Tibetan Buddhism at its most exuberant. Each year at least two of our autumn treks to Everest Base Camp spend a day enjoying the atmosphere and festivities of Mani Rimdu.