Search Tailor Made Destinations
Tailor Made Traveller Reviews Bhutan
Read Bhutan Tailor Made holiday reviews and feedback by Mountain Kingdoms travellers
Write a review and we'll enter you into a monthly draw to win one of our Water-to-Go reusable bottles.
---
Our guides were really awesome guys. Very competent, knowledgeable and kind. We loved the hiking in rural areas, historic temples, friendly local people, good healthy food and Himalayan mountain scenery.
I don't have the language skills to describe this trip. I have travelled extensively and still, Bhutan was a surprise. Is it the deeply engrained Buddhist culture, the untypical monarchy, the small population wrapped by the mountains, the contract to the surrounding countries? My son had done DofE in his last year at school, enjoyed the walking and we were looking for a trip where the culture would interest both of us with some outdoor challenge before he goes off to university. Mountain Kingdoms listened and put together an ideally tailored trip for us. Lasting memories and a lingering thought provoking experience...this trip was one of the special things in life that money can buy.
Overall an excellent trip which was well organised. The guides were knowledgeable and took great care of our welfare and contributed greatly to our enjoyment of the holiday. The drivers were also very good and drove carefully on difficult roads. We learnt a great deal and now have a much greater appreciation for the 2 countries.
Gentle Trekking & Luxury Lodges, Annapurna Foothills
Trekking in Nepal for a week followed by 10 days in Bhutan was the holiday of a lifetime made extra special by the amazing guides and support staff. Thank you!! .
It's hard to pick out highlights. The whole experience was unforgettable, a once-in-a-lifetime holiday. Our guide and driver were exemplary. The landscapes were amazing. The initial treks were very challenging but prepared us well for the final descent to the Tiger's Nest Monastery. The decision to stay in 2 homestays was the right one, as we relished the opportunity to meet families, eat with them, and I spent a very happy evening chatting to 2 children, hearing about a 12 yr old's ambitions.
The organisation or our private holiday was superb. Usually, we are fierce independent travellers but Bhutan does not cater to this. We were able to set our start time in the morning a little later to accommodate everyone's sleeping needs and our wonderful guide rescheduled the last few days of the trip so as to avoid a very long potential 7-8 hour drive back to Paro on windy mountainous roads. We split this return journey over 2 days and the re booking of hotels etc. was done seamlessly.
Mount Chomolhari & Lingshi Bhutan
We had a wonderful time and thoroughly enjoyed our visit to Bhutan and Nepal. Bhutan, particularly, was an astonishing cultural experience. The only minus was the food in Bhutan, which is frankly poor. Otherwise pretty much everything met or exceeded our expectations and the organisation was impeccable.
Talk to one of our
well-travelled experts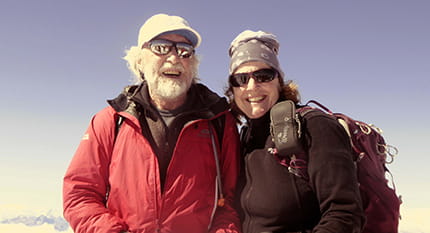 Start planning your next adventure now