Search for a Tailor Made holiday
Free Bed & Breakfast night in the Cotswolds
One of the best ways to organise your own Tailor Made holiday is to come and talk to us in person. To help you plan your perfect trip, we will host you for one night's bed and breakfast accommodation, near our Cotswold offices in Wotton-under-Edge, Gloucestershire. You can then meet a member of our team who can talk through our Tailor Made trekking and tour options, pore over books and maps and perhaps view some images of your proposed destination.
Call our
friendly team
Responsible Travel
What's included?
Watch our videos
Read our blog:
Travellers' Tales
Serengeti Safari & Zanzibar in Style
Stay in stylish bush camps in Arusha National Park and the Ngorongoro Highlands, enjoy exclusive access to the Serengeti Wilderness Area on a luxury walking safari, and relax on the golden sands of an award-winning beach resort in Zanzibar. We can tailor make your dream holiday in Tanzania.
View full itinerary
Add to Wish List
| Day | Activity |
| --- | --- |
| 1-3 | Fly to Kilimanjaro airport. Transfer to Itikoni Camp, Arusha National Park. Day walks to see crater and waterfalls – and plenty of wildlife of course. |
| 4-6 | Game drive in Lake Manyara National Park. Drive to Ngorongoro Highlands. Game drive in Ngorongoro Crater. Visit Masai village. Stay in the luxury tented camp. |
| 7-11 | Drive to Serengeti. Game drive and wilderness walking safari staying in the luxury mobile camp. |
| 12-14 | Drive to airstrip at Seronera. Fly from Serengeti to Zanzibar via Arusha. Transfer to the beach resort. Stay in a fabulous hotel with full amenities, including a spa and scuba diving. centre. |
| 15 | Transfer to airport for flight home. |
Kilimanjaro Summit & Safari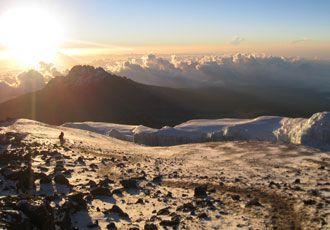 From the highest peak in Africa to the dusty plains of Tanzania. This contrasting itinerary gives you the challenge of a Kilimanjaro trek followed by a few relaxing few days on safari in some of Africa's most celebrated national parks.
View full itinerary
Add to Wish List
| Day | Activity |
| --- | --- |
| 1-2 | Fly to Kilimanjaro. Transfer to hotel. |
| 3 | Drive to Londrossi Gate and begin the trek. We prefer the longer Lemosho route to the summit of Kilimanjaro, with extended acclimatisation time. |
| 4-8 | Trek via Shira camp, Great Barranco Valley, Karanga and Barafu. |
| 9 | An early start to reach Kilimanjaro summit for sunrise over the African plains. |
| 10 | Descend and end trek. Transfer to the hotel. Time to relax after your strenuous trek. |
| 11 | Drive to Tarangiri National Park. Game drive in the park. |
| 12 | Game drive in Lake Manyara National Park home of the tree climbing lions and many other species of animals and birds. Drive up the rift valley escarpment and on towards Ngorongoro. |
| 13-14 | Full day's game drive in Ngorongoro Crater. Drive to Arusha. |
| 15-16 | Spend the morning at leisure at your hotel before transferring to the airport for your international flight home. |