/
/
Highly regarded Bhutanese trek leader and cook travel to the UK
Our grading system explained
Gentle
Gentle / Moderate
Moderate
Moderate / Vigorous
Vigorous
Vigorous / Strenuous
Strenuous
Expedition Grade
Highly regarded Bhutanese trek leader and cook travel to the UK
Local tour leaders and trip support crew often become an essential highlight of any adventure holiday, bringing the history and culture of a destination to life. It's not uncommon, when on trek, to discuss returning your guides hospitality by welcoming them to the UK. On this occasion Mountain Kingdoms and their clients were able to make their local guides' ambitions come true.
In 2015 clients on the Gangkar Punsum Approach trek discussed welcoming Local Leader Karma and Camp Cook Lotay to the UK. In June 2016 their plans came together and Karma and Lotay experienced their first adventure outside of their homeland, the Kingdom of Bhutan.
From the bright lights of London to the fresh sea air and the long sandy beaches of the serene Norfolk coast, Karma and Lotay were given a detailed itinerary of their own, and have now experienced a variety of UK style homestays, sailing excursions and city tours across the country. They attended 'Trooping the Colour', the annual celebration of the Queen's Birthday Parade, and when asked about the memorable parts of their trip, Karma and Lotay both enthusiastically described the royal event -
"We were amazed by the size of the horses in comparison to those that roam wild in Bhutan. We couldn't believe that the Queen's Guard's hats were made of bearskin, and the number of people, cars and the size of the buildings, all - wow".
They described the long sandy beaches they had visited and their joy to see horses wandering unguided along the coast of Devon.
During a visit to the Mountain Kingdoms office Karma and Lotay donned their Ghos (traditional knee-length robe) and were joined by MD, Steve Berry, for a once in a lifetime photo opportunity (as shown above).
Not only was this Karma and Lotay's first visit outside of Bhutan, they also became the first two Bhutanese residents to be issued a visa via Bhutan's new visa centre. Mountain Kingdoms' Tour Leader and Honorary Consul for the UK in Bhutan, Michael Rutland, OBE and Australian Ambassador to Bhutan, Harinder Sidhu, formally opened the new joint Visa Application Centre in Thimphu on 19 th May 2016.
Thank you Karma and Lotay for visiting us in the UK and for your devotion to Mountain Kingdoms groups – you truly offer an experience to remember.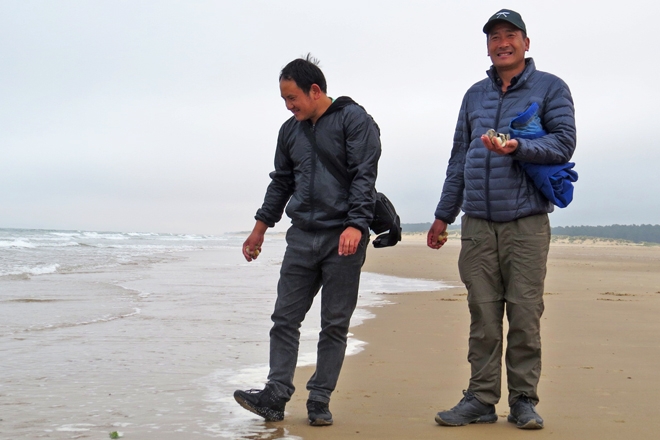 Karma and Lotay on the Norfolk coast
Related News