New Departures – Silk Road to Samarkand and Mountains of Lofoten, Norway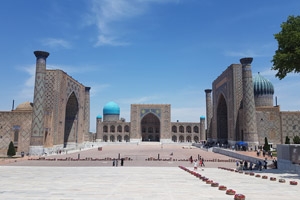 Due to demand we are adding new departures of two of our most popular group holidays in Uzbekistan and Norway.
Silk Road to Samarkand, Uzbekistan
New departures:
01 November - 15 November 2019
15 November - 29 November 2019
22 May - 05 June 2020
14 August - 28 August 2020
02 October - 16 October 2020
16 October - 30 October 2020
This thrilling two week two tour travels along the desert highways of the ancient Silk Road from Kiva to Bukhara to Samarkand with ample time to discover the magnificent architecture and historic artefacts of these fabled cities as well as to experience the local culture and food.
Midnight Sun and the Mountains of Lofoten, Norway
New departure:
08 July – 15 July 2019
Based at a delightful coastal lodge, this superb walking holiday has been designed to make the most of the stunning landscapes of Lofoten with varied summit walks giving far-reaching views of jagged mountains, glittering fjords and quaint fishing villages.
Related News