David Attenborough, Dynasties, and the Painted Wolves of Mana Pools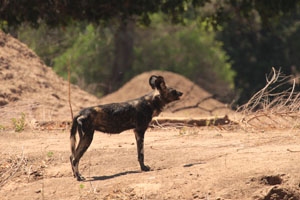 The most recent episode of David Attenborough's remarkable wildlife series, Dynasties, tells the brutal, moving and gripping story of two rival packs of painted wolves, one led by matriarch 'Tait' and the other by her daughter 'Blacktip'. The intense rivalry, as Blacktip challenges her mother for territory and supremacy, was filmed by the BBC over the course of two years in Mana Pools National Park in Zimbabwe; one of the last remaining homes of these rare and striking animals.
Our Product Manager, Jude, was fortunate to have her own amazing on foot encounters with Blacktip and her pack when she researched our latest walking safari in Zimbabwe in November. Read about her close up experiences with the Nyakasanga Pack of painted wolves in our latest blog - Walking with Dynasties' Painted Wolves, and view the details of our Mana Pools & Lake Kariba Walking Safari, where you too can follow in David Attenborough's footsteps.
Related News