What's included
7 nights aboard the SS Legacy in twin-share cabins (all with en suite bathrooms and external window). All cabins consist of twin-size berths and are ocean-facing
Zodiac excursions, shore walks and hikes, and kayaking activities with the expert Expedition team
All meals, tea and coffee, soft drinks and complimentary wine, spirits and beer are included on the SS Legacy
Use of on board hot tubs, small gym and a morning stretch class
Waterproof boots, water bottles and walking poles supplied on board for duration of the cruise
Evening presentations
Prices based on Commander Category cabins. Please ask us if you would like to upgrade to a superior cabin
Pre-cruise 3* hotel accommodation in Juneau on a twin share basis (B&B in Vancouver)
Economy class return air fares from the UK & UK Departure Tax (flight inclusive only)
Return flights on Air Alaska from Vancouver to Juneau
Group airport transfers in Vancouver and Juneau
Free Mountain Kingdoms Water-to-Go bottle (see below) or a free Mountain Kingdoms fleece
and much more...
Call our
friendly team
United States | Adventure Cruising
New for 2020
Duration: 13 days from the UK
Flight inclusive from £8,350,
Land only from £7,750
Book now or call 01453 844400
Discover the spectacular wildlife and natural wonders of southeast Alaska on an active, expedition-style cruise.
Highlights
Cruise through Glacier Bay National Park
Stop for regular shore excursions to walk through pristine Alaskan wilderness
Take Zodiac (skiff) tours with an expedition guide
Explore hidden inlets on a guided kayak tour
Sail aboard the SS Legacy, a replica gold rush steam ship, with good-sized cabins, fine dining and complimentary drinks
Tour cosmopolitan Vancouver before your cruise
Reviews
Absolutely superb. Being a fairly active type I wasn't sure that a cruise was for me, but with so much exploring to be done this was perfect, and a world apart from lazing on a mega cruise ship. I loved bushwhacking – a whole new experience - and being out on the water so close to Alaska's incredible wildlife. The Alaskan wilderness is breathtakingly beautiful and I felt we had...
J Turner, Mountain Kingdoms
View All
Step into southeast Alaska's untouched wilderness, a land of lush temperate rainforest, cascading waterfalls, snow-capped mountains, and glittering glaciers and icebergs. This narrow coastal strip, known as the Panhandle, lies squeezed between the Pacific Ocean and the Canadian border and is a spectacular region of glacier-hewn fjords and pristine offshore islands. With more shoreline than all the other US states combined, the best way to get around Alaska is on the water. Travelling on a small expedition-style ship allows access to areas which cannot be reached by road or large ship; mooring in hidden bays and exploring the wild, otherwise inaccessible forested islands.
Your holiday starts in Canada with two nights to enjoy the attractions of Vancouver, including a guided tour and cable car ride up Grouse Mountain. Then you fly north to Alaska's sleepy capital city, Juneau, with a morning to explore before joining your seven-night cruise in the afternoon. Your home for the week is the charming SS Legacy, a replica gold rush steamer. Whilst the ship is comfortable and well-equipped, the real focus of this cruise is on getting out to explore the wilderness, with two small group activities offered most days, subject to route and weather. You will be able to choose from gentle shoreline nature walks, guided 'bushwhacking' hikes into the unique Tongrass Forest, or exploring on the water by Zodiac or kayak with an expedition guide to lead your adventure.
Your route for the week is a loose circumnavigation of Admiralty Island, either clockwise or vice versa - the itinerary will be flexed according to weather and wildlife. Certain must-see experiences such as cruising Glacier Bay National Park accompanied by a park ranger, looking out for whales in Frederick Sound and Chatham Strait, and a close-up glacier viewing experience will always be included, but the itinerary described here is indicative only.
From birds to bears, the wildlife is abundant in southeast Alaska, and whatever your route, they are undoubtedly the stars of the cruise. From the tiny carnivorous plants of the boggy permafrost muskeg, through the magical moss covered strands of giant spruce and hemlock to the thrill of the Captain's call of 'killer whales ahead', you will be constantly on the lookout for, and learning about, Alaska's natural wonders. Every summer hundreds of humpback whales descend on southeast Alaska to gorge themselves on krill and herring, and your cruise will take you through some of their favourite feeding grounds with a good chance of close-up sightings. The wildlife is no less spectacular on land; over 95 percent of America's brown bears live in Alaska, and Admiralty Island is home to the densest grizzly bear population in the whole of North America.
After a wonderful week of wild Alaskan adventures you wake on the final morning of the cruise back in Juneau where you say a sad farewell to the SS Legacy and your onboard companions. You will have a final night in Vancouver to break-up the travelling, although it is possible to extend your time in this cosmopolitan city if you're just not ready to go home– please ask us if you would like some extension ideas.
---
At a glance
Duration: 13 days from the UK
Guaranteed to run for a minimum of 2 clients
Maximum group size: 12
Land only joining city: Vancouver
Accommodation types: Hotels, Small Cruise Ship
Meal arrangements: B&B at hotel in Vancouver, full board on cruise.
Itinerary overview
| Day | Activity |
| --- | --- |
| 1-3 | Fly to Vancouver. Guided walking tour of Vancouver and Grouse Mountain Sky Ride. Time at leisure. |
| 4-5 | Fly to Juneau. Time to explore Juneau town. Embark on cruise. |
| 6-11 | On cruise around Admiralty Island in the Inside Passage with stops that include Endicott Arm, Dawes Glacier and Glacier Bay National Park. |
| 12 | Disembark from the cruise. Fly to Vancouver. |
| 13 | Fly to the UK. |
Leader: Local Leader, Alaska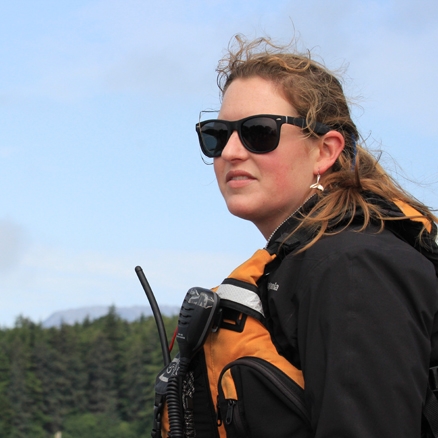 Your cruise will be led by an experienced Expedition Leader supported by a team of Expedition Guides, each with different backgrounds and experiences which they will bring to the cruise. In Vancouver you will have a local leader for your city day tour.
---
Wild Alaska Cruise - Bears, Whales & Glaciers Itinerary
Day 1 - Fly London to Vancouver

Fly from London to Vancouver where you will be met on arrival and transferred to your central hotel, approximately a 30 to 45 minute drive depending on traffic.

Your well-located boutique hotel is just steps from many of Vancouver's main attractions including BC Place Stadium, Rogers Arena and trendy Robson Street. The hotel has a complimentary shuttle service and bicycle rental service if you can't wait to get out and explore.


Overnight: Georgian Court Hotel Or Similar, Vancouver

Day 2 - Vancouver city tour and Grouse Mountain Sky Ride.

Today, you will explore Vancouver's top sites starting with Robson Street, the Stanley Park Totem Poles, the Lighthouse and Prospect Point. Next you will travel across the historic Lions Gate Bridge to the Capilano Suspension Bridge, where you will have an hour to explore the forest trails, cross the exhilarating 137 meter bridge, and walk the 30-storey high Cliff Walk.

A short drive then takes you to the Grouse Mountain Sky ride, a cable car that climbs to an altitude of 1,100 meters. From the top there are panoramic views out over Vancouver, reaching all the way to Vancouver Island and Mount Baker, Washington. Stepping out from the cable car into the great outdoors you are greeted by fresh mountain air and an emerald green canopy that you will walk under whilst you spend the next two hours exploring. Check out the Grizzly Bear Habitat at the Refuge for Endangered Wildlife to see the resident bears. There are restaurants available here, or pick up a sandwich and enjoy lunch al fresco.

After your mountain experience you will return to the city and continue with an urban vehicle-based tour which includes a half hour stop at Granville Island Market, before finally returning to your hotel.


Overnight: Georgian Court Hotel Or Similar, Vancouver

Day 3 - Fly to Juneau via Seattle. Afternoon at leisure to explore Juneau.

This morning you transfer to the airport for your flight to Alaska via Seattle. On a clear day the views are spectacular as you fly over mile after mile of snow-capped peaks and immense glaciers. On arrival into Juneau you will be met at the airport and transferred to your downtown hotel, a 20-minute drive from the airport.

The city of Juneau (population 32,000) was founded in the Bow Basin gold rush of 1880 and became the state capital in 1906. Today it is a sleepy waterside town dramatically situated under a steep mountain which comes alive when the big cruise ships dock and disgorge their thousands of passengers. Juneau has a fascinating history; people have braved the Alaskan wilderness for thousands of years, the oldest human remains here date back over 11,000 years. The Europeans first encountered Alaska Natives in the 18th century when there were numerous tribes in the region including the Tlingit and Haidas coastal Indian people of the southeast who are famed for their totem poles. Beautifully carved totem poles can still be found across the city. Coastal Alaska back in the 18th century was a Russian territory with a highly lucrative fur trade. By the 1860s the Russians had over-hunted the region and they agreed to sell Russian-America, as it was known, to the US Congress in 1867. However Alaska only became the 49th US state in 1957 after the discovery of oil at Swanson River. You can still see this Russian legacy in the shops in Juneau which sell Russian dolls, trinkets and gems.

The remainder of the day is free for you to explore the town. You may like to take the cable car to the top of Mount Roberts for views down over the town. The cable car (tram) station is a 15 minute walk from the hotel along the dockside, located close to the main information centre. There are a selection of hiking trails at the top but don't hike alone and be sure to make plenty of noise as you walk as there are usually bears around.

Downtown Juneau has plenty of shops, galleries and cafes to explore including the historic Merchants Wharf close to your hotel, and there are two good bookshops with an excellent selection of wildlife guides, maps and regional books. The post office, should you need it, is in a small shop called the Kindred Post next to an open air food court where you can buy fresh crepes, juices and seafood.

There are a number of museums in the town - the small Juneau city museum with its landmark totem pole, the excellent State Museum, the Juneau Arts and Convention Centre and the Alaska Heritage Cultural Centre.

Alternatively your hotel concierge can help you to arrange an organised trip to the Medenhall Glacier or the Gardens. It is also possible to reach both via public transport, buses depart every half hour from the bus station close to the hotel.


Overnight: Four Points By Sheraton, Juneau

Day 4 - Morning at leisure. Welcome aboard!

You are free to explore in and around Juneau until mid-afternoon. All passengers are required to drop their luggage at the cruise meeting point by 3.30pm latest but you may drop yours earlier if you prefer. Conveniently the meeting point is the Centennial Convention Centre right next door to the Sheraton Four Points hotel. Tea, coffee, fruit and snacks are available at the meeting point throughout the day; please feel free to help yourself.

Meeting back at the Centennial Convention Centre mid-afternoon, you will be given a welcome by the cruise expedition leader at around 4pm and then escorted on foot across to the ship as a group for embarkation. Once aboard a crew member will show you to your cabin. Cabins are simple and comfortable with large under-bed drawers, a wardrobe or hanging space, and en suite bathroom with shower. All cabins have outdoor views with most opening out onto the deck. After time to settle in you will meet in the lounge for a welcome drink and snack as staff introduce themselves, outline the programme for the week and go through the safety drill.

Then you are off and away. Farewell Juneau and civilisation, for the next week you're off to explore the Alaskan wilderness and your first wildlife encounters could happen at any time. Listen out for sighting announcements from the captain and the expedition team.

A three-course supper will be served in the spacious dining room as you cruise. You can choose from three mains; usually a meat, fish or vegetarian option, and the chefs can creatively accommodate special dietary requirements if advised at time of booking. Food is both plentiful and prepared to a very high standard and there is a good choice of complimentary wines and soft drinks to accompany meals.

After supper gather in the lounge to have tea or coffee and get to know your fellow cruisers, or grab an extra layer, binoculars and camera and head out onto one of the decks to watch your first Alaskan sunset.


Overnight: S S Legacy Cruise Boat

Day 5 - Example itinerary: Cruise down St Stephen's Passage to Endicott Arm & Dawes Glacier.

You start early each morning on the cruise in order to get the most out of the day. An early continental breakfast is available in the lounge from 6.30am with porridge, fruit, yogurt and pastries available, and you can help yourself to tea and coffee at any time. A hot table-service breakfast is offered in the dinning-room at 7.30am with daily options such as omelettes, pancakes and other American breakfast specialities. You can also order eggs cooked to your request.

Your expedition leader will have briefed you the previous evening on today's activities, and the Zodiacs (skiffs) will be primed and ready to go. Potential activities include gentle beach strolls, forest hikes and bushwhacking, guided kayaking, Zodiac tours, paddle boarding and visits to local sites of interest such as salmon hatcheries and sustainable micro-logging centres.

After breakfast it is time to collect a pair of rubber boots (if you haven't brought your own with you), get your outdoor gear on, grab your camera and binoculars and head out for your first activity, a Zodiac ride through the ice to take you up close to the spectacular blue ice of Dawes Glacier. Watch for icebergs calving with a mighty splash that echoes off the steep-sided granite cliffs, and look out for harbour seals lazing around on icebergs.

Back on board there will be a water activity briefing and then it's lunchtime - usually a light main and desert - while the boat re-positions further down Endicott Arm. Lunchtime is usually sign-up time for activities; your expedition leader will describe the options available for the next day, again subject to weather and wildlife.

There is usually an 'introduction to paddling' session out on the water on the first day which we recommend to anyone who hasn't kayaked before or if you just want a refresher. Kayaking from the SS Legacy is easy and suitable for everyone. The twin-kayaks are very stable, have rudder steering and are dry launched from a platform at the back the boat so you don't have to worry about tipping the kayak as you get in or out, or getting your feet wet. Kayaking is a wonderfully serene way to explore in Alaska - we had two good grizzly bear sightings from kayaks on our recce trip - and even if you are uncertain we highly recommend giving it a try at least once. And if you don't have a willing kayak partner the expedition team will be happy to find you one!

Overnight: S S Legacy Cruise Boat

Day 6 - Example itinerary: Continue cruise along St Stephen's Passage to Security Bay on Kuiu Island.

Why not join the morning stretch class if you're up and about early. Or grab a morning cuppa and venture up onto the bridge for the best view on the ship. The bridge is always open to guests and the captain is a mine of information.

Keep an eye out for whales as you head up towards Frederick Sound, which are known to feed here in the summer months. This is a popular spot for humpbacks, orca, Steller's sea lions, sea otters and Dall's porpoise. The captain may decide to drop anchor in Kuiu Island's secluded Security Bay, just off Frederick's Sound, the perfect place to explore on the water by Zodiac or kayak with plenty of wildlife waiting to be found.

Kuiu Island is dotted with salmon streams and where there are salmon, there are bears! The second activity today is likely to be land-based; depending on conditions you can usually choose from an easy beachcombing meander, a gentle river hike or an off-piste bushwhack into the rainforest. Sometimes the bushwhacks may gain some elevation but generally you're not covering large distances as your guide will be trail finding as they go through the woods and across boggy open ground, following animal trails at best or just creating a route as they go. Expect to squeeze under fallen trees, scramble over branches and through mud - and to learn lots about the unique environment as you go. There are no signposted footpaths here! The experienced guides are well trained in bear etiquette and you can expect lots of loud 'yahooing' as you explore; it is essential to let the locals know you are coming! Rubber boots are recommended for all land-based activities.

After dinner join one of the expedition guides in the lounge for the daily presentation. These take place most evenings and cover a range of subjects including wildlife, geology, and the culture and history of Alaska.


Overnight: S S Legacy Cruise Boat

Day 7 - Example itinerary: Cruise up Chatham Strait to Kasnyku Bay & Ell Cove on Baranof Island.

Your cruise continues down Frederick Sound and into Chatham Strait. Stretching 150 miles into the Tongrass National Forest, the herring-rich waters of Chatham Strait are one of the few places in the world where you can, if you are lucky, see humpback whales co-operatively 'bubble-net' feeding. These usually solitary creatures work together deep under water spiralling slowly upwards and creating a net of bubbles between them that effectively trap the herring or krill, before erupting to the surface, jaws wide to scoop up their catch. It is an incredible spectacle if you are lucky enough to witness it.

Aside from whale watching your activity options may include an intertidal zone exploration by Zodiac or maybe kayaking across to take a look at, and learn about, a salmon hatchery. Salmon are a keystone species in Alaska, essential to the survival of other terrestrial and aquatic species, and managing this critical ecosystem balance, with ever increasing human consumer demand, is a complex and challenging issue which you will no doubt learn more about on your cruise.

These waters are also home to sea otters, one of Alaska's big wildlife success stories. Hunted nearly to extinction during the commercial maritime fur trade of the 18th and 19th centuries, these cute, furry creatures weren't seen in southeast Alaska for almost 250 years. Then in the 1980s they were spotted in the protected waters of Glacier Bay National Park where, now protected and with a plentiful food supply, they have increased in abundance and distribution across the region.


Overnight: S S Legacy Cruise Boat

Day 8 - Example itinerary: Continue cruise up Chatham Strait to Tenakee Inlet.

Grab your binoculars and a coffee and join the captain up on the bridge - this is still prime humpback territory so look out for their tell-tale blows. If you're on a clockwise route the ship continues up the scenic Chatham Strait passing between Chichagof Island and Admiralty Island, the snow-capped peaks of the Fairweather Range ahead on the horizon.

After breakfast you step off the ship for the first of your activities or the day. Although much of this coastline is untouched wilderness there are remote communities, some Alaska Natives, others small family run enterprises or Forest Service approved timber harvesting, eking out an existence here. Your morning activity may be land-based, perhaps a gentle beachcombing walk along the inter-tidal zone, or an exploration of the unique Tongrass forest, much of it old growth, which is comprised of western Hemlock, Sitka spruce and western Red cedar. Look out for Sitka black-tailed deer but your group will make plenty of noise as you walk to avoid any sudden encounters with bears.

In some locations, in suitable weather, an 'open-paddle' activity is offered where you are free to head out in the kayaks onto the water and explore anywhere within a large radius at your own pace. On our recce we had some superb wildlife encounters on open paddle sessions - we stopped and watched bears searching through seaweed on the beach, saw murrelets diving for fish, and sea otters and curious habour seals popped up in the water all around us. The feeling of solitude, being out on the water alone under the huge open skies, gives you a real connection to the Alaskan wilderness in a way that you cannot experience on land due to safety issues. Zodiac and walking explorations are always also available if you prefer not to paddle your own canoe!


Overnight: S S Legacy Cruise Boat

Day 9 - Example itinerary: Cruise through Icy Strait to Inian Islands & Fern Harbour in Glacier Bay National Park.

It is impossible to escape the rains that make Southeast Alaska so lush and some mornings you may wake to grey misty views, but these often clear by mid-morning when it's time to head out on your next exploration

The beautiful Inian Islands lie on the edge of Glacier Bay National Park. Exposed to the surging power of the Pacific Ocean they act as gatekeepers to the Inside Passage. Ferocious currents swirl through the islands but their rich waters provide abundant food for the sea lions that clamour on the rocky outcrops here, and historically also for the Tlingit people who came here to hunt. You may explore the islands by Zodiac under the watchful gaze of a bald eagle; look out for the sea otters, brown bears and humpback whales that all frequent these fish-rich islands in the summer months.

After a delicious lunch back on the ship, and a short cruise that takes you into the outer area of Glacier Bay National Park, it's time for your next activity. The icy Fairweather mountains provide a spectacular backdrop whether you choose to explore on land or sea here. You can bushwhack across one of the islands, following your guide along bear trails and across open muskeg - these beautiful fragile areas of boggy ground underlaid with permafrost are critical carbon sinks, and with rising temperatures in Alaska they are in real danger of disappearing.

Back on the ship you can enjoy the sunset with a cocktail in hand as the Fairweather Mountains glow pink in the setting sun, and then join your shipmates in the lounge for tonight's presentation.


Overnight: S S Legacy Cruise Boat

Day 10 - Example itinerary: Dock at Bartlett Cove. Ranger comes aboard for a day exploring Glacier Bay National Park.

You'll be on the move as you wake this morning, heading for Bartlett Cove, the official entrance to Glacier Bay National Park. Here, after an early breakfast, you'll have the chance to walk one of the forest trails, see Snowy, one of the world's largest humpback whale skeletons, and spend time in the small but excellent visitor centre. There are copies here of all the scientific research projects currently being carried out in Glacier Bay National Park which make for fascinating reading.

Back on the boat, and now with an expert National Park Ranger on board, you set off into Glacier Bay itself, cruising slowly northward. The ranger will give presentations and lead wildlife spotting and information sessions throughout the day, they are a mine of information.

Glacier Bay's 3.3 million acres form only a small part of a wider 25-million acre UNESCO World Heritage Site. The spectacularly diverse physical environment supports equally rich flora and fauna, and the bay is also an International Biosphere Reserve. As climate has fluctuated over time the glaciers of the bay have advanced and retreated. Just 250 years ago Glacier Bay was all ice. The entire region, right down beyond the mouth of the bay and out into Icy Strait, was covered in ice at least 100m deep, and at the far north of the bay the ice was over 1,500m deep. Since then the tidewater glaciers have steadily retreated and now the most northerly glaciers, Margerie and Grand Pacific, sit at the far end of Tarr Inlet, and within a few years may become stranded valley glaciers, no longer touching the salty waters of Glacier Bay at all.

The first wildlife spot of the day is likely to be the myriad birds of South Marble Island: gulls, cormorants, Tufted and Horned puffins and Pigeon guillemots love this bleak rocky island in the middle of the bay. Continuing up the bay you start to pass glaciers tucked up and away in side valleys, some hanging, some valley, some tidewater but all spectacular. The calving snout of Margerie Glacier is your ultimate objective and here you pause to marvel at the spectacle, listening to the ice creaking and if you are lucky, watching small bergs calve.

Cruising back down the bay you search for distinctive white mountain goat, bears and humpback whales. If you are lucky you may see orca - pods are found throughout Glacier Bay - or even a 'raft' of sea otters. These remarkable deep waters are home to a wide diversity of life.

Back at Bartlett Cove your ranger steps ashore, leaving you to enjoy your farewell dinner, sharing the highlights of your time in the wilderness.


Overnight: S S Legacy Cruise Boat

Day 11 - Disembark in Juneau. Fly to Vancouver.

Shortly after breakfast you will disembark in Juneau. Your baggage will be transferred to the Convention Centre where you first met your fellow cruise passengers a week ago. Depending on the time of your flight you may like to wait in the centre for your airport transfer with a tea or coffee, and catch-up on what has been happening in the world with the Wi-Fi access here. Alternatively, after checking your transfer time, you could walk into Juneau for a coffee and some last minute shopping.

Your flight back down to Vancouver, via Seattle, is a spectacular one if you are on the left hand side of the plane; the aerial views of Alaska's glaciated landscape are awe inspiring.

You will be met on arrival in Vancouver and transferred to your hotel. The remainder of the day is free for you to spend at leisure.


Overnight: Georgian Court Hotel Or Similar, Vancouver

Day 12 - Group transfer to the airport. Depart Vancouver.

This morning after breakfast you will be transferred to Vancouver airport for your flight back to the UK.

Overnight: In flight

Day 13 - Arrive back in the UK.

You arrive home this morning.
Map
Map Key
Airport
Point of interest
Mountain Peak
Day walk in this area
Flights
Internal Transfers
Trek
---
2020
| Dates | Availability | Land Only | Flight Inclusive from |
| --- | --- | --- | --- |
| Tue 2 Jun - Sun 14 Jun 2020 | Available | £7750 Book | £8350 Book |
| Tue 14 Jul - Sun 26 Jul 2020 | Available | £7750 Book | £8640 Book |
Hold your place
Not quite ready to book? Why not call us on 0044 (0)1453 844400 to hold a no obligation place while you make up your mind?
No Surcharge Guarantee
No surcharges will be applied to your holiday after you book. Prices on this website are updated regularly. The Flight Inclusive holiday price, or Land Only holiday price, will be confirmed to you at the time you make your booking. There will be no surcharges after your booking has been confirmed.
Flight inclusive holidays
The 'flight inclusive' holiday prices shown on this website are based upon our preferred airlines and the best priced economy class fares we are able to secure at the time of publication.
We will be able to advise on fares with alternative airlines, upgrades to Business Class, and the options for flights from regional UK airports, please contact us for more details.
Loyalty discount
Find out more
What's included
7 nights aboard the SS Legacy in twin-share cabins (all with en suite bathrooms and external window). All cabins consist of twin-size berths and are ocean-facing
Zodiac excursions, shore walks and hikes, and kayaking activities with the expert Expedition team
All meals, tea and coffee, soft drinks and complimentary wine, spirits and beer are included on the SS Legacy
Use of on board hot tubs, small gym and a morning stretch class
Waterproof boots, water bottles and walking poles supplied on board for duration of the cruise
Evening presentations
Prices based on Commander Category cabins. Please ask us if you would like to upgrade to a superior cabin
Pre-cruise 3* hotel accommodation in Juneau on a twin share basis (B&B in Vancouver)
Economy class return air fares from the UK & UK Departure Tax (flight inclusive only)
Return flights on Air Alaska from Vancouver to Juneau
Group airport transfers in Vancouver and Juneau
Free Mountain Kingdoms Water-to-Go bottle (see below) or a free Mountain Kingdoms fleece
What's not included
Breakfast in Juneau (there is an independent diner in the hotel lobby)
Lunch and dinner in Vancouver
Tips
Hold baggage charge on the flights to/from Juneau - this has to be paid directly at check-in, either online or at the airport.
---
---
Extend your holiday
There are many ways you can extend your holiday with Mountain Kingdoms: book extra hotel nights, relax at a beautiful beach resort, take a warm-up trek, arrange a personal sightseeing tour or enjoy specialist activities such as rafting, birdwatching or a safari.
We're happy to suggest ideas, provide quotes and make all the arrangements. We can also assist with flight and hotel upgrades. Just call us on +44 (0)1453 844400 or email info@mountainkingdoms.com and we will be pleased to help.