What's included
Economy class return air fares from the UK (flight inclusive option). If you are travelling land only, check with our office for joining time at the airport
An English speaking local leader
Hotel/airport transfers
Good standard hotel accommodation throughout.
All meals included except lunches on arrival and departure days.
Local transfers where indicated.
Cost of all luggage transfers
A free high-quality Mountain Kingdoms micro fleece
The option of joining one of our pre-trip meets in the Cotswolds
and much more...
Call our
friendly team
White Mountains & Emerald Seas, Crete
Walking & Trekking
Gentle / Moderate
Gentle: Suitable for people who enjoy easy-paced walks or exploring the countryside on foot.
Moderate: Suitable for anyone who enjoys hill walking.
Find out more...
Grade: Gentle / Moderate ? Gentle / Moderate
Duration: 8 days from the UK
Walks on: 1 day
On trek: 4 days
Book now or call 01453 844400
A splendid hike along Crete's southern coast with breathtaking coastal scenery
Highlights
Delightful walking in the white mountains and between picturesque coastal villages
Walk down the spectacular Samaria Gorge - a World Biosphere Reserve
Stay in small welcoming guesthouses and enjoy delicious Cretan cooking
Explore the Venetian charms of historic Hania
Reviews
Walking the south coast made my heart sing - the rugged interior, brilliant white villages, ruins of an ancient past and turquoise sea.
Liz Noakes, Operations Manager
View All
Crete is so much more than a beach destination, as the largest Greek Island and the southernmost point of Europe it has a wonderful climate with hot dry summers and mild winters. We have selected the best time for walking, exploring gorges, beautiful beaches and charming villages, some of which can only be reached by boat or on foot.
Our holiday starts with a morning exploring the winding streets of historic Hania with its strong Venetian influence. Moving south to the coast we find it has retained its wildness with mountains falling steeply into the sea and gorges cutting through the landscape each with its own character and beauty. It has remote villages which we walk between on coastal trails, and numerous bays and beaches on the shores of the Libyan Sea for us to cool down after and during hot walking days. Look out for the wild Cretan goats!
---
At a glance
Grade: Gentle / Moderate
Gentle / Moderate
Duration: 8 days from the UK
Walks on: 1 day
On trek: 4 days
Max. Altitude: Not applicable
Guaranteed to run for a minimum of 4 clients
Maximum group size: 12
Land only joining city: Heraklion
Accommodation types: Hotels
Meal arrangements: Meals included as indicated in the itinerary.
Itinerary overview
| Day | Activity |
| --- | --- |
| 1 | Fly to Heraklion. Group transfer to hotel. |
| 2 | Transfer to Hania. Morning sightseeing. Afternoon transfer to Palechora on the south coast. |
| 3 | Walk from Palechora along the coast path to Sougia - 6 hours. |
| 4 | Boat transfer to Tripiti - 40mins. Hike back along the coastal path to sougia - 6 hours. |
| 5 | Transfer by private bus to Xyloskalo on the Omalos plateau. Descend the Gorge of Samaria to Agia Roumelli by the sea - 6 hours. |
| 6 | Trek from Agia to Roumelli to Loutro - 5 hours. |
| 7-8 | Morning walk to Hora Sfakion - 3 hours. Return to Heraklion. Transfer to airport for flight to London. |
Leader: Local Leader, Crete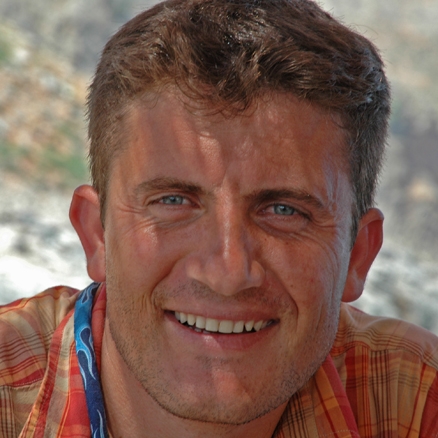 In Greece your trip will have a local English speaking guide throughout.
---
White Mountains & Emerald Seas, Crete Itinerary
Day 1 - Fly London to Heraklion.

Having arrived in Heraklion you will transfer to your hotel which is well situated on the coast overlooking the Venetian Castle. Depending on your flight you might have time to explore this cosmopolitan town which is the capital of the island of Crete. It has a fascinating archaeological museum, regarded as one of Europe's most important, with exhibits from many of the key sites of Crete, including Knossos. Knossos itself is a 'must see' if you have the time. Situated just 5km south of the city it is the legendary centre of the Minoan civilization dating from 1900 - 1400 BC. Or of course you might choose to stroll along the sea front, perhaps visit a café or taverna and relax, enjoying the warm climate and local hospitality.

There will be a briefing, late in the afternoon, in the hotel by your guide where you will meet the other members of the group and be able to ask any questions you might have. Dinner will then be taken in a restaurant by the hotel.


Overnight: Kronos Hotel

Day 2 - Transfer to Hania. Morning sightseeing. Afternoon transfer to Palechora on the south coast.

This morning you will drive to Hania (around 2 1/2 hours' drive), considered to be the prettiest town of Crete. Having been inhabited since Neolithic times it reflects a myriad of past civilizations. The Venetian quarter, located within the old city walls, is the popular choice to explore with its atmospheric narrow streets, picturesque houses and many bars, cafes and restaurants. The old Venetian harbour and lighthouse are 'must sees' and perhaps the ancient Firkas fortress containing the maritime Museum. Your guide will provide some 'top tips' to enable you to go and explore and enjoy your morning in Hania.

After lunch in a small local tavern you will take a further bus ride (approximately 2 hours' drive) to the small town of Paleochora located on a small peninsula on the south coast jutting out into the Libyan Sea. Here you will find lovely beaches where you can relax and take a dip in the clear waters, or you might choose to explore the ruined castle or narrow Venetian streets. Or perhaps you will prefer to enjoy some of the many cafes and tavernas overlooking the sea with extensive views to the east of the spectacular White Mountains dropping down into the water. Dinner will be taken in the hotel or a local restaurant.


Overnight: Manolis Apartments or Similar, Paleochora

Day 3 - Walk from Palechora along the coast path to Sougia - 6 hours.

Today you start the trek. Leaving Paleochora behind you, you turn east and follow the E4 path along the coast - your trek has begun! The sea will be in view throughout the day as the path parallels the coast. The first part of the day you stay close to the sea with small bays and sweeping beaches, before the trail briefly climbs away and up over a plateau covered in spiny broom and spurge. From here the White Mountains will be in view in all their glory, hiding numerous gorges which have carved their way down over time to the sea. Descending you will arrive at the ancient Roman site of Lissos, set back from the sheltered bay of Agios Kyriakos, where you can explore the ruins, have your picnic lunch and take a refreshing dip in the sea.

Leaving Lissos you ascend into a steep, smooth walled gorge filled in spring with brilliant pink oleander. As the rock walls tower above you, you walk under carobs, olives and pines until you arrive back at the coast and approach Sougia - today's destination. This small town is a peaceful haven, with a long beach and pretty harbour. Total ascent/descent approx. 350m/ 1,148ft.

You will stay two nights at this lovely hotel, so you can settle in and enjoy a drink overlooking the sea, reflect on your first days walk and watch the sun setting. Dinner will be in the hotel or a local restaurant.




Overnight: El Greco or Similar, Sougia

Day 4 - Transfer by boat to Tripiti - 40mins. Hike back along the coastal path to sougia - 6 hours.

You will start today with a short boat transfer to Tripiti down the coast to the east, from where you will hike on beautiful coastal paths back to Sougia.

The boat will leave you near the entrance to the impressive Tripiti gorge from where the trek begins. Passing a couple of small houses, a chapel and cistern you will walk up the bed of the gorge for about 20 minutes before ascending up a small path. This zig-zags out of the gorge with spectacular views opening up as you gain height. Reaching the top you are rewarded with a beautiful view of the bay of Sougia to the west and the coast stretching towards Agia Roumeli to the east. Passing a ruined Venetian fort there is a further small ascent to reach the ancient chapel of the Prophet Elias, 400 meters above sea level. From here you can enjoy the superb view stretching for miles in all directions, considered one of the best on the Cretan south coast. Turning west you follow a small path from where you can see remains of terraces of the ancient town of Pikilassos. In the shade of trees you now follow this path staying above the coast, contouring along the side of the mountain until eventually, you start passing more and more remnants of cultivation, old terraces and olive trees before meeting a dirt road leading you to the river bed east of Sougia which runs down to the sea, and back to the town.

Total ascent / descent approx 500m/1,640ft


Overnight: El Greco or Similar, Sougia

Day 5 - Transfer by private bus to Xyloskalo on the Omalos plateau. Descend the Gorge of Samaria to Agia Roumelli by the sea - 6 hours.

What can be said about the Samaria Gorge that hasn't already been expressed? It has to be one of the most beautiful and magical places in Crete and as such is a popular destination for day walks. Although you will not be alone on your descent through this spectacular gorge it is undoubtedly a hike not to be missed.

Situated in the Samaria National Park (created in 1962) it has a unique ecology due to its isolated mountainous terrain and is home to the indigenous Kri-Kri or Cretan mountain goat. These goats are unlikely to be seen as they spend their time jumping and climbing on high, steep, treacherous rocky cliff tops, but you might spot one if you are lucky. The gorge, one of the largest in Europe, winds down from the high wild plateau of Omalos in the heart of the White Mountains or 'Lefka Ori' (meaning bald, or bare of any vegetation). It is 16.8 km long and a 1,200m/3,937ft descent to the seaside village of Agia Roumelli.

Your day will start after breakfast with a bus transfer up onto the Omolos plateau to Xyloskalo (the name Xyloskalo means wooden staircase, or ladder, and originates from the fact that in the past the inhabitants of the gorge had built a staircase out of pieces of wood and tree-trunks in order to get in and out of the gorge) where the descent begins. Initially steep on carved steps there are dramatic views to Mount Gingilos, a huge barren rocky peak towering up to the right. Continuing down, steep in places, but on a good path you rapidly lose height through old cypress, pine forest and steep cliffs covered by native plants. After about 2km, and having dropped 1,000m/3,280ft, you reach the floor of the upper gorge and will come across pools in the river bed with rocks of all shades, mountains, trees and sky. In springtime there are a multitude of wild flowers to enjoy and always trees and fragrant wild herbs.

Arriving at Agios Nikolaos, the site of an ancient temple to Apollo, the route becomes less steep and you will come to a rest place surrounded by cypress trees which are the tallest in Crete. The path then continues twisting around the rock formations, and in places, crossing the watercourse by stepping stones. Much of this path is in the shade and there are some springs where water bottles can be refilled.

You will now come upon the ruins of the village of Samaria which was inhabited for thousands of years by wood loggers, until 1962, when the National Park was created and the inhabitants forced to leave. During the winter the only way out of the gorge was and still is, to climb up from here as the water level becomes too high to leave via Agia Roumelli on the coast. As you visit this place it is worth a thought for the old inhabitants and the life they must have led.

From here you are in the riverbed proper, a very impressive place. Continuing on you will reach the renowned 'Gates' where the gorge is at its narrowest, the rock walls soar up on either side and in high water conditions you may have to wade. Eventually you come to the lower ticket gate and leave the National Park, arriving in the old village of Agia Roumeli consisting of mostly ruined houses (destroyed in floods of the 1950's). From here to the sea the path is flat and easy and soon you arrive in the new village for a refreshing swim in the cool sea, a beer and some relaxation. Total descent on today's walk - 1,200m/3,937ft.

Dinner will be in your hotel or a local restaurant.


Overnight: Tarra Hotel, Agia Roumelli

Day 6 - Trek from Agia to Roumelli to Loutro - 5 hours.

Continuing east along the coast, today is a fairly long, but straightforward hike to the small isolated harbour of Loutro. There is plenty of shade initially whilst passing under high towering cliffs, skirting beaches and walking through beautiful pine forest. With the sea on one side and cliffs on the other the path leads you on with swimming opportunities along the way.

An hour or so after leaving your hotel you will come to the small Byzantine chapel of Agios Pavlos dating from around the 11th century and set right on the beach. The church is on the spot where Saint Paul reportedly baptised people on his way to Rome. It is a very picturesque small church, built using stones from the beach itself, which makes it hard to see from a distance. From here the path ascends and then continues undulating parallel to the sea until the beach of Marmara is reached, a small cove in an outcrop of white marble, with beautiful soft colourful rocks covering the area. Accessible only on foot or a daily boat from Loutro, it is never crowded and is a good place for a dip. Finally the days walk ends by continuing for a final hour along rocky paths winding above the sea, and passing the beaches of Likkos and Finikas, to reach your nights' accommodation in Loutro. Total ascent/descent - 400m/1,312ft

Loutro was originally the harbour for Anopolis, now a small rustic village high above the present town which in the Greco-Roman times was an important city-state with its own port. Today it is a small, quiet, traffic free town with a view of the calm bay and the lighthouse situated at its entrance. All hotels are centred on or near the beach looking out over the harbour in this very peaceful place.

Dinner is taken in the hotel or a local tavern.


Overnight: Protopapas Rooms, Loutro

Day 7 - Morning walk to Hora Sfakion - 3 hours. Bus transfer back to Heraklion - 3-4 hours.

It will be hard to leave the lovely quiet town of Loutro for the final day of hiking, but leave you must. The half day walk again heads east following the coast through a harsh landscape dominated by rock and steep cliffs. It can be a hot walk as there is little shade to be found, at times the path runs close to the cliff edge where some care needs to be taken, but mostly it is an easy walk - total ascent/ descent 200m/656ft. Along the way you will pass 'Sweetwater Beach', so called because fresh water lies just beneath the sand and can be easily reached with a little digging, where you might be enticed into the cooling waters (for the final time?) before arriving in Hora Sfakion. This village was a former pirate's lair and is built like an amphitheatre with majestic views out to the Libyan Sea. It was very isolated before the road up through the mountains was built, and you can still find many older houses in the area built in the traditional architectural style with large stone arches. Many of the local people, especially the older members, still speak using a local dialect unique to the area and hard to understand even by Greek speakers.

After lunch you will board your bus for the transfer back to Heraklion, which will seem noisy and bustling after the peace of the coastal paradise where you have spent the last 5 days!

Dinner in Heraklion at your hotel or local tavern.


Overnight: Kronos Hotel, Heraklion

Day 8 - Transfer to airport for flight to London.

Depending on your return flight, there might be time to visit Knossos (if you haven't already done so on your arrival day) or to explore Heraklion.

You will be transferred back to the airport for your flight home.

Map
Map Key
Airport
Point of interest
Mountain Peak
Day walk in this area
Flights
Internal Transfers
Trek
---
2018
| Dates | Availability | Land Only | Flight Inclusive from |
| --- | --- | --- | --- |
| Sun 20 May - Sun 27 May 2018 | Restricted | Contact us | Contact us |
Hold your place
Not quite ready to book? Why not call us on 0044 (0)1453 844400 to hold a no obligation place while you make up your mind?
Insurance
No Surcharge Guarantee
No surcharges will be applied to your holiday after you book. Prices on this website are updated regularly. The Flight Inclusive holiday price, or Land Only holiday price, will be confirmed to you at the time you make your booking. There will be no surcharges after your booking has been confirmed.
Flight inclusive holidays
The 'flight inclusive' holiday prices shown on this website are based upon our preferred airlines and the best priced economy class fares we are able to secure at the time of publication.
We will be able to advise on fares with alternative airlines, upgrades to Business Class, and the options for flights from regional UK airports, please contact us for more details.
Loyalty discount
Find out more
What's included
Economy class return air fares from the UK (flight inclusive option). If you are travelling land only, check with our office for joining time at the airport
An English speaking local leader
Hotel/airport transfers
Good standard hotel accommodation throughout.
All meals included except lunches on arrival and departure days.
Local transfers where indicated.
Cost of all luggage transfers
A free high-quality Mountain Kingdoms micro fleece
The option of joining one of our pre-trip meets in the Cotswolds
What's not included
Travel insurance
Tips
Items of a personal nature
---
---
Review your holiday
Reviews
Read holiday reviews by Mountain Kingdoms travellers.
Overall score: 5.0 (Based on 1 reviews)
White Mountains & Emerald Seas, Crete
Brilliant white villages
Walking the south coast made my heart sing - the rugged interior, brilliant white villages, ruins of an ancient past and turquoise sea.
Liz Noakes, Operations Manager, Mountain Kingdoms
---
Extend your holiday
There are many ways you can extend your holiday with Mountain Kingdoms: book extra hotel nights, relax at a beautiful beach resort, take a warm-up trek, arrange a personal sightseeing tour or enjoy specialist activities such as rafting, birdwatching or a safari.
We're happy to suggest ideas, provide quotes and make all the arrangements. We can also assist with flight and hotel upgrades. Just call us on +44 (0)1453 844400 or email info@mountainkingdoms.com and we will be pleased to help.