What's included
An experienced English-speaking Andorran guide
Economy class return air fares from the UK (if booking our flight inclusive option
Transfers to and from Barcelona airport at the start and end of the holiday. These may be shared with other passengers.
Accommodation in a good quality hotel on a twin share basis.
Evening drinks at the Montané Hotel including beer and wine
Carbon offset flights (flight inclusive only)
The option to attend one of our pre-trip meets in the Cotswolds
A free Mountain Kingdoms Water-to-Go bottle or a free Mountain Kingdoms fleece
All breakfasts, packed lunches (on walking days) and evening meals
and much more...
Call our
friendly team
Walking in Andorra - the Coronallacs Pyrenees
Walking & Trekking
Grade: Vigorous ? Vigorous
Duration: 5 days from the UK
Walks on: 3 days
Flight inclusive from £1,085,
Land only from £795
Book now or call 01453 844400
A long weekend of exhilarating walking on the most scenic sections of Andorra's new long-distance trail.
Highlights
Experience the best sections of Andorra's first circular high-mountain trail, The Coronallacs Circuit
Walk in the stunning Vall del Mariu-Perafita-Claror Natural Park, Andorra's only UNESCO World Heritage Site
Hike through Pessons Valley with its myriad glacial lakes and the beautiful flower-covered Incles Valley
Stay in comfortable hotel accommodation
Reviews
The perfect get away for a long weekend. The amazing views, walks, food, and hospitality blew me away. This is a country ready to introduce itself as a Pyrenean paradise to the world.
Dan, Mountain Kingdoms
View All
This short walking holiday is a superb introduction to the highlights of a country lying at the heart of the Pyrenees mountains that is often overshadowed by its French and Spanish neighbours. To uncover the many hidden charms of Andorra we have created this unique itinerary with three full days of walking in the stunning mountains of the eastern Pyrenees following the very best sections of a new Andorran long-distance, hut-to-hut footpath called the Coronollacs Circuit – the 'Crown of the Lakes'. Rather than stay in mountain hut dormitory accommodation though, you are based in a comfortable hotel, only a short drive to the start of each day's walk and perfect for relaxing each evening after a good day on the trail.
Walking during the glorious summer months, you start your trip in the isolated Madriu-Perafita-Claror Valley Natural Park – a UNESCO World Heritage Site nominated both for its cultural heritage and for its natural beauty. Walking first to the summit of Pic Negre for panoramic vistas of the park you then descend into the Madriu Valley itself where you walk through dense forest and idyllic, flower-strewn meadows, passing bubbling streams and tumbling waterfalls. The natural delights continue on your second day as you pass the myriad glacial lakes of the Pessons Valley to reach a high pass with glorious views. Your holiday ends in style as your final day takes you close to the French border, to the bewitching Incles Valley, home to Andorra's largest lake, and surrounded by beautiful high mountain peaks.
Accompanied by an experienced, English-speaking guide you will discover not only the pristine mountain landscapes but also the rich cultural history of this charming country which, over time, may well become one of Europe's most exclusive trekking destinations.
---
At a glance
Grade: Vigorous
Vigorous
Duration: 5 days from the UK
Walks on: 3 days
Max. Altitude: 2,800m/9,186ft, Pessons Pass, Day 3
Guaranteed to run for a minimum of 4 clients
Maximum group size: 12
Land only joining city: Barcelona
Accommodation types: Hotel
Meal arrangements: 4 breakfasts, 3 packed lunches and 4 dinners. Evening meals are taken in your hotel.
Itinerary overview
| Day | Activity |
| --- | --- |
| 1 | Fly London to Barcelona. Transfer to hotel in Andorra. |
| 2 | Transfer to Rabassa. 4WD to Port Negre. Walk to summit of Pic Negre. Descend through the Vall del Madriu to Escaldes. |
| 3 | Walk from Grau Roig to the Pessons mountain Pass. Descend to Cortals d'Encamp via the Lake Ensagents. |
| 4 | Hike through the Incles Valley to Juclar Lake. Cross Incles Pass and descend to Borda del Marticella. |
| 5 | Transfer to airport. Fly back to London.Group transfer to airport. Fly back to London. |
Leader: Local Leader, Andorra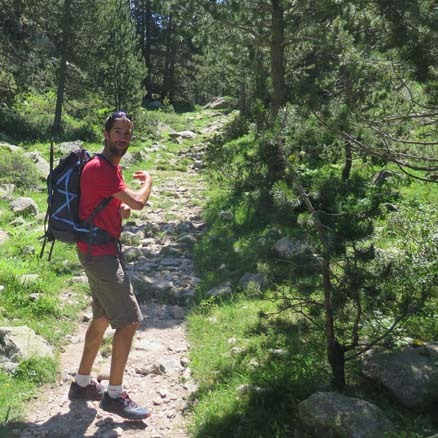 The Highlights of the Coronollacs Circuit will be led by a very experienced and qualified guide who speaks excellent English. They will know the routes and trails you are walking and will be able to give you much insight and information about the local history, culture, flora and fauna.
---
Walking in Andorra - the Coronallacs Pyrenees Itinerary
Day 1 - Fly London to Barcelona

On arrival in Barcelona there will be a transfer to your hotel in Arinsal. This small, mountain resort is a popular ski resort in the winter months and an ideal base for walkers during the summer with a selection of cafés, bars and restaurants.

Overnight: Hotel Montané, Arisnal Or Similar

Day 2 - Transfer to La Rabassa – 35 minutes. 4x4 drive to Port Negre and walk to Pic Negre, 2,643m/8,671ft. Descend into the Madriu Valley and walk to Escaldes – 15km, 7-8 hours walking.

Today's walk is along part of Stage 1 of the Coronallacs Circuit. Your day begins with a drive to La Rabassa through the heart of Andorra and its capital city, Andorra la Vella. Once you arrive at La Rabassa you head off in a 4x4 vehicle, passing the Refuge of Roca De Pimes, 2,170m/7,119ft, and continuing to Port Negre at 2,600m/8,530ft. Here you leave the vehicle behind and walk the last 43m by foot to the summit of Pic Negre 2,643m/8,671ft, where you can enjoy magnificent, far reaching views.

Then you start your walk down into the idyllic Madriu-Perafita-Claror Natural Park. This park covers 9% of the total surface of Andorra and is the only World Heritage Site in the country. It is recognised both for its cultural features and natural beauty. Your first point of interest after leaving Pic Negre is the Claror mountain hut, 2,280m/7,480ft, said to be the most beautifully situated in Andorra; it's easy to see why as the surrounding scenery is picture-perfect. Continuing along the path, your next highlight is the pretty Estany de la Nou Lake. This lake is unique in the Pyrenees as its water is warm rather than cold, due to it being sustained by groundwater which flows through the ground lying immediately under the surface soil. A little further and your path merges onto the cobbled trail of Collada De Maiana which winds across alpine plains, past rivers and through forests that cover the lower parts of the Madriu Valley. Leaving the cobbles behind you next follow a trail to Estall Serrer, an attractive level area with small shepherd shelters scattered picturesquely against the backdrop of mountain peaks. You may want to rest awhile before beginning your descent onto the Coronacllas Circuit route. Flanked by the steep sides of the southern valley you walk pass the Fontverd mountain hut at 1,880m/6,168ft, to the isolated village of Ramio. Here you will find six traditional Andorran stone houses giving a glimpse into how the local people lived in days gone by. Now it's mainly downhill through a shady forest to the village of Escaldes where your transport will pick you up and take you back to your hotel.


Overnight: Hotel Montané, Arinsal Or Similar

Day 3 - Drive to Grau Roig – 40 minutes. Walk Pessons Valley and cross Pessons Pass, 2,800m/9186ft – 12km, 7-8 hours.

After breakfast today you drive to Andorra's most famous ski resort, Grau Roig where your walk begins. Today you will follow a section of Stage 2 of the Coronollacs Circuit.

You start by leaving town on foot heading westwards through forest, along the Coronallacs route. Eventually you emerge into open countryside and see the first of seven beautiful lakes that dot the landscape in the Pessons Valley. The scenery and vistas here in this mountain cirque are simply stunning and you will see why the Andorrans consider this the country's most beautiful spot.

Passing by the first lake, your path meanders over boulders and little streams, circling some of the other lakes as you ascend gradually upwards. In the summertime, the valley comes alive with a vibrant carpet of brightly coloured flowers whilst marmots whistle as you pass by. It is a delightful place to be.

As you ascend higher, you will see that you are increasingly surrounded by high mountain peaks, which reach almost 3,000m, and you will now start to climb in earnest as your path takes you up to Pessons Pass at 2,800m/9,186ft. From the pass you can look down on the bucolic landscape you have walked through and count all the lakes.

A long walk follows along the "Bear Trail" (Cami De L'ossa) to scenic Ensagents hut situated by Lake Ensagents; here you may be able to catch a glimpse of the Andorran chamois that frequent the area. Your day ends by descending down to the "Cortals D'encamp", a settlement of traditional 'Borda' mountain homes, and here your driver will pick you up.


Overnight: Hotel Montané, Arinsal Or Similar

Day 4 - Walk along the Incles Valley to Juclar Lake. Crosss the Incles Pass to reach the lakes at Salamandres, 2,430m/7,972ft – 14km, 7-8 hours.

Your walk today includes sections from Stages 2 and 3 of the Coronollacs Circuit but it's a gentle start as you begin at the friendly restaurant of Ovella Negra, about half an hour's drive from your hotel. You start on the Incles track lined by fields covered in wild mountain flowers. Initially this is a gravel path that continues for about 2km before starting to curve upwards into the Incles valley where you climb over small boulders, rocks & streams, and walk through narrow pathways and past waterfalls fed from the lakes above. The path winds up past the Juclar River and towards Andorra's biggest lake, the Juclar Lake, 2,293m/7,522ft, close to the French border. Here you will be able to take a break at the Juclar mountain hut, with its spectacular views of the Juclar glacial cirque surrounded by impressive mountain peaks of more than 2,700m/8,858ft.

Your trail continues through an alpine zone to the open pastureland of the Planells de Manegor and onto the Incles Pass at 2,260m 7,415ft. As you follow the path your guide will give you a fascinating history lesson on how this pass was used as a crucial entry point for Jewish refugees during the Second World War. That is because Andorra was a neutral country during the war and therefore provided a safe haven for Jews looking to escape persecution in neighbouring countries.
Beyond the pass, you once again pick up the Coronacllas Circuit and head towards the mountain hut and lake at Cabana Sorda, 2,295m/7,530ft. This is the most challenging part of your walk but your efforts will be rewarded by the glorious scenery and views from the hut. If you're feeling in need of a cool down, you can even swim in Cabana Sorda Lake, but be warned, it is very cold!

Now you the leave the Coronallacs trail and take an alternative path to the small lakes at Salamandres, 2,430m/7,972ft. These glacier lakes are a perfect place to watch for birds as many nest and search for food for their young around here in the summertime. The final part of your walk takes you into the Ransol Valley, a managed reserve, before your driver meets you at the Borda del Marticella - a typical rural Andorran construction of wood and stone which was used to keep cattle. You return to your hotel for your last night and a chance to reflect on the many delights of your Andorran holiday.


Overnight: Hotel Montané, Arinsal Or Similar

Day 5 - Morning at leisure. Transfer to Barcelona Airport. Fly to London.

This morning is free to relax at the hotel before your transfer leaves for Barcelona Airport in time for the flight back to the UK.
Map
Map Key
Airport
Point of interest
Mountain Peak
Day walk in this area
Flights
Internal Transfers
Trek
---
2020
| Dates | Availability | Land Only | Flight Inclusive from |
| --- | --- | --- | --- |
| Wed 24 Jun - Sun 28 Jun 2020 | Available | £795 Book | £1145 Book |
| Thu 27 Aug - Mon 31 Aug 2020 | Available | £795 Book | £1085 Book |
Hold your place
Not quite ready to book? Why not call us on 0044 (0)1453 844400 to hold a no obligation place while you make up your mind?
Insurance
No Surcharge Guarantee
No surcharges will be applied to your holiday after you book. Prices on this website are updated regularly. The Flight Inclusive holiday price, or Land Only holiday price, will be confirmed to you at the time you make your booking. There will be no surcharges after your booking has been confirmed.
Flight inclusive holidays
The 'flight inclusive' holiday prices shown on this website are based upon our preferred airlines and the best priced economy class fares we are able to secure at the time of publication.
We will be able to advise on fares with alternative airlines, upgrades to Business Class, and the options for flights from regional UK airports, please contact us for more details.
Loyalty discount
Find out more
What's included
An experienced English-speaking Andorran guide
Economy class return air fares from the UK (if booking our flight inclusive option
Transfers to and from Barcelona airport at the start and end of the holiday. These may be shared with other passengers.
Accommodation in a good quality hotel on a twin share basis.
Evening drinks at the Montané Hotel including beer and wine
Carbon offset flights (flight inclusive only)
The option to attend one of our pre-trip meets in the Cotswolds
A free Mountain Kingdoms Water-to-Go bottle or a free Mountain Kingdoms fleece
All breakfasts, packed lunches (on walking days) and evening meals
What's not included
Travel insurance
Items of a personal nature
Locally paid bar bills and laundry
Lunches on days 1 & 5
Tips
---
---
Review your holiday
Reviews
Read holiday reviews by Mountain Kingdoms travellers.
Overall score: 5.0 (Based on 1 reviews)
Walking in Andorra - the Coronallacs Pyrenees
Pyrenean paradise 28/03/2019
The perfect get away for a long weekend. The amazing views, walks, food, and hospitality blew me away. This is a country ready to introduce itself as a Pyrenean paradise to the world.
Dan, Mountain Kingdoms, Gloucestershire
---
Extend your holiday
There are many ways you can extend your holiday with Mountain Kingdoms: book extra hotel nights, relax at a beautiful beach resort, take a warm-up trek, arrange a personal sightseeing tour or enjoy specialist activities such as rafting, birdwatching or a safari.
We're happy to suggest ideas, provide quotes and make all the arrangements. We can also assist with flight and hotel upgrades. Just call us on +44 (0)1453 844400 or email info@mountainkingdoms.com and we will be pleased to help.