What's included
An English speaking Burmese leader throughout
Economy class return air fares from the UK (flight inclusive option)
All internal flights and hotel/airport transfers
Savoy Hotel in Yangon, bed & breakfast on twin-share basis
Outside of Yangon, comfortable hotel accommodation on full board, twin-share basis.
All road transport by private vehicles
Sightseeing where specified
A free high-quality Mountain Kingdoms kit bag
Opportunity to join one of our pre-trip meets in the Cotswolds
and much more...
Call our
friendly team
Village Trails of Inle Lake
Walking & Trekking
Burma (Myanmar) | Walking & Trekking
Grade: Moderate ? Moderate
Duration: 14 days from the UK
On trek: 3 days
Walks on: 4 days
Flight inclusive from £2,595,
Land only from £1,895
Book now or call 01453 844400
Discover the many delights of the Burmese countryside through scenic walks and a picturesque trek.
Highlights
Trek for three days across picturesque countryside from Kalaw to Inle Lake
Stay in village homes and lodges for an insight into authentic Burmese life
Travel off the tourist trail to Sintaung Village and spend an evening with the local community
Take walks and boat rides to explore Inle Lake and the surrounding villages and temples
Reviews
This trip has many highlights but it's the little things that stay in my memory. I really loved the homestay at the little village of Sintaung, the family were so welcoming, the food was delicious and the whole experience was truly lovely.
Mountain Kingdoms
View All
Whether a first time visitor to Burma, or someone who wants to explore in greater depth, this unique holiday offers a unique insight into Burmese village life. Although centred around the picture-perfect region of Inle Lake, the trip also takes us to other areas and trails that few tourists ever see.
We begin our holiday exploring the area around Pindaya and the pretty hill town of Kalaw, once a cool, colonial retreat. From here we trek for three days through gentle rolling countryside, past tea gardens and cultivated fields where we see the local people going about their everyday lives. On trek, we stay in village homes and lodges for a truly authentic experience.
Arriving on foot at Inle Lake, there is ample time to explore the surrounding small villages, pretty countryside and atmospheric temples, as well as to take a boat ride across the lake's tranquil waters. We can also take time to relax at our lakeside hotel and simply watch this enchanting world go by.
---
At a glance
Grade: Moderate
Moderate
Duration: 14 days from the UK
On trek: 3 days
Walks on: 4 days
Guaranteed to run for a minimum of 4 clients
Maximum group size: 8
Land only joining city: Yangon
Accommodation types: Hotels, Homestays, Lodges
Meal arrangements: Bed and Breakfast in Yangon (Rangoon) and full board elsewhere. Lunches and dinners, where included, will be taken in a mixture of local restaurants, in village homes and your overnight hotels.
Itinerary overview
| Day | Activity |
| --- | --- |
| 1-2 | Fly to Yangon (Rangoon). Sunset visit to Shwedagon Pagoda. |
| 3-4 | Fly to Heho, day walk in Pinday, visit caves. Local train to Sintaung village. |
| 5 | Day walk back to Kalaw. |
| 6-8 | Trek to Inle lake via Pattu Pauk and Indaing. |
| 9 | Day walk from Inle Lake to Kakku. |
| 10-11 | Day exploring Inle Lake. Transfer to Loikaw. |
| 12 | Sightseeing in Loikaw. Fly to Yangon. |
| 13-14 | Transfer to airport. Fly to London. |
Leader: Local leader, Burma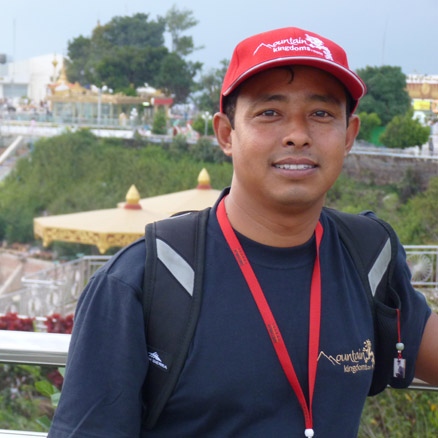 Your trip will be escorted throughout by an English speaking Burmese guide. Our Guides are all licensed to guide throughout the country and receive regular 'top-up' training. In addition to English, many guides will speak the dialects used by some of the ethnic groups you will encounter in rural areas – further adding to the interest and enjoyment of your holiday.
---
Village Trails of Inle Lake Itinerary
Day 1 - Fly London To Yangon.

Depart London on an overnight flight to Yangon.

Overnight: Overnight Flight London To Yangon

Day 2 - Arrive Yangon. Sunset visit to Shwedagon Pagoda.

You will be met and transferred to the Savoy Hotel - a stylish, boutique hotel furnished in colonial style - an excellent place to relax. This afternoon you will make a sunset visit to the Shwedagon Pagoda.

Famous worldwide, the golden stupa of Shwedagon ("shwe" means golden) is considered the 'heart' of Buddhist Burma. The Pagoda is believed to be 2,500 years old and the central stupa is surrounded by dozens of intricately decorated buildings, shrines and statues. There are always many Burmese people praying and making offerings at Shwedagon and it is a fascinating place to spend time just watching the world go by. The transformation from late afternoon light to evening, further adds to the spectacle and atmosphere of this wonderful temple complex.


Overnight: Savoy Hotel Or Similar, Yangon

Day 3 - Fly to Heho and transfer to Pindaya. Village walk to Pindaya caves.

This morning you will be transferred back to Yangon airport for your domestic flight to Heho. This is a scenic flight and will offer some lovely views of the terrain you will be walking along. From the airport you will transfer to Pindaya (about a one hour's drive) and check into your hotel.

After lunch and some time to sort your kit, you will drive an hour by truck to get to Tha Yet Kone village and start your first walk of the holiday. You will walk through the little village and visit a family who make bamboo hats to sell at local markets. This typical cottage industry offers an insight into traditional rural Burmese family life. Leaving the village you will continue on to a great panoramic view over Pindaya town in the distance. The next small village you will reach is Kyae Dwe Kone, a Danu village where they cultivate tobacco, tea and potato. This village is also known locally for making delicious crisps, and you can try the freshly made product with a nice hot drink in a village house.

As you continue on your walk you will pass by countless bamboo trees and your guide will be able to point out the trees where local people have extracted and eaten a grub that people believe helps with fertility. You will then join a small road where you may see the local school children on their long walk home back from a day at school. A short while later you will arrive at the Pindaya Caves. You will make your way inside the cave complex that is deeply important to the Burmese people. Inside you will find every corner of every chamber of the cave filled with thousands of different statues of Buddha. The iconography ranges from ancient statues to the slightly more modern versions with LED lights! Afterwards you will transfer back your hotel.


Overnight: Inle Inn or Similar, Pindaya

Day 4 - Drive to Kalaw, take local train to Sintaung village.

This morning you will be driven to the former British Hill Station of Kalaw. You will visit downtown Kalaw where you will see some of the old colonial buildings and also visit an Anglican Church, one of the many buildings built by the British in 1906. In Kalaw you will also explore the central market which, on a market day, is alive with activity and the local hill tribe people wear their colourful, uniquely woven national costumes decorated with artistically designed jewellery.

You will have lunch at Kalaw and then walk to Kalaw railway station. Here you hop on the train bound for Thazi. You get off at Sintaung named after a local mountain that bears a resemblance to an elephant. Sintaung located at 4,425 feet above sea level, is predominately inhabited by a Nepalese community whom were brought to Burma by the British as Gurkha soldiers. Here you will visit a 100 year old Nepalese temple, an old railway station and perhaps climb the hilltop pagoda for a stunning view of the valley below. You will then settle in at one of the village houses and enjoy some genuine interaction with the community. In the evening you will enjoy a sumptuous Nepalese meal and a cultural show performed by the locals. This is an area that has seen very little, if any, tourism and the local people will be very happy to see you. The village homestay is supported by the Kalaw Hill Lodge where you will be staying tomorrow night. This is a local charity project that has been set up to provide an income to the local villagers.

The accommodation tonight is quite basic but the warmth and charm of this family run homestay will provide you with many lovely memories.


Overnight: Village Homestay

Day 5 - Day walk to Kalaw - 5-6 hours.

After breakfast you will wave goodbye to your hosts and begin your day's walk to Kalaw. The walk back follows a different trail to the railway. First you will walk to Hinkha Gone, located at 4,767 feet above sea level, from where the trail climbs up to a ridge which you will follow until you get to the next village. This village has a great little school and your guide will check with the teachers to see if it is possible to visit a couple of the classrooms, the children enjoy the opportunity to practise their English with you. Leaving the village you will stay on the ridge line with a protected forest on your right and wide open views to the large valley on your left. You will stop here for lunch and take some time to enjoy the view from the ridge.

When you have had a rest and enjoyed a delicious lunch you will continue your walk which takes you through almost jungle scenery out into the open to reach a large reservoir located at 4,554ft which was originally built by British some 80 years ago and remains today the major source of fresh water supply to the town. As you continue your walk you will enter a protected forest that is rich with birdlife. It's a great place to just stop and listen to the birdsong. There are also several species of orchid hanging from the trees.

The scenery changes yet again as you follow the path through terraced fields on your way into Kalaw. The scenery is picture postcard beautiful and it is very interesting to hear about the different types of crops that are grown here throughout the year.

Arriving into Kalaw you will walk the short distance to your lodge for the night.


Overnight: Kalaw Hill Lodge, Kalaw or Similar

Day 6 - Start trek to Inle Lake. Trek to Laming village - 6-7 hours.

After a hearty breakfast you will head off for your trekking adventure. This trek takes you through very pretty pastoral countryside and some busy villages. You will meet your local guides for this next section and you may have time for a visit to Kalaw's busy market. Your walk then takes you up and down through the forested hills around Kalaw and through terraced fertile fields. After about three hours you arrive at the little settlement of Myin Daik with its quaint railway station where roadside stalls sell fruit and vegetables and flowers grown in the surrounding area. You will probably have lunch here. Your afternoon's walk follows for a short way along the railway line and you then continue ahead across beautiful rolling open countryside and fertile farmland where you will see ox carts, buffalo used for ploughing, local people working in the fields, school children and friendly villagers. You pass through several villages and finally cross a tarmac road to arrive at Laming, your overnight stop for the night, about 2-3 hours from Myin Daik. Laming is an attractive friendly village of Danu people and you will stay for the night in the house of a local family.


Overnight: Village Homestay

Day 7 - Trek through villages and farmland to Pattu Pauk - 5-6 hours.

This is another lovely day's walking through pretty farmland. After about 2½ hours you come to the village of Paw Kai, the first Pa O village you visit. The Pa O are one of the major ethnic groups of Shan State and are identified by the colourful turbans which are worn by both men and women. Leaving the village you walk through more rolling countryside with lush fields of potatoes, cauliflower, cabbage chillies and rice to reach the village of Kone Hla where you may have lunch in a local house. You then walk across more rolling hills before your route takes you through two limestone crags. Along the way, amongst all this rural prettiness, you may also see evidence of local industry, with small scale lime kilns, people making baskets out of the locally grown bamboo and the open shaft of a coal mine.

Passing through a narrow notch in the second limestone crag you arrive at your stop for the night at the village of Pattu Pauk. This is a thriving and very picturesque village surrounded by a large grove of swaying bamboo and backed by high limestone cliffs. The village is well known for its basket making. There is a small café as you enter the village where cold beer may be available.


Overnight: Village Lodge

Day 8 - Trek to Indaing - 5-6 hours. Visit pagoda, bamboo forest and take a boat across Inle Lake.

From Pattu Pauk you walk through fields to reach Hti Taing monastery in about 40 minutes. This is a large and very picturesque monastery which also offers accommodation to trekkers on this route. From the monastery your path takes you gently uphill amidst more scenic countryside with good views, especially looking back the way you came. Eventually you will crest a ridge and look down on Inle Lake glinting below you in the distance. You descend on a gravel road to Than Kha Mauk where there are couple of tea houses offering welcome refreshments. You then start a long descent mostly on a red earth trail through scrub. You will have lunch in a restaurant in Indaing and will then have time to visit the pagoda with its many gilded stupas and tinkling bells. It is reached by walking up a long shaded walkway past crumbling, picturesque stupas. There are good views from the top of the hill and you could return by way of the nearby bamboo forest.

You then board your boat to travel to Inle Lake which is reached via a long channel which weaves through jungle, bamboo and reeds to reach the main lake. You travel across the lake to your hotel, passing by farmers cultivating their floating tomato fields and boats paddled by the famous leg rowers of Inle Lake.

Overnight: Golden Island Cottages or Similar, Inle Lake

Day 9 - Day walk from Inle Lake to the village of Kakku - 6 hours.

This morning you leave your hotel by boat and journey to the village of Nampam Zaygon. From here you bein your walk on gentle paths through rice fields and villages for about two hours. The footpath climbs very little and the view back to the lake is just stunning. You will take a refreshing stop at the foot of the hill in a bamboo forest. From here, for about one hour, you climb to the mountain top, this is a relatively steep walk but once you are on top, the footpath again is very easy and you walk over rolling hills to the next village. The total walk is about 6 hours and it is wonderful. From the village you then drive by car to Kakku.

Here you will discover the 'long lost' ruins of Kakku. Situated in the Shan Hills, the site of Kakku is very unusual and little is known about its origins. The Pa O people believe that the original pagoda was built on the site some 2,000 years ago. Dozens of small stupas surround the main pagoda in a huge circle. You can wander through the stupas which are decorated with fine stucco work and Buddha images. You then visit one of the many Pa O villages near Kakku and see a huge monastery on the way back to Taunggyi. Your drive continues to the outskirts of Nyaung Shwe where you will enjoy a home cooked evening meal at your lovely lodge.


Overnight: Little Lodge Nyuang Shwe

Day 10 - Boat trip to Sagar and walking tour along lake front.

You will make your way to Nyaung Shwe harbour and travel by boat via Nampan to Sagar (approximately 2½ to 3 hours) and Thakong; a rarely visited area south of Inle Lake. If your visit coincides with the schedule, you will explore one of the 5-day rotating markets as well as Kyauktaing, a Shan village where earthenware pottery is produced. At nearby Kyainkhan you will visit a family who produce monk's robes made of fabric woven from thousands of lotus stems whilst in Thakong you will observe local methods of producing alcohol fermented and extracted from bran rice. The day offers an insight into the unspoilt culture and traditional life-style of the ethnic Pa O and Intha inhabitants around Sagar. In addition, you can enjoy the beautiful landscape, trees and numerous settlements dotted on both sides of the canal.

After lunch, you will take a 15 minute boat trip to Taryo Jetty to reach the village of Lin Lan where you start your walking tour to Kong Tar village and then on to the small village of Sam Ka. Along the way you will have the opportunity to visit local houses and village industries such as the small scale sugar refinery you reach about half way along the walk. Again this is a part of Inle Lake that sees very little tourism so you will be able to experience authentic village life.


Overnight: Little Lodge Samkar

Day 11 - Journey to Loikaw.

This morning you will have the chance to wonder through this village by yourself or you may prefer to just sit out on the lakeside and watch the famous leg rowing fishermen of Inle Lake. After time to relax you will board a small boat for the 1.5 hour journey to Phekhone; this route is not often taken by travellers and is very unspoilt. You will then be met by your vehicle for the half hour road trip to Loikaw. The town is in the Karen Hills, near the State's northern tip, just above an embayment on the Pilu River. The inhabitants are mostly Kayah people - also known as Karen. You will visit an impressive rocky outcrop in the centre of town on which stands the Thirimingala Pagoda (Taung Kwe Zedi). The climb up to the pagoda, over various steep steps, is worthwhile for the great views over the city and the nearby hills. You will then be transferred back to your hotel where there will be time to freshen up before heading out for dinner.

Overnight: Kayah Resort, Loikaw or Similar

Day 12 - Sightseeing in Loikaw. Fly to Yangon.

This morning there is the opportunity to visit the vibrant morning market of the town that sells everything you could possibly need and more. There will be more opportunities for sightseeing depending on the timing of your flights back to Yangon.

Upon arrival at Yangon your guide and driver will take you on a tour of the city visiting the sights you did not get to experience at the start of your holiday.


Overnight: Savoy Hotel Or Similar, Yangon

Day 13 - Transfer to Yangon airport.

After breakfast yu will be transferred to Yangon airport for your international flight home.

Overnight: In flight

Day 14 - Arrive in London.

Today you will arrive back in the UK.
Map
Map Key
Airport
Point of interest
Mountain Peak
Day walk in this area
Flights
Internal Transfers
Trek
---
2018
| Dates | Availability | Land Only | Flight Inclusive from |
| --- | --- | --- | --- |
| Sat 3 Nov - Fri 16 Nov 2018 | Available | £1995 Book | £2645 Book |
2019
| Dates | Availability | Land Only | Flight Inclusive from |
| --- | --- | --- | --- |
| Sat 19 Jan - Fri 1 Feb 2019 | Available | £1895 Book | £2595 Book |
Hold your place
Not quite ready to book? Why not call us on 0044 (0)1453 844400 to hold a no obligation place while you make up your mind?
Optional supplements
Single Room Supplement
From £440
Insurance
No Surcharge Guarantee
No surcharges will be applied to your holiday after you book. Prices on this website are updated regularly. The Flight Inclusive holiday price, or Land Only holiday price, will be confirmed to you at the time you make your booking. There will be no surcharges after your booking has been confirmed.
Flight inclusive holidays
The 'flight inclusive' holiday prices shown on this website are based upon our preferred airlines and the best priced economy class fares we are able to secure at the time of publication.
We will be able to advise on fares with alternative airlines, upgrades to Business Class, and the options for flights from regional UK airports, please contact us for more details.
Loyalty discount
Find out more
What's included
An English speaking Burmese leader throughout
Economy class return air fares from the UK (flight inclusive option)
All internal flights and hotel/airport transfers
Savoy Hotel in Yangon, bed & breakfast on twin-share basis
Outside of Yangon, comfortable hotel accommodation on full board, twin-share basis.
All road transport by private vehicles
Sightseeing where specified
A free high-quality Mountain Kingdoms kit bag
Opportunity to join one of our pre-trip meets in the Cotswolds
What's not included
Travel insurance
Visa fees for Burma
Lunch and evening meals in Yangon
Optional trips
Tips
---
---
Review your holiday
Reviews
Read holiday reviews by Mountain Kingdoms travellers.
Overall score: 5.0 (Based on 1 reviews)
Village Trails of Inle Lake
Whole experience was truly lovely 09/11/2016
This trip has many highlights but it's the little things that stay in my memory. I really loved the homestay at the little village of Sintaung, the family were so welcoming, the food was delicious and the whole experience was truly lovely.
Jim Davies, Mountain Kingdoms
---