What's included
Local, experienced English-speaking leader
A free high-quality Mountain Kingdoms kit bag
All internal flights and domestic hotel/airport transfers
Good standard hotel accommodation in Delhi and Darjeeling on twin share, bed and breakfast basis
Best available hotels in outlying towns on twin share, full board basis
All camping facilities and all meals on trek
Camp staff to carry out all camp work
Costs of all porterage and their insurance
All road transport by private vehicles
Sightseeing where specified
Economy class return air fares from the UK & all Departure Tax (flight inclusive holidays only)
Single, timed group airport transfers for international flights on arrival and departure
Opportunity to join one of our pre-trip meets in the Cotswolds
and much more...
Call our
friendly team
Ultimate Kangchenjunga Trek
Walking & Trekking
Indian Himalaya, Sikkim | Walking & Trekking
New for 2020
Vigorous / Strenuous
Vigorous: Suitable for enthusiastic hill/mountain walkers.
Strenuous: Suitable for fit individuals who have regular experience of mountain walking.
Find out more...
Grade: Vigorous / Strenuous ? Vigorous / Strenuous
Duration: 22 days from the UK
On trek: 14 days
Flight inclusive from £2,995,
Land only from £2,295
Book now or call 01453 844400
Scenic trekking beneath the world's third highest peak through the varied mountain landscapes of Sikkim.
Highlights
Splendid Himalayan trekking with scenic camps and panoramic viewpoints
Enjoy stunning sunrise views of Kangchenjunga
Time in Darjeeling with a chance to ride the famous Toy Train
Explore the charming hill station of Kalimpong
Full-service camping on trek and good quality centrally located hotels
Reviews
Our very first trek, over 30 years ago, was to Kangchenjunga and it has remained a very popular destination for us ever since. Sikkim has so much to offer – massive Himalayan peaks, wild trekking routes, fabulous cultural sights and some of the most vibrant and fascinating cities anywhere in the world. I retain a huge amount of affection for Sikkim and cannot recommend it enough for anyone...
Steve Berry, MD, Mountain Kingdoms
View All
Situated in the far northeast of India, the small state of Sikkim lies along the spine of the Himalaya, squeezed between Nepal, Tibet and Bhutan. As rich in culture, history and scenic wonders as its neighbours, Sikkim is often overlooked but this tiny green state is a world leader; in 2018 it became the UN's first 100 percent organic state beating 25 other countries and regions from across the world, including Denmark.
Kangchenjunga at 8,586m/28,169ft is undoubtedly the jewel in Sikkim's crown, and the world's third highest mountain, providing a wonderfully inspiring backdrop to Sikkim's scenic trails. Along with its majestic, mountain landscapes Sikkim is famed for a wealth of cultural attractions. Before starting your trek you will visit the bustling hill station of Darjeeling with its verdant tea plantations, colonial era architecture and celebrated mountain railway. You will also make a stopover in Pemayangtse to visit the second oldest and most important monastery in Sikkim.
Having sampled some of the cultural delights of Sikkim, it's now time to immerse yourself in its natural wonders as you set off on trek from Uttarey. Over the next two weeks you will experience a variety of landscapes. Initially you follow a lesser-known route with distant mountain views until you reach the Singalila Ridge, a classic trekking route in its own right, where you enjoy a number of breath taking close-up panoramic viewpoints. And, from virtually your first step to last, Kangchenjunga will be your constant companion – presenting you with truly magnificent views at virtually every twist of the trail. As you gradually ascend you encounter rhododendron forests, lush meadows, babbling streams and even a sacred lake, and every night you enjoy a first rate camping experience at superbly located sites that give you fabulous early morning vistas. Seeing the sun rise over the mighty eastern face of Kangchenjunga is undoubtedly one of the most awe-inspring sights in the Himalaya.
Your final port of call before you fly back to Delhi is at the delightful old hill station of Kalimpong with its laid-back vibe and wonderfully colourful orchid nurseries. Here you will have your last, more distant glimpse of Kangchenjunga and the surrounding peaks, as a final flourish to a superb trekking holiday.
---
At a glance
Grade: Vigorous / Strenuous
Vigorous / Strenuous
Duration: 22 days from the UK
On trek: 14 days
Max. Altitude: 4,500m/14,764ft, Danfe Bir Pass, Day 11
Guaranteed to run for a minimum of 4 clients
Maximum group size: 12
Land only joining city: Delhi
Accommodation types: Hotels, Camping
Meal arrangements: Bed and Breakfast in Delhi. All meals included elsewhere and on trek (except lunch on day 2).
Itinerary overview
| Day | Activity |
| --- | --- |
| 1 | Fly to Delhi. |
| 2-3 | Fly to Bagdogra. Drive to Darjeeling. Sightseeing. |
| 4-5 | Drive to Pemayangtse. Visit monastery. Drive to Uttarey and start trek. |
| 6-14 | Trek to Dzongri via Dhor, Major, Lam Pokhari and Panding. |
| 15-16 | Ascend the Singalila Ridge and trek to sunrise viewpoint above Thansing and Samiti Lake |
| 17-18 | Trek to Yuksom. End trek. |
| 19-20 | Drive to Kalimpong. Sightseeing. |
| 21-22 | Fly to Delhi. Fly to London. |
Leader: Local Leader, Sikkim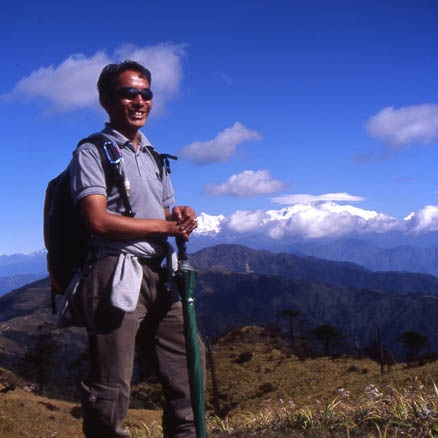 Darjeeling, despite its relatively low altitude, has long held an important place in the history of Himalayan trekking and climbing. Sherpa Tenzing made his home here and the Himalayan Mountaineering Institute founded in the 1950s, is renowned as a centre of excellence for the training of guides. Today's walking and trekking guides in Sikkim uphold the strong traditions and your leader will be a knowledgeable, fluent English-speaking Indian guide. He will be supported by a hard working team on trek, comprising a cook, porters, pony men and depending upon the group size, additional guides.
---
Ultimate Kangchenjunga Trek Itinerary
Day 1 - Fly London to Delhi

On arrival at Delhi International Airport you will be met and transferred to a hotel near the airport.

Overnight: Airport Hotel, Delhi

Day 2 - Fly Delhi to Bagdogra. Drive to Darjeeling, 2,134m/7,001ft - 2½ hour drive.

After breakfast you will be transferred to the airport for your flight to Bagdogra. If the weather is clear, this flight, which runs parallel with the Greater Himalayan chain, will give you views of many huge peaks, including Dhaulagiri and Everest. You will also enjoy your first glimpse of the Kangchenjunga Massif as you approach Darjeeling.

From the airport you drive along the windy road which takes you up from the plains to Darjeeling. Straddling a ridge in the Darjeeling-Sikkim Himalaya at 2,134m/7,001ft and surrounded by tea plantations on all sides, Darjeeling has been a popular hill station since the British established it as a rest and recuperation (R & R) centre for their troops in the mid-1800s. The industrious British, not averse to mixing a little business with pleasure, recognised that the quality of the soil and the mild climate were ideal for tea cultivation; the forested hill slopes were soon denuded of their cover and planted with this most lucrative revenue earner. These days, people come here to escape from the heat and humidity of the north Indian plain. Here you will find yourself surrounded by mountain people from all over the eastern Himalaya who have come to work, to trade or, in the case of the Tibetans, as refugees. Mother Teresa spent her early years as a nun here with the sisters at Loreto Convent and Lawrence Durrell was educated at the prestigious St Joseph's College.

Darjeeling is also a popular tourist town with many visitors coming to enjoy the faded colonial grandeur and the far reaching vistas across to the Himalayan peaks including Kangchenjunga.


Overnight: Dekeling Resort Or Summit Swiss Heritage Or Summit Swiss Grace Hotel, Darjeeling

Day 3 - Sightseeing in Darjeeling.

It is worth getting up early to walk to the Observatory Hill to take in the splendid mountain views. Later you will visit the Everest Museum at the Himalayan Mountaineering Institute where you can see a fascinating collection of memorabilia from some of the early expeditions to Everest. You then drive to the Tibetan Refugee Self-Help Centre where you can observe carpet making and other handicrafts, and visit the centre's shop to pick up a unique souvenir. You will return to the hotel for lunch.

In the afternoon you will have the opportunity to take a ride on the world-famous Darjeeling Himalayan Railway (payable locally). Trains came to India in the latter part of the 19th Century; among the very first and most novel is the famous Toy Train of Darjeeling. In 1870, an agent working for the Eastern Bengal Railway came up with a brilliant idea to reduce the costs of transport. It took eight long years for Franklyn Prestage to submit his scheme to Governor Sir Ashley Eden, who gave it immediate sanction. Construction had begun in 1879, the first 20 miles from Siliguri to Tindharia station was opened in March 1880 for the Viceroy's special train only and finally, on 4 July 1881, the baby locomotive and three coaches puffed right up to Darjeeling - a total of 50¾ miles. The mountain railway is now a UNESCO World Heritage Site.

Please be warned though that it sometimes runs out of coal, and therefore the train on the tourist circuit does not always operate. You can always get onto the regular departure, getting off at the first stop where we can arrange for you to be picked up. Sometimes the train goes so slowly it is faster to walk!


Overnight: Dekeling Resort Or Summit Swiss Heritage Or Summit Swiss Grace Hotel, Darjeeling

Day 4 - Drive to Pemayangste, 2,085m - 5½ hours. Visit Monastery.

After an early breakfast, you set off by jeep for the long drive to Pemayangste. After you've checked in to your hotel, you will be able to visit Pemayangtse Monastery - the second oldest monastery in Sikkim. It has a wonderfully colourful exterior and several treasured artefacts including the "Sangthok Palri", a masterpiece in carved and painted wood, depicting the various levels of earth and heaven on the way to Nirvana. This was the vision of one master, created over a period of seven years.

Also nearby is the famous monastery of Sangachoeling. Situated in forest near Pelling, Sangachoeling is one of the oldest in Sikkim, dating back to 1697 although it has since been rebuilt after being damaged by several fires.


Overnight: Elgin Mount Pandim Or Chumbi Mountain Retreat, Pelling

Day 5 - Drive to Uttarey - 3 hours. Trek to Archaley, 2,800m - 4½ hours.

After breakfast you take a scenic drive to Uttarey along the course of the River Rangeet. Your trek crew will be waiting to greet you in Uttarey and, whilst they load up your gear, you can get your trekking permit checked at the control point. Your trek begins with a hike through the sprawling Sherpa village of Uttarey, climbing gradually and then on a good path through forest to a rest point called Thumki. From here you walk on a flat path for a while and then start to climb, initially steadily and then more steeply through forest to a clearing, Uttarpani, at 2,657m. After a further 20 minutes climbing uphill you come to a pleasant spot called "Ramite" (literally meaning something nice) from where you have lovely views of Kangchenjunga and Pandim. The views get progressively more impressive the further you climb. After another 45 minutes you reach your campsite at Archaley at 2,880m. Set in a beautiful meadow on top of a hill with superb views of Kangchenjunga and surrounding peaks, this will be the first of many such campsites to come.

Overnight: Camp

Day 6 - Trek to Kalizar, 3,450m - 5½ hours.

Leaving camp this morning you first descend to a small stream and then begin your ascent through rhododendron forest to a small meadow known as Hangeypani from where you once again get great mountain views. You continue ascending for another 40 minutes, then follow a nice easy path for a while before descending to another large meadow known as Thulo Dhap. Now you climb steeply for an hour to Khardak Danda, a small clearing in the forest with another great viewpoint.

After a little rest to enjoy the mountain views, you continue steeply uphill to reach some abandoned shepherd huts, and then further to your campsite for the night at Kalizar, 3,450m. Your campsite is in another great setting with expansive views of a multitude of peaks over 6,000m: Kumbakarna (Janu) 7,710m, Koktang 6,147m, Rathong ,6679m, Kabru South 7,317m, Kabru North 7,388m, Talung, 7,349m, Kangchenjunga 8,598m, Simvo 6,811m and Pandim 6,691m.


Overnight: Camp

Day 7 - Trek to Major, 3,289m - 4 hours, including walk to the viewpoint.

You rise early to walk up to the viewpoint at Phoktey Dara (45 minutes to an hour from camp). It's worth the early start as you'll have superb, panoramic views of much of the Nepal Himalaya: Mera Peak 6,654m, Chamlang 7,319m, Baruntse 7,220m, Nuptse 7,879m, Lhotse 8,571m, Makalu 8,481m and Chomolonzo 7,815m will all be laid out before you as well as the 'three sisters' of the Sikkim Himalaya - Janu, Kangchenjunga and Pandim. On a clear day you can even see as far as the distant peaks in Bhutan. Besides the mountains you can look far down the valley where the hills are dotted with villages. Putting cameras away, you turn and descend through beautiful rhododendron and pine forests to Chiwabhanjang. There is a police camp where you have to show your permits. You then carry on through rhododendron forests and climb gently to your camp at Major at 3,289m.

Overnight: Camp

Day 8 - Trek to Dhor, 3,720m - 6 hours.

After breakfast you leave camp and pick up an ancient trail through rhododendron forests to a clearing where you will find some prayer flags. You then descend a little before climbing up the Singalila Ridge above to enjoy spectacular views on either side of the ridge. As the Singalila Ridgetop is a classic trekking route in its own right, you may see trekkers in greater numbers whilst you're on the ridge. It's a wonderful place to stop for lunch though before trekking on to another top and then further to Dhor 3,720m, where you camp for the night. Tonight's craggy campsite comes with great panoramic views.

Overnight: Camp

Day 9 - Trek to Paharay Megu, 3,930m - 6 hours.

The next five days of wonderful walking will be through wilderness and you start early this morning with a climb to the viewpoint above camp to watch the sun rise on Kangchenjunga. Today's walk along the ridge has lots of ups and downs but stays high all the way to your camp at Paharay Megu 3,930m, a pristine high altitude pasture. Vegetation is sparse at this altitude; with only hardy juniper and rhododendron shrubs thriving. The latter is the state flower of Sikkim and the vivid flower colours set the hillsides ablaze in the spring.

Overnight: Camp

Day 10 - Rest day.

Today is a welcome rest day before you trek over the pass tomorrow. Your guide may suggest a short walk from your camp to explore your picturesque surrounds and to aid with acclimatisation.

Overnight: Camp

Day 11 - Trek to Jumlay Pokhari, 4,450m, via the holy lakes at Lam Pokhari and the Danfe Bir Pass, 4,500m - 6-7 hours.

You'll go slow and steady today as the trekking is mostly uphill! You begin by following a wide open valley, passing a waterfall, to reach the beautiful holy lakes at Lam Pokhari, 4,200m. This is a delightful place to stop and rest awhile. Continuing on, you trek first to a saddle and then climb to the prayer flags at Danfe Bir Pass at 4,500m, the high point of your trek. From here you can see the Kangchenjunga and Padim range of mountains stretching out before you, and on a clear day, other Himalayan peaks beyond. It is simply breathtaking. Your campsite is just below the pass by Jumlay Pokhari at 4,450m - another excellent site with fine views.

Overnight: Camp

Day 12 - Trek to Yangseb, 3,900m - 3½ hours.

Breakfast with a view, and then you get back on the trail. Initially you descend for a short while and then walk through pine and juniper forests to Gomathang where you stop for lunch on a nice grassy spot beside a stream (a walk of around two hours). The path is good, thanks to the teams of yaks and dzos who clear the way. After lunch you climb for a further one to two hours to your campsite at Yangseb.

Overnight: Camp

Day 13 - Trek to Panding, 4,275m - 5 hours.

Today's walk takes you contouring around the hillside on a pleasant undulating trail. There is one river crossing and then a final climb to a small pass at 4,310m. Look back the way you have come for more panoramic mountain views. From the pass you continue to tonight's camp at Panding, 4,275m.

Overnight: Camp

Day 14 - Trek to Dzongri, 3,950m - 6 hours.

Leaving camp you make a short, steep ascent followed by a steep descent of roughly half an hour. You then climb again up to a small pass and continue on to the picturesque open meadows of Dzongri. Again there are excellent views from here and you may encounter yak herders grazing their animals on the sweet vegetation. At Dzongri, you are now back on the Singalila Ridge and will follow this well-known trail, that continues all the way to the Goecha La, for much of the remainder of your trek.

Overnight: Camp

Day 15 - Trek to Lamune, 4,164m - 6-7 hours.

Today you have an early start for the half hour walk to a viewpoint above camp where you are rewarded with fabulous sunrise views of Kangchenjunga and the neighbouring peaks of Rathong 6,683m, Kokthang 6,150m, Kabru Dome 6,604m and Forked Peak 6,116m. Having drunk in the views you return to camp for a hearty breakfast. After breakfast, you start the days trek, following a ridgeline before descending very steeply down to the banks of the glacial Praig Chu. Here you hop across the stream on boulders and on the far side ascend gently to a campsite at Thangsing, with Mount Pandim providing a very scenic backdrop. This not your overnight stop though, so you continue on up the wide valley, to your camp at Lamune 4,164m.

Overnight: Camp

Day 16 - Trek to Thangsing, 3,940m - 6½–7 hours.

You have an alpine start this morning, leaving whilst it is still dark. You begin with a walk up a scree path by torchlight followed by a descent to the sacred lake of Samiti Pokhari. You then climb again for around one and a half hours until you reach the viewpoint at 4,500m, hopefully in time to see a spectacular sunrise on the towering eastern wall of Kangchenjunga - only 5 miles away from you at this point. As the sun emerges, the full grandeur of the scenery will be revealed with the five summits of the Kangchenjunga Massif coming into view as well as the imposing peaks of Kabru and Rathong. It is truly an awe-inspiring sight.

You will not be able to climb beyond this point to the famous Goeche La, as the area is restricted in an effort to protect the endangered snow leopards that reside here. So, after spending some time enjoying the views, and no doubt taking lots of photos, you will return to camp for a late breakfast. With the sun now up as you descend, you will be able to enjoy the beautiful sight of Samiti Lake, ringed by prayer flags and reflecting the surrounding massive peaks. After breakfast, you trek downhill for around 2 hours to reach Thangsing.


Overnight: Camp

Day 17 - Trek to Tsokha, 2,990m - 6 hours.

Your morning begins by backtracking to the river from where you take another route, avoiding a return to Dzongri, to reach a clearing in the forest. From here you descend through thick, tall rhododendron and magnolia forest, to the tiny settlement of Tsokha, once a settlement for Tibetan refugees but now abandoned. Having descended around 1,000m today, you will feel the difference in temperature at your campsite.

Overnight: Camp

Day 18 - Trek to Yuksom, 1,780m - 5 hours.

Today is your final day on trek and you begin by descending through dense, sub-tropical forests to the suspension bridge over the Prek Chu River. Here you pick up an undulating trail through more forest that will take you eventually to the large village of Yuksom, and the end of your trek. Yuksom is an important place in Sikkimese history as the first king of Sikkim had his coronation here and his seat can still be seen. Dubde monastery, the first in Sikkim is also here, as well as a small religious lake. Above the village is a forested hill where it is believed the footprint of Guru Rimpoche can be seen. You say a fond farewell to your trekking crew as tonight you will enjoy the relative comforts of a hotel room.

Overnight: Tashigang Hotel, Yuksom

Day 19 - Drive to Kalimpong 1,250m - 5½ hours.

After breakfast you make the drive from Yuksom to Kalimpong which you should reach in time for lunch. Kalimpong is an interesting bazaar town located in the foothills of the Himalaya on a ridge above the River Teesta.

During the days of the British Raj, Kalimpong was a gateway for trade with Tibet. It was also a jumping off spot for much of the 19th and 20th century exploration of the eastern Himalaya and there are many old colonial bungalows and churches in the town from that time. Like Darjeeling, the town is also known for its educational institutions many of which were established by Scottish missionaries during the British colonial period. Nowadays, Kalimpong is a centre for ginger growing and is well known for its horticulture; its flower market is famous for the superb display of orchids. The town is also a centre for Buddhism and the Tibetan Buddhist Monastery, Zang Dhok Palri Phodang, has a number of rare Tibetan Buddhist scriptures which were brought to Kalimpong from Tibet.


Overnight: Holumba Hotel Or Orchid Retreat, Kalimpong

Day 20 - Sightseeing in Kalimpong.

Today you will enjoy some of the main sights of this bustling, bazaar town. As you explore in and around the fascinating local markets look out for paper workshops, silversmiths and thanka painters. You will also visit the flower nurseries of Kalimpong famed primarily for the colourful orchids they produce and export throughout India and overseas. The nurseries also grow numerous other plants and flowers including cacti and gladioli.

Overnight: Holumba Hotel Or Orchid Retreat, Kalimpong

Day 21 - Drive to Bagdogra airport, 80km - 2½ to 3 hours. Fly to Delhi.

After breakfast you will depart Kalimpong with a heavy heart as you leave the mountains to travel down to the Indian plains at Bagdogra. Here you will board your plane for Delhi where you will be met and transferred to your hotel.

Overnight: Airport Hotel, Delhi

Day 22 - Group transfer to airport. Fly to London.

After breakfast you will transfer to the airport for your flight home.
---
2020
| Dates | Availability | Land Only | Flight Inclusive from |
| --- | --- | --- | --- |
| Sat 17 Oct - Sat 7 Nov 2020 | Available | £2295 Book | £2995 Book |
Hold your place
Not quite ready to book? Why not call us on 0044 (0)1453 844400 to hold a no obligation place while you make up your mind?
Optional supplements
Single Tent Supplement
From £80
Single Room Supplement
From £345
Insurance
No Surcharge Guarantee
No surcharges will be applied to your holiday after you book. Prices on this website are updated regularly. The Flight Inclusive holiday price, or Land Only holiday price, will be confirmed to you at the time you make your booking. There will be no surcharges after your booking has been confirmed.
Flight inclusive holidays
The 'flight inclusive' holiday prices shown on this website are based upon our preferred airlines and the best priced economy class fares we are able to secure at the time of publication.
We will be able to advise on fares with alternative airlines, upgrades to Business Class, and the options for flights from regional UK airports, please contact us for more details.
Loyalty discount
Find out more
What's included
Local, experienced English-speaking leader
A free high-quality Mountain Kingdoms kit bag
All internal flights and domestic hotel/airport transfers
Good standard hotel accommodation in Delhi and Darjeeling on twin share, bed and breakfast basis
Best available hotels in outlying towns on twin share, full board basis
All camping facilities and all meals on trek
Camp staff to carry out all camp work
Costs of all porterage and their insurance
All road transport by private vehicles
Sightseeing where specified
Economy class return air fares from the UK & all Departure Tax (flight inclusive holidays only)
Single, timed group airport transfers for international flights on arrival and departure
Opportunity to join one of our pre-trip meets in the Cotswolds
What's not included
Travel insurance
Visa fees
Lunch on day 2 and dinner in Delhi
Tips
---
---