What's included
An English-speaking local leader
Inca Trail permit
Good standard hotel accommodation (3 star) in Cuzco, the Sacred Valley and Aquas Calientes on a twin share, bed and breakfast basis
All camping facilities and all meals on trek
Camp staff to carry out all camp work
All road transport by private vehicles
Sightseeing where specified
Economy class return air fares from the UK & UK Departure Tax (flight inclusive only)
Single, timed, group airport transfers for international flights on arrival and departure
Carbon offset for clients taking our flight-inclusive option
A free high-quality Mountain Kingdoms kit bag
and much more...
Call our
friendly team
Ultimate Inca Trail
Walking & Trekking
Moderate / Vigorous
Moderate: Suitable for anyone who enjoys hill walking.
Vigorous: Suitable for enthusiastic hill/mountain walkers.
Find out more...
Grade: Moderate / Vigorous ? Moderate / Vigorous
Duration: 11 days from the UK
On trek: 4 days
Walks on: 2 days
Flight inclusive from £2,745,
Land only from £1,995
Book now or call 01453 844400
Follow in the footsteps of the Incas and trek to the iconic lost city of Machu Picchu.
Highlights
Enjoy sightseeing and acclimatisation walks in Cuzco
Trek the spectacular Inca Trail, carefully tailored to avoid the crowds
Enter iconic Machu Picchu through the Sun Gate
First rate camping service on trek
Reviews
The itinerary itself was great. Overall I found the level of service to be outstanding.
Ms H, USA
The trip was absolutely brilliant. By far and away the best adventure holiday I've ever been on and hugely exceeded my expectations. It had it all - beautiful snow capped mountains, stunning cloud forests, historical sites (not just Machu Picchu), great trekking trails, star filled nights and excellent company (fellow trekkers and tour staff). I'm already missing it!
Mr S, Gloucestershire
View All
For our Inca Trail trip this year in order to offer a wider range of dates and a more competitive price we have teamed up with our partners in Cuzco to share departure dates for the actual Inca Trail itself. This means that in Cuzco you will join other group members. Group size will be a maximum of 16 trekkers. You will still experience the same great service on trek - you are only going to do the Inca Trail once, so do it in the best possible style.
The ultimate objective of this fantastic short holiday is the famous Inca Trail, one of the best known and most popular trekking trails in the world. And justly so! To make this incredible journey you will follow in the footsteps of the original Inca inhabitants of Machu Picchu as you trek a centuries old trail through magnificent mountain scenery, enjoying sensational views, crossing several high passes and passing through forest, bright with orchids and butterflies and alive with bird song. Along the way you also visit several impressive ruins before reaching the climax of the trip as you finally emerge at the famous Sun Gate entrance to one of the most iconic and impressive views on the planet. You will look down over Machu Picchu, spectacularly set on a high mountain ridge and overlooked by the peak of Huayna Picchu. You will quite rightly feel a real sense of achievement at completing a wonderful journey to reach such a goal.
Book Early! An Inca Trail permit is required for this trip. Permits go on sale at the start of each year, and often sell out quickly. Please contact us for more details.
---
At a glance
Grade: Moderate / Vigorous
Moderate / Vigorous
Duration: 11 days from the UK
On trek: 4 days
Walks on: 2 days
Max. Altitude: 4,128m/13,543ft, Dead Woman's Pass, Day 7
Guaranteed to run for a minimum of 2 clients
Maximum group size: 16
Land only joining city: Cuzco
Accommodation types: Hotels, Camping
Meal arrangements: 8 x Breakfasts, 8 x Lunches and 4 x Dinners.
Itinerary overview
| Day | Activity |
| --- | --- |
| 1-2 | Fly to Cuzco and transfer to hotel. |
| 3-4 | Acclimatisation walks and sightseeing in an around Cuzco and the Sacred Valley. |
| 5 | Visit Ollantaytambo. Begin Inca Trail. Trek to Llactapata. |
| 6 | Trek to Huallyabamba and on to Llulluchupampa. |
| 7 | Cross 'Dead Woman's Pass', 4,128m/13,543ft, Trek over two further passes to Phuyupatamarka. |
| 8-9 | Trek to Machu Picchu. Guided tour of Machu Picchu. Train to Cuzco. |
| 10-11 | Fly overnight to London. |
Leader: Local leader, Peru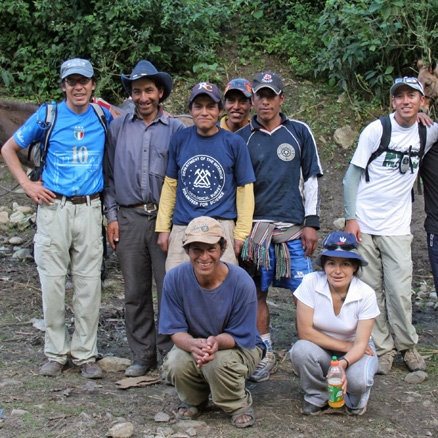 You will be accompanied throughout your holiday by a local English-speaking guide. These leaders are very knowledgeable and extremely charming and friendly and in their company you will enjoy an insider's view of Peru.
---
Ultimate Inca Trail Itinerary
Day 1 - Fly London to Cuzco.

Depart London on your overnight flight to Cuzco.

Overnight: In flight

Day 2 - Arrive Cuzco. Group transfer to hotel. Short walking tour of the historic city centre.

You will be met on arrival and transferred the short distance to your hotel in the heart of historic Cuzco. This very appealing and friendly city lies at 3,353m/11,000ft and we recommend that you take it very easy today.

You will have lunch in a café before your introduction to the city with the "Local's guide to Cusco". This short walking tour is a great way to get your bearings and also helps you get used to the altitude. The beautiful historic centre was declared a World Heritage Site in 1983 with Inca and colonial architecture evident all around.

Overnight: Quinta San Blas or Similar

Day 3 - Acclimatisation walk and sightseeing in an around Cuzco.

Today you have the opportunity to stretch your legs and acclimatise to the high altitude with a delightful hike in the hills above Cuzco. First stop is the impressive site of Sacsayhuaman. Huge stone ramparts surround a beautiful grass amphitheatre. Once the scene of fierce battles it now hosts traditional Inca ceremonies such as Inti Raymi and Warachikuy.

You will then go to the Inca water temple of Tambo Machay lying at 3,700m/12,000ft, followed by a special picnic lunch. From here it is all downhill to Cuzco, stopping at the Temple of the Moon and, depending on time, other historical sites along the way.

Once back in Cuzco you can have a bit of relaxation or do some sightseeing around Cuzco. Whether your interest is exploring Inca ruins, visiting colonial churches, bargain-hunting in Indian markets, or just relaxing over a cappuccino on a terrace overlooking the Plaza de Armas, Cuzco has it all. It is a beautiful and vibrant city. Formerly the capital of the extensive Inca Empire, today the foundations and walls of Inca buildings are overlaid by Spanish architecture. Fine Inca stonework has survived centuries of both earthquakes and Spanish colonialism. Readers of Wanderlust magazine have repeatedly voted Cuzco one of their favourite of all worldwide destinations.

Overnight: Quinta San Blas or Similar

Day 4 - Moray ruins, salt pans of Maras and Sacred Valley.

Your journey to Machu Picchu begins today as you leave Cusco behind. It is an important day's acclimatisation, with a visit to the Moray site and a few hours gentle walking downhill past the salt pans at Salinas. Your acclimatisation walk combines big views and ancient towns, local farming techniques and pre-Inca salt pans with an easy descent to the valley below.

Firstly, you drive out of the valley and across the grassy plain to the extraordinary Inca earthworks of Moray. There is no other Inca site quite like Moray - three crater like depressions are lined with a series of concentric circular terraces disappearing down into the earth. Some think that this may have been the site of sophisticated Inca agricultural experiments with each terrace representing an altitude zone. It is thought that the terraces' containing walls were filled with fertile earth and watered by complex irrigation systems which enabled the Incas to grow more than 250 plant species.

From Moray you then follow an old mule trail the short distance to the ancient town of Maras with its vast church and outstanding colonial Spanish door arches. Maras was formerly famous for its spies, due to its strategic location above the Sacred Valley enabling the local inhabitants to keep track of the movement of all travellers in and out of the valley. From Maras you will then walk back down into the Sacred Valley, a descent of a couple of hours. En route you will walk through the shimmering terraced salt-pans of Salinas where salt has been harvested since pre-Inca times. The salt pans cover the whole hillside and in sunny weather you will be dazzled by the white of the pools.

Arriving in the valley you will be met and transferred to your hotel in Ollantaytambo.

Overnight: Hotel Pakaritampu or Similar

Day 5 - Visit Ollantaytambo. After lunch begin Inca Trail, 2,600m/8,531ft, to Llactapata, 2,288m/7,506ft - 3 hours.

Your five day Inca Trail starts today, it is carefully tailored to avoid the crowds. By leaving later than everyone else, and allowing an extra day, you spend the whole trail out of sync with other tourists. Thus you will literally have the trail to yourselves.

This morning you explore the old Inca town of Ollantaytambo, an attractive little town located at the western end of the Sacred Valley. The town has been built on top of original Inca foundations and is probably the best surviving example of Inca town planning. It is divided in canchas (blocks) and each cancha has only one entrance (usually a huge stone doorway) which leads into a central courtyard. The town itself is located at the foot of the spectacular ruins of an Inca fortress which protected the way to the lower Urubamba Valley. Here in 1536 Manco Inca had a victory over the Spanish, stemming the tide of their expansion for a short while. This victory was short-lived however and when the Spanish returned with four times their previous force Manco Inca retreated to his jungle stronghold in Vilcabamba and Ollantaytambo fell to the Spanish. Stone used for these buildings was brought as huge worked blocks weighing many tons, from a quarry high up on the opposite side of the Urubamba River - an incredible feat involving the efforts of thousands of workers. The complex was still under construction at the time of the conquest and was never completed. The fortress and town represent some of the best of Inca architecture and construction, with fine examples of beautifully carved polygonal stones and monumental rocks. At ground level below the fortress there are smaller scale ceremonial stone constructions where rivulets bubble along cut channels and water tumbles into pools over finely carved rocks.

After a look around and some lunch you drive twenty minutes to the trailhead at Piscacucho (km 82). Here you meet the porters and cooks who will support your journey to Machu Picchu. With the crowds now long gone, you hike an undulating trail above the Urubamba River until you eventually reach the spectacular ruins of Llactapata, 2,788m/9,146ft. If time permits, you will explore the ruins, and learn about Inca history from your guide. This will set the scene for the Inca Trail to come. This first section of walking is ideal for acclimatisation purposes as you hike along the river as it gently meanders downstream. Your camp for the night is a little above the ruins, away from other groups.

For all of this trek your luggage is carried by your porters, your tents are put up for you and your food is prepared for you. Beer and soft drinks may be available at camp, but take care because tomorrow is a tougher day!

Overnight: Camp

Day 6 - Trek to Huallyabamba, 3,000m/9,843ft, and on to Llulluchupampa, 3,680m/12,073ft - 6 hours.

Today you trek up the Cusichaca Valley past the archaeological excavations at Cusichaca to reach the small hamlet of Huallyabamba, 3,000m/9,840ft, the last inhabited place on the trail and then continue climbing, past colourful humming birds and amazing stunted cloud forest, to your beautiful grassy campsite at Llulluchupampa, 3800m/12,000ft, which has spectacular views down the valley.


Overnight: Camp

Day 7 - Cross Warmiwanusca 'Dead Woman's Pass', 4,128m/13,543ft, to Pacasmayo, 3,658m/12,000ft. Trek over two passes to Phuyupatamarka, 3,650m/11,975ft - 8 hours.

This is possibly the hardest day of the trek. However, you will now be in good shape and acclimatised for the pass. You rise early and head to the highest point of the day to arrive at the impressive Warmiwanusca (Dead Woman's Pass 4,128m/13,543ft. You then descend into the small, and perfectly formed, Pacasmayo ('Hidden River') Valley, 3,650m/11,975ft.

You climb again, passing the dramatic circular Inca site of Runcu Raccay, to arrive at the next pass, 3,998m/13,117ft, which gives spectacular views of the Vilcabamba range. Continuing along a staggeringly engineered Inca stone path you pass Sayacmarca ruins, 3,600m/11,811ft, where you will have plenty of time for an in depth tour and explanation. Sayacmarca ruins are just one example of the fine Inca aesthetic, seen in so many of their buildings, where a site is deliberately chosen for its dramatic views or beautiful situation. You continue along the ridge, passing through several Inca tunnels, corkscrewing backward and forwards over a ridge with fantastic views, until a slight ascent brings you the final pass, 3,658m/12,000ft, and so down to Phuyupatamarca ruins - the 'place above the clouds', 3,650m/11,975ft, where you camp.

Bird-watchers' note: this is a terrific day for some wonderful birds: moustached flower-piercers, scarlet-bellied Mountain Tanager and puff-thighed Hummingbirds have all been seen along this section.


Overnight: Camp

Day 8 - Trek to Machu Picchu, 2,438m/8,000ft - 5½ hours.

Your final day's trekking begins with fine views over to the Salcantay and Pumasillo ranges, with the Machu Picchu ridge below and the Urubamba River descending towards the Amazon. Your trail brings you through Cloud Forest to Wiñay Wayna, 2,600m/8,528ft, another interesting ruin full of orchids and swallows. It was only found in 1941, its name meaning 'forever young'. From here you make the final stage to Inti Punku, the 'Gateway of the Sun' for your first mesmerising glimpse of Machu Picchu, 2,438m/8,000ft, in the afternoon sun and savour your first impressions of what is still one of the most magical and iconic places on the planet. Leaving your exploration until tomorrow, you descend past the ruins and catch a bus down to the colourful town of Aguas Calientes (now known as Machu Picchu Pueblo) and celebrate your return to civilisation.

Overnight: El Mapi Hotel Or Similar, Aguas Calientes (Machu Picchu Town)

Day 9 - Tour of Machu Picchu. Train to Cuzco.

After an early breakfast, you will drive the short distance back up the zigzag road to Machu Picchu to get there before the main crowds and also when the light is better for those all important photos. Machu Picchu is a place that really lives up to all expectations. The setting is breathtaking and the ruins themselves are sensational.

If you wish to climb Huayna Picchu or Machu Picchu Mountain, you should contact us as far in advance as possible as the permits do sell out and will almost certainly be gone by the time you arrive in Peru. You will in any case have a full guided tour of the ruins with time beforehand to walk out to the Inca Bridge, or else just wander through the ruins soaking up the amazing atmosphere of this fabulous place.

You will then descend to Aguas Calientes and board the afternoon train back along the Urubamba valley towards Cuzco, a really great train journey. From here a waiting bus will speed you back to Cuzco and your hotel.


Overnight: Quinta San Blas or Similar

Day 10 - Time at leisure. Group transfer to airport. Depart for London.

You will have the morning free to explore Cuzco a little more before you are transferred to the airport for your flight back to London.

If you wish to have more time in Cuzco after your trek please speak to our office about arranging extra nights for you.


Overnight: In flight

Day 11 - Arrive UK
Map
Map Key
Airport
Point of interest
Mountain Peak
Day walk in this area
Flights
Internal Transfers
Trek
---
2019
Hold your place
Not quite ready to book? Why not call us on 0044 (0)1453 844400 to hold a no obligation place while you make up your mind?
Optional supplements
Single room & tent supplement
From £285
Insurance
No Surcharge Guarantee
No surcharges will be applied to your holiday after you book. Prices on this website are updated regularly. The Flight Inclusive holiday price, or Land Only holiday price, will be confirmed to you at the time you make your booking. There will be no surcharges after your booking has been confirmed.
Flight inclusive holidays
The 'flight inclusive' holiday prices shown on this website are based upon our preferred airlines and the best priced economy class fares we are able to secure at the time of publication.
We will be able to advise on fares with alternative airlines, upgrades to Business Class, and the options for flights from regional UK airports, please contact us for more details.
Loyalty discount
Find out more
What's included
An English-speaking local leader
Inca Trail permit
Good standard hotel accommodation (3 star) in Cuzco, the Sacred Valley and Aquas Calientes on a twin share, bed and breakfast basis
All camping facilities and all meals on trek
Camp staff to carry out all camp work
All road transport by private vehicles
Sightseeing where specified
Economy class return air fares from the UK & UK Departure Tax (flight inclusive only)
Single, timed, group airport transfers for international flights on arrival and departure
Carbon offset for clients taking our flight-inclusive option
A free high-quality Mountain Kingdoms kit bag
What's not included
Travel insurance
Visa fees
Sleeping bag
Some lunches and evening meals in Cuzco and Aquas Calientes
Airport departure taxes, excepting UK Departure Tax
Optional trips
Tipping
---
---
Review your holiday
Reviews
Read holiday reviews by Mountain Kingdoms travellers.
Overall score: 5.0 (Based on 3 reviews)
Perfect! 03/09/2010
It was a 'perfect' trek in all aspects. The staff were excellent and demonstrated great adaptability to all situations.
Lady R, London
Outstanding service
The itinerary itself was great. Overall I found the level of service to be outstanding.
Ms H, USA
Best adventure holiday I've been on
The trip was absolutely brilliant. By far and away the best adventure holiday I've ever been on and hugely exceeded my expectations. It had it all - beautiful snow capped mountains, stunning cloud forests, historical sites (not just Machu Picchu), great trekking trails, star filled nights and excellent company (fellow trekkers and tour staff). I'm already missing it!
Mr S, Gloucestershire
---
Extend your holiday
A visit to Lake Titicaca will prove a very worthwhile addition to any trip to Peru.
Enjoy a spectacular rail journey from Cuzco with stunning views, climbing to a height of 4,319m /14,170ft before descending to Puno.
Get an insight into a unique soceity and culture that has adapted to this harsh but beautiful environment.
More Details
Lake Titicaca is the largest lake in South America and set on the high altiplano of Peru at 4,103m/12,507ft it is generally considered to be the highest navigable lake in the world. On this extension you leave Cuzco on a comfortable coach to cross a high pass at La Raya at 4,319m /14,170ft, before descending to Puno, a city on the shores of Lake Titicaca.
The lake itself is starkly beautiful and views of both Lake Titicaca and the mountains beyond are truly spectacular. You will spend a whole day on the lake observing the unique way of life of the people of the Uros Islands before a visit to Taquile Island gives you the opportunity to see how a distinctive and independent minded society has adapted to this harsh but stunning environment. There may also be time to visit the fascinating pre-Inca ruins at Sillustani before catching your flight back to Lima.
Spend 2, 3 or 4 nights deep in the Amazon rainforest.
Stay in a choice of jungle lodges.
Enjoy a selection of wildlife viewing activities accompanied by expert guides.
Fly from Cuzco with all transfers, meals and activities included.
More Details
For a complete contrast to your trek or tour in the Andes why not visit the lush Amazon jungle? A short but spectacular flight will take you over the mountains and down to the Amazon basin. The Amazon basin encompasses nearly 3 million square miles, of which two thirds is covered by rainforest and comprising the largest and most bio-diverse tract of tropical rainforest in the world. For your Amazon extension you will fly to the city of Puerto Maldonado and from there travel down river to your jungle lodge.
We offer a selection of jungle lodges with various standards of accommodation and wildlife experience. You may also choose whether to stay for 2 or 3 nights in the jungle or even a longer more adventurous expedition of 5 days downstream to the Tambopata Research Centre.
8-day itinerary or 5-day itinerary options
Add to the beginning or end of your holiday in Ecuador or Peru
Abundance of wildlife including Blue Footed Boobies, giant tortoises and Darwin's finches
More Details
Before or after your trip to Ecuador or Peru why not add on an exciting Galapagos island cruise. Cruise boats in the Galapagos are quite small and tend to get booked up well in advance. If you wish to travel to the Galapagos we would check out available boats in various classes for your dates and could then offer you a choice of boat and itinerary. For more details download the pdf sample itinerary, or contact our office to discuss your options.