What's included
English-speaking Burmese guide & trek leader
Economy class return air fares from the UK & UK departure tax (flight inclusive bookings)
All internal flights
International airport transfers
All other transfers as per the itinerary
All road transport by private vehicles
Savoy Hotel on half board basis (breakfast and evening meal)
Comfortable tourist-class hotels in Pindaya, Kalaw & Mandalay
Comfortable village lodges on trek
All meals except for lunches on Days 2 and 14
Sightseeing where specified
A free high-quality Mountain Kingdoms kit bag
The option of joining one of our pre-trip meets in the Cotswolds
Carbon offset flights for all flight inclusive bookings
and much more...
Call our
friendly team
Trekking in the Foothills of the Burmese Himalaya
Walking & Trekking
Burma (Myanmar) | Walking & Trekking
Grade: Moderate ? Moderate
Duration: 12 days from the UK
On trek: 6 days
Walks on: 1 days
Book now or call 01453 844400
Trek in the foothills of Burma's 'Ice Mountains'.
Highlights
Be among the select few westerners to visit the Burmese Himalaya
Interact with the shy but friendly people of the Rawan and Lisu tribes
Enjoy the beauty of the valleys and villages at the foot of their "Ice Mountains"
Visit the extraordinary Pindaya Caves
Our trek starts by flying from Yangon (Rangoon) to Putao from where we will spend six wonderful days trekking in the valleys and villages in the foothills, staying overnight in simple lodges built on stilts. The trek takes us through an interesting range of landscapes from broad riverside to varied jungle and there is also one pass to cross at 1,315m/4,314ft. The tribespeople are shy but friendly, and their way of life and village houses are fascinating to see. This is a great trip for birdwatching, and you may also see and hear troops of gibbons as they call out loudly from the trees above.
To contrast with our trek in the north, we head to Burma's eastern Shan Plateau. Here, we spend time walking in and around the colonial hill station in Kalaw where red-earth tracks wind their way up through pine forests and past pagodas and sacred caves adorned with Buddha's statues.
Important note - travel advice
The Foreign and Commonwealth Office are currently advising against all but essential travel to Putao in northern Burma. We are accepting provisional bookings on this trip in the hope that the advice will change in the near future. However, we won't accept confirmed bookings until the advice actually changes. If you would like to reserve a provisional place on our Trekking in the Foothills of the Burmese Himalaya trip, please call us on 01453 844400. FCO updates can be found here.
---
At a glance
Grade: Moderate
Moderate
Duration: 12 days from the UK
On trek: 6 days
Walks on: 1 days
Max. Altitude: 1,362m/4,468ft on Day 4
Guaranteed to run for a minimum of 4 clients
Maximum group size: 8
Land only joining city: Yangon
Accommodation types: Hotels, Lodges, Village Houses
Meal arrangements: All meals except for lunches in Yangon.
Itinerary overview
| Day | Activity |
| --- | --- |
| 1-2 | Fly from London to Yangon. Sunset visit to Shwedagon Pagoda. |
| 3 | Fly to Putao via Mandalay and Myitkyina. Drive to lodge. Afternoon sightseeing. |
| 4 | Visit the morning market. Drive to trailhead at Shangaung and start trek. Cross pass, 1,362m/4,468ft and descend to Wasandum, 860m/2,821ft - 6 hours. |
| 5-6 | Trek to Ziyadum, 1,048m/3,440ft - 6-7 hours. Trek towards Mount Phongun and return - 6-7 hours. |
| 7-8 | Trek to Wasandum I via Kalang and Lonadum - 7 hours. Visit Wahlangdum and return to Wasandum I. |
| 9-10 | Re-cross the pass, descend to roadhead and drive to Putao. Afternoon flight to Yangon. |
| 11-12 | Time at leisure then transfer to airport for flight back to London. |
Leader: Local leader, Burmese Himalaya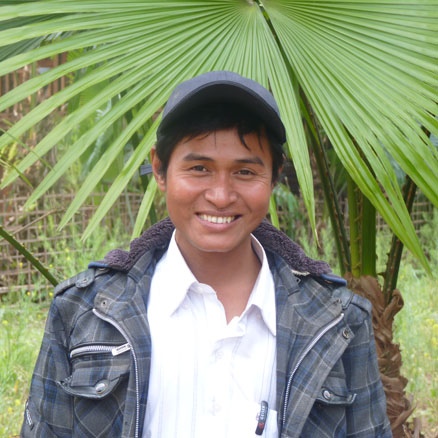 Once you reach Putao you will have an English-speaking local Guide. Our two principal Guides are:
Mr Myo Thein Lu: Known as Mu. He speaks tolerably good English. He is an excellent Guide, and highly knowledgeable in terms of the medicinal plants and roots to be found in the forest. He has climbed Phongun Razi many times, and has lots of friends in the villages you pass through. He loves to learn new English phrases and keeps a notebook for recording them. He is wonderful company.
Hlaing Win Aung: He has been a leader in the Putao region for a long time, has lead many groups for our agent, and speaks good English. He has climbed Mount Phongun many times. He is from the mainland but decided to live in the mountains having married an ethnic Lisu tribe lady, and raised a family in Putao.
In all other areas of Burma you will be escorted by English-speaking Burmese Tour Guides. Our Guides are all licensed to guide throughout the country and receive regular training. In addition to English, many guides speak the dialects used by some of the ethnic groups you will encounter in rural areas – further adding to the interest and enjoyment of your holiday.
---
Trekking in the Foothills of the Burmese Himalaya Itinerary
Day 1 - Depart London.

Fly London to Yangon by overnight flight.

Overnight: In flight

Day 2 - Arrive Yangon, sunset visit to Shwedagon Pagoda.

You will be met and transferred to the Savoy Hotel - a stylish, boutique hotel furnished in colonial style - an excellent place to relax after the long flight from London. International flights normally arrive by midday so after some time to rest, you will make a sunset visit to the Shwedagon Pagoda.

Famous worldwide, the golden stupa of Shwedagon ('shwe' means golden) is considered the 'heart' of Buddhist Burma. The Pagoda is believed to be 2,500 years old and the central stupa is surrounded by dozens of intricately decorated buildings, shrines and statues. There are always many Burmese people praying and making offerings at Shwedagon and it is a fascinating place to spend time to watch the world go by. The transformation from late afternoon light to evening, further adds to the spectacle and atmosphere of this wonderful temple complex.

Overnight: Savoy Hotel Or Similar, Yangon

Day 3 - Fly to Putao via Mandalay and Myitkyina. Arrive Putao, 450m/1,500ft, drive to lodge. Afternoon sightseeing.

This morning you will transfer back to the airport to fly to the far north via Mandalay and Myitkyina (4 hours) where you will be met by your trek leader and transferred to your lodge. Putao lies in a valley at the foothills of the Himalaya and the area is well known for its vistas, crumbling temples and lively hill-tribe villages. You will be struck by Putao's slower, more peaceful pace of life compared to other towns in Burma. After a light lunch there's time to head out for an orientation walk around the township of Putao. The small local museum is well worth a visit.

Overnight: Putao Trekking House Lodge

Day 4 - Visit the morning market. Drive to Shangaung to start of trek. Cross pass, 1,362m/4,468ft and descend to Wasandum, 860m/2,821ft - 6 hours.

After breakfast, there's time to visit the attractive market in Putao, popular with colourfully-dressed people from the surrounding villages, including the Lisu, a Tibetan-Burman group who have lived in this region for thousands of years. Many Lisu people record their history in song form. Now passed down through several generations, song histories can often take a whole night to sing.

You then drive the 17km rugged road to upper Shangaung for the start of your trek, passing through long, spread out villages. The drive takes around an hour. The first 10km of today's trek will be along a trail which winds up to a small pass (1,362m/4,468ft). You pass Mount Shangaung, and contour around a ridge on the Jade Mountain. After reaching the 'summit' of the pass, the trail descends to Wasandum at 860m/2,821ft.

However, firstly leaving the town of Putao you pass through a number of villages on your way to the start of the trek. The village houses built on stilts are of timber, bamboo and rattan usually with cane thatching. There will be lots of people waving you a friendly greeting and you are bound to see many traditional ox carts. The people wear cane hats and often carry large machetes in cane scabbards. There are paddy fields, clumps of giant bamboo, mopeds, people carrying wicker baskets, chickens, small dogs that chase the vehicle, and the occasional old suspension bridge.

It is very often misty early in the morning, which gives the whole scene a rather unreal feeling. The four-wheel-drive comes into its own towards the end of the road, where the porters will quickly organise the loads and your trek starts off across a small bamboo bridge. So, leaving the paddy fields behind, you soon enter pure jungle with creepers, vines, vegetation and cane enmeshed together. The sun should be out by the time you get to the road-head and it is a long haul up to the pass. Interestingly, the young porters often smoke cigars. A few years ago the government tried to build a road over the ridge, but the monsoon rains washed it away and their largest bulldozer fell into a ravine. They have not been back since. You may well see bands of gibbons and exotic butterflies. You often hear the sounds of exotic birds, but it can be difficult to spot them, though Steve, our Managing Director, did see two hummingbirds playing together on our reconnaissance trek. Lunch will probably be taken on the other side of the 'pass' and will be either on or by the side of the trail. Typically this may be fried rice with green vegetables and pork, or noodles and coffee. Then it is down, down, down all the way to the village of Wasandum I. This is a small Rawan tribe village next to Namro creek. In the evening, if your guide is Mr Myo you might well visit his friend just up the road. The village is mainly Rawan tribe people, though Mr Myo's friend is a Lisu. All the people in this valley were converted to Christianity in 1954 and each village has a church.

Overnight: Wasandum, Putao Trekking House Village Lodge

Day 5 - Trek to Ziyadum, 1,048m/3,440ft, via Wasandum II, Awadum I & II and Kalang - 6-7 hours.

Today's destination is Ziyadum. You will stop for lunch at the village of Awadum I. Here there is the only real shop of the region, which is chemist, greengrocer, ironmonger, and haberdashery all rolled into one. After lunch, you'll ascend through evergreen forests to reach Ziyadum. The last frontier village in the Putao region, Ziyadum stands at an altitude of 1,048m/3,440ft and is home to the Rawan tribes. After checking in and a quick refresh, you will visit Ziya creek for a fantastic sunset view across the snow-capped mountains in the west.

This is a pleasant easy day, with mostly level walking, though there are a few ups and downs here and there. Leaving Wasandum village, and having crossed the Namro creek, you climb up a short way towards the village of Wasandum II, where again you will meet delightfully shy village people. The villages themselves have wide 'streets', and each house sits on a plot with wooden or giant bamboo fences. Your guide will tell you about the medicinal herbs, plants, and tree barks. This seems to be normal in the region, and young people and old people alike often go off into the jungle, searching for valuable plants. These are then sold to Chinese traders via a middle man in Putao. The local people are particularly keen on a specific parasitic root, which when added to honey or alcohol gives you power and long life. There is also a certain amount of hunting taking place in the forest, although this is against the National Park's regulations. You could well spot more interesting birds today, including flycatchers on the banks of the River Namlang. As you pass through the village of Kalang you may like to visit the school here.


Overnight: Ziyadum - Putao Trekking House Village Lodge

Day 6 - Trek towards Mount Phongun and return - 6-7 hours.

Leaving Ziyadum, you enter the forest and after half an hour come to the old Pangram River suspension bridge which is real 'Raiders of the Lost Ark' stuff! At the time of our reconnaissance, the wooden decking of the bridge was completely rotten and since then Mountain Kingdoms has provided a major part of the funding for renovation of the bridge. This work was completed in the summer of 2012 and we are rightly proud of the results. After the bridge, it is up and down through the thick, matted jungle for two to three hours, and it can be hard work and slippery in places. Please take care, and watch out for cut, pointed sticks in the cane thickets. Finally, you catch sight of the Phongun River and you escape the jungle onto a stony river bank to find your lunch being cooked in a small clearing.

After lunch you come to another bridge that the jungle had tried to reclaim. As with the Pangram River Bridge, Mountain Kingdoms part funded new wooden decking for this bridge too. The route to the summit of Phongun Razi climbs up through the jungle on the other side of the bridge to gain a long forested ridge leading to the mountain. However, this would be a convenient place to turn round and head back to Ziyadum. The site of the Phongun Bridge is also called Caungsone.

Overnight: Ziyadum - Putao Trekking House Village Lodge

Day 7 - Trek to Wasandum I via Kalang and Lonadum - 7 hours.

Lovely easy walking today, so you can enjoy lots of interesting interaction with local people. Your guides have lots of friends and no doubt you will call on quite a few people along the way. Leaving Ziyadum, it is 15 minutes to Ziya Bridge and another 1 hour and 15 minutes to Kalang Bridge; from here it is about 45 minutes to the village of Awadum II. At Awadum I, only 15 minutes from Awadum II, you may like to stop at the shop and have tea and biscuits on the little covered platform in the middle of their pond. From here you can return a different way, crossing the river to Lonadum. This is another lovely village and you might well get invited into a village house where you may be offered one of the staple foods, a vegetable called 'taro'. This is a little bit like a cross between a potato, a beetroot and a horse chestnut; combined with Chinese green tea, it is really rather nice. After Lonadum, you cross the Mula River on a bamboo bridge to arrive back at the village of Wasandum II, after which you descend and cross the beautiful Namro creek. In the evening this place can be absolutely magical. You might see cormorants sitting of rocks and it is an area well known for Brahminy ducks. You may see an eagle fly past carrying its kill, a string of water buffalos fording a stream, low skimming swifts looking for flying insects, and a calm stretch of water where small fish continually jump out of the water trying to catch the same insects as the swifts.

Overnight: Wasandum, Putao Trekking House Village Lodge

Day 8 - Visit Wahlangdum and return to Wasandum I.

Below Wasandum I, lies Namro Creek which you are now familiar with of course. Today you can make an excursion further down the river to visit the village of Wahlangdum. Those who do not want to walk today could rest at the lodge.

Overnight: Wasandum, Putao Trekking House Village Lodge

Day 9 - Re-cross pass, descend to roadhead, drive to Putao - 5 hours.

Leaving the wilderness behind you'll return to the sights, sounds and smells of civilisation. You'll begin the day with the final challenge of trekking uphill to the plateau of Mount Shangaung, before heading steeply downhill to Shangaung and boarding your jeep to head back to Putao. The drive will take roughly one hour.

Overnight: Putao Trekking House Lodge

Day 10 - Shopping in Putao. Afternoon flight to Yangon.

You will have free time in the morning to enjoy a rest and relax after your trek. You might like to visit the early morning market in town where you might see dried monkey heads and squirrel for sale, various types of fish you have never seen before and all kinds of vegetables, dried antelope legs, medicinal plants and a huge variety of herbal medicines.

After lunch you will fly south to Yangon where you will be met and transferred to your hotel.

Overnight: Savoy Hotel Or Similar, Yangon

Day 11 - Depart Yangon. Transfer to airport for flight back to London.

You will have time today for a little personal exploration of Yangon. You could walk throught the colonial downtown area, visit Scott's Market to shop for local handicrafts or revisit Shwedagon Pagoda. If you would like a quiet stroll it is also pleasant to perambulate along the wooden boardwalk which goes areound Lake Kandawgyi.

Later you will transfer to the airport for your international flight.

Overnight: In flight

Day 12 - Arrive London.

Today you will arrive back in the UK.
Map
Map Key
Airport
Point of interest
Mountain Peak
Day walk in this area
Flights
Internal Transfers
Trek
---
2018
2019
| Dates | Availability | Land Only | Flight Inclusive from |
| --- | --- | --- | --- |
| Sun 10 Feb - Thu 21 Feb 2019 | Restricted | Contact us | Contact us |
Hold your place
Not quite ready to book? Why not call us on 0044 (0)1453 844400 to hold a no obligation place while you make up your mind?
No Surcharge Guarantee
No surcharges will be applied to your holiday after you book. Prices on this website are updated regularly. The Flight Inclusive holiday price, or Land Only holiday price, will be confirmed to you at the time you make your booking. There will be no surcharges after your booking has been confirmed.
Flight inclusive holidays
The 'flight inclusive' holiday prices shown on this website are based upon our preferred airlines and the best priced economy class fares we are able to secure at the time of publication.
We will be able to advise on fares with alternative airlines, upgrades to Business Class, and the options for flights from regional UK airports, please contact us for more details.
Loyalty discount
Find out more
What's included
English-speaking Burmese guide & trek leader
Economy class return air fares from the UK & UK departure tax (flight inclusive bookings)
All internal flights
International airport transfers
All other transfers as per the itinerary
All road transport by private vehicles
Savoy Hotel on half board basis (breakfast and evening meal)
Comfortable tourist-class hotels in Pindaya, Kalaw & Mandalay
Comfortable village lodges on trek
All meals except for lunches on Days 2 and 14
Sightseeing where specified
A free high-quality Mountain Kingdoms kit bag
The option of joining one of our pre-trip meets in the Cotswolds
Carbon offset flights for all flight inclusive bookings
What's not included
Travel insurance
Visa fees
Lunches on Days 2 and 14
Overseas airport departure taxes
Tips
---
---
Review your holiday
Reviews
Read holiday reviews by Mountain Kingdoms travellers.
Overall score: 5.0 (Based on 4 reviews)
Trekking in the Foothills of the Burmese Himalaya
Everyone was so friendly 12/02/2014
All three guides were excellent; very keen to please and gave us lots of informationÉ The hotels were of a very high standard and the service provided was excellentÉ We loved seeing the markets and people up close and the stupas and Buddhas were magnificent. People were so friendly and helpful, especially hotel staff.
Mr & Mrs M, Kent
Trekking in the Foothills of the Burmese Himalaya
Remote and untouched 12/02/2014
A small friendly group, excellent support, a very remote location untouched by western civilisation, very well planned route, the right balance between adventure and comfort. The guide from Mandalay onwards was particularly interesting, very articulate, happy to talk to us and take us round off the beaten track, e.g. on a ship in Yangon.
Mrs C, Cardiff
Trekking in the Foothills of the Burmese Himalaya
Great support crew 12/02/2014
We very much enjoyed the whole Mountain Kingdoms experience and thought it was extremely well organised and an amazing opportunity. Meeting the lovely Burmese people, both in the isolated mountain villages and in smaller towns and cities was so interesting, they are unfailingly polite, gentle, smiling and interested in visitors which is very refreshingÉ The standard of food, restaurants and hotels in both countries was fantastic: our team of 16 porters and cooks on the 6 day trek were very attentive and supportive and we always felt safe at all times.
Mr & Mrs A, Kent
Trekking in the Foothills of the Burmese Himalaya
Incredible mountain views 02/02/2012
To be among the first visitors to a region like this is such a rare privilege! The tribes-people are shy but friendly and their agricultural way of life little changed for centuries. The landscapes are beautiful, the forest and jungle full of interest, and the Burmese 'Ice Mountains' are a stunning backdrop, especially at sunrise and sunset. We have part-funded two major suspension bridges to enable people to get right up the valleys to have a go at the mountain of Phongun Razi. I would recommend this to anyone with a sense of adventure!
Steve Berry, Managing Director, Mountain Kingdoms
---
Extend your holiday
Visit Hpa-An, the capital of beautiful Karen State
Stay in an idyllic boutique lodge at the foot of Mount Zwegabin
Take a boat trip on the Salween River and visit villages, temples and caves
Stop at the ancient city of Bago with its many pagodas and temples
Optional visit to the precariously positioned Golden Rock in Kin Pun
More Details
We are delighted to offer an extension in Burma to visit Hpa-An, the capital of Karen State lying south east of Yangon. Hpa-An is a charming town set on the banks of the mighty Salween River, one of the great rivers of south east Asia which rises in Tibet and flows down to the Andaman Sea. This is an incredibly beautiful region of green paddy fields and dramatic limestone karsts.
As an additional attraction extension you will stay at a charming boutique lodge, the Hpa-An Lodge, which offers a very high standard of accommodation in an idyllic setting.
During your stay in Hpa-An you will take a boat rip on the serene waters of the Salween River, stop at a village to see artisan weavers in action and also visit the richly-decorated Kawhnat Pagoda. On your return to Yangon you will stop at the ancient city of Bagon with its many pagodas and temples as well as the very moving Taukkyan War Cemetery.
We offer two versions of this extension, with one including a visit to the Golden Rock in Kin Pun.
Walk 4km to reach the top of Golden Rock, for an unforgettable sunrise or sunset
Three day extension visting pagodas and giant buddha's as well as the Golden Rock
Available to add to your Burma holiday between October and May
More Details
Extend your stay in Burma with a visit to the Golden Rock of Kyaikhtiyo, one of the most revered pilgrimage sites for Buddhists. Perched on the edge of a ledge at a height of 1,100m, the precariously positioned gold-plated boulder is said to maintain its balance thanks to a single hair of the Buddha being enshrined inside the pagoda.
During your three-day extension, you'll also visit pagodas, stop off at the Allied War Graves Cemetery at Htauk Kyan, see reclining Buddhas and drop in at local villages before returning to Rangoon for your final night in what will have been a memorable trip to Burma.
Visit Angkor Wat, Ta Prohm, Angkor Thom, the Bayon and more. Each of these sites has its own individual charm.
Flights to Siem Reap from either Burma or Bangkok.
All entrance fees, guides and transport during your time in Cambodia.
Three nights stay at a lovely Boutique hotel with a pool and friendly staff.
More Details
Angkor Wat is the largest religious building in the world. The name translates to 'The temple that is a city' and after a visit to this amazing site you will understand why.
During your four days here you will have the chance to spend time not only at Angkor Wat but also the atmospheric ruins of Ta Prohm where the jungle has taken over the temple, the epic Angkor Thom, the enchanting Bayon and much more besides. Each of these sites has its own individual charm and will leave you with memories to last a life time. Angkor could be described as a giant game of one-upmanship with each successive king trying to out do the previous with a larger and more impressive temple, culminating in Angkor Wat. This four day extension can be added on to all our Burmese trips and any of our holidays ending in Bangkok.