What's included
Services of local English-speaking guides on all day walks
Four nights on board the M/V Australis cruise boat on a full board, twin share basis in an 'A' category cabin
Good standard hotel accommodation in Buenos Aires, Santiago and Ushuaia
Comfortable tourist class hotels and lodges in Tierra del Fuego
All internal flights and domestic airport transfers
Meals included as per the itinerary
All road transport by private vehicles
Sightseeing where specified
Economy class return air fares from the UK & UK Departure Tax (flight inclusive only)
Single, timed group airport transfers for international flights on arrival and departure
Carbon offset for clients taking our flight-inclusive option
Free Mountain Kingdoms kitbag
Opportunity to join one of our pre-trip meets in the Cotswolds
and much more...
Call our
friendly team
Tierra del Fuego & Cape Horn Cruise
Walking & Trekking
Argentina, Argentine Patagonia, Chile | Walking & Trekking
Grade: Moderate ? Moderate
Duration: 14 days from the UK
Walks on: 4 days
Flight inclusive from £5,300,
Land only from £4,350
Book now or call 01453 844400
Enjoy day walks at the 'end of the world' and take a spectacular cruise to Cape Horn through the Beagle Channel.
Highlights
Wild walking in the majestic Tierra del Fuego National Park
An unforgettable four-night cruise from Ushuaia to Punta Arenas via the Beagle Channel, Cape Horn and the Magellan Strait
Plenty of exciting shore excursions in Zodiac boats to see historic sights, the best viewpoints and natural wonders including stunning glaciers and vast penguin colonies
Comfortable hotels in Buenos Aires, Ushuaia and Santiago and twin cabins on the cruise.
Reviews
Tierra del Fuego has a wild, remote, end of world feel to it. The scenery is spectacular, with the very tip of the Andes mountains encircling the ''wild-west'' town of Ushuaia. The weather can change numerous times in a single day, and happily the over-riding sensation for the visitor is that this is an area that will never be fully tamed.
Seraphina Berry, Mountain Kingdoms
View All
This action-packed adventure to the 'Land of Fire & Ice' begins with four full days of walking in the far south of the American continent on the Tierra del Fuego archipelago. From Ushuaia you set out to explore the dramatic coastline, lakes and mountains on foot before walking to Cerro del Medio and the Martial glacier. There are stunning views from here of the Beagle Channel, Magellan Strait and the host of islands that make up this still wild and untamed land.
Upon your return to Ushuaia you board one of the small, modern M/V Australis expedition ships for a stylish and unforgettable four-night cruise to Punta Arenas. The Australis ships provide the higest level of safety, comfort and facilities in their class. Cabins are spacious with panoramic windows, full bathrooms and storage space whilst the dining room offers first class dining serving buffet breakfasts and lunches, and four-course evening meals with an extensive wine list. During the cruise, you can access the large viewing decks and your expert expedition team will provide informative lectures and presentations giving you an invaluable insight into the flora, fauna and geology of the region. There is also a library onboard with an wide selection of reference books.
Setting sail, you head out through the Beagle and Murray Channels to reach Cape Horn National Park where, weather permitting, you make your first shore excursion to visit this UNESCO World Biosphere Reserve. Your cruise continues to Agostini Sound via historic Wulaia Bay, and Pia, Garibaldi and Aguila Glaciers. Each day there should be ample opportunities for further shore excursions with easy hikes to reach key sights and viewpoints. You make your final stop at Magdalena Island, to visit a vast colony of 120,000 penguins before ending your cruise at Punta Arenas in the heart of Patagonia. You could extend your holiday here with time to walk the classic trails of the Torres del Paine National Park, before flying on to Santiago and back home.
---
At a glance
Grade: Moderate
Moderate
Duration: 14 days from the UK
Walks on: 4 days
Guaranteed to run for a minimum of 5 clients
Maximum group size: 12
Land only joining city: Buenos Aires
Accommodation types: Hotels, Cruise Boat
Meal arrangements: 11 breakfasts, 8 lunches, 6 dinners
Itinerary overview
| Day | Activity |
| --- | --- |
| 1-2 | Fly to Buenos Aires. Sightseeing tour. |
| 3 | Fly to Ushuaia. |
| 4-7 | Day walks in Tierra del Fuego including Fagnano Lake, Cerro del Medio and Martial Glacier. |
| 8 | Board cruise boat M/V Australis. |
| 9-11 | Cruise to Cape Horn and on to Patagonia with Zodiac shore excursions. |
| 12 | Disembark cruise at Punta Arenas and fly to Santiago. |
| 13-14 | Fly to Santiago. Fly to London. |
Leader: Local Leader, Tierra del Fuego & Patagonia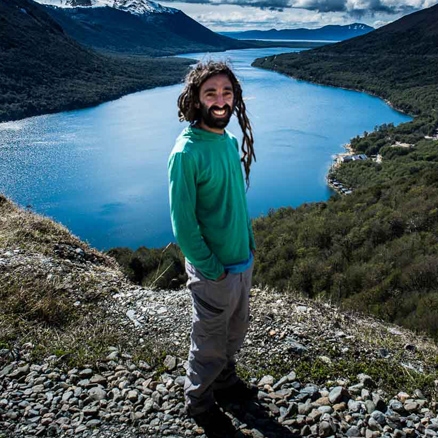 We use expert, English-speaking local guides who have an intimate knowledge of the area and an infectious passion for nature. They are very hard-working, attentive and helpful. You will have separate leaders for the Tierra del Fuego, Torres del Paine and Argentinean elements of your trip. On your M/V Australis cruise, shore excursions and on board lectures will be provided by knowledgeable, expert members of the crew. All road transfers will be escorted.
Guides may include Juan Ronco, who has been leading groups in Tierra del Fuego for over 15 years. Juan is an experienced leader who loves climbing and trekking. He has travelled and led tours all over the world but is most passionate about sharing the incredible wildlife and scenery of southern Argentina with visitors.
Image courtesy of Tom Bartel
(tom@travelpast50.com)
---
Tierra del Fuego & Cape Horn Cruise Itinerary
Day 1 - Fly London To Buenos Aires

Depart the UK on an overnight flight from London to Buenos Aires.

Overnight: In flight

Day 2 - Arrive Buenos Aires. Group transfer to hotel. Afternoon sightseeing tour.

On arrival in Buenos Aires you will be transferred to your hotel. This afternoon you will take a guided city tour by bus to see the many faces of Buenos Aires. The city was first permanently settled in the 1580s and after centuries of immigration, Buenos Aires is now well known for its European architecture and multicultural outlook. Your comprehensive tour will include the 'symbol' of the city - the Obelisk; squares such as Plaza de Mayo, Plaza San Martin, Plaza Alvear; famous avenues including Avenida de Mayo, Corrientes and 9 de Julio; the historic neighbourhoods of La Boca and Telmo; the magnificent Palermo and Recoleta areas; the Ecologic Reserve of the 'Costanera Sur' and the commercial and financial areas of the city.

Overnight: Hotel De Las Americas

Day 3 - Fly to Ushuaia. Time at leisure.

This morning, you will transfer to Jorge Newbery Airport for the 3-4 hour flight south to Ushuaia. Upon arrival you will be met and escorted to your overnight hotel. Ushuaia is the capital of the island archipelago of Tierra del Fuego and proclaims itself the 'Southernmost City in the World'. Although originally settled around 10,000 years ago by the aboriginal Selknam people, Ushuaia has only really established itself as a settlement of any size in the last 150 years. Today the look and feel of the city portray the cosmopolitan mix of migrants that chose to set up home and businesses here, including Spanish, Italian, Lebanese and Eastern Europeans. After checking in to your overnight hotel there will be time to relax, or take a stroll in town and along the harbour.

Overnight: Hotel Las Lengas or similar, Ushuaia

Day 4 - Day walk in the Tierra del Fuego National Park - 5 hours.

Your walk today is initially along the spectacular coast of the Beagle Channel from Ensenada Bay to Roca-Errazuriz Lake. The coast, lakes, rivers and fjords of this area provide many different habitats. The ancient forests of Antarctic beech, lenga beech and coihue in the lower sections of the forest are home to many species of animal including guanaco, Andean Fox, North America beaver and European rabbit. There are over 90 species of birds including parakeets, condors and oystercatchers. After a picnic lunch at Roca-Errazuriz lake you continue walking towards beautiful Lapataia Bay. In the afternoon you will drive back through Ushuaia to drive through the Andes mountains, past Lake Escondido and along the shore of Lake Fagnano to your hotel for the night. This is a stunning drive, passing some of the highest peaks of the island.

Overnight: Hosteria Kaiken, Tierra Del Fuego

Day 5 - Day walk in 'the Heart of the Island' nature reserve - 5 hours.

It is a short drive along Route H, known as The Ranches Road, to Lake Yehuin. The walk starts from a camp site along the Indio river bed towards Yakush lake, and continues along the shore of the lake, passing typical Fuegian landscape of lenga and nires forest and peat bogs, to a lunch spot. From here you follow the Claro river to the foot of Mont Cabras. It is well worth the effort to climb to the summit for fantastic views. Weather permitting you now board a Zodiac to take you to the remote Hosteria El Torito for the night. This very special accommodation is well off-the-beaten-track and beautifully situated by the lake. (In the event of bad weather you will stay the night in Hosteria Kaiken).

Overnight: Hosteria El Torito, Tierra Del Fuego

Day 6 - Walking above Lake Fagnano - 4-5 hours.

Your walk today takes you up into the hills on the little visited north side of the Tierra del Fuego National Park. Initially you will climb about 300m/1,000ft to visit Beban's Waterfall. Snow conditions permitting, you will then walk towards the Azul Lagoon, through the pass of the Five Lagoons. This is magical land of mountains, forests, waterfalls and fantastic views. After descending to the shores of Fagnano lake, you return to Ushuaia by Zodiac and vehicle.

Overnight: Hotel Las Lengas or similar, Ushuaia

Day 7 - Cerro del Medio and Marital Glacier Walk - 6-7 hours.

The Andes mountains that rise dramatically above the bay of Ushuaia are easily accessible from the town. Today you ascend up the former lumberjacks' path to the "Cerro del Medio". From here you visit the stunning "Margot" Lagoon and then aim for the summit of the "Roy" Mount. This will be the highest point on the trek. You will have lunch at the summit and head down through the back side of the "Godoy" Mount, with views of the tree filled "Negro" Canyon. After traversing along high above the river, you ascend again to reach a pass. There are stunning views from here of the Beagle Channel with its numerous islands. You descend here to head south along the "Martial" Glacier valley. You arrive at the base of the old ski piste and return by vehicle to Ushuaia.

Overnight: Hotel Las Lengas or similar, Ushuaia

Day 8 - Explore Ushuaia in the morning. In the afternoon board your cruise boat the M/V Australis.

Today, there's time to make a leisurely start and then explore Ushuaia. The town houses a few small museums, the most interesting of which are: the Museo Marítimo, located in part of the old prison and displaying a collection illustrating the history of Tierra del Fuego; and the Presidio, a museum dedicated to the history of the military prison. One wing of this museum has been converted to an art gallery featuring the work of local artists. After lunch you'll check in for your cruise and towards the end of the afternoon you'll return to the harbour and board your expedition cruise ship - one of the Australis fleet. Established in 1990, Cruceros Australis offer the very best Tierra del Fuego - Patagonia expedition cruises. Two ships now operate this route: the M/V Stella Australis and the newly launched M/V Ventus Australis. Both ships accommodate 210 passengers and offer the same standards of service and accommodation, with viewing decks, internal lounge and dining room. All meals and a free bar are included in your cruise and in addition to shore excursions there is a varied programme of lectures on the region's history, geology and wildlife. Precise cruise timings will be determined by tides and prevailing weather conditions but you can normally expect to be leaving Ushuaia and cruising through the Beagle Channel by early evening.

Overnight: Cruise Boat

Day 9 - Cruise to Cape Horn and Wulaia Bay.

This morning you will sail through the Murray Channel and Nassau Bay to reach the remote archipelago that comprises Cape Horn National Park. Weather permitting you'll make your first shore excursion here, setting foot on the windswept island that harbours Cape Horn - the "End of the Earth". For centuries a navigational marker for crossings between the Pacific and Atlantic oceans, Cape Horn has now been declared a UNESCO World Biosphere Reserve.

Sailing back across Nassau Bay, you'll step ashore once more in the afternoon, this time at beautiful Wulaia Bay, originally the site of one of the region's largest aboriginal settlements. Charles Darwin landed here in 1833, during his famous voyage aboard HMS Beagle and the area is renowned for its striking vegetation and topography. Here you'll take a walk through an enchanted Magellanic fern forest to a panoramic viewpoint overlooking the bay below.


Overnight: Cruise Boat

Day 10 - Cruise to Pia and Garibaldi Glaciers.

You sail back to the Beagle Channel and westwards along the southern edge of Tierra del Fuego into a section of Alberto de Agostini National Park called Glacier Alley or Avenue of the Glaciers. Flowing down from the Darwin Mountains and Darwin Ice Sheet are a number of impressive tidewater glaciers, and you will enter the narrow Pia Fjord and board the Zodiacs for a shore excrusion to Pia Glacier. After disembarking you can take a short hike to gain a panoramic view of the spectacular glacier, which extends from the mountain tops down to the sea along the Beagle Channel, you enter another long fjord and drop anchor near the Garibaldi Glacier for another shore excursion. Garibaldi is one of only three glaciers in Patagonia gaining mass rather than staying the same or slowly shrinking. This time you hike through virgin Magellanic forest to a glacial waterfall, a towering wall of ferns and moss, and spectacular viewpoints looking down on the glacier and fjord. The walk is steep and demanding, on a negligible trail which is rough underfoot and therefore not for everyone. For those who choose to stay onboard, the captain will point the bow towards the beautiful, sky blue Garibaldi Glacier so everyone can enjoy the panoramic view from the upper decks.

Overnight: Cruise Boat

Day 11 - Cruise to Agostini Sound. Visit Aguila Glacier.

Today you will sail through a series of Channels: Brecknock, Ocasión, Cockburn, and Magdalena to reach the spectacular Agostini Sound. You are now in the heart of the Darwin Cordillera. Here you'll see the glaciers flowing down off the mountains, in some cases right into the sea. This morning, you will disembark and go for an easy stroll around a lagoon, formed by the melting of the Águila Glacier, to a great viewpoint in front of the glacier. In the afternoon, you take to the Zodiacs once more to approach the Condor Glacier and hopefully see some of the abundant Andean condors in the area.

Overnight: Cruise Boat

Day 12 - Cruise to Magdellena Island and continue to Punta Arenas in Chile. Fly from Punta Arenas to Santiago.

You will make an early start today to make the shore excursion to Magdalena Island (weather permitting). Located in the Strait of Magellan, this island was once an important provision point for seafarers and explorers. Today Magdalena is perhaps best known for its giant colony of Magellanic penguins, thought to number around 120,000. You will doubtless spot many of these hardy, characterful creatures during a walk up to the island's lighthouse. NB. In April this excursion is usually replaced by a boat trip to Marta Island to observe sea lions.

After returning to your cruise ship you sail on to arrive in Punta Arenas by mid morning. Here you say goodbye to your attentive crew and guides before disembarking to meet your transport and driver. You will transfer to the airport for your flight to Santiago. On arrival you will be met and taken to your hotel.

Overnight: Hotel Plaza Torremayor or Similar, Santiago

Day 13 - Transfer to airport for flight to London.

After breakfast there will be a group transfer to the airport for your overnight flight back to the UK.

Overnight: In flight

Day 14 - Arrive UK.
Map
Map Key
Airport
Point of interest
Mountain Peak
Day walk in this area
Flights
Internal Transfers
Trek
---
2019
| Dates | Availability | Land Only | Flight Inclusive from |
| --- | --- | --- | --- |
| Sun 20 Oct - Sat 2 Nov 2019 | Available | £4350 Book | £5300 Book |
2020
| Dates | Availability | Land Only | Flight Inclusive from |
| --- | --- | --- | --- |
| Sun 9 Feb - Sat 22 Feb 2020 | Restricted | Contact us | Contact us |
Hold your place
Not quite ready to book? Why not call us on 0044 (0)1453 844400 to hold a no obligation place while you make up your mind?
Optional supplements
Single Room Supplement Hotels only
From £585
Insurance
No Surcharge Guarantee
No surcharges will be applied to your holiday after you book. Prices on this website are updated regularly. The Flight Inclusive holiday price, or Land Only holiday price, will be confirmed to you at the time you make your booking. There will be no surcharges after your booking has been confirmed.
Flight inclusive holidays
The 'flight inclusive' holiday prices shown on this website are based upon our preferred airlines and the best priced economy class fares we are able to secure at the time of publication.
We will be able to advise on fares with alternative airlines, upgrades to Business Class, and the options for flights from regional UK airports, please contact us for more details.
Loyalty discount
Find out more
What's included
Services of local English-speaking guides on all day walks
Four nights on board the M/V Australis cruise boat on a full board, twin share basis in an 'A' category cabin
Good standard hotel accommodation in Buenos Aires, Santiago and Ushuaia
Comfortable tourist class hotels and lodges in Tierra del Fuego
All internal flights and domestic airport transfers
Meals included as per the itinerary
All road transport by private vehicles
Sightseeing where specified
Economy class return air fares from the UK & UK Departure Tax (flight inclusive only)
Single, timed group airport transfers for international flights on arrival and departure
Carbon offset for clients taking our flight-inclusive option
Free Mountain Kingdoms kitbag
Opportunity to join one of our pre-trip meets in the Cotswolds
What's not included
Travel insurance
Visa fees
Some meals (as specified in this itinerary)
Optional trips or sightseeing
Tips
---
---
Extend your holiday
See the spectacular Iguazu Falls on both the Argentine and Brazilian sides
Stay in a 4* hotel in Puerto Iguazu
Tour with an expert local guide
Choose a 2 or 3 night extension option including flights, transfers, accommodation and guide
More Details
Visit one of nature's most awe-inspiring sights on a 2 or 3 night extension to Iguazú Falls. Fly from Buenos Aires to Puerto Iguazú and visit both the Argentine and Brazilian sides of the Iguazú National Park in the company of an expert guide. Walk along the park's many trails that wind through rainforest, and feel the raw power of the falls from numerous viewing points. The extension includes accommodation in a good quality hotel in Puerto Iguazú, domestic flights and all airport transfers.