What's included
A Bhutanese leader
All flights between Kathmandu and Paro and hotel/airport transfers
Economy class return air fares from the UK & UK Departure Tax (flight inclusive only)
Shangri La Hotel in Kathmandu, bed & breakfast on twin-share basis
In Bhutan, good standard hotel accommodation in main towns and best available hotels in outlying towns, on full board, twin-share basis.
All road transport by private vehicles
All walks and sightseeing where specified
A free high-quality Mountain Kingdoms micro fleece
Bhutan visa clearance
The opportunity to attend a pre trip meet in the Cotswolds
and much more...
Call our
friendly team
Thunder Dragon Trails
Walking & Trekking
Gentle
Suitable for people who enjoy easy-paced walks or exploring the countryside on foot.
Find out more...
Grade: Gentle ? Gentle

Book now or call 01453 844400
The perfect short holiday to Bhutan mixing easy half-day walks with visits to the best-known cultural highlights.
Highlights
Tiger's Nest, Punakha Dzong and the King's Memorial Chorten - Bhutan's foremost sights
Easy-paced walks on gentle trails
Experience one of Bhutan's great festivals on our April and September departures
Stay in comfortable, quality hotels in Bhutan and Kathmandu
Reviews
The pre trip information and advice was excellent and very comprehensive. MK staff were very helpful and answered all our queries. The arrangements worked flawlessly and the people who met us for transfers to and from our flights were most helpful and efficient.
Mr G, Devon
View All
Based on our highly successful Gentle Walking holiday in Bhutan, Thunder Dragon Trails offers the same great combination of walking and sightseeing, but in a shorter holiday. This is no whistle-stop tour however, as we spend a minimum of two nights in each of the principle towns of western Bhutan and have plenty of time to explore both the delightful countryside and the major cultural sights.
From Paro we'll make the walk to visit the atmospheric Tiger's Nest monastery, whilst in the capital, Thimphu, we'll see the pilgrims circumnavigating the King's Memorial Chorten and discover the curious takin, the national animal. Crossing the 3,200m/10,500ft Dochu La road pass we enter the lush Punakha Valley to walk to the Divine Madman's temple and visit the beautiful dzong — widely regarded as the country's finest.
Our spring departure visits the Paro Tsechu and our autumn departure visits the Thimphu Tsechu – one of Bhutan's most significant festivals.
---
At a glance
Grade: Gentle
Gentle
Max. Altitude: 3,150m/10,344ft, Dochu La, Day 8
Guaranteed to run for a minimum of 4 clients
Maximum group size: 12
Land only joining city: Kathmandu
Accommodation types: Hotels
Festival:
March 2018 departure attends the Paro Tsechu.
September 2018 departure attends the Thimphu Tsechu.
Meal arrangements: All meals included except lunch & dinner in Kathmandu.
Itinerary overview
| Day | Activity |
| --- | --- |
| 1-3 | (This is the itinerary for our September 2017 departure. Download detailed itineraries for other departures which may vary). Arrive Kathmandu. Fly to Paro in Bhutan. |
| 4-5 | Sightseeing in the Paro Valley. Walk to Taktsang Monastery. Drive to Thimphu. |
| 6 | Attend Thimphu Festival (tsechu). In the afternoon walk to Wangditse Monastery. |
| 7 | Drive to Punakha. Visit the Divine Madman's Temple. Visit Talo and Nobgang villages. |
| 8 | Walk to Khamsum Yuelley Namgyal Chorten. Continue down the river valley To Punakha Dzong. |
| 9 | Drive to the Dochu La Pass. Walk to Trashigang and Hongtsho. Drive to Paro. |
| 10-11 | Fly to Kathmandu. Day at leisure. |
| 12 | Transfer to the airport and fly to London. |
Leader: Local leader, Bhutan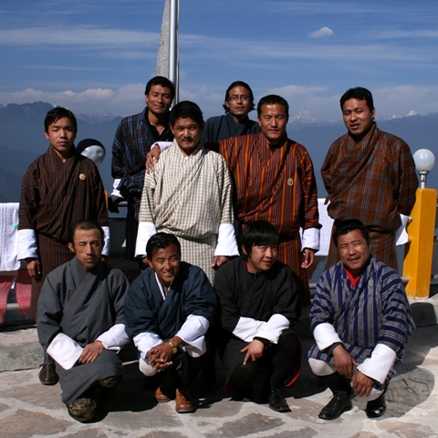 Our holidays in Bhutan are led by fully qualified English-speaking guides. Mountain Kingdoms have been taking visitors to Bhutan since 1986, and our guides are some of the best in the Kingdom. They speak fluent English, as this is taught in all Bhutanese schools, and are fully qualified guides. The Tourism Authority of Bhutan maintains that a Bhutanese trek or tour leaders must pass their guiding exams in Thimphu before accompanying groups of foreign visitors. Our guides receive regular 'top- up' training and 15 of our regular leaders have completed an extended training course organised by Mountain Kingdoms in Bhutan.
---
Thunder Dragon Trails Itinerary
Day 1 - Fly London To Kathmandu

Depart London for the overnight flight to Kathmandu via either Delhi or the Gulf states.

Overnight: Overnight Flight To Kathmandu

Day 2 - Arrive Kathmandu.

On arrival in Kathmandu you will be met and transferred to the Shangri La Hotel. This is a comfortable hotel situated north of the main tourist hub of Thamel. It has a garden with swimming pool and a very pleasant restaurant and coffee shop. The bustle of Thamel with all its restaurants, shops and bars is a 20 minute walk or 10 minute taxi ride away

Tonight you might choose to eat at the hotel or you could head off into Thamel to one of the famous restaurants there, such as Rum Doodle Restaurant, where pride of place is given to a board with the signatures of many Everest summiteers.


Overnight: Shangri La Hotel, Kathmandu or Similar

Day 3 - Transfer to fly to Paro.

Transfer to the airport for the short flight to Bhutan. On a clear day the panoramic views of the Himalaya are sensational, including Everest and Kangchenjunga, but particularly exciting is the approach through the Bhutanese foothills and the landing, including a few steep turns to land at the tiny airstrip of Paro. Although you are at the mercy of the airline computer, if possible try to sit on the left hand side of the plane for the most spectacular views.

On arrival in Paro you will be met by your guide and transferred to your hotel. Time permitting you will have a sightseeing tour of the Paro valley to introduce you to Bhutan.


Overnight: Olathang Hotel, Paro or Similar

Day 4 - Sightseeing in Paro Valley.

You will have various choices for sightseeing today. You could drive up to visit the ruins of Drukyel Dzong, visit Kyichu Lakhang, one of the oldest and most picturesque of the valley's temples or visit Paro Dzong or the museum situated in the watchtower above the Dzong. The watchtower was damaged in the earthquake of 2011 and until it is restored the museum will be housed in a building nearby.

Overnight: Olathang Hotel, Paro or Similar

Day 5 - Walk to Taktsang Monastery. Drive to Thimphu.

Today, you will make the trip on foot to visit the famous Tiger's Nest, Taktsang monastery, one of the iconic sites of Bhutan.

The monastery is perched some 600m/2,000ft up on a cliff overlooking the valley and was said to be where the legendary Indian saint, Guru Padma Sambhava, flew from Tibet on the back of a tiger to defeat five demons, who were opposing the spread of Buddhism in Bhutan. It's a steep uphill walk through woods, of about 1½-2hrs, to reach a tea house (an ascent of 340m/1,115ft.) Apart from offering welcome refreshment this tea house is one of the principle viewpoints of Taktsang, and those who prefer not to climb any further can relax here whilst others continue on. If there is a particular religious gathering or VIP visit in progress, you will not be able to enter the monastery but the further half an hour's ascent is well worth it, as it brings you to another viewpoint directly across from Taktsang. If you are able to make a visit, the final section of the walk takes you from here steeply down 100m/330ft into the gorge that separates you from the monastery and then climbs back up again to reach the monastery gate.

This afternoon you will drive to Thimphu, the capital of Bhutan, a drive of about 1½-2 hours. Time permitting you will do some sightseeing in Thimphu. There are many places of interest to visit, including the Tashishoddzong (the main government buildings), the Textile Museum, the Heritage Museum, the late King's Memorial Chorten, the National Library, the School of Painting and the silversmiths and pottery workshops. The Government Handicrafts Emporium is possibly the best place to look for local handicrafts especially if you are looking to buy national dress. The handmade paper workshop is a very interesting visit to see the paper being made. Some nice items made from handmade paper are also for sale there. You could also visit the Post Office to buy some of Bhutan's very attractive stamps. They also have good t-shirts on sale there.


Overnight: Phuntso Pelri Hotel or Similar, Thimphu

Day 6 - Attend Thimphu Tsechu. In the afternoon walk to Wangditse Monastery.

This morning you will attend the Thimphu Tsechu one of Bhutan's most important festivals. Tsechus in Bhutan are primarily religious festivals but they are also a rare opportunity for the people to come together in all their finery to socialise, celebrate and have fun. The Bhutanese believe that they will achieve merit by attending the festival and by watching the masked dances and the event draws people in from remotest villages of the surrounding district. These colourful festivals of music and ceremonial dance are staged in honour of Guru Rinpoche and commemorate his great deeds, all believed to have taken place on the tenth day of the month - the meaning of the word, Tsechu. The Thimphu Tsechu features spectacular dances by lavishly costumed monks and laymen, some in terrifying masks.

This afternoon you will drive up to Sangaygang next to the Bhutan First Broadcasting Service tower, located in the North West of Thimphu. It is only about a mile drive up to the tower so if you feel like you would like to burn a bit more energy you can always walk up instead. From the tower you will have great views over Thimphu Dzong and the Thimphu valley as you start your walk contouring the beautiful hills to visit Wangditse Ghoempa. This walk should take around 1.5 hours. You will have time to visit the Ghoempa before you walk down for another 30 minutes to reach Dechen Phodrang Monastery. This Monastery houses around 450 student monks enrolled in a 8 year course. The monastery is also home to some fantastic UNESCO monitored 12th century paintings. You will then meet your vehicle and be driven back to Thimphu.

If time you might also like to visit the 'zoo'. This is in fact a very large enclosure (several acres) just above the town, containing only Takin. This very rare animal is found exclusively in Bhutan, Arunachal Pradesh, Northern Burma and parts of China and is possibly one of the most quirky and strangest looking animals you will ever see.

Overnight: Phuntso Pelri Hotel or Similar, Thimphu

Day 7 - Drive to Punakha. Visit the Divine Madman's Temple. Drive to Talo and Nobgang.

Today you drive out of the Thimphu Valley and over the Dochu La pass at 3,109m/10,200ft marked by 108 chortens. There are fabulous views of the Eastern Himalaya from here on clear days but this is a beautiful spot even on misty days. You then drive down through fine forest into the lush Punakha Valley.

Before driving on to your hotel in Punakha you may visit Chimi Lakhang a temple built by Drukpa Kunley. Known as 'The Divine Madman', Drukpa Kunley was a 15th century Bhutanese lama and is Bhutan's most popular saint and one of the most important figures in Bhutanese folklore. Despite the apparent conservatism of the Bhutanese people, Drukpa Kunley with his unconventional views on sex is a great favourite throughout the country - the phallus symbols painted on the outside walls of houses date back to his teachings. Chimi Lakhang is reached by a short walk across the paddy fields and this temple is especially popular with women who come here to pray for children. The temple is characterised by its many phallic symbols.

Later you drive up to the charming village of Talo, 2,800 m. This village is well known for its cleanliness and tidiness. First you will drive up to its fine gompa built above the village and worth a visit for the spectacular views. After visiting the gompa you may walk down through the village and see traditional village life going on. The beautiful farm houses of the village have their own flower gardens where corn and vegetables are grown in abundance. You come out back onto the road and may then either walk down through woods and fields, or drive down to the village of Nobgang the birthplace of four girls who in 1979 married King Jigme Singye Wangchuck to become his four queens. After the kings abdication they became Bhutan's Queen Mothers. The Nobgang gompas are sponsored by their family. The two villages of Talo and Nobgang have a longstanding rivalry in archery.

Overnight: Zhingkham Resort or Damchen Resort or Similar, Punakha

Day 8 - Walk to Khamsum Yuelley Namgyal Chorten and walk down the river valley To Punakha Dzong.

Today you will do a lovely walk in the lush almost sub-tropical Punakha Valley. You drive for 20 minutes up the valley and start your walk at a pedestrian suspension bridge that crosses the Mo Chu River. You then follow up through paddy fields to the base of the hill where Khamsum Yuelley Namgyal Chorten is sited. The climb to the top is then quite steep but takes only 45 minutes or so. This Chorten was consecrated in December 1999 and contains sacred relics donated from Punakha Dzong. Leaving the grounds of the Chorten via a different gate you descend to join a contouring path which ultimately leads you to the small village of Yabesa and you then follow the Mo Chu downstream past Sonagasha, the King's Palace and on to Punakha Dzong.

The fabulous Punakha Dzong, one of the most spectacular and important in the kingdom, is situated at the confluence of two rivers. In 1994 there was a major flood in the town which caused a lot of damage to the dzong but it has now been beautifully renovated and is a real showcase for Bhutanese craftsmanship and painting. You are normally allowed into the dzong unless there are VIPs visiting. After your visit you may extend your walk southwards down the valley for a further hour or so to reach the large settlement of Khuruthang and then on to your hotel or meet up with your transport for the drive back to the hotel.

Overnight: Zhingkham Resort or Damchen Resort or Similar, Punakha

Day 9 - Drive to Dochu La. Walk to Trashigang/Hongtsho – 4 hours. Drive Paro.

From your hotel you drive up through dense forest to reach again the Dochu La Pass, 3,109m/10,200ft. From Dochu La you will take a lovely walk of about 4 hours from the pass to rejoin your transport further down along the road to Thimphu. This is a pleasant trail which takes you up the ridge in rhododendron forest to Lungchezekha Gompa, from where there are further fantastic mountain views. Your trail then descends in beautiful mixed forest, passing Tashigang Gompa to emerge at the road at Hongthso, where you will meet your transport. You then drive to Paro.

Overnight: Olathang Hotel, Paro or Similar

Day 10 - Fly to Kathmandu.

After breakfast you will transfer back to the airport for your flight back to Kathmandu. Here you will be met and taken to your hotel. This afternoon will be at leisure.

Overnight: Shangri La Hotel, Kathmandu

Day 11 - At leisure in Kathmandu.

Today you will have time at leisure in Kathmandu. You might choose to visit Patan to view its Durbar Square and some of the many nearby palaces and temples. The museum is also well worth a visit and you could take lunch in the restaurant attached to it.

You might also visit the important Hindu temple complex of Pashupatinath on the banks of the Bagmati River. It is a real experience to go there first thing in the morning when local people visit the temple with offerings for Lord Shiva. Nearby, Boudhanath with its ancient Buddhist stupa and crowds of circumambulating pilgrims is just a 15 minute taxi ride away and is also well worth a visit. It is nice to visit there just before sunset and watch the sun set over the stupa while sipping a cold beer on the rooftop terrace of a café; a fitting way to bid goodbye to Nepal. You can easily get a taxi there and back.

Overnight: Shangri La Hotel, Kathmandu

Day 12 - Fly Kathmandu to London.

Today you transfer to the airport for your flight home.
Map
Map Key
Airport
Point of interest
Mountain Peak
Day walk in this area
Flights
Internal Transfers
Trek
---
No Dates Available
There are no available booking dates for this holiday yet since we are still finalising details. If you are interested in this holiday and would like further details, please contact us.
Hold your place
Not quite ready to book? Why not call us on 0044 (0)1453 844400 to hold a no obligation place while you make up your mind?
No Surcharge Guarantee
No surcharges will be applied to your holiday after you book. Prices on this website are updated regularly. The Flight Inclusive holiday price, or Land Only holiday price, will be confirmed to you at the time you make your booking. There will be no surcharges after your booking has been confirmed.
Flight inclusive holidays
The 'flight inclusive' holiday prices shown on this website are based upon our preferred airlines and the best priced economy class fares we are able to secure at the time of publication.
We will be able to advise on fares with alternative airlines, upgrades to Business Class, and the options for flights from regional UK airports, please contact us for more details.
Loyalty discount
Find out more
What's included
A Bhutanese leader
All flights between Kathmandu and Paro and hotel/airport transfers
Economy class return air fares from the UK & UK Departure Tax (flight inclusive only)
Shangri La Hotel in Kathmandu, bed & breakfast on twin-share basis
In Bhutan, good standard hotel accommodation in main towns and best available hotels in outlying towns, on full board, twin-share basis.
All road transport by private vehicles
All walks and sightseeing where specified
A free high-quality Mountain Kingdoms micro fleece
Bhutan visa clearance
The opportunity to attend a pre trip meet in the Cotswolds
What's not included
Travel insurance
Visa fees for Nepal
Lunch and evening meals in Kathmandu
Optional trips
Tips
---
---
Review your holiday
Reviews
Read holiday reviews by Mountain Kingdoms travellers.
Overall score: 5.0 (Based on 3 reviews)
Thunder Dragon Trails - Helpful staff
The pre-trip information and advice was excellent and very comprehensive. MK staff were very helpful and answered all our queries. The arrangements worked flawlessly and the people who met us for transfers to and from our flights were most helpful and efficient.
Mr G, Devon
Good itinerary Bhutan
A shorter version of our popular Gentle Walking Bhutan, perfect if you are short on time or want to combine your holiday with another destination.
Ann Sainsbury, Former Operations Manager, Mountain Kingdoms
Remarkable holiday in Bhutan
A very special 'thank you' must be extended to our guide and driver. Our guide was very knowledgeable about the range of aspects and adapted the itinerary to our personal wishes and abilities. His English was excellent and at times we had to remember he was Bhutanese. He certainly went out of his way to show us places that might easily have been missed or not strictly on the itinerary. Altogether, a most remarkable and special holiday. Thank you.
Mr G, Devon
---