What's included
A local English-speaking climbing guide
All internal flights and domestic hotel/airport transfers
Good standard hotel accommodation (3 star) in Delhi, bed and breakfast basis
Best available hotel in Leh, on full board
All camping facilities and all meals on trek
Camp staff to carry out all camp work
All road transport by private vehicles
All meals on trek
Costs of all porterage and their insurance
Economy class return air fares from the UK & UK Departure Tax (flight inclusive only)
Single, timed group airport transfers for international flights
Opportunity to join one of our pre-trip meets in the Cotswolds
A free high-quality Mountain Kingdoms kit bag
and much more...
Call our
friendly team
Indian Himalaya, Ladakh | Trekking Peak
Expedition Grade
Suitable for those with strenuous trekking experience in high mountain environments.
Find out more...
Grade: Expedition Grade ? Expedition Grade

Book now or call 01453 844400
Excellent acclimatisation makes this non-technical ridge ascent highly achievable.
Highlights
Excellent acclimatisation walks around Leh and over the Stok La
Ideal first Himalayan trekking peak with a non-technical ascent
Highly experienced local climbing guide supported by local sherpas and trek crew
The August departure visits the colourful celebrations at the Dakthok Festival
Reviews
Climbing this mountain is a fantastic adventure. When you see it from your hotel in Leh, you cannot imagine that you are going to stand on the top, but the route is a straightforward ridge climb and takes you to a wonderful summit marked by prayer flags. I thoroughly recommend it to anybody who is fit, determined, and keen to see what a 360˚ panorama from over 20,000ft looks like.
Steve Berry, MD, Mountain Kingdoms
View All
This Stok Kangri ascent can be achieved in just 15 days. For good acclimatisation you will walk in the environs of Leh town and sightseeing in the Indus valley. Then you begin your trek, starting at the entrance of the Hemis National Park at Zingchen and trekking through a gorge to the picturesque village of Rumbak, well known for its snow leopard sightings in the winters. From here, with an additional acclimatisation walk toward the Ganda La, you then take the route over Stok La pass to Stok Base Camp and on to the summit of Stok Kangri. There will be opportunities to refresh your crampon skills and additional rest and acclimatisation days built in to the itinerary to ensure that you have the best possible chance of success.
---
At a glance
Grade: Expedition Grade
Expedition Grade
Max. Altitude: 6,153m/20,187ft, Stok Kangri, Day 12
Guaranteed to run for a minimum of 4 clients
Maximum group size: 12
Land only joining city: Delhi
Accommodation types: Hotels, Camping
Festival:
The August departure attends the Dakthok Festival.
Meal arrangements: Bed and breakfast in Delhi, all meals elsewhere.
Itinerary overview
| Day | Activity |
| --- | --- |
| 1-2 | Fly to Delhi |
| 3 | Fly to Leh |
| 4 | At leisure in Leh and sightseeing– August departure visits Dakthok Festival |
| 5 | Acclimatisation walk |
| 6 | Drive to Lato and start trek. Gorge walk to Rumbak Sumdo |
| 7-8 | Walk toward Gandala and cross Stok La to Smankarmo |
| 9-11 | Trek to Base Camp, acclimatisation and skills practice |
| 12-13 | Stok Kangri summit day, return to Base Camp and rest day |
| 14 | Trek to Stok village, end trek and drive to Leh |
| 15 | Fly to Delhi and continue to London |
Leader: Local Leader, Stok Kangri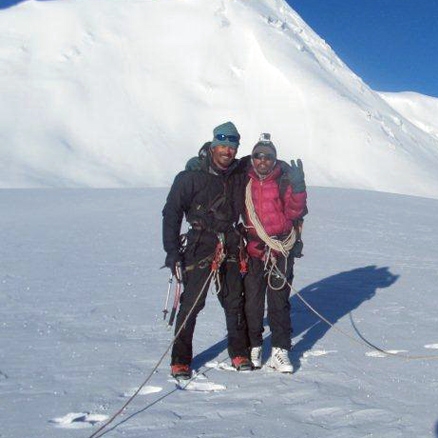 Your Guide for Stok Kangri will be one of the following experienced, English-speaking mountaineers:
Pemba Sherpa: 36 year old Pemba comes from Darjeeling and completed all his mountaineering courses from the Himalayan Mountaineering Institute (HMI), Darjeeling. Pemba has been leading treks in Sikkim and Ladakh and Bhutan since 2004 and has been climbing Stok Kangri every year since 2006.
Skalzang Rigzin: 34 year old Skalzang comes from Ladakh. Skalzang has also done his basic and advance course from HMI Darjeeling and his Method of Instruction course from Uttarkashi as well as a Search and Rescue Course. Rigzin has been working with our Indian partner since 1995 and has led climbs to Lungser Kangri and Stok Kangri for the past 10 years.
Uden Sherpa: Uden is 34 years old and comes from Darjeeling. He has also completed his mountaineering courses from HMI Darjeeling. Uden has led treks in Garhwal, Kumaon, Sikkim, Ladakh, South India, Nepal and Bhutan. Uden has also completed his Petzl Foundation training and Refresher First Aid course in early 2015. Uden has been leading climbs to Stok Kangri since 2006.
Kunchok Thinles: 35 years old from Chilling, Ladakh, Kunchok is a very strong and experienced climber. Kunchok has been a member of several Joint Expeditions including Chong Kumdun, Mamostang, Rimo IV, Saser Kangri in the East Karakoram as has climbed Mamostang and Chong Kumdun. He has climbed Stok Kangri several times for over 10 years.
Pekma Lama: 40 years old, Pekma is from Kanchenjunga region in Nepal. Pekma has been a freelancing Guide for over 15 years. Pekma has a wealth of climbing experience in Nepal – Island Peak, Lobuche, Amadablam and Everest to name a few, and has also worked in the Swiss Alps in Chamonix under the guidance of Yannick Flugi and the late Stephen Schaffter, wellknown alpine guides. He has led climbs to Stok Kangri for over 15 years.
---
Stok Kangri Climb, 6,153m/20,187ft Itinerary
Day 1 - Fly London To Delhi

Fly overnight from London to Delhi.

Overnight: In flight

Day 2 - Arrive Delhi. Group transfer to hotel.

On arrival in Delhi, you will be transferred to a hotel near the airport. You may prefer to rest today after your long flight or if you would like to venture out into the city there is a metro station not far from the hotel giving quick access to central Delhi.

Our local representative will let you have details for your flight tomorrow. Flights to Leh are very early in the morning so you might want to arrange a wake up call.

Overnight: Red Fox Hotel, Delhi

Day 3 - Fly to Leh, 3,500m/11,500ft.

After an early breakfast, you transfer to the domestic airport for the early morning flight to Ladakh. This surely is one of the most sensational scheduled flights in the world, taking you right over the top of the Greater Himalaya before dropping down in a series of steep turns, to land at the small military airport at Leh. During the flight you should have good views of the distant Karakoram including K2, the second highest mountain in the world, and will pass over some of the highest peaks in Jammu & Kashmir (which includes Ladakh); flight time 70 minutes. The flight, incidentally, takes you right past Stok Kangri. You will be met on arrival and driven through Leh to check in to your hotel, where you stay overnight. We recommend that the rest of the day be spent resting to help adjust to the altitude. If you would like to explore a little then it is just a few minutes walk into town.

Overnight: Welkin High Or Pangong Hotel, Leh

Day 4 - Time at leisure and sightseeing in Leh. August departure visits Dakthok Tsechu.

You will have the day at leisure in Leh. Leh and the Indus Valley are surrounded by the mountains of the High Himalaya and many snow peaks including Stok Kangri are visible from town. The Indus Valley cuts a wide swathe through these mountains and the various valleys which come down from the high mountains to meet this main valley are cultivated and fertile in their lower reaches with distinctive ancient palaces and monasteries watching over the villages and fields below. The rather stark landscape is relieved by numerous oases of green where sparkling streams tumble through groves of willow trees and shelter villages of traditional flat roofed mud-brick houses. The distinctive monasteries and gompas are still central to the lives of the Ladakhi people and illustrate the deep Tibetan Buddhist heritage of the region. You will have the day to acclimatise and to visit two or three of the more spectacular and important places in the Indus valley east of Leh.

Firstly, for an introduction to the Buddhist culture of the region you will visit Stakna Monastery which is perched impressively on a hill top some 25 kms from Leh and is known as the most colourful gompa in the Ladakh region. There are impressive views from the roof of the monastery. Then you drive further to Hemis Monastery which stands above the Indus River approximately 47 kilometres from Leh. This monastery dates back to 1630 and is the largest and most wealthy monastery of Ladakh. It belongs to the Drukpa Lineage, or Dragon Order, of Mahayana Buddhism. On the way back if you have time and energy you may visit Thikse Gompa, considered one of the most splendid of all Indus valley gompas. This gompa contains a three storey high statue of Chamba, Buddha of the future and has marvellous views of the valley from the roof.

On the August departure you will visit the Dakthok festival. Festivals are a highlight of the year for Ladakhis. They provide an excuse to dress up, socialise, drink, have fun and at the same time earn religious merit and you can expect large crowds of local people to be there in all their finery. Festivals in Ladakh are very colourful and cheerful affairs and are always great fun to attend. The masked dances performed by lamas, represent the triumph of good over evil. These Sacred Dance Dramas, or 'Chhams', are at the centre of the celebrations, and monks in incredible costumes perform elaborate highly choreographed dances to an accompaniment of drums, cymbals and horns.


Overnight: Welkin High Or Pangong Hotel, Leh

Day 5 - Acclimatisation Walk from Leh - 3½-4 hours. Afternoon at leisure.

Today you will have a walk in the environs of Leh town. Firstly you will walk from your hotel a short distance out to Changspa, for the climb to Shanti Stupa. It is a bit of a heave up the many steps to reach the top, but is well worth it for the panoramic views of the surrounding landscape and the tremendous views over Leh town. You can look across to Namgyal Tsemo Gompa perched on a ridge opposite. You will continue your walk through pretty countryside and villages, before climbing to visit Namgyal Tsemo the Tower of Victory, which was built during the reign of King Tashi Namgyal. From here you descend the short distance to visit the impressive nine storey royal palace, overlooking the town - this palace was built in 1600 by the then King Singge Namgyal.. You walk down from Leh Palace through the back streets and into the colourful bazaar, and then back to the hotel in time for lunch.

The afternoon will be at leisure or to do some more exploration of town which is very picturesque and a great place to wander round. You could visit the ecological centre where you will discover from various exhibits how a relatively fragile Ladakhi culture is being threatened by a rapidly changing outside world. You might also relax in town at a rooftop café, or do a bit of shopping - Leh has some good bookshops.


Overnight: Welkin High Or Pangong Hotel, Leh

Day 6 - Drive to Lato 1½ hrs. Enter Hemis National Park and trek through gorge to Rumbak Sumdo – 4,050m/13,288 ft. 3 hours walking.

Today you start your trek to Stok Kangri. Firstly you drive out on the Manali Highway to Lato. From here you start your trek, following on a well-defined path to enter the Hemis National park. You then trek through a gorge, climbing gradually on an undulating trail, until the gorge opens out at Rumbak Sumdo in approximately 3 hours. You can see Stok La from here. You will camp at the picturesque little village of Rumbak. In the early spring this village is a centre for people who come to look for snow leopards - the Snow Leopard Conservancy encourages and trains local families to welcome tourists into their homes. There are good mountain views from the village.

Overnight: Camp

Day 7 - Acclimatisation walk to Ganda La. Afternoon walk to base of Stok La4,100m/13,452ft. Total 5-6 hours walking.

Today is for acclimatisation. You will have a morning's walk up towards Ganda La, one of the highest passes in Ladakh. You return to Rumbak and then in the afternoon continue further for another hour to your camp by a stream near the base of Stok La.

Overnight: Camp

Day 8 - Cross Stok La - 4,850m/15,912ft - 2-3 hours. Trek to Smankarmo - 4,380m/14,370ft.

Today you leave camp early to cross Stok La. You follow a switch back trail and climb gradually, with just the last 200m or so being steeper. You will be rewarded with great views of the neighbouring mountains - Stok Kangri itself is not visible from here. You then descend from the pass and continue to your camp at Smankarmo. This area is wilderness terrain, visited only by climbers going to Stok Kangri and by local people who spend some of the summer months here living in picturesque villages of stone huts, from where they tend their flocks of sheep and goats.

Overnight: Camp

Day 9 - Trek to Stok Kangri Base Camp, 5,000m/16,404ft - 2 hours. Afternoon walk to High Camp, 5,100m/16,733ft, and return.

A short walk of some 2 hrs will bring you to the base camp of Stok Kangri. Base camp is located not far from a stream and you may well see Ladakhi sheep/goat herders who come up here with their flocks in the summer months.

In the afternoon you will walk up to High Camp for acclimatisation and return to Base Camp to overnight.


Overnight: Camp

Day 10 - Rest Day at Base Camp.

Today you will have a rest day at Base Camp.

If you did not walk up to High Camp for acclimatisation yesterday, you may do so today.


Overnight: Camp

Day 11 - Acclimatisation and Crampon Practice.

Today is more valuable time for acclimatisation and you will also have time to practice using crampons.

Overnight: Camp

Day 12 - Climb Stok Kangri, 6,153m/20,187ft, return to Base Camp - 9-10 hours of ascent, 4 hours of descent.

You will set off around 1am. It is about two hours to High Camp. Crossing the stream, you follow a rising traverse which will eventually take you up to the snout of the glacier coming off Stok Kangri. The glacier itself is a 'dry ice' glacier, with very few small crevasses which present no danger and are easily stepped over. Nowhere is the slope terribly steep and makes for a very straightforward ascent. Having gained the ridge, there is a narrow path that is easy to follow - you will rope up for the climb. Drops on either side are in places quite dramatic. Nearing the summit, there is occasionally a little snow section that is 15 or 20 feet high that is steeper than the rest, but again, it is basically kicking out bucket steps to climb onto the final summit ridge itself. From here, you have the most magnificent views of the Karakoram and eastern Karakoram to the north of you and on a clear day, you may well be able to pick out K2 itself. Also, over to the west, on a clear day, you can see the highest peak in Jammu and Kashmir State, Nun Kun, the first British ascent of which was made by our MD, Steve Berry. To the south are the mass of peaks in Kishtwar and Zanskar. To the east you may well be able to see the highest peak in the Zanskar range, Kang Yatse. Having taken your pictures, it is then time to descend slowly and carefully back down to the base camp.

Overnight: Camp

Day 13 - Spare/rest day.

This is basically a contingency day in case of bad weather or any other unforeseen problems you may encounter.

Overnight: Camp

Day 14 - Trek to Stok Village, 3,800m/12,467ft - 4-5 hours. Drive to Leh.

It is an easy and relaxing walk back down to Stok village, though of course by now you will be pretty tired after your climb and it may seem harder work than usual. Nevertheless, there is still some very grand scenery to enjoy. Geologists say that Ladakh was the point of impact between the Indian subcontinent and the main Eurasian continent. You can see this graphically on this particular day, as there are huge areas of contorted strata and eroded pinnacles. There are also some interesting and very ancient hilltop fortresses that you should keep an eye out for as you get closer to Stok village. In Stok village, the present King's palace is now partly a museum and this is well worth a visit as it contains some of Ladakh's most important royal treasures. It is then half an hour's drive back to Leh to check into your hotel.

Overnight: Welkin High Or Pangong Hotel, Leh

Day 15 - Fly to Delhi and on to London.

Today you will either have an early breakfast at the hotel or the hotel will provide a packed breakfast for you to have at the airport. Your flight to Delhi is one of the most remarkable flights in India, in that it crosses the Greater Himalayan range. On one side of the aeroplane can be seen in the distance the peaks of K2, Nanga Parbat, Gasherbrum and on the other side of the aeroplane, so close that you feel you could reach out and touch it, is the Nun Kun massif.

On arrival in Delhi you transfer to the international airport for your return flight to the UK.

Map
Map Key
Airport
Point of interest
Mountain Peak
Day walk in this area
Flights
Internal Transfers
Trek
---
No Dates Available
There are no available booking dates for this holiday yet since we are still finalising details. If you are interested in this holiday and would like further details, please contact us.
Hold your place
Not quite ready to book? Why not call us on 0044 (0)1453 844400 to hold a no obligation place while you make up your mind?
No Surcharge Guarantee
No surcharges will be applied to your holiday after you book. Prices on this website are updated regularly. The Flight Inclusive holiday price, or Land Only holiday price, will be confirmed to you at the time you make your booking. There will be no surcharges after your booking has been confirmed.
Flight inclusive holidays
The 'flight inclusive' holiday prices shown on this website are based upon our preferred airlines and the best priced economy class fares we are able to secure at the time of publication.
We will be able to advise on fares with alternative airlines, upgrades to Business Class, and the options for flights from regional UK airports, please contact us for more details.
Loyalty discount
Find out more
What's included
A local English-speaking climbing guide
All internal flights and domestic hotel/airport transfers
Good standard hotel accommodation (3 star) in Delhi, bed and breakfast basis
Best available hotel in Leh, on full board
All camping facilities and all meals on trek
Camp staff to carry out all camp work
All road transport by private vehicles
All meals on trek
Costs of all porterage and their insurance
Economy class return air fares from the UK & UK Departure Tax (flight inclusive only)
Single, timed group airport transfers for international flights
Opportunity to join one of our pre-trip meets in the Cotswolds
A free high-quality Mountain Kingdoms kit bag
What's not included
Travel insurance
Visa fees
Lunch and evening meals in Delhi
Tips
---
---
Review your holiday
Reviews
Read holiday reviews by Mountain Kingdoms travellers.
Overall score: 5.0 (Based on 2 reviews)
Stok Kangri Climb, 6,153m/20,187ft
Caring staff (former Stok Kangri 6,153m / 20,187ft & Markha Valley itinerary) 17/07/2009
We really enjoyed the small group of like minded people as well as the caring, professional staff with good in-country support.
Mr & Mrs C, Norwich
Stok Kangri Climb, 6,153m/20,187ft
Well thought out acclimatisation (former Stok Kangri 6,153m / 20,187ft & Markha Valley itinerary)
Must just comment on the really well thought out acclimatisation programme after arriving in Leh. I certainly needed all of those to help me get up & over the Kangmaru La. Thanks for a memorable holiday.
Mr B, Leicestershire
---
Extend your holiday
1-day and 6-day extension options available
Add at the beginning or end of your holiday in India
Sights include the Red Fort, Taj Mahal, City Palace and Amber Fort
More Details
After your adventures in India why not add an exciting day trip to Agra to see the sights of the one time capital of the great Mughal empire? Or, if you have more time available, perhaps a longer trip visiting both Agra and another gem of the 'Golden Triangle', Jaipur. Whichever option you take, once in Agra you will be looked after by one of our fully trained, English-speaking guides who will show you around the Red Fort, the Taj Mahal and the ancient city and mosque of Fatehpur Sikri. For those travelling on to Jaipur, you will take guided visits to the Amber Fort, Palace of the Winds and City Palace, along with time to explore the colourful bazaars of the 'Pink City'.