What's included
A local English-speaking climbing guide
Economy class return air fares from the UK & UK Departure Tax (flight inclusive only)
All internal flights and hotel/airport transfers
Good standard hotel accommodation (3 star) in Delhi, bed and breakfast basis
Best available hotel in Leh, on full board
All camping facilities and all meals on trek
Camp staff to carry out all camp work
All road transport by private vehicles
All meals on trek
Costs of all porterage and their insurance
A free high-quality Mountain Kingdoms kit bag
and much more...
Call our
friendly team
Stok Kangri 6,153m / 20,187ft & Markha Valley
Trekking Peak
Expedition Grade
Suitable for those with strenuous trekking experience in high mountain environments.
Find out more...
Grade: Expedition Grade ? Expedition Grade
Duration: 15 days from the UK
On trek: 12 days
Flight inclusive from £2,250,
Land only from £1,525
Book now or call 01453 844400
Excellent acclimatisation makes this non-technical ridge ascent highly achievable.
Highlights
Classic acclimatisation trek through the Markha Valley
Ideal first Himalayan trekking peak with a non-technical ascent
Highly experienced trek leader and support crew
Time to visit the celebrations at the Dakthok Festival
Reviews
We really enjoyed the small group of like minded people as well as the caring, professional staff with good in-country support.
Mr & Mrs C, Norwich
Must just comment on the really well thought out acclimatisation programme after arriving in Leh. I certainly needed all of those to help me get up & over the Kangmaru La. Thanks for a memorable holiday.
Mr B, Leicestershire
View All
The expedition begins with the classic Markha Valley trek in the Northern Zanskar Mountains. This provides the best possible acclimatisation for an ascent of Stok Kangri as it includes the crossing of a 5,300m/17,400ft pass, offering superb views of the eastern Karakoram. We return to Leh and then begin the short trek to Stok Kangri Base Camp. Summit day starts early, when, using crampons and ice axes, we walk up the glacier and ascend the southeast ridge to the distinctive summit for a superb mountain panorama.
Stok Kangri (6,153m/20,187ft) is a fine Himalayan peak just south of the capital of Ladakh in the Indian Himalaya. Although it has an imposing, pointed appearance when viewed from Leh, there is a straightforward non-technical route to the summit on its south east ridge. Given good acclimatisation, any fit person with strong trekking and hill walking experience stands an excellent chance of making the summit. We believe our itinerary gives you the best chance of achieving this ambition.
To help you prepare for your Stok Kangri summit, why not try Mont Blanc Summit first?
---
At a glance
Grade: Expedition Grade
Expedition Grade
Duration: 15 days from the UK
On trek: 12 days
Max. Altitude: 6,153m/20,187ft, Summit day.
Guaranteed to run for a minimum of 4 clients
Maximum group size: 12
Land only joining city: Delhi
Accommodation types: Hotels, Camping
Festival:
The July 2018 departures attends the Dak Thok festival.
Meal arrangements: Bed and Breakfast in Delhi, all meals elsewhere.
Itinerary overview
| Day | Activity |
| --- | --- |
| 1-3 | (This is the itinerary for our 2018 departures only). Arrive Delhi and time at leisure. Fly to Leh. |
| 4 | Attend Dakthok Festival. |
| 5 | Drive to trailhead at Chilling. Trek to Skiu. |
| 6-8 | Trek to Nimaling via Thinlespa and Hankar. |
| 9 | Rest day. Possible visit to Kang Yatse Base Camp. |
| 10 | Cross the Kongmaru La, 5,216m/17,113ft, descend to Chuskyurmo and end trek at Shang. Drive to Leh. |
| 11-13 | Drive to Matho. Trek to Smankarmo and on to Stok Kangri Base Camp, 5,000m/16,404ft. |
| 14 | Climb Stok Kangri, 6,121m/20,082ft, descend back to Base Camp. |
| 15-16 | Contingency day. Trek to Stok Village. Drive to Leh. |
| 17 | Fly to Delhi and on to London. |
Leader: Local Leader, Stok Kangri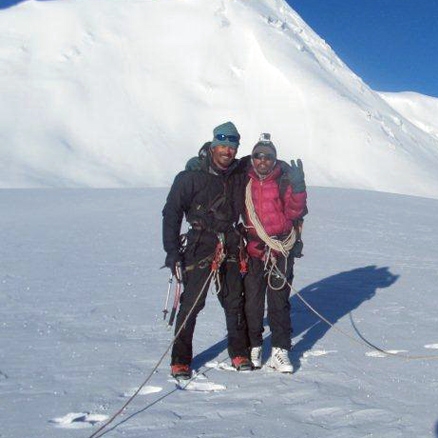 Your Guide for Stok Kangri will be one of the following experienced, English-speaking mountaineers:
Pemba Sherpa: 36 year old Pemba comes from Darjeeling and completed all his mountaineering courses from the Himalayan Mountaineering Institute (HMI), Darjeeling. Pemba has been leading treks in Sikkim and Ladakh and Bhutan since 2004 and has been climbing Stok Kangri every year since 2006.
Skalzang Rigzin: 34 year old Skalzang comes from Ladakh. Skalzang has also done his basic and advance course from HMI Darjeeling and his Method of Instruction course from Uttarkashi as well as a Search and Rescue Course. Rigzin has been working with our Indian partner since 1995 and has led climbs to Lungser Kangri and Stok Kangri for the past 10 years.
Uden Sherpa: Uden is 34 years old and comes from Darjeeling. He has also completed his mountaineering courses from HMI Darjeeling. Uden has led treks in Garhwal, Kumaon, Sikkim, Ladakh, South India, Nepal and Bhutan. Uden has also completed his Petzl Foundation training and Refresher First Aid course in early 2015. Uden has been leading climbs to Stok Kangri since 2006.
Kunchok Thinles: 35 years old from Chilling, Ladakh, Kunchok is a very strong and experienced climber. Kunchok has been a member of several Joint Expeditions including Chong Kumdun, Mamostang, Rimo IV, Saser Kangri in the East Karakoram as has climbed Mamostang and Chong Kumdun. He has climbed Stok Kangri several times for over 10 years.
Pekma Lama: 40 years old, Pekma is from Kanchenjunga region in Nepal. Pekma has been a freelancing Guide for over 15 years. Pekma has a wealth of climbing experience in Nepal – Island Peak, Lobuche, Amadablam and Everest to name a few, and has also worked in the Swiss Alps in Chamonix under the guidance of Yannick Flugi and the late Stephen Schaffter, wellknown alpine guides. He has led climbs to Stok Kangri for over 15 years.
---
Stok Kangri 6,153m / 20,187ft & Markha Valley Itinerary
Day 1 - Fly London To Delhi

Fly overnight from London to Delhi.

Overnight: Overnight Flight To Delhi

Day 2 - Arrive Delhi. Time at leisure.

On arrival in Delhi, you will be transferred to a hotel near the airport. You may prefer to rest today after your long flight or if you would like to venture out into the city there is a metro station not far from the hotel giving quick access to central Delhi.

Our local representative will let you have details for your flight tomorrow. Flights to Leh are very early in the morning so you might want to arrange a wake up call.

Overnight: Holiday Inn New Delhi International Airport, Delhi

Day 3 - Fly to Leh, 3,500m/11,500ft.

After an early breakfast, you transfer to the domestic airport for the early morning flight to Ladakh. This surely is one of the most sensational scheduled flights in the world, taking you right over the top of the Greater Himalaya before dropping down in a series of steep turns, to land at the small military airport at Leh. During the flight you should have good views of the distant Karakoram including K2, the second highest mountain in the world, and will pass over some of the highest peaks in Jammu & Kashmir (which includes Ladakh); flight time 70mins. The flight, incidentally, takes you right past Stok Kangri. You will be met on arrival and driven through Leh to check in to your hotel, where you stay overnight. We recommend that the rest of the day be spent resting to help adjust to the altitude. If you would like to explore a little then it is just a few minutes walk into town.

Overnight: Ladakh Residency or Kang Lha Chhen Hotel, Leh

Day 4 - Visit Dakthok Festival.

Today you will visit the Dakthok Festival. Festivals are a highlight of the year for Ladakhis. They provide the excuse to dress up, socialise, drink, have fun and at the same time earn religious merit. The Sacred Dance Dramas, or 'Chhams' ,are at the centre of the celebrations where monks in incredible costumes perform elaborate highly choreographed dances to an accompaniment of drums, cymbals and horns. Dancers act out the destruction of evil and the illusory nature of life.

Time permitting, after you leave the festival, you may also visit Hemis or Thikse.

Overnight: Ladakh Residency or Kang Lha Chhen Hotel, Leh

Day 5 - Drive to Chilling, 3350m/10,990ft. Trek to Skiu, 3,450m/11,319ft - 4-5 hours.

Driving out of Leh you pass the airport and, if time allows, you may visit Spituk monastery. Then onwards through the mess that is the Indian army encampments and along the road that eventually leads over the Zoji La and down to Kashmir. However, after about an hour you come to the confluence of the Indus River and Zanskar River. There is then a spur road that leads up to the gorges alongside the Zanskar River to the last village of Chilling. Chilling is famous for its metalworking. The people have a high reputation for making ornate stoves in particular and all manner of metal handicrafts. It is quite a large village in a beautiful situation above the river.

From Chilling you trek a little way upstream to the new 'jolla' crossing. A jolla is basically a harness or a basket hanging from a single steel cable - this jolla was constructed during the summer of 2007; the old jolla which was downstream from Chilling fell into disrepair. There is now a beautiful walk up the beginnings of the Markha Valley to your first night's stop at the village of Skiu. You enter the village confronted by towering rock faces. Since Skiu is only at about 3,450m/11,319ft and the Markha Valley is quite narrow, the temperature is higher here. At dusk, just as the evening shadows begin to envelop the valley, it is worth walking back along the trail where the Skiu Nala meets the Markha to visit a small monastery. This is cared for by a young monk, who comes every morning and evening to light the butter lamps at the altar of Chamba, the Future Buddha.

Overnight: Camp

Day 6 - Trek to Thinlespa, 3,800m/12,467ft - 6 hours.

Today is a very pleasant walk up one of the loveliest sections of the Markha valley. Woody bushes grow thickly along the river, which is spanned by several bridges over which the trail leads to Thinlespa. The camp is beyond this small village on the right bank of the river.

Overnight: Camp

Day 7 - Trek to Hankar, 3,900m/12,795ft - 6-7 hours.

The trail continues eastwards climbing steadily up the valley through the picturesque village of Markha, which has a fascinating monastery well worth a visit. Coming in from the south is the trail from Rabrang La, one of the routes from Zangla in the Kingdom of Zanskar. From Markha the country changes and the warm, relatively wooded section of the lower Markha is left behind. The camp below the twin villages of Lower and Upper Hankar is distinctly cooler than at Thinlespa. Between the two villages is a ruined fort, the walls of which climb sharply up a crag and an eyrie lookout tower; worth visiting for those with a good head for heights.

Overnight: Camp

Day 8 - Trek to Nimaling, 4,720m/15,485ft - 8 hours.

From Hankar the trail climbs steadily up the now narrow valley, past villages smaller and seemingly poorer than those in the lower areas. The Nimaling plain is a broad undulating meadow, sloping upwards to the base of the ice-clad Kang Yatse, 6,400m/20,997ft, which dominates the area. Nimaling with tiny ponds and rivulets flowing all over its meadows provides pastures in the summer for an astonishing number of animals; yaks, sheep, goats, dzos and horses, not only from the Markha, but also from villages all around. Himalayan marmots and white-tailed hares are seen in plenty and it is not unusual to spot the occasional blue sheep, or wolf.

Overnight: Camp

Day 9 - Rest day. Possible visit to Kang Yatse Base Camp.

Today you will have chance to relax at Nimaling and enjoy the superb scenery and surroundings. There is the opportunity to walk to the base camp of Kang Yatze, the highest peak in the Zanskar range, 6,400m/20,997ft, and return.

Overnight: Camp

Day 10 - Cross Kongmaru La, 5,216m/17,113ft, descend to Chuskyurmo, 4,155m/13,632ft, end trek at Shang, 3,850m/12,631ft - 4 hours. Drive to Leh.

Today you cross the mountain range to the north of the Markha valley, climbing to the top of the highest of the three passes, the 5,216m/17,113ft Kangmaru La, with its wonderful views from the top. You can see the peaks of Nun and Kun to the west and Saser Kangri and many giants of the Karakoram to the north.

The trail descends steeply to the head of the Martselang valley past the sulphur springs of Chyushkarmo, and follows the Martselang stream to the village of Shang-Sumdo, at the confluence of the Shang Nala and the Martselang. It will not have escaped your notice that this represents 1,219m/4,000ft of descent. This will help your fitness, but is a strain on tired knees. Transport will meet you at Shang-Sumdo and drive you to Leh.

Overnight: Ladakh Residency or Kang Lha Chhen Hotel, Leh

Day 11 - Drive to Matho. Trek to Matho Phu, 4,480m/14,698ft - 6-7 hours.

Leaving Leh early in the morning, you drive across the Indus River to the village of Matho, one hour's drive. Matho itself is an idyllic village with a fantastic monastery set on a rocky ridge above the houses below. The trek itself starts at the bridge at Choklamsar from where you trek up to Matho Phu along the side of the Matho stream. This is a barren but impressive valley and you set up camp after several hours' walking at a height of 4,480m/14,700ft.

Overnight: Camp

Day 12 - Trek to Smankarmo, 4,380m/14,370ft - 5 hours.

It is a steady climb in the morning, this time up to the Matho La, 4,820m/15,813ft, and then you descend into the valley to the north of Stok Village. You stay high, climbing a small pass and traversing a ridge. The area is wilderness terrain, visited by groups going to Stok Kangri and by the local people who spend some of the summer months in picturesque villages of stone huts, from where they tend their flocks of sheep and goats.

Overnight: Camp

Day 13 - Trek to Stok Kangri Base Camp, 5,000m/16,404ft - 2 hours.

Initially, from camp you continue trekking along the valley and then the path steepens and zigzags over the Matho Pass, 5,029m/16,500ft. Descend a relatively short distance to camp. You will have the rest of the day to explore and acclimatise, sort gear and prepare for summit day tomorrow.

Base camp is located not far from a stream and you may well see Ladakhi sheep/goat herders up here in the summer months.

Overnight: Camp

Day 14 - Climb Stok Kangri, 6,153m/20,187ft, return to Base Camp - 9-10 hours ascent, 4 hours descent.

You will set off around 1 am. Crossing the stream, you now follow a rising traverse which will eventually take you up to the snout of the glacier coming off Stok Kangri. The glacier itself is a 'dry ice' glacier, with very few small crevasses which present no danger and are easily stepped over. Nowhere is the slope terribly steep and makes for a very straightforward ascent Having gained the ridge, there is a narrow path that is easy to follow. Drops on either side are in places quite dramatic. Nearing the summit, there is occasionally a little snow section that is 15 or 20 feet high that is steeper than the rest, but again, it is basically kicking out bucket steps to climb onto the final summit ridge itself. From here, you have the most magnificent views of the Karakoram and eastern Karakoram to the north of you and on a clear day, you may well be able to pick out K2 itself. Also, over to the west, on a clear day, you can see the highest peak in Jammu and Kashmir state, Nun Kun, the first British ascent of which was made by our MD, Steve Berry. To the south are the mass of peaks in Kishtwar and Zanskar. To the east you may well be able to see the highest peak in the Zanskar range, Kang Yatse, which only a week or so previously you have trekked past. Having taken your pictures, it is then time to descend slowly and carefully back down to the base camp.


Overnight: Camp

Day 15 - Spare climbing day.

This is basically a contingency day in case of bad weather or any other unforeseen problems you may encounter.

Overnight: Camp

Day 16 - Trek to Stok Village, 3,800m/12,467ft - 4-5 hours. Drive to Leh.

It is an easy and relaxing walk back down to Stok village, though of course by now you will be pretty tired after your climb and it may seem harder work than usual. Nevertheless, there is still some very grand scenery to enjoy. Geologists say that Ladakh was the point of impact between the Indian subcontinent and the main Eurasian continent. You can see this graphically on this particular day, as there are huge areas of contorted strata and eroded pinnacles. There are also some interesting and very ancient hilltop fortresses that you should keep an eye out for as you get closer to Stok village. In Stok village, the present King's palace is now partly a museum and this is well worth a visit as it contains some of Ladakh's most important royal treasures. It is then half an hour's drive back to Leh to check into your hotel.

Overnight: Ladakh Residency or Kang Lha Chhen Hotel, Leh

Day 17 - Fly to Delhi and on to London.

This is one of the most remarkable flights to be taken in India in that it crosses the Greater Himalayan range. On one side of the aeroplane can be seen in the distance the peaks of K2, Nanga Parbat, Gasherbrum and on the other side of the aeroplane, so close that you feel you could reach out and touch it, is the Nun Kun massif.

Transfer to the international airport for your return flight to the UK.
Map
Map Key
Airport
Point of interest
Mountain Peak
Day walk in this area
Flights
Internal Transfers
Trek
---
2019
| Dates | Availability | Land Only | Flight Inclusive from |
| --- | --- | --- | --- |
| Wed 24 Jul - Wed 7 Aug 2019 | Available | £1525 Book | £2250 Book |
| Wed 7 Aug - Wed 21 Aug 2019 | Available | £1525 Book | £2250 Book |
Hold your place
Not quite ready to book? Why not call us on 0044 (0)1453 844400 to hold a no obligation place while you make up your mind?
Optional supplements
Single Tent
From £75
Single room supplement
From £190
Insurance
No Surcharge Guarantee
No surcharges will be applied to your holiday after you book. Prices on this website are updated regularly. The Flight Inclusive holiday price, or Land Only holiday price, will be confirmed to you at the time you make your booking. There will be no surcharges after your booking has been confirmed.
Flight inclusive holidays
The 'flight inclusive' holiday prices shown on this website are based upon our preferred airlines and the best priced economy class fares we are able to secure at the time of publication.
We will be able to advise on fares with alternative airlines, upgrades to Business Class, and the options for flights from regional UK airports, please contact us for more details.
Loyalty discount
Find out more
What's included
A local English-speaking climbing guide
Economy class return air fares from the UK & UK Departure Tax (flight inclusive only)
All internal flights and hotel/airport transfers
Good standard hotel accommodation (3 star) in Delhi, bed and breakfast basis
Best available hotel in Leh, on full board
All camping facilities and all meals on trek
Camp staff to carry out all camp work
All road transport by private vehicles
All meals on trek
Costs of all porterage and their insurance
A free high-quality Mountain Kingdoms kit bag
What's not included
Travel insurance
Visa fees
Lunch and evening meals in Delhi
Tips
---
---
Review your holiday
Reviews
Read holiday reviews by Mountain Kingdoms travellers.
Overall score: 5.0 (Based on 2 reviews)
Stok Kangri 6,153m / 20,187ft & Markha Valley
Caring staff 17/07/2009
We really enjoyed the small group of like minded people as well as the caring, professional staff with good in-country support.
Mr & Mrs C, Norwich
Stok Kangri 6,153m / 20,187ft & Markha Valley
Well thought out acclimatisation
Must just comment on the really well thought out acclimatisation programme after arriving in Leh. I certainly needed all of those to help me get up & over the Kangmaru La. Thanks for a memorable holiday.
Mr B, Leicestershire
---
Extend your holiday
Known for its population of tigers.
Home to fascinating wildlife including jungle cats, hyenas, jackals, bears, crocodiles and large populations of langur monkeys.
Enjoy safari drives as you look out for wildlife amongst the picturesque grassland, hills and lakes.
More Details
Ranthambore National Park in Rajasthan is one of the finest national parks in northern India. Formerly a hunting reserve for the Maharajas of Jaipur, you can see a huge variety of fantastic wildlife and birds in Ranthambore, but the park is particularly famous for its population of tigers - although of course sightings of tiger can never be guaranteed many visitors to this park are lucky enough to get good views. The scenery of the park is very varied with grassland, hills and lakes and there are also some very picturesque and atmospheric ruins located in the park. Even if you don't see tigers there is abundant wildlife on view in Ranthambore with leopard and other cats such as jungle cats, caracal, hyena, jackal, wild boar, bear, several species of deer, and large populations of langur monkeys. Marsh crocodiles and other reptiles are also found in the lakes within the park. Owing to the wide range of habitats within the park there is also a large variety of fantastic and colourful birds, both resident and migrant, to be seen - in total, 272 bird species have been documented within the park.
Corbett National Park is home to one of the largest Royal Bengal Tiger populations in India.
Over 50 species of mammals, many reptiles and hundreds of bird species to look out for.
Ideal extension from Delhi to explore some of India's most fascinating wildlife.
More Details
Corbett National Park is the oldest national park in India. Located between the Himalayan foothills to the north and the ancient Shivalik Hills to the south, the reserve covers a wide range of habitat with dense woodlands, open grasslands, riverine vegetation, dry riverbeds and more hilly terrain and so offers much diversity. This varied habitat hosts a spectacular diversity of mammal, bird and reptilian life, unmatched anywhere in India.
The park is home to one of the largest Royal Bengal Tiger populations in India as well as other large cats such as leopard. There are also around 50 species of mammals including large herds of elephant and four species of deer. In the park you also find many reptiles, including the rare and highly endangered Gharial crocodile. Corbett has a spectacular bird diversity – there are several hundred resident species of bird with as many more crossing on their migratory routes with bird diversity being at its peak during the winter months.
1-day and 6-day extension options available
Add at the beginning or end of your holiday in India
Sights include the Red Fort, Taj Mahal, City Palace and Amber Fort
More Details
After your adventures in India why not add an exciting day trip to Agra to see the sights of the one time capital of the great Mughal empire? Or, if you have more time available, perhaps a longer trip visiting both Agra and another gem of the 'Golden Triangle', Jaipur. Whichever option you take, once in Agra you will be looked after by one of our fully trained, English-speaking guides who will show you around the Red Fort, the Taj Mahal and the ancient city and mosque of Fatehpur Sikri. For those travelling on to Jaipur, you will take guided visits to the Amber Fort, Palace of the Winds and City Palace, along with time to explore the colourful bazaars of the 'Pink City'.