What's included
An English-speaking Indian sirdar leader
All internal flights and domestic airport transfers
Hotels in Delhi on a twin share, bed & breakfast basis
Good quality hotel in Darjeeling on a twin share, full board basis
All camping facilities and all meals on trek
Camp staff to carry out all camp work
All road transport by private vehicles
Full porterage
Sightseeing where specified
A free high-quality Mountain Kingdoms kit bag
Economy class return air fares from the UK & UK Departure Tax (flight inclusive only)
Single, timed, group airport transfers for international flights on arrival and departure
Carbon offset flights (flight inclusive only)
and much more...
Call our
friendly team
Indian Himalaya, Sikkim | Walking & Trekking
Grade: Moderate ? Moderate
Duration: 13 days from the UK
On trek: 6 days
Flight inclusive from £2,595,
Land only from £1,895
Book now or call 01453 844400
A Himalayan trekking gem offering magnificent panoramic views including, on a clear day, Everest herself.
Highlights
Stay in unique heritage hotels with echoes of the grand days of the Raj
First-rate camping with quality equipment, full porterage and a superb guide
Sightseeing in Darjeeling and a ride on the famous Toy Train
A well-paced itinerary with a fantastic six-day trek on the Singalila Ridge
The Singalila Ridgetop Walk has a well-deserved reputation as a 'classic' short Himalayan trek, being easy to access, offering great views and relatively undemanding walking. Indeed this was a trek often taken by officers back in the days of the British Raj, visiting Darjeeling to escape the summer heat of the plains.
Before heading off on trek you will have time to sample some of the attractions of Darjeeling, to visit the Himalayan Mountaineering Institute, take a ride on the renowned 'toy train' and to enjoy the fabulous views of Kanchenjunga, your constant companion throughout this trip. It is also well worthwhile to stroll along Darjeeling's famous Mall in the company of Indian tourists and people from all over the Himalaya.
The start of your trek is then just a two hour drive from Darjeeling. Your trek route will take you along the ridge to a point on the map near Phalut peak, where Nepal, Sikkim and West Bengal meet, and for much of its length the trail follows the border between India and Nepal, crossing and re-crossing the border. From the ridge you will enjoy the most stupendous views of Kangchenjunga, 8,586m/28,168ft, the world's third highest mountain, as well as the wider Himalayan chain, including, in the far distance, the Everest range. The highest point you reach on the trek is the little peak of Sandakphu at 3636m/9921ft, from where in clear weather, the mountain views are exceptional – you should be able to see four of the world's highest peaks, Everest, Makalu and Lhotse in addition to the ever present Kanchenjunga from here.
As well as offering these phenomenal views this trek has much cultural interest. The ridge line is dotted with small villages, many of them half in Nepal and half in India, and along the way you can get a fascinating insight into the everyday life of the locals - you might share the trail with children on the way to or from school, farmers, goat herders or porters carrying enormous loads.
In Delhi and Darjeeling you will stay in good quality hotels while on trek you will enjoy a traditional full service camping experience.
---
At a glance
Grade: Moderate
Moderate
Duration: 13 days from the UK
On trek: 6 days
Max. Altitude: 3,636m/11,928ft, Sandakphu, day 7
Guaranteed to run for a minimum of 4 clients
Maximum group size: 12
Land only joining city: Delhi
Accommodation types: Hotels, Camping
Meal arrangements: Bed and Breakfast in Delhi, all meals included in Darjeeling and on trek.
Itinerary overview
| Day | Activity |
| --- | --- |
| 1-2 | Fly to Delhi, sightseeing. |
| 3 | Fly to Bagdogra. Drive to Darjeeling. |
| 4 | Sightseeing in Darjeeling and ride on the Toy Train. |
| 5 | Drive to Dhodray. Trek to Tonglu. |
| 6-7 | Trek to Kalipokhari and to Sandakphu, 3,636m/11,928ft. |
| 8-9 | Trek to Molley, Phalut and onto Samaden. |
| 10 | Trek to Maneydara and end trek. |
| 11 | Drive to Darjeeling. |
| 12-13 | Drive to Bagdogra. Fly to Delhi. Fly to London. |
Leader: Local leader, India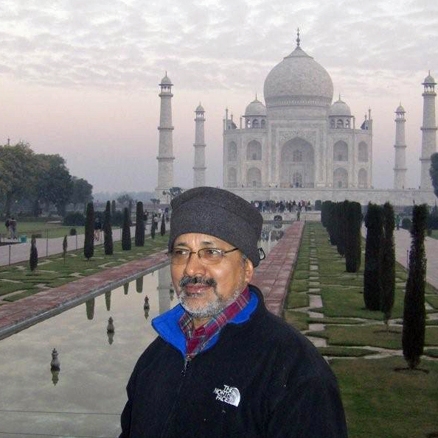 Your Indian tour, trek or walking guide will be friendly, very knowledgeable about the region you are visiting and speak fluent English. We use one of the largest and oldest tour operators in India whose staff all have excellent training.
---
Singalila Ridgetop Walk Itinerary
Day 1 - Fly London to Delhi.

Depart London for your overnight flight to Delhi.

Overnight: In flight

Day 2 - Arrive Delhi. Group transfer to hotel and rest of morning at leisure. Afternoon sightseeing of New and Old Delhi.

Arrive Delhi and transfer to your overnight hotel. The remainder of the day is left free for you to relax, helping you to adjust to the time difference and change of cultures. The heat, dust, sights and sounds of India's frenetic capital are quite an initial culture shock. In the afternoon you will have a tour to see some of the sights of Old and New Delhi.

Once back at your hotel you may want to relax or do a little more exploration on your own. Your hotel is conveniently situated near an underground station or, alternatively, you may take a taxi for a look around.

Overnight: Hotel Broadway or Connaught Hotel, Delhi

Day 3 - Fly to Bagdogra. Drive to Darjeeling, 2,134m/7,000ft - 3½ hours.

After breakfast you will be transferred to the airport for your 3½ hour flight to Bagdogra where, upon landing, you will meet your guide for the Darjeeling and Sikkim portion of your trip. You will then drive the windy road which takes you up from the plains to Darjeeling, located on a ridge with views across to Kanchenjunga and the mountains of Nepal.

Darjeeling
Straddling a ridge in the Darjeeling-Sikkim Himalaya and surrounded by tea plantations on all sides, Darjeeling has been a popular hill station since the British established it as an R&R centre for their troops in the mid-1800s. The industrious British, not averse to mixing a little business with pleasure, recognised that the quality of the soil and the mild climate were ideal for tea cultivation, and the forested hill slopes were soon denuded of their cover and planted with this most lucrative revenue earner. These days, people come here to escape from the heat and humidity of the north Indian plain. You get an indication of how popular Darjeeling is from the 70 or so hotels recognised by the tourist office and the scores of others which don't come up to their requirements. Here you will find yourself surrounded by mountain people from all over the eastern Himalaya who have come to work, to trade or - in the case of the Tibetans - as refugees. Mother Teresa spent her early years as a nun here with the Sisters at Loreto Convent and Lawrence Durrell was educated at the prestigious St Joseph's College


Overnight: New Elgin Hotel, Darjeeling

Day 4 - Sightseeing in Darjeeling.

You can take an early morning walk to the Observatory Hill (locally known as 'Dara'). Here you will witness the amazing sight of Buddhists and Hindus offering prayers side by side. Buddhist prayer flags hang across trees as Hindu temple bells ring. Later you will visit the Everest Museum at the Himalayan Mountaineering Institute and perhaps pause at the zoo to look at the snow leopard breeding programme and the charming red pandas. You then drive to the Tibetan Refugee Self-Help Centre where you can see carpet making and other handicrafts and visit the centre's shop. Return to the hotel for lunch.

Alternatively, train schedules permitting, you have the option of an excursion (called by the Indians a 'joy ride'!) on the toy train to Goom. As this train ride cannot be guaranteed we have not included the cost in the holiday and you should pay locally (approx £3). The train chugs its way out of Darjeeling, stopping on the way to take on water, and then stops for a further 10 minutes at the famous Batasia Loop for passengers to get down to take photos of the train and of the mountains. You return to Darjeeling town by the same train. (If you think you will want to take this train journey please let us know well in advance of your holiday, as train tickets can often sell out)

The afternoon is free to 'do your own your own thing'. We suggest you perhaps walk out to Darjeeling Mall, a place truly evocative of the days of the Raj, bustling with pilgrims, tourists and locals alike. Here in full view of Kanchenjunga, Indian tourists gather to walk the Mall, ride ponies, or listen to a brass band. There are some amazing shops here too such as the Oxford Book Store which has been here since the days of the English and there is also the opportunity to barter for souvenirs with Tibetan street salesmen.

A short ten minute walk from your hotel is Roseberry School which has recently opened for disadvantaged primary school aged children. The teachers and children are very happy to receive English speaking visitors, so if you are interested in seeing the school, please talk to your guide and he will arrange a visit. Small cash donations to the school would be appropriate and extremely well received.


Overnight: New Elgin Hotel, Darjeeling

Day 5 - Drive to Dhodray - 2½ hours. Trek to Tonglu, 3,015m/9,892ft - 2-2½ hours.

There is a short drive out of Darjeeling this morning (approximately 2 hours) to reach the trailhead for your trek. The traditional place from which to trek up on to the Singalila Ridge is the border town of Maneybhanjang. However, this involves a fairly unremitting steep climb of over 3,000ft - not the most friendly of ways to start your trekking. Therefore instead, you will begin your trek from nearby Dhodray, a picturesque village from where you can follow a much gentler path, through stunted rhododendron forests passing meadows and meeting villagers along the trail. Almost as soon as you reach the crest of the ridge, you will find yourself at the small settlement of Tonglu, 3,015m/9,892ft, where you spend the night.

Overnight: Camp

Day 6 - Trek to Kalipokhari, 3,024m/9,921ft - 4½ to 5 hours.

After breakfast you begin with a gentle descent across pastures, with views of Kangchenjunga all the way to the little village of Tumling. From Tumling you climb a little to the main entry point for the Singalila National park. From here, you ascend a tiny hillock for views of Everest and Makalu after which you trek past an SSB army camp before leaving the road to trek through a forest of rhododendron, oak and magnolia trees. It's a gently undulating trail though the forest until you meet with the jeep road at Gairibas which you follow climbing steadily to Kaiyakatta and then to Kalipokhari, your camp for tonight.

Overnight: Camp

Day 7 - Trek to Sandakphu, 3,636m/11,928ft - 2½-3½ hours.

Today is quite a short day, in order to help with acclimatisation to the increased altitude at which you are now walking. In fact you will be able to see the entire route of today's walk and Sandakphu as you leave Kalipokhari this morning. The trek begins with a gradual ascent, over around 4kms to reach Bikhebhanjang, 3,346m/10,977ft. You now enter the magnolia and rhododendron forests that encircle Sandakphu and you will ascend through these to reach the settlement itself. Sandakphu is at the end of an old jeep road that serves some of the villages in this area and you will doubtless see some classic old Land Rovers being carefully tinkered with - the locals swear these are the only vehicles capable of making the steep climb from the valley below. Sandakphu is a magnificent viewpoint to see of some of the world's highest mountains, including Everest, Kangchenjunga and Makalu.

Overnight: Camp

Day 8 - Trek to Molley, 3,536m/11,599ft - 5-6 hours.

The trail follows along the Singalila Ridge through chestnut, oak and silver fir trees, with commanding views of the Himalaya all along the route. Molley is a clearing in the alpine-like forest with a small trekker's hut and campsite.

Overnight: Camp

Day 9 - Trek to Phalut and on to Samaden, 2,480m/8,136ft - 7-8 hours.

The trek to Phalut, 3,600m/11,810ft, is uphill, but very scenic, and here you get a real feeling of being on a ridge. Phalut is your lunch spot for the day, again with fantastic views of the high peaks. The descent to Samaden is glorious (4 hours approximately from Phalut). You walk through forests of pine, oak, conifers and rhododendrons to your next campsite, which is a beautiful spot in a small settlement with stunning views.

Overnight: Camp

Day 10 - Trek to Maneydara, 2,500m/8,202ft - 6-6 ½ hours.

A lovely and interesting walk as you pass several villages of mixed inhabitants of Rais, Sherpas and Tamangs. Terraced fields and villages dot the landscape and you are likely to meet friendly local people. Descend to Sirikhola for lunch. From here you will trek through forests on a pleasant path to the village of Maneydara. As you approach the village, you have stunning views of Kabru dome and Kabru south peaks. The large spread out village of Maneydara has a monastery and offers views of the valleys below and of Darjeeling.

Overnight: Camp

Day 11 - Drive to Darjeeling, 2,134m/7,000ft.

Following an early breakfast, you trek for 30 minutes or so to the town of Rimbik to meet your vehicle. It is a fairly long drive back to Darjeeling, but if you set off early, you should arrive soon after a lunch stop at Sukhia. The rest of the day is free to relax and explore this fascinating town.

Overnight: New Elgin Hotel, Darjeeling

Day 12 - Drive to Bagdogra - 67km, approximately 3 hours. Fly to Delhi.

This morning you leave the hills and drive southwards to reach the small airfield at Bagdogra. From here it's a short domestic flight of less than 3 hours to Delhi. You will be met on arrival and transferred to your hotel for your last night in India.

Overnight: Red Fox Hotel Or Similar, Delhi

Day 13 - Fly to London.

After breakfast there will be a group transfer to the airport for your flight back to London.
Map
Map Key
Airport
Point of interest
Mountain Peak
Day walk in this area
Flights
Internal Transfers
Trek
---
2020
| Dates | Availability | Land Only | Flight Inclusive from |
| --- | --- | --- | --- |
| Sat 21 Mar - Thu 2 Apr 2020 | Available | £1895 Book | £2595 Book |
| Sat 3 Oct - Thu 15 Oct 2020 | Available | £1895 Book | £2595 Book |
2021
| Dates | Availability | Land Only | Flight Inclusive from |
| --- | --- | --- | --- |
| Sat 20 Mar - Thu 1 Apr 2021 | Available | Contact us | Contact us |
Hold your place
Not quite ready to book? Why not call us on 0044 (0)1453 844400 to hold a no obligation place while you make up your mind?
Optional supplements
Single Tent
From £45
Single room supplement
From £325
Insurance
No Surcharge Guarantee
No surcharges will be applied to your holiday after you book. Prices on this website are updated regularly. The Flight Inclusive holiday price, or Land Only holiday price, will be confirmed to you at the time you make your booking. There will be no surcharges after your booking has been confirmed.
Flight inclusive holidays
The 'flight inclusive' holiday prices shown on this website are based upon our preferred airlines and the best priced economy class fares we are able to secure at the time of publication.
We will be able to advise on fares with alternative airlines, upgrades to Business Class, and the options for flights from regional UK airports, please contact us for more details.
Loyalty discount
Find out more
What's included
An English-speaking Indian sirdar leader
All internal flights and domestic airport transfers
Hotels in Delhi on a twin share, bed & breakfast basis
Good quality hotel in Darjeeling on a twin share, full board basis
All camping facilities and all meals on trek
Camp staff to carry out all camp work
All road transport by private vehicles
Full porterage
Sightseeing where specified
A free high-quality Mountain Kingdoms kit bag
Economy class return air fares from the UK & UK Departure Tax (flight inclusive only)
Single, timed, group airport transfers for international flights on arrival and departure
Carbon offset flights (flight inclusive only)
What's not included
Travel insurance
Visa fees
Tips
Meals other than breakfast in Delhi
Cost of Toy Train ride (see Day 4)
---
---
Review your holiday
Reviews
Read holiday reviews by Mountain Kingdoms travellers.
Overall score: 5.0 (Based on 7 reviews)
Singalila Ridge trek 22/10/2018
This was an amazing trek, with wonderful views of Everest and Kanchenjunga. The food prepared by the crew was amazing and even included cakes! Really good walking. All of the transfers were excellent. We felt that we were really looked after by the team.
Jenny & Joe Walsh, Warwickshire
Excellent organisation 12/06/2017
We value the slick organisation of a Mountain Kingdoms holiday. Transfers, transport and provisions were all excellent. This was our 4th Mountain Kingdoms holiday and lived up to expectations. The Brahmaputra river cruise exceeded expectations. Excellent food, accommodation and service.
Mrs E Morgan, Essex
Our first multi-day trek - a great experience 01/05/2017
Despite cloudy weather we had a fantastic time.
C Scott, Wiltshire
Well-organised and great trek crew 12/01/2017
Dawa was a brilliant guide. Our cook was excellent - not sure how he produced such good food on 2 kerosene burners. The trip was well-organised. All transfers happened without mishap and we were met - as arranged - wherever we met.
Mr & Mrs F, Wiltshire
Wonderful Himalayan views 01/10/2011
The quality of the leader and assistant leaders on this trip greatly enhanced our enjoyment. They were all well informed as well as concerned for our welfare, working very well together. The trip provided ALL we expected including wonderful views of the Himalayas!
Mr & Mrs N, Chichester
---
Extend your holiday
Known for its population of tigers.
Home to fascinating wildlife including jungle cats, hyenas, jackals, bears, crocodiles and large populations of langur monkeys.
Enjoy safari drives as you look out for wildlife amongst the picturesque grassland, hills and lakes.
More Details
Ranthambore National Park in Rajasthan is one of the finest national parks in northern India. Formerly a hunting reserve for the Maharajas of Jaipur, you can see a huge variety of fantastic wildlife and birds in Ranthambore, but the park is particularly famous for its population of tigers - although of course sightings of tiger can never be guaranteed many visitors to this park are lucky enough to get good views. The scenery of the park is very varied with grassland, hills and lakes and there are also some very picturesque and atmospheric ruins located in the park. Even if you don't see tigers there is abundant wildlife on view in Ranthambore with leopard and other cats such as jungle cats, caracal, hyena, jackal, wild boar, bear, several species of deer, and large populations of langur monkeys. Marsh crocodiles and other reptiles are also found in the lakes within the park. Owing to the wide range of habitats within the park there is also a large variety of fantastic and colourful birds, both resident and migrant, to be seen - in total, 272 bird species have been documented within the park.
Corbett National Park is home to one of the largest Royal Bengal Tiger populations in India.
Over 50 species of mammals, many reptiles and hundreds of bird species to look out for.
Ideal extension from Delhi to explore some of India's most fascinating wildlife.
More Details
Corbett National Park is the oldest national park in India. Located between the Himalayan foothills to the north and the ancient Shivalik Hills to the south, the reserve covers a wide range of habitat with dense woodlands, open grasslands, riverine vegetation, dry riverbeds and more hilly terrain and so offers much diversity. This varied habitat hosts a spectacular diversity of mammal, bird and reptilian life, unmatched anywhere in India.
The park is home to one of the largest Royal Bengal Tiger populations in India as well as other large cats such as leopard. There are also around 50 species of mammals including large herds of elephant and four species of deer. In the park you also find many reptiles, including the rare and highly endangered Gharial crocodile. Corbett has a spectacular bird diversity – there are several hundred resident species of bird with as many more crossing on their migratory routes with bird diversity being at its peak during the winter months.
1-day and 6-day extension options available
Add at the beginning or end of your holiday in India
Sights include the Red Fort, Taj Mahal, City Palace and Amber Fort
More Details
After your adventures in India why not add an exciting day trip to Agra to see the sights of the one time capital of the great Mughal empire? Or, if you have more time available, perhaps a longer trip visiting both Agra and another gem of the 'Golden Triangle', Jaipur. Whichever option you take, once in Agra you will be looked after by one of our fully trained, English-speaking guides who will show you around the Red Fort, the Taj Mahal and the ancient city and mosque of Fatehpur Sikri. For those travelling on to Jaipur, you will take guided visits to the Amber Fort, Palace of the Winds and City Palace, along with time to explore the colourful bazaars of the 'Pink City'.