What's included
A local English speaking guide for the walks and sightseeing in Peru.
Galapagos cruise on a First Class yacht with an on board naturalist, all excursions and accommodation on a twin share, full board basis
Economy class return air fares from the UK & UK Departure Tax (flight inclusive only)
All hotel/airport transfers
Good standard hotel accommodation (4 star) in Peru and Guayaquil on twin share, bed and breakfast basis
Best available hotels in outlying towns, on full board basis
Galapagos Tourist Transit Card (TTC)
National Park Tax for Galapagos.
Train journeys as mentioned
All road transport by private vehicles
All meals except lunch & dinner on days 7 and 15
Sightseeing where specified
The following are included on your cruise: all meals and snacks, non-alcoholic beverages, purified water, Captain's welcome and farewell cocktail, house wine and local beer served during dinner, guided shore excursions, use of wet suits, snorkel equipment and sea kayaks and all transfers in the Islands between the airport and dock
A free high quality Mountain Kingdoms micro-fleece
and much more...
Call our
friendly team
Sacred Valley, Machu Picchu & the Galapagos
Walking & Trekking
Ecuador, Galapagos Islands, Peru | Walking & Trekking
Gentle / Moderate
Gentle: Suitable for people who enjoy easy-paced walks or exploring the countryside on foot.
Moderate: Suitable for anyone who enjoys hill walking.
Find out more...
Grade: Gentle / Moderate ? Gentle / Moderate

Book now or call 01453 844400
Explore Peru's Inca highlights on foot then cruise the iconic Galapagos islands.
Highlights
Explore vibrant Cuzco and the historic Inca ruins of the Sacred Valley on foot
Wander through the ruins of incomparable Machu Picchu
Stay in comfortable hotels in Peru and on board a premium yacht in the Galapagos
Enjoy expert guiding and incredible wildlife encounters in the Galapagos islands
We are delighted to offer this new trip to include two of South America's iconic attractions – Machu Picchu and the Galapagos, in addition to some lovely walking in Peru's beautiful Sacred Valley.
Machu Picchu and the Sacred Valley of the Incas are at the top of the wishlist for most visitors to Peru, and this itinerary has been designed to allow you time to explore this stunning region on foot, using local paths many of which started life as Inca trails. In addition to the fantastic scenery there will be numerous photo opportunities as you pass local farmers in their colourful woven ponchos and hats cultivating their fields and driving cows, llamas and alpacas to pasture. The varied Inca sites that you will discover in the Sacred Valley and around Cuzco, provide the perfect taster for your visit to the stunning Inca citadel of Machu Picchu, where you will have time to explore, both with a guide and at leisure on your own.
Then it's off to the Galapagos for the next part of your exciting journey where you will join a First Class motor yacht for a seven night cruise, with plenty of time to enjoy the many natural wonders of these islands. You will sail on one of two identical cruise yachts, the MY Eric or the MY Letty. These yachts feature three decks of spacious staterooms with elegant interiors and each yacht takes a maximum of 20 passengers. Accommodation is in ten double outside-facing cabins with a window or porthole view, one double bed or two twin lower beds. Cabins are fully air-conditioned with private bathrooms and climate controls to ensure your comfort. There is a dining room, a well-stocked bar and library on board and you can also relax in a lounge chair on the sun deck. Each day you will have guided excursions and daily briefings with expert English-speaking naturalists, with excellent guide to passenger ratios. The cruise will explore the entire archipelago and there will be numerous opportunities to snorkel and kayak for amazing, close up experiences with the unique wildlife of the Galapagos.
---
At a glance
Grade: Gentle / Moderate
Gentle / Moderate
Max. Altitude: 3,795m/12,523ft, Tambo Machay, Day 3
Guaranteed to run for a minimum of 4 clients
Maximum group size: 12
Land only joining city: Cuzco
Accommodation types: Hotels, Premium Class Yacht
Meal arrangements: 13 Breakfasts, 12 Lunches, 12 Dinners.
Itinerary overview
| Day | Activity |
| --- | --- |
| 1-2 | Fly to Cuzco. |
| 3 | Walk Cuzco's Inca ruins including Sacsayhuaman and Tambo Machay. |
| 4 | Walk into the Sacred Valley and visit Pisac. Transfer to Ollantaytambo. |
| 5 | Moray Maras hike. Train to Aguas Calientes. |
| 6-7 | Explore Machu Picchu, return to Cuzco by train. Fly to Guayaquil (Ecuador). |
| 8 | Fly to Galapagos. Board Premium Class yacht for seven night cruise. |
| 9-14 | Galapagos cruise visiting several islands. |
| 15-16 | End cruise in San Cristobal and fly to Guayaquil for flight home. |
Leader: Local leader, Peru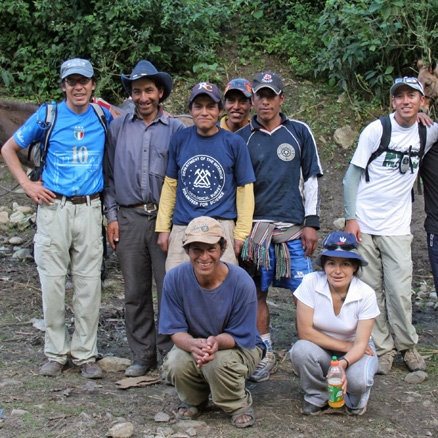 You will be accompanied throughout your holiday by a local English-speaking guide. These leaders are very knowledgeable and extremely charming and friendly and in their company you will enjoy an insider's view of Peru.
Leader: Local Leader, Galapagos Islands
Our Galapagos guides are fluent in English, and are incredibly passionate about their country's flora, fauna and history. They bring the Islands' fascinating birds, animals and landscapes to life in an entirely new way with their expert knowledge, and also share the incredible stories of the Islands' human inhabitants - a side of the Galapagos that many travellers never discover. Our guides are trained to support the well-being of natural areas and the wildlife and people who live in and around them. They are highly qualified and experienced ecotourism specialists with a commitment to providing an unforgettable travel experience and top quality, personalised service.
---
Sacred Valley, Machu Picchu & the Galapagos Itinerary
Day 1 - Fly London To Cuzco

Depart London on your overnight flight to Cuzco.

Overnight: Overnight Flight To Cuzco

Day 2 - Arrive Cuzco. Short walking tour of the historic city centre.

You will be met on arrival and transferred the short distance to your hotel in the heart of historic Cuzco. This very appealing and friendly city lies at 3,353m/11,000ft and we recommend that you take it very easy today. You will have lunch in a café before your introduction to the city with the "Local's guide to Cusco". This short walking tour is a great way to get your bearings and also helps you get used to the altitude. The beautiful historic centre was declared a World Heritage Site in 1983 with Inca and colonial architecture evident all around.

In the evening you will have dinner in a local restaurant.


Overnight: Quinta San Blas or Similar

Day 3 - Cuzco ruins hike including Sacsayhauman, Tambo Machay and the Red Fort of Puca Pucara.

Today's walk is a superb introduction to the Inca heritage of Peru. Cuzco was known to the Incas as 'the navel of the world', and your walk today takes you through a group of archaeological remains that perfectly illustrate how important Cuzco was. An added bonus is the superb views of the southern hills and the city of Cuzco that you will enjoy as you stroll downhill.

First you visit the impressive site of Sacsayhuaman where huge stone ramparts surround a beautiful grass amphitheatre. Once the scene of fierce battles it now hosts traditional Inca ceremonies such as Inti Raymi and Warachikuy. Dominating the skyline on the northern edge of the city, there are many theories about this impressive site whose enormous walls stretch for 600m across the plateau. Recent discoveries have convinced explorers that this site was in fact built for ceremonial purposes. The size of the individual blocks is astonishing - legend has it that 3,000 lives were lost dragging one huge stone. The inner area of the 'fort' was covered in buildings, and some of the foundations can still be seen.

Next you visit the Inca water temple of Tambo Machay. The highest part of these ruins lies at 3,795m/12,523ft in a sheltered gully. Known as the Inca baths, the beautifully engineered fountains and channels emphasises the Inca fascination with water. Next you walk to the Red fort of Puca Pucara. This small ruin dominates the landscape, and was easily defensible, although it is now thought that it may have been a resting place on this important Inca route out of the valley rather than a fort. You will have a picnic lunch nearby. From here you can take an optional hike following an ancient Inca trail downhill to Cuzco, stopping at the Temple of the Moon and other historical sites along the way. Alternatively, you can take a vehicle transfer if you prefer.

Overnight: Quinta San Blas or Similar

Day 4 - Drive to Huancalle. Walk to Pisac, 2,972m/9,800ft, and visit ruins – 5 hours walking.

Cuzco is situated in a bowl surrounded by hills and this morning you will drive up past the Inca remains of Sacsayhuaman and Puca Pucara to reach the edge of the Sacred Valley. You should have fantastic views from the valley rim of snowy peaks and the valley far below. The road descends to the hamlet of Huancalle and here you will leave your vehicle to walk down into the Sacred Valley. The small track crosses a river to descend a pretty gorge. Eventually you reach a eucalyptus forest and then farmland. There are fabulous views of Pisac, high above the valley floor. You vehicle will pick you up in the sleepy town of Taray for the short drive to Pisac town, where you will have lunch.

After lunch you will drive up to the Pisac ruins. The citadel at Pisac was originally positioned on a major Inca route into the Sacred Valley and controlled access to the eastern jungle. The ruins are set high above the valley floor and offer tremendous views. Terraces, water ducts and steps are cut out of solid rock, and in the upper sector of the ruins, the main Intihuatana is equal to anything at Machu Picchu. Above the temple lie still more ruins, mostly unexcavated, and among the higher crevices and rocky overhangs several ancient burial sites are hidden. You will have time to explore the ruins before walking down the original Inca trail back to the town of Pisac. The narrow trail clings to the cliff sides before entering a small canyon, and then widening out as you reach town.

You will transfer by vehicle to your hotel situated in Ollantaytambo at the other end of the Sacred Valley.


Overnight: Hotel Pakaritampu or Similar

Day 5 - Visit Chinchero ruins. Hike to Maras Moray, walk to Salinas - 5-6 hours. Transfer to Aguas Calientes.

The high plateau situated between Cuzco and the Sacred Valley offers excellent opportunities for walking. Initially you will drive to the small town of Chinchero for a guided tour around the ruins. In addition to the magnificent terraces there are several megalithic carved rocks here as well as a 17th century church built on top of an Inca palace. It is a short drive from here to the start of your walk on the hills above Maras. You will follow small paths and tracks that contour along the hills. There are superb views of the huge snowy peaks on the other side of the valley and the farmland of the plateau below. You will pass small farms and settlements before reaching the hamlet of Mullaka. These paths are well used by local farmers, and you gradually climb to reach your highpoint today of 3,620m/11,877ft at a traditional farming village. The path descends through this pretty village to give you a unique view of the ruins at Moray. These intriguing circular ruins are thought to have been Inca agricultural testing stations. Your vehicle will meet you here with a picnic.

In the afternoon you have the option of walking or driving to Salinas. The mainly flat walk follows donkey trails through the agriculturally rich plains back to the town of Maras, before the short drive to the salt pans. Situated in a gorge that leads to the Sacred Valley, a hot spring at the top of the site discharges a small stream of warm salt-laden water which is diverted into salt pans and harvested. They are believed to have been worked since Inca times. You will get the chance to walk through the salt-pans to join a small path that descends the gorge. The track gently descends to the floor of the Sacred Valley at the village of Taramba and you cross the footbridge to your vehicle.

Later in the afternoon you catch a train to Machu Picchu Town (also known as Aguas Calientes). There is a keen sense of anticipation as you board your train that snakes along the narrow valley, following the course of the Urubamba river. Arriving in Aguas Calientes you will be transferred to your hotel for the night.


Overnight: Hotel El Mapi or Similar

Day 6 - Guided tour of Machu Picchu, 2,438m/8,000ft. Train and drive to Cuzco.

After an early breakfast you will drive the short distance up the zigzag road to Machu Picchu to get there before the crowds and also when the light is better for those all-important photos. Machu Picchu is a place that really lives up to all expectations. The setting is breathtaking and the ruins themselves are sensational. You will have a full guided tour of the ruins with time beforehand to walk out to the Inca Bridge or else just wander through the ruins soaking up the amazing atmosphere of this fabulous place.

If you want to climb Machu Picchu peak, this should be booked with us in advance as a limited number of permits are given out each day and it must be pre-booked. It is a stiff 600m/2,000ft climb to the top, but well worth it for the amazing views down onto Machu Picchu.

You will then descend by bus to Aguas Calientes to board the evening train back along the Urubamba valley arriving in the Sacred Valley where you will alight at Ollantaytambo before driving back to Cuzco.


Overnight: Quinta San Blas or Similar

Day 7 - Fly to Guayaquil in Ecuador.

After breakfast you will transfer to the airport for your flight to Guayaquil in Ecuador, where flights to the Galapagos depart from. On arrival in Guayaquil you will be transferred to your hotel. This city has a lively waterfront area on the river Guayas, with bars and restaurants and great people watching along the 'malecon'.

Overnight: Hotel Oro Verde Or Similar, Guayaquil - B

Day 8 - Fly to the Galapagos and transfer to cruise boat.

Early this morning you transfer to the airport for your flight to the Galapagos. You will fly to Puerto Baquerizo Moreno, the capital of the Galapagos Islands also known as Chatham Island. On arrival you will be met at the airport and will travel by bus to the jetty and then by zodiac to your yacht anchored in the bay. You will join one of two identical cruise yachts, the Letty, or the Eric, which take a maximum of 20 passengers each. There will be a welcome briefing and safety drill, you will be shown your cabin and the boat's facilities and then lunch will be served on board. Later back on dry land you travel by bus to Cerro Tijeretas (Frigatebird Hill) situated on the edge a town. This is one of two sites where you can spot nesting colonies of both species of Frigate birds (Great and Magnificent). The trail leads to Punta Carola where there are beautiful views. You will find lava lizards, the medium ground finch and Chatham mockingbird. You will then return to your yacht for a briefing, followed by a welcome cocktail party given by the yacht captain. Dinner will be served and your journey at sea begins.

Overnight: Premium Class Yacht

Day 9 - Cruise day two.

Today you land at Cerro Brujo, a breathtaking white coral sand beach, considered one of the most spectacular in Galapagos and perfect for a peaceful walk with expansive views. You have an opportunity to snorkel or kayak from the beach or swim with sea lions. A Zodiac ride takes you through a cave called "The Cathedral". During lunch you cruise towards the north-eastern tip of San Cristobal to Punta Pitt, a tuff formation that serves as a nesting site for many sea birds including all three types of boobies: Blue footed, Nazca and Red-footed, both Frigate species, Swallow-tailed gulls, Storm petrels, Shearwaters, Brown pelicans and a colony of sea lions. Punta Pitt is considered to be a first class site for sea birds on par with Genovesa (Tower) Island. You can snorkel at Pitt Rock with sea lions and colourful fish such as King Angel and Surgeon fish. Back on board, you cruise around Leon Dormido (Kicker Rock), a vertical tuff cone formation that rises abruptly almost 500 feet out of the ocean. From the sun deck you can spot Blue-footed boobies, Nazca Boobies and Magnificent Frigate birds.

Overnight: Premium Class Yacht

Day 10 - Cruise day three.

When you disembark at Punta Suarez, Espanola (Hood), today, you witness the highest rate of endemic species in Galapagos. Sea lions noisily greet you as you land on their beach. Curious Hood mockingbirds peck at your shoelaces. From April to December, the Waved albatross, found only on Espanola, perform their wild mating ritual. Colonies of blue-footed boobies engage in "sky-pointing" to show off for potential mates. Nazca boobies busily care for their young. Stunning swallow-tailed gulls are the only nocturnal gulls in the world and fish at night. Red-billed tropicbirds take shelter under the cliffs. Here you may also find Darwin's Finches, Galapagos Doves and Galapagos Hawks. You might also see a unique species of marine iguana identified with traces of red and green colourings. Colourful sally light-foot crabs crawl along the shoreline near to the famous "blow hole". After lunch you make a wet landing on Gardner Bay, Espanola (Hood) and walk along a seemingly endless stretch of white sandy beach where you'll find large colonies of sea lions. There is no trail to follow so this is a chance to explore or take a long walk. You may find a Galapagos Hawk, Darwin's Finches or Hood Mockingbird. You may also swim with sea lions right from the beach, explore the bay and islets by kayak or just relax on the beach. There's an excellent snorkelling site off Gardner Islet with a colourful diversity of sea life near Tortuga Rock. You may also take your Zodiac to explore the caves. You will return to the yacht for a briefing followed by dinner.

Overnight: Premium Class Yacht

Day 11 - Cruise day four.

You will land at Punta Cormorant, Floreana (Charles), one of the few populated islands in the Galapagos. Floreana presents a human history rich with mystery and intrigue. You land on a green-sand beach alive with the sounds of sea lions, Lava herons, Yellow-crowned night heron, Blue-footed boobies and penguins. You follow a trail to a brackish lagoon, home of the Bahama ducks, Common stilts, Galapagos flycatcher, Yellow warblers and the Greater flamingos, the pinkest in the world. You wind your way past a rich variety of plants including Morning glory, Cut leaf daisies, black, red and white mangroves, Palo Verdes and Scalesia. The trail leads to a beach with powder soft sand where sea turtles lay their eggs in the sand dunes and rays swim in the shallow water. After the walk, you will have an opportunity to snorkel at Champion, a shallow sunken crater colonized by a brilliant array of colourful fish and corral. Today lunch will be served on the sundeck if weather conditions permit. After lunch, you visit Post Office Bay, not the most scenic, but one of the most famous sites in Galapagos. Here in the 18th century a post barrel was erected and put into use by English whaling vessels. You are invited to leave a post card and to pick up any mail to deliver in your home area. There is a chance to swim from the beach with sea lions. In the late afternoon, you take a Zodiac ride at Baroness Point where you can spot sea turtles and rays. Return to the yacht for a briefing followed by dinner.

Overnight: Premium Class Yacht

Day 12 - Cruise day five.

Today you travel by bus to the highlands of Santa Cruz Island. The scenery gradually changes as you wind your way through all seven vegetation zones found in Galapagos. Here, you visit the tortoise reserve at "Las Primicias" one of the private farms in the highlands where you encounter giant tortoises in their natural habitat. You stop at "the tunnels", the largest lava tubes found in Galapagos and visit Los Gemelos, Spanish for "The Twins", a pair of large pit craters where you find the bright red male Vermilion flycatcher. After lunch, you will visit the Centro de Crianza Fausto Llerena (Charles Darwin Research Station) where you will see the tortoise corrals (formerly home to famous Lonesome George) and the breeding centre with new hatchlings and miniature tortoises not yet ready to be repatriated. Scientists from all over the globe work at the station and conduct biological research from anatomy to zoology. You will also visit Van Straelen Hall where there are exhibits and a presentation. Nearby Puerto Ayora, a bustling small town is the social heart of the islands. Here there are opportunities for souvenir shopping, to post your cards or to visit an internet café or bank. This evening you have the option to return to your yacht for dinner or to remain in town on your own account.

Overnight: Premium Class Yacht

Day 13 - Cruise day six.

Bartolome with its strange lunar landscape is your first stop today. This young Island is inhospitable to most plants and animals. After a dry landing you will climb 30 minutes up stairs leading to the summit of a once active volcano. Along the way you may pause to marvel at lava bombs, spatter cones and cinder cones. From the top of the wooden stairs, you can gaze out across panoramic views of the island and "Pinnacle Rock", an eroded tuff cone. You may snorkel from the beach in the crystal clear water with schools of tropical fish and Galapagos penguins or take a Zodiac ride. After lunch, you visit Las Bachas, (Spanish for "barges"). Here there is a long stretch of a soft white sand beach and interior lagoons where you may find Greater flamingo. You might also visit Black Turtle Cove (Caleta Tortuga Negra) where you have a Zodiac ride through a series of coves and inlets surrounded by mangroves where you can view pairs of mating sea turtles (Sep to Feb), white-tipped reef sharks and golden cow-nosed rays. There is also a wonderful chance to snorkel here from the beach. Tonight you will anchor in a calm protected area.

Overnight: Premium Class Yacht

Day 14 - Cruise day seven.

This morning you head to South Plaza, a small geological uplift with tall cliffs offering spectacular views. After a dry landing, the trail leads you through Prickly Pear or Opuntia and Sesuvium. Here you can find the Galapagos Land Iguana feeding on the cactus leaves. Toward the end of the hill, you encounter a colony of bachelor sea lions. The dominant bulls are in various stages of recovery from battles lost over prime beach territory. You also find Swallow-tailed gulls, Shearwaters and Red-billed tropicbirds which build their nests along the cliffs. After lunch, you have a dry landing at North Seymour, a small geological uplift. You follow a trail that leads you to Swallow-tailed gulls, Blue-footed boobies and the endemic Land iguanas and visit the largest colony of Magnificent frigate birds found in Galapagos. As you stroll along the beach, you will see Marine Iguanas and sea lions which body surf the northern swells. You return to the yacht for the Captain's farewell cocktail party and dinner as well as a special slide show presentation by your guides.

Overnight: Premium Class Yacht

Day 15 - End cruise and fly to Guayaquil for your international flight to London.

Today you will visit the Interpretation Centre on San Cristobal Island for an interesting overview of the natural and human history of the islands. Later there will also be some time to wander round town, perhaps visit a local bar or buy some last minute souvenirs before heading to the airport for your flight back to the mainland. On arrival in Guayaquil you will depart for your international flight home.

Overnight: Departure Day

Day 16 - Arrive London.
Map
Map Key
Airport
Point of interest
Mountain Peak
Day walk in this area
Flights
Internal Transfers
Trek
---
No Dates Available
There are no available booking dates for this holiday yet since we are still finalising details. If you are interested in this holiday and would like further details, please contact us.
Hold your place
Not quite ready to book? Why not call us on 0044 (0)1453 844400 to hold a no obligation place while you make up your mind?
No Surcharge Guarantee
No surcharges will be applied to your holiday after you book. Prices on this website are updated regularly. The Flight Inclusive holiday price, or Land Only holiday price, will be confirmed to you at the time you make your booking. There will be no surcharges after your booking has been confirmed.
Flight inclusive holidays
The 'flight inclusive' holiday prices shown on this website are based upon our preferred airlines and the best priced economy class fares we are able to secure at the time of publication.
We will be able to advise on fares with alternative airlines, upgrades to Business Class, and the options for flights from regional UK airports, please contact us for more details.
Loyalty discount
Find out more
What's included
A local English speaking guide for the walks and sightseeing in Peru.
Galapagos cruise on a First Class yacht with an on board naturalist, all excursions and accommodation on a twin share, full board basis
Economy class return air fares from the UK & UK Departure Tax (flight inclusive only)
All hotel/airport transfers
Good standard hotel accommodation (4 star) in Peru and Guayaquil on twin share, bed and breakfast basis
Best available hotels in outlying towns, on full board basis
Galapagos Tourist Transit Card (TTC)
National Park Tax for Galapagos.
Train journeys as mentioned
All road transport by private vehicles
All meals except lunch & dinner on days 7 and 15
Sightseeing where specified
The following are included on your cruise: all meals and snacks, non-alcoholic beverages, purified water, Captain's welcome and farewell cocktail, house wine and local beer served during dinner, guided shore excursions, use of wet suits, snorkel equipment and sea kayaks and all transfers in the Islands between the airport and dock
A free high quality Mountain Kingdoms micro-fleece
What's not included
Travel insurance
Visa fees if applicable
Lunch and evening meals in Cuzco and Guayaquil
Airport departure taxes, if applicable
Optional trips
Tips
SINGLE CABINS: If you are travelling on your own and are willing to share, we will attempt to pair you up with another solo, same sex traveller. Where this is not possible a resulting single cabin has to be paid for. Please contact us for prices.
---
---
Review your holiday
Reviews
Read holiday reviews by Mountain Kingdoms travellers.
Overall score: 5.0 (Based on 4 reviews)
Sacred Valley, Machu Picchu & the Galapagos
Amazing Sacred Valley trip! 15/08/2017
It is evident how much work has been done to team up with local operators who are able to deliver the quality and blend of daily activity that combine major sites with equally important ones which are off-the-beaten-track. The hotels are good quality, without being luxurious and food generally was better than expected. Transport arrangements were all excellent, as was support from your head office team.
Mr & Mrs B, Wiltshire
Sacred Valley, Machu Picchu & the Galapagos
Fantastic Cruise 15/08/2017
Everything about the cruise was fantastic. Each day presented a new experience with a variety of activities on offer. Both guides were very good at explaining what would be happening and their insight into the islands and wildlife made each trip a worthwhile experience.
Mr & Mrs F, Cambridgeshire
Sacred Valley, Machu Picchu & the Galapagos
Amazing Sacred Valley trip! 15/08/2017
I cannot praise enough the staff who made our holiday so enjoyable. We had a wonderful time and it is an experience that neither of us will ever forget.
Mrs C, Carlisle
Sacred Valley, Machu Picchu & the Galapagos
Sacred Valley, Machu Picchu and the Galapagos 15/08/2017
Peru is a complete delight and Moray was a particular highlight, I have never seen anything quite like it!
Mrs D, Gloucestershire
---
Extend your holiday
Spend 2, 3 or 4 nights deep in the Amazon rainforest.
Stay in jungle lodges whilst exploring the wonderful rainforest wildlife.
More Details
For a complete contrast to your trek or tour in the Andes why not visit the lush Amazon jungle? A short but spectacular flight will take you over the mountains and down to the Amazon basin. The Amazon basin encompasses nearly 3 million square miles, of which two thirds is covered by rainforest and comprising the largest and most bio-diverse tract of tropical rainforest in the world. For your Amazon extension you will fly to the city of Puerto Maldonado and from there travel down river to your jungle lodge.
We offer a selection of jungle lodges with various standards of accommodation and wildlife experience. You may also choose whether to stay for 2 or 3 nights in the jungle or even a longer more adventurous expedition of 5 days downstream to the Tambopata Research Centre.