What's included
English-speaking Burmese guides throughout and an English-speaking Burmese trek leader.
Economy class return air fares from the UK & UK Departure Tax (flight inclusive only)
All internal flights and hotel/airport transfers
Good standard hotel in Yangon, bed & breakfast on twin-share basis
Trekking House Lodge accommodation
Full service camping whilst on trek
Comfortable tourist class hotel in Mandalay
All road transport by private vehicles
Sightseeing where specified
Meal Plan: B & B in Yangon, all meals elsewhere
A free Mountain Kingdoms kit bag
and much more...
Call our
friendly team
Phongun Razi & the Burmese Ice Mountains
Trekking Peak
Burma (Myanmar) | Trekking Peak
Grade: Vigorous ? Vigorous
Duration: 18 days from the UK
On trek: 10 days
Walks on: 1 day

Land only from £2,295
Book now or call 01453 844400
Our Burma trekking holiday takes you to remote highlands of northern Burma, with an ascent of Phongun Razi (3,635m /11,926ft).
Highlights
Be one of the first westerners to experience a northern Burma trek
Trek through pristine jungle and along rocky outcrops to reach snow-capped Mount Phongun Razi
Our Burma trekking holiday provides stunning views of the surrounding eastern Himalaya
Explore the magnificent Shwenandaw Monastery in Mandalay
When you trek Burma - unlike its neighbours in Southeast Asia, you'll find a true mountain environment to explore, lying as it does at the eastern reaches of the Himalayan range. The peaks are modest here by Himalayan standards but at 3,635m /11,926ft high, Phongun Razi is typically snow-capped all year and higher than many walking peaks in Western Europe.
From Yangon (Rangoon), we take a flight to the northern outpost of Putao, from where a short drive takes us to the trailhead. Over the next five days the scenery changes as we trek Burma from farmland through pine and then rhododendron forest, passing through villages of the Rawan and Lisu tribes on our expert-led trek. Burma then imparts a stunning reward, after the final non-technical ascent, are views stretching across the Himalayan chain and into Assam in the far north of India. Upon return to Putao we fly south to Mandalay, exploring the city and its surrounds before returning to Yangon and the end of our Burma trekking journey.
Important note - travel advice
The Foreign and Commonwealth Office are currently advising against all but essential travel to Putao in northern Burma. We are accepting provisional bookings on this trip in the hope that the advice will change in the near future. However, we won't accept confirmed bookings until the advice actually changes. If you would like to reserve a provisional place on our Phongun Razi & the Burmese Ice Mountains trip, please call us on 01453 844400. FCO updates can be found here.
---
At a glance
Grade: Vigorous
Vigorous
Duration: 18 days from the UK
On trek: 10 days
Walks on: 1 day
Max. Altitude: 3,635m/11,926ft Phongun Razi, Day 9
Guaranteed to run for a minimum of 4 clients
Maximum group size: 8
Land only joining city: Yangon
Accommodation types: Hotels, Lodges, Camping
Meal arrangements: Bed and Breakfast in Yangon and full board elsewhere.
Itinerary overview
| Day | Activity |
| --- | --- |
| 1-3 | Fly to Yangon (Rangoon). Sunset tour of Shwedagon Pagoda. Fly to Putao. |
| 4 | Trek from Shangaung to Wasandum, 860m/2,821ft - 6 hours. |
| 5 | Trek to Ziyadum, 1,048m/3,440ft - 6-7 hours. |
| 6 | Trek via Chaungzone to Thitpingyi, 1,820m/5,971ft - 6-7 hours. |
| 7 | Trek via Upper Thitpingyi to Khantautmyit, 2,465m/8,087ft - 6 hours. |
| 8 | Trek to 'snowline camp', 2,880m, 9,449ft - 3-4 hours. |
| 9 | Summit Phongun Razi, 3,635m/11,926ft - 3-7 hours. Descend to 'snowline camp' or Khantautmyit - up to 9 hours. |
| 10 | Return to Upper Thitpingyi, or Ziyadum - up to 8 hours. |
| 11 | Descend to Ziyadum via Chaungzone, or rest day at Ziyadum. |
| 12 | Trek to Wasandum I via Kalang and Lonadum - 7 hours. |
| 13-14 | Trek over plateau of Mount Shangaung, 1,362m/4,468ft - 5 hours. Meet jeep at roadhead and drive to Putao - 1 hour. Visit local village near Putao. |
| 15 | Fly to Mandalay, sightseeing tour. |
| 16 | Visit U Bein's teak bridge in Amarapura. Fly to Yangon. |
| 17-18 | Transfer to airport for flight to London. |
Leader: Local leader, Burmese Himalaya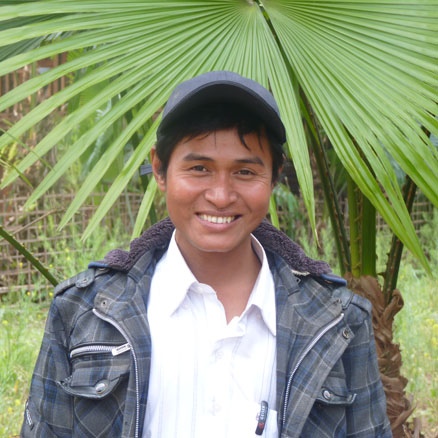 Once you reach Putao you will have an English-speaking local Guide. Our two principal Guides are:
Mr Myo Thein Lu: Known as Mu. He speaks tolerably good English. He is an excellent Guide, and highly knowledgeable in terms of the medicinal plants and roots to be found in the forest. He has climbed Phongun Razi many times, and has lots of friends in the villages you pass through. He loves to learn new English phrases and keeps a notebook for recording them. He is wonderful company.
Hlaing Win Aung: He has been a leader in the Putao region for a long time, has lead many groups for our agent, and speaks good English. He has climbed Mount Phongun many times. He is from the mainland but decided to live in the mountains having married an ethnic Lisu tribe lady, and raised a family in Putao.
In all other areas of Burma you will be escorted by English-speaking Burmese Tour Guides. Our Guides are all licensed to guide throughout the country and receive regular training. In addition to English, many guides speak the dialects used by some of the ethnic groups you will encounter in rural areas – further adding to the interest and enjoyment of your holiday.
---
Phongun Razi & the Burmese Ice Mountains Itinerary
Day 1 - Depart London.

Fly London to Yangon by overnight flight.

Overnight: In flight

Day 2 - Arrive in Yangon (Rangoon). Sunset tour of Shwedagon Pagoda.

You will be met and transferred to the Kandawgyi Palace Hotel - an excellent place to relax after the long flight from London. International flights normally arrive by midday, so after some time to rest, you will make a sunset visit to the Shwedagon Pagoda.

Famous worldwide, the golden stupa of Shwedagon ('shwe' means golden) is considered the 'heart' of Buddhist Burma. The Pagoda is believed to be 2,500 years old and the central stupa is surrounded by dozens of intricately decorated buildings, shrines and statues. There are always many Burmese people praying and making offerings at Shwedagon and it's a fascinating place to spend time watching the world go by. The transformation from late afternoon light to evening further adds to the spectacle and atmosphere of this wonderful temple complex.


Overnight: Kandawgyi Palace Hotel or Similar, Yangon

Day 3 - Fly to Putao via Mandalay & Myitkyina. Afternoon sightseeing.

This morning you will fly to the far north and the remote town of Putao where you will be met by your trek leader and transferred to your lodge. Putao lies in a valley at the foothills of the Himalaya and the area is well known for its vistas, crumbling temples and lively hill-tribe villages. You will be struck by Putao's slower, more peaceful pace of life compared to other towns in Burma and after a light lunch there will be time to head out for an orientation walk around the township of Putao. The small local museum is worth a visit.

Overnight: Putao Trekking House Lodge

Day 4 - Morning market visit. Drive to Shangaung - 1 hour. Trek over pass, 1,362m/4,468ft, to Wasandum, 860m/2,821ft - 6 hours.

After breakfast, there is time to visit the attractive market in Putao, popular with colourfully dressed people from the surrounding villages, including the Lisu, a Tibetan-Burman group who have lived in this region for thousands of years. Many Lisu people record their history in song form which are passed down through several generations and the 'song histories' can often take a whole night to sing.

You then drive the 17km rugged road to upper Shangaung for the start of your trek, passing through long, spread out villages. The first 10km of today's trek will be along a trail which winds up to a small pass (1,362m/4,468ft). You pass Mount Shangaung, and contour around a ridge on the Jade Mountain. After reaching the 'summit' of the pass, the trail descends to Wasandum at 860m/2,821ft.

The houses, built on stilts, are of timber, bamboo and rattan with, usually, cane thatching. There will be lots of people waving you a friendly greeting and you are bound to see many traditional ox carts. The people wear cane hats and often carry large machetes in cane scabbards. There are paddy fields, clumps of giant bamboo, mopeds, people carrying wicker baskets, chickens, small dogs that chase the vehicle, and the occasional old suspension bridge. It is very often misty early in the morning, which gives the whole scene a rather unreal feeling. The four-wheel-drive comes into its own towards the end of the road, where the porters will quickly organise the loads and the trek starts off across a small bamboo bridge. So, leaving the paddy fields behind, you soon enter pure jungle with creepers, vines, vegetation and cane enmeshed together. The sun should be out by the time you get to the roadhead and it is a long haul up to the pass. Interestingly, the young porters often smoke cigars. A few years ago the government tried to build a road over the ridge, but the monsoon rains washed it away and their largest bulldozer fell into a ravine. They have not been back since. You may well see bands of gibbons and exotic butterflies. You often hear the sounds of exotic birds, but it can be difficult to spot them, though Steve did see two hummingbirds playing together on our reconnaissance trek. Lunch will probably be taken on the other side of the 'pass' and will be either on or by the side of the trail. This may typically be fried rice with green vegetables and pork, or noodles, and coffee. Then it is down, down, down all the way to the village of Wasandum I. This is a small Rawan tribe village next to Namro creek. In the evening, if your guide is Mr Myo, you might well visit his friend just up the road. The village is mainly Rawan tribe people, though Mr Myo's friend is a Lisu. All the people in this valley were converted to Christianity in 1954 and each village has a church.

Overnight: Wasandum, Putao Trekking House Village Lodge

Day 5 - Trek to Ziyadum, 1,048m/3,440ft, via Wasandum II, Awadum I & II, and Kalang - 6-7 hours.

Today's destination is Ziyadum. You will stop for lunch at the village of Awadum I. Here there is the only real shop of the region, which is chemist, greengrocer, ironmonger, and haberdashery all rolled into one. After lunch, you will ascend through evergreen forests through to reach Ziyadum. The last frontier village in the Putao region, Ziyadum stands at an altitude of 1,048m/3,440ft and is home to the Rawan tribes. After checking in and a quick refresh, you will visit Ziya creek for a fantastic sunset view across the snow-capped mountains in the west.

This is a pleasant easy day with mostly level walking, though there are a few ups and downs here and there. Leaving Wasandum village and having crossed the Namro creek, you climb up a short way towards the village of Wasandum II, where again you will meet delightfully shy village people. The villages themselves have wide 'streets', and each house sits on a plot with wooden, or giant bamboo fences. If your guide is Mr Myo he has a keen interest in medicinal herbs, plants, and tree barks. This seems to be normal in the region, and young people and old people alike often go off into the jungle, searching for valuable plants. These are then sold to Chinese traders via a middle man in Putao. Myo is particularly keen on a specific parasitic root, which when added to honey, or alcohol gives you power and long life. There is also a certain amount of hunting taking place in the forest, although this is against the National Park's regulations. You should well spot more interesting birds today, including flycatchers on the banks of the River Namlamg. As you pass through the village of Kalang you may like to visit the school here.


Overnight: Ziyadum - Putao Trekking House Village Lodge

Day 6 - Trek via Chaungzone to Thitpingyi, 1,820m/5,971ft - 6-7 hours.

Leaving Ziyadum, you enter the forest and after half an hour come to the old Pangram River suspension bridge which is real 'Raiders of the Lost Ark' stuff. At the time of our reconnaissance, the wooden decking of the bridge was completely rotten and since then Mountain Kingdoms has provided a major part of the funding for renovation of the bridge. This work was completed in the summer of 2012 and we are rightly proud of the results. After the bridge, it is up and down through the thick, matted jungle for two to three hours and it can be hard work and slippery in places. Please take care and watch out for cut, pointed sticks in the cane thickets. Finally, you catch sight of the Phongun River and you escape the jungle onto a stony river bank to find your lunch being cooked in a small clearing.

After lunch you cross a bridge and start to climb up through thick jungle to gain the forested ridge that eventually leads all the way west to Mount Phongun Razi. After an hour and a half of climbing, you reach a brief level area where there is a porter resting place, and it is now another hour to camp, having gained the top of the forested ridge. In places this is narrow, with big jungle-clad drops on either side. Finally, there is a clearing where there is a large open shelter leaning heavily and propped up to stop it falling over. The cook and the boys will cook up dinner using the hearth inside the leaning shelter. Incidentally, you should carry river sandals for this day.


Overnight: Camp

Day 7 - Trek via Upper Thitpingyi to Khantautmyit, 2,465m/8,087ft - 6 hours.

Early in the morning you might well hear troops of gibbons on either side of the ridge down in the jungle below. Leaving camp, it is straight up through the forest following the ridge directly westwards. It is steep uphill for one and a half hours to another smaller camp. This is Upper Thitpingyi (2,210m/7,251ft). From here another 40 minutes uphill brings you to a small clearing with views now to the left or south to the Indian border land. To the right, or north, there are views of snow-capped mountains. You obtain better views of these when you reach camp. Shortly after this, you get your first views of Phongun Razi and from the viewpoint it is another 45 minutes to camp. Again, camp is amongst the forest and there are a large number of tent platforms, but these are spread out amongst the trees.

Overnight: Camp

Day 8 - Trek to 'snowline camp', 2,880m, 9,449ft - 3-4 hours.

Today, you are headed for a camp near the snowline and there are a number of campsites to choose from. In November and December it is unlikely that there will be much snow and the higher up you camp, the better your chances of success for the summit tomorrow. Therefore, you might be trekking for only three hours, or possibly four, but this part of the path is harder work as the path is not so well defined. You start out steeply from camp to a saddle and may be able to hear troops of gibbons in the forest either side of the ridge. The trek in the jungle and up through the forest can be slippery and there are some short muddy climbs. There may even be patches of snow to contend with as well, so be sure to put your gaiters on today. As you follow the path up and down the ridge, you will come across one, or two places where there are wooden benches constructed for the porters to rest at. Here there are good views of the mountains nearby. You will cover around six and a half kilometres, but this might well be the toughest day's trekking yet. Tonight you will have to prepare for cold weather as the temperature could fall to below freezing in the night.

Overnight: Camp

Day 9 - Summit Phongun Razi, 3,635m/11,926ft - 3-7 hours. Descend to 'snowline camp' or Khantautmyit - up to 9 hours.

Your objective today is the summit of Mount Phongun Razi. Your uphill route will cover 3km and a 600m ascent but depending on snow conditions, it could take anything from three to seven hours to reach the summit and proves a worthy challenge to the experienced walker. The time spent on the summit will also depend on weather conditions. If the weather is clear, it is possible to experience spectacular views all round and see as far as India's Assam to the west. Mount Phongun Razi's remoteness means that the forests and eco-systems remain pristine - as a result the location is of great interest to conservationists and botanists. You descend from the summit and, depending on time made, you may return again to 'snowline camp', or continue further to the next camp at Khantautmyit. If you manage to do this, you are then in striking distance of getting to Ziyadum the next day, which will give you a rest day on Day 11.

Overnight: Camp

Day 10 - Return to Upper Thitpingyi, or Ziyadum - up to 8 hours.

Time at leisure this morning and you can relax awhile at camp, taking in the scenery and enjoying your fantastic surroundings. After an early lunch you will take the relatively easy trek back along mule paths through constantly changing topography, flora and fauna to reach Thitpingyi camp. If time allows, you could choose to continue to the lodge at Ziyadum.

Overnight: Camp or Ziyadum Putao Trekking House Lodge

Day 11 - Descend to Ziyadum via Chaungzone, or rest day at Ziyadum.

You head for Ziyadum today, passing Chaungzone camp as you head downhill on an easy mule track. Once you cross Namya creek by suspension bridge you will walk through dense evergreen forest once again as the route winds up and down to Phangran creek. As you near your overnight lodge in Ziyadum, you will no doubt be welcoming comforting thoughts of a hot bath (buckets of hot water in a timber shower room) and a warm bed after several rugged camping nights in the jungle. Tonight, you will celebrate your trekking achievements over a bonfire and enjoy a comfortable night's rest.

If you did make it down all the way to Ziyadum on Day 10, then you have a very pleasant rest day for washing clothes and body and enjoying life around the village. We strongly suggest that you get up pre-dawn to see the colours on the ice-mountains to the north.

Overnight: Ziyadum - Putao Trekking House Village Lodge

Day 12 - Trek to Wasandum I via Kalang and Lonadum - 7 hours.

A lovely day of easy walking and today you can enjoy lots of interesting interaction with local people. If your guide is Mr Myo he has lots of friends and no doubt you will call on quite a few people along the way. Leaving Ziyadum, it is 15 minutes to Ziya Bridge and another hour and 15 minutes to Kalang Bridge and from here it is about 45 minutes to the village of Awadum II. At Awadum I, only 15 minutes from Awadum II, you may like to stop at the shop and have tea and biscuits on the little covered platform in the middle of their pond. From here you can return a different way, crossing to Lonadum. This is another lovely village and you might well get invited into a village house where you may be offered one of the staple foods, a vegetable called 'taro'. This is a little bit like a cross between a potato, a beetroot, and a horse chestnut - combined with Chinese green tea, it is really rather nice. After Lonadum, you cross the Mula River on a bamboo bridge to arrive back at the village of Wasandum II, after which you descend and cross the beautiful Namro creek. In the evening this place can be absolutely magical. You might see cormorants sitting on rocks and it is an area well known for Brahminy ducks. You may see an eagle fly past carrying its kill, a string of water buffalos fording a stream, low skimming swifts looking for flying insects and a calm stretch of water where small fish continually jump out of the water trying to catch the same insects as the swifts.

Overnight: Wasandum, Putao Trekking House Village Lodge

Day 13 - Trek over plateau of Mount Shangaung, 1,362m/4,468ft - 5 hours. Meet jeep at roadhead and drive to Putao - 1 hour.

Leaving the wilderness behind you will return to the sights, sounds and smells of civilisation. You will begin the day with the final challenge of trekking uphill to the plateau of Mount Shangaung, before heading steeply downhill to Shangaung and boarding your jeep to head back to Putao.

Overnight: Putao Trekking House Lodge

Day 14 - Visit local village near Putao.

Early in the morning you walk (approx. 10 minutes) to Putao market to visit this attractive market often busy with local ethnic tribes. On return to your hotel and breakfast, you depart by jeep/truck through the vast Putao plain on a pebbled road to Htawadum (14 km, approx one hour). You cross the Malikha river by suspension bridge to visit the famous Kanugmulon Pagoda, said to be one of the 84000 pagodas built by Thiri Dhamma Thawka, the great king. You proceed walking toward Salundum but turn to Nampandum from Lona suspension bridge. You continue walking to Namkham (5 km, approx.) amongst smaller villages such as Salundum and Htrandum. Namkham, a large Rawang village, is situated at the bottom of Namhti mountain range which is rich with biodiversity of flora and fauna. Named after Hkamti Shan, meaning "Golden River" it has become the centre of cultivation for fruits that Father Robert Moss has introduced, and is thus famous for its sweet fruits' production. You then board a local fisherman's boat and take a leisurely cruise down in the Malikha River enjoying the sights and sounds of the natural environment. Your river journey should take you about two hours to get to Machanbaw, a charming administrative town with attractive colonial style buildings. You have a shore excursion of this town and continue your river journey down south to so-called Fairy Island, through beautiful wilderness with lush tropical forests. Here you have your lunch at the sand bank and relax in the afternoon. Later you return up stream by boat to Naungkhine jetty where your driver will then you to Mulashidi, (20 mile, approx. one hour). Mulashidi, means in Lisu "the village stands in the thatch field along Mula River". Here you visit a suspension bridge across the Mula River and enjoy beautiful surroundings with a back drop of snow-capped mountains in the distance. Later you return to Putao and check in at the hotel. Dinner and overnight at Putao Lodge.

Overnight: Putao Trekking House Lodge

Day 15 - Fly to Mandalay, sightseeing tour.

Today, you fly south to Mandalay, Burma's last Royal Capital. In contrast to the images evoked by its name in literature and song, first impressions of Mandalay can be a little disappointing. This is Burma's second largest city, with a population of over one million and the hub of economic activity across the north of the country. The roads are busy with trucks and cars and streets are lined with functional but characterless buildings housing every type of commerce. However, Mandalay remains the cultural centre of Burma with over 700 pagodas and a number of key palaces, temples and monasteries; all supported by a wealth of crafts including wood carving, marble statuary, weaving, tapestry, and the creation of gold leaf.

After lunch your visits to Mandalay's most significant sights begin. Travelling through town you will stop to see the stone carvers, seated on the pavement and in small open yards, producing fine marble statuary despite their seemingly less than perfect work conditions. At a workshop for gold leaf, small nuggets of gold, collected from rivers around the North of the country, are beaten into wafer thin pieces. Sold to pilgrims outside temples and pagodas, these small squares of gold are typically placed on shrines and figures of Buddha as an offering. The devotion to this tradition is nowhere more clearly illustrated than on your visit to Mahamuni Pagoda, home to Mandalay's holiest Buddha statue. Here the lower parts of the 4m/13ft high statue, i.e. those within reach of the pilgrims, are now encrusted with a layer of gold leaf around 15cm/6in thick.

Other monuments you will see today include Shwenandaw Monastery, an ancient wooden building with intricate carvings, which was once the home of King Mindon, Mandalay's founder. Continuing on you will see the 'world's largest book' a complete set of the Buddhist scriptures inscribed onto 729 marble slabs at Kuthodaw Pagoda. Dominating the town centre is Mandalay Hill, offering far reaching views right across and around the city and some interesting glass-studded temples. Your day ends with a visit to Shwe Kyin Monastery just before sunset to observe the student monks begin evening prayers.


Overnight: Ayeyarwaddy River View or Similar, Mandalay

Day 16 - Visit U Bein's teak bridge in Amarapura. Fly to Yangon.

Today you travel out into the countryside to explore some of the historic sites outside Mandalay.

10 miles/15kms out of town is Amarapura. In 1851, at the time when Amarapura was still the royal capital, U Bein teak bridge was built. Stretching some 1,200m/3,900ft across Taungthaman Lake this impressive structure is the world's longest teak bridge, supported by over 1,000 separate wooden posts. One of Burma's most photographed sights, the bridge, can be swamped by tourists in the late afternoon, but on a morning visit, you are likely to see many more locals than visitors. After time to walk out to the centre of the bridge and perhaps enjoy some refreshments at a tea stall, you continue on your way to Shan Kalay Kyun village.

During the rainy season, Shan Kalay Kyun is surrounded on all sides by water, but in the dry season water levels drop and the fertile soil is used to grow peanuts, corn, water melon, cucumber and many other vegetables. You will enjoy a short walk here (up to one hour) and in and around some of the houses you'll doubtless spot a number of local crafts in progress, from the sewing of tapestry and puppet costumes, to the carving of intricate decorative wooden panels, doors and windows.

In the late afternoon you transfer to airport for the domestic flight to Yangon and transfer to hotel.

Overnight: Kandawgyi Palace Hotel or Similar, Yangon

Day 17 - Transfer to airport for flight to the UK.

Transfer to the airport for your international flight home.

Overnight: In flight

Day 18 - Arrive in London.

Today you will arrive in the UK.
Map
Map Key
Airport
Point of interest
Mountain Peak
Day walk in this area
Flights
Internal Transfers
Trek
---
2018
Hold your place
Not quite ready to book? Why not call us on 0044 (0)1453 844400 to hold a no obligation place while you make up your mind?
Insurance
No Surcharge Guarantee
No surcharges will be applied to your holiday after you book. Prices on this website are updated regularly. The Flight Inclusive holiday price, or Land Only holiday price, will be confirmed to you at the time you make your booking. There will be no surcharges after your booking has been confirmed.
Flight inclusive holidays
The 'flight inclusive' holiday prices shown on this website are based upon our preferred airlines and the best priced economy class fares we are able to secure at the time of publication.
We will be able to advise on fares with alternative airlines, upgrades to Business Class, and the options for flights from regional UK airports, please contact us for more details.
Loyalty discount
Find out more
What's included
English-speaking Burmese guides throughout and an English-speaking Burmese trek leader.
Economy class return air fares from the UK & UK Departure Tax (flight inclusive only)
All internal flights and hotel/airport transfers
Good standard hotel in Yangon, bed & breakfast on twin-share basis
Trekking House Lodge accommodation
Full service camping whilst on trek
Comfortable tourist class hotel in Mandalay
All road transport by private vehicles
Sightseeing where specified
Meal Plan: B & B in Yangon, all meals elsewhere
A free Mountain Kingdoms kit bag
What's not included
Travel insurance
Visa fees for Burma
Lunch and evening meals in Yangon
Tips
---
---
Review your holiday
Reviews
Read holiday reviews by Mountain Kingdoms travellers.
Overall score: 5.0 (Based on 7 reviews)
Phongun Razi & the Burmese Ice Mountains
Phongun Razi trek, Burma 06/02/2017
We loved being in Burma and thought the time spent in Yangon and Mandalay very worthwhile and very enjoyable. The whole trek was beautifully organised and all the people we came in contact with, firstly in the two cities and then on trek, were wonderfully kind, helpful and unfailingly patient, especially our leader Myo and all the porters. I would heavily recommend Mountain Kingdoms to anyone interested.
Mrs S, Surrey
Phongun Razi & the Burmese Ice Mountains
Enjoyable trek in Burma 11/01/2017
Overall a most enjoyable, exciting, different trek - loved Burma & its culture. Fantastic organisation - everything went to plan. We were always met by super people who made us feel welcome. Transport very good at all times. Hotels were excellent.
Mrs H, Worcestershire
Phongun Razi & the Burmese Ice Mountains
Supportive crew 11/01/2015
This was an opportunity to visit a remote area guided by locals who were happy to share their pride in their customs and way of life, which would not have been possible without their local knowledge. The porters were a cohesive group who improved everyone's spirits, especially with their singing. The food was excellent even in the most difficult conditions and something we all looked forward to.
Mr & Mrs F, Bermuda
Phongun Razi & the Burmese Ice Mountains
Good attention to detail 17/11/2013
What I particularly liked about travelling with Mountain Kingdoms was the personal attention and that there was a good mix of trekking and cultural sightseeing.
Mr C, Norfolk
Phongun Razi & the Burmese Ice Mountains
Friendly guides 03/11/2013
The holiday was excellent and the guide, cook and porters on the trek went out of their way to make sure our every need was catered for. The care, attention and food were excellent and they should know how much their hard work was appreciated. We were well looked after at each and every point. The guides were knowledgeable and extremely friendly.
Ms D, Hampshire
---
Extend your holiday
Visit Hpa-An, the capital of beautiful Karen State
Stay in an idyllic boutique lodge at the foot of Mount Zwegabin
Take a boat trip on the Salween River and visit villages, temples and caves
Stop at the ancient city of Bago with its many pagodas and temples
Optional visit to the precariously positioned Golden Rock in Kin Pun
More Details
We are delighted to offer an extension in Burma to visit Hpa-An, the capital of Karen State lying south east of Yangon. Hpa-An is a charming town set on the banks of the mighty Salween River, one of the great rivers of south east Asia which rises in Tibet and flows down to the Andaman Sea. This is an incredibly beautiful region of green paddy fields and dramatic limestone karsts.
As an additional attraction extension you will stay at a charming boutique lodge, the Hpa-An Lodge, which offers a very high standard of accommodation in an idyllic setting.
During your stay in Hpa-An you will take a boat rip on the serene waters of the Salween River, stop at a village to see artisan weavers in action and also visit the richly-decorated Kawhnat Pagoda. On your return to Yangon you will stop at the ancient city of Bagon with its many pagodas and temples as well as the very moving Taukkyan War Cemetery.
We offer two versions of this extension, with one including a visit to the Golden Rock in Kin Pun.
Relax in style at a Ngapali beach resort, perfect to add on to your Burma trek or tour
Choice of hotels, from mid-range to luxury
Spa treatments are available
More Details
Ngapali Beach, with its pristine white sand and sparkling turquoise water, is the best in the country and a perfect way to end your holiday in Burma.
Walk 4km to reach the top of Golden Rock, for an unforgettable sunrise or sunset
Three day extension visting pagodas and giant buddha's as well as the Golden Rock
Available to add to your Burma holiday between October and May
More Details
Extend your stay in Burma with a visit to the Golden Rock of Kyaikhtiyo, one of the most revered pilgrimage sites for Buddhists. Perched on the edge of a ledge at a height of 1,100m, the precariously positioned gold-plated boulder is said to maintain its balance thanks to a single hair of the Buddha being enshrined inside the pagoda.
During your three-day extension, you'll also visit pagodas, stop off at the Allied War Graves Cemetery at Htauk Kyan, see reclining Buddhas and drop in at local villages before returning to Rangoon for your final night in what will have been a memorable trip to Burma.