What's included
1 night in a 4* hotel in Bergen on a twin share bed and breakfast basis
14 nights aboard the M/S Expedition in twin-share cabins. Please note that all cabins consist of twin-size berths and are ocean-facing
Prices based on Category 2 cabins
All meals included on board the M/S Expedition. Breakfast included at the hotel
Zodiac and land excursions with the expert expedition team
Lectures and educational programs
All excursions and sightseeing as noted
Free high performance expedition parka
Use of on board sauna, gym and library
Use of waterproof boots for Zodiac landings
Economy class return air fares from the UK & UK Departure Tax (flight inclusive only)
Group airport transfers in Longyearbyen
A free Mountain Kingdoms Water-to-Go bottle or a free Mountain Kingdoms fleece
Opportunity to join one of Mountain Kingdoms pre-trip meets in the Cotswolds
and much more...
Call our
friendly team
Norwegian Fjords & Arctic Discovery
Polar Cruising
Cruise the length of Norway through magnificent fjord scenery to Svalbard home of the polar bear.
Highlights
Cruise through fabulous fjords and the lovely Lofoten Islands
Look for Polar bears as you sail through Arctic waters
Enjoy varied scenic walks and visit fascinating cities and sights
Spend a night in Bergen before the cruise
Reviews
Cruising the Arctic ocean around Spitzbergen was like nothing else I'd encountered before: barren islands, some with glaciers tumbling into the sea, some surprisingly green, all unique in their size and topography; vast glaciers calving huge blocks of ice into the water creating magnificent ice art and bergs of fabulous shapes glinting in the sun; and amazing wildlife with cliffs of nesting birds,...
a myriad of activity.
View All
Set sail from Bergen – the gateway to Norway's fjords – to the remote shores of Svalbard on this dazzling 15-day odyssey along the rugged coastline of western Norway. Explore the glaciers that carved the stunning landscapes, visit subarctic islands in search of wildlife, step back in time at UNESCO-protected sites and cruise through the spectacular landscape of the bewitching Lofoten Islands.
Sailing for 14 nights on the well-equipped M/S Expedition you make regular stops to enjoy guided walks in the stunning landscapes and take sightseeing excursions to fascinating historical sites, traditional fishing villages and charming coastal cities. As you cruise ever north, above the Arctic Circle, you pass mighty glaciers and pristine islands rich with wildlife. Accompanied by expert guides you explore by Zodiac boat and on foot discovering a world unrivalled in beauty and solitude, home only to a myriad birds and rare creatures including the magnificent polar bear.
Finally, you reach land for the last time at Longyearbyen and bid a fond farewell to the magical land of the Midnight Sun.
---
At a glance
Guaranteed to run for a minimum of 1 clients
Maximum group size: 0
Land only joining city: Bergen
Accommodation types: Hotel, Expedition Ship
Meal arrangements: Breakfast in Bergen. All meals aboard the M/S Expedition.
Itinerary overview
| Day | Activity |
| --- | --- |
| 1 | Fly to Bergen. Transfer to hotel. |
| 2 | Morning at leisure in Bergen. Afternoon board M/S Expedition and embark on cruise. |
| 3 | Visit Flåm and ride the Flam Railway. |
| 4 | Cruise to Oldenfjord. Transfer to Briksdal for glacier walk or 'trolley' ride. |
| 5 | Sail to Gierangerfjord and visit Dalsnibba UNESCO World Heritage Site. |
| 6 | Visit Trondheim. City tour or nature hike. Afternoon free for exploration. |
| 7 | Zodiac excursion to Torghatten and the Treana archipelago. Visit Vega Island. |
| 8 | Land at Svartisen – glacier hike. Visit Vikingen Island. |
| 9-10 | Lofoten Islands. Visit museum and fishing villages. Look for marine life. |
| 11 | Tour of Tromso with optional walk or cable car ride. |
| 12 | Sail past Bear Island, possible Zodiac landing. |
| 13 | Hornsund archipelago – Zodiac excursions and shore walks. |
| 14-15 | Cruise round Svalbard with opportunities for Zodiac landings and nature watching. |
| 16 | Arrive Longyearbyen. Cruise ends and disembarkation. Fly to London. |
Leader: Specialist Leaders, Polar cruises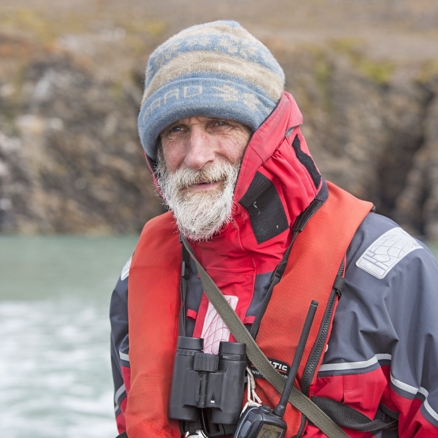 On board are expert, English-speaking guides who have an intimate knowledge of the area and an infectious passion for nature. They are very hard-working, attentive and helpful. On your Expedition cruise, shore excursions, and on board, lectures will be provided by knowledgeable, expert members of the crew.

The M/S Expedition has one of the highest ratios of expedition team members to guests – with one expert for every 10 guests there is always someone on hand to answer your questions and provide greater insight and appreciation of the world at its extremes. The expedition team is comprised of professional and highly skilled historians, marine biologists, and naturalists who offer keen insight and a unique personal perspective to each and every adventure. Their goal is to provide an informed and balanced interpretation of the destination, accomplished through stimulating lectures, day-to-day briefings, and informal discussions. Your lecturers and Expedition Leader will cover all aspects of the voyage including ornithology, marine biology, geography, geology, history and the environment, as well as practical things like photography. The expedition staff work conscientiously with you on deck and in the field, improving your observational skills to allow you to experience all that the destination has to offer. Their strong sense of ethics and ecological knowledge make for stimulating and mindful conversation whether onshore or at the dinner table. The Expedition Staff will pilot the Zodiac landing craft used for shore landings and Zodiac cruises; they are experienced drivers who operate the Zodiacs in a responsible manner.
---
Norwegian Fjords & Arctic Discovery Itinerary
Day 1 - Fly From London To Bergen. Group transfer to hotel.

Today you will fly from London to Bergen. On arrival you will be transferred to your hotel.

Overnight: Radisson Blu Royal Hotel Bergen

Day 2 - Morning at leisure in Bergen. Afternoon board M/S Expedition and embark on cruise.

At your hotel you will find a desk set up to greet M/S Expedition passengers between 09:00 and 12:00 am. They will also assist with baggage drop-off for the cruise.

After this, you will have time to explore Bergen at your leisure. You may like to take the funicular to the top of Mount Fløyen for stunning views over the surrounding fjords and mountains, visit the centuries old fish market or simply stroll through the attractive streets with their beautifully preserved buildings dating back to Hanseatic times.

You must return to the Radisson Blue Hotel between 3.00 and 3.30 pm ready for embarkation at 4.00 pm.


Overnight: M/S Expedition

Day 3 - Visit Flåm and ride the famous Flåmsbana railway.

Sailing north from Bergen, the first stop on your cruise is at picturesque Flåm. Here you can step aboard the Flåm Railway for what is considered to be one of the most beautiful train journeys in the world. The train runs for 20km from the end of Aurlandsfjord through the idyllic Flåm Valley to reach the high mountains at Myrdal Station. The line is known both for the gorgeous scenery and for its incredibly steep gradient with an elevation gain of 863m/2,831ft.

Overnight: M/S Expedition

Day 4 - Cruise to Oldenfjord. Visit the Briksdalbreen Glacier with optional walk.

Today you cruise into the Oldenfjord before a short bus ride takes you to the Briksdal area. From Briksdal you have the option of a moderate walk to Briksdalbreen Glacier in Jostedalsbreen National Park. The scenic path along the valley passes rock cliffs and waterfalls and takes around 45 minutes to reach the glacier lake at the end.

Please be aware that the first 20-30 mins of this walk is uphill, although the terrain is good. If you'd rather not walk all the way you can hop on a 'troll car' to miss the steep section. As you approach, you'll need to walk the last quarter mile to reach the glacier lake. The views are worth the effort though.


Overnight: M/S Expedition

Day 5 - Sail to Geirangerfjord. Coach to Dalsnibba with optional walk.

There are even more scenic delights today as you sail deep into Geirangerfjord, acknowledged to be one of Norway's most beautiful fjords.

Geirangerfjord has been listed as a UNESCO World Heritage Site. The fjord is 15 km/9.3 mi long and is surrounded by spectacular mountains, lush green trees, waterfalls, and several farms. It is quintessential fjord scenery. The views are best enjoyed from above and you will enjoy a coach tour along the twisting road to Dalsnibba where you can soak up the incredible vistas from a superb vantage point. For the more adventurous, there is the option of a 10km mountain hike.


Overnight: M/S Expedition

Day 6 - Trondheim excursion.

For today's excursions you can choose between hiking in Bymarka Nature Reserve, 2km west of the city, before visiting the fascinating Sverresborg Folk Museum with its collection of over 80 traditional buildings. Alternatively you can enjoy a city tour of Trondheim. The tour will include the city's Folk Museum and the elaborate Nidaros Cathedral, built between 1070 and 1300 over the burial site of Saint Olav, the king of Norway in the 11thcentury. It is still the site where modern day monarchs receive their blessing.

You will then have the afternoon free for further exploration on your own. Trondheim is a very photogenic city with interesting sights and excellent bars, cafes and shops - ideal for a casual stroll and some relaxed sightseeing.


Overnight: M/S Expedition

Day 7 - Zodiac landing at Torghatten, walk to Torghatten rock formation. Visit Vega Island.

After breakfast, you will board the Zodiac boats to reach Torget Island. Here you will walk up to Torghatten to see one of the most bizarre rock formations in Norway - a hole through the centre of the mountain. The path leads directly through the hole which legend has it was created by a troll!

In the afternoon you will stop at Vega Island, part of the Vega archipelago, and renowned for its history of eider down harvesting. It is now designated a UNESCO site. Here you can wander through tiny fishing villages or go on a nature hike. Expedition guides will provide information on the area, and the ship's photography expert will be on hand to offer advice on how to capture the perfect shot.


Overnight: M/S Expedition

Day 8 - Svartisen land excursion with walk to glacier lake. Visit to Vikingen Island.

Your first stop today is Svartisen where you will find Norway's second-largest glacier and the lowest glacier in mainland Europe, just 20 metres above sea level. You can take a gentle, scenic hike to Engabreen, one of the outlet glaciers of Svartisen and there is also the option of a more challenging walk which is taken in small, guided groups. Whichever walk you do, everyone should reach a beautiful lookout over the glacier lake.

Returning to the M/S Expedition, you will continue to Vikingen Island, a small island that sits directly on the Arctic Circle. There's a small statue of a globe on the island celebrating its position on one of the five major latitude circles.


Overnight: M/S Expedition

Day 9 - Visit the Lofoten Islands. Tour of Å village, Nusfjord and Henningsvær.

The Lofoten archipelago is a breathtakingly, beautiful region characterised by piercing mountain peaks, crystal clear waters, soft sand beaches and traditional fishing villages of wooden houses.

You start your exploration of the area at the village of Å, a virtual living museum. You begin by visiting the Tørrfiskmuseum to learn about the traditional work of the islands before visiting Nusfjord, one of Norway's oldest and best-preserved fishing villages where you enjoy lunch at a local restaurant. After lunch you will stop at the quaint fishing village of Henningsvær to see some of the local art and also visit the Viking Museum at Bøstad.

In the evening you should stay on deck as you cruise into one of Norway's most famous fjords, the 2km long Trollfjord. With its narrow entrance at only 100m wide, and steep mountain sides rising to over 1,000m high, it's an incredibly dramatic experience.


Overnight: M/S Expedition

Day 10 - Continue cruise through the Lofoten Islands.

The cruise continues through the Lofoten Islands with the opportunity to see some of the region's marine wildlife on Andenes Island.

It's also an excellent opportunity to relax on board the M/S Expedition and enjoy its many facilities including the Polar Bear bar, library and small fitness room. The ship's expert crew will be on hand to answer any questions you may have about the geology, history and wildlife of the region you are sailing through.


Overnight: M/S Expedition

Day 11 - Tour of Tromso with optional walk or cable car ride.

Known as the 'Gateway to the Arctic', Tromsø is the capital of Norway and the embarkation point for many Arctic expeditions. You have a day to explore Norway's largest city with an optional walk to the mountain top overlooking the city. If you would prefer not to walk to the summit, you can take the cable car instead after wandering some of the city's picturesque streets. Lunch will be taken as you enjoy the wonderful views from the top. After lunch there will be ample opportunity to visit some of the major sights of Tromsø as well as the city museum and the Polar Museum where you can learn about Arctic exploration.

Overnight: M/S Expedition

Day 12 - Sail past Bjørnøya (Bear Island) and on towards the Svalbard Archipelago.

This morning you will cruise past Bjørnøya (Bear Island) which is often shrouded in sea mist. Home to thousands of species of birds such as fulmars, kittiwakes, guillemots and gulls it is a birder's paradise. Weather permitting, there may be an opportunity to explore Bjørnøya by Zodiac - this is a 50/50 chance. However, even from afar, Bear Island offers spectacular views and birdwatching opportunities.

To provide more information about the marine life you can see from the ship's deck there will be lectures hosted on board during the day.


Overnight: M/S Expedition

Day 13 - Hornsund Fjord and Spitsbergen.

Well into Arctic waters, you cruise to the Svalbard Archipelago to begin exploring this wonderfully scenic and wildlife-rich group of islands. Hornsund is the most southerly fjord on Spitsbergen which in turn is the largest island of Svalbard. Zodiac landings will provide the best opportunity to immerse yourself in the dramatic landscape and to see birds and wildlife in their natural habitat. Keep your eyes open for walruses, seals, reindeer, Arctic foxes and, of course, polar bears.

The itinerary over the next couple of days will remain very flexible to make the most of the ice and weather conditions. Each season the ship's crew attempts to discover new landing sites to explore and to enhance the expedition experience.

Overnight: M/S Expedition

Day 14 - Hornsund and Bellsund - continue to explore Svalbard.

Another day to soak up the sights and sounds of Svalbard as you sail along its western coastline. The midnight sun means you'll have endless daylight to enjoy the stunning scenery and to spot the wildlife. Polar bears are of course the most iconic wildlife but you may also see Arctic fox and reindeer on land. In addition there are around 15 different species of marine mammals including whales, dolphins, seals and walruses and numerous marine birds.

The onboard specialists will help you identify the many types of wildlife you see both from the decks of the ship and during your land excursions.


Overnight: M/S Expedition

Day 15 - Cruise around Svalbard with opportunities for Zodiac landings and nature watching.

This is your final day at sea so keep a keen eye open for wildlife, especially the majestic polar bear. In the late afternoon the ship heads towards Longyearbyen, high in the Arctic Circle, and you can perhaps mark your last night aboard with a farewell drink as you sail beneath the Midnight Sun.

Overnight: M/S Expedition

Day 16 - Disembark at Longyearbyen. Transfer to airport for flight back to the UK.

Today you will disembark the M/S Expedition for your flight back to London.

Those passengers with early flights departing Longyearbyen around 02.30-05:00 will be offered an early morning disembarkation and transfer to the airport (timing dependent on airline schedules).

For those passengers disembarking at the regular time of 08:00, you will be transferred to either the airport or the Radisson Blu Polar hotel, depending on the time of your flight. Those transferred to the hotel will have an opportunity to explore the town centre on their own, and then be transferred to the airport later in the day as per flight schedules. Transfer times will be confirmed, and communicated onboard prior to departure.

The Raddison Blu Polar hotel is happy to store your luggage for free during the day until 4pm, after this time the hotel will charge a fee for storage.

Map
Map Key
Airport
Point of interest
Mountain Peak
Day walk in this area
Flights
Internal Transfers
Trek
---
No Dates Available
There are no available booking dates for this holiday yet since we are still finalising details. If you are interested in this holiday and would like further details, please contact us.
Hold your place
Not quite ready to book? Why not call us on 0044 (0)1453 844400 to hold a no obligation place while you make up your mind?
No Surcharge Guarantee
No surcharges will be applied to your holiday after you book. Prices on this website are updated regularly. The Flight Inclusive holiday price, or Land Only holiday price, will be confirmed to you at the time you make your booking. There will be no surcharges after your booking has been confirmed.
Flight inclusive holidays
The 'flight inclusive' holiday prices shown on this website are based upon our preferred airlines and the best priced economy class fares we are able to secure at the time of publication.
We will be able to advise on fares with alternative airlines, upgrades to Business Class, and the options for flights from regional UK airports, please contact us for more details.
Loyalty discount
Find out more
What's included
1 night in a 4* hotel in Bergen on a twin share bed and breakfast basis
14 nights aboard the M/S Expedition in twin-share cabins. Please note that all cabins consist of twin-size berths and are ocean-facing
Prices based on Category 2 cabins
All meals included on board the M/S Expedition. Breakfast included at the hotel
Zodiac and land excursions with the expert expedition team
Lectures and educational programs
All excursions and sightseeing as noted
Free high performance expedition parka
Use of on board sauna, gym and library
Use of waterproof boots for Zodiac landings
Economy class return air fares from the UK & UK Departure Tax (flight inclusive only)
Group airport transfers in Longyearbyen
A free Mountain Kingdoms Water-to-Go bottle or a free Mountain Kingdoms fleece
Opportunity to join one of Mountain Kingdoms pre-trip meets in the Cotswolds
What's not included
Travel insurance
Lunch and dinner in Bergen
Tips
Drinks (except for tea and coffee on cruise)
---
---
Extend your holiday
There are many ways you can extend your holiday with Mountain Kingdoms: book extra hotel nights, relax at a beautiful beach resort, take a warm-up trek, arrange a personal sightseeing tour or enjoy specialist activities such as rafting, birdwatching or a safari.
We're happy to suggest ideas, provide quotes and make all the arrangements. We can also assist with flight and hotel upgrades. Just call us on +44 (0)1453 844400 or email info@mountainkingdoms.com and we will be pleased to help.