What's included
All airport transfers
A local English-speaking Vietnamese guide
4* and 5* standard hotels throughout the tour
First class cruise boat
All road transport by modern, comfortable, quality private vehicles
All sightseeing as specified
Economy class return air fares from the UK & UK Departure Tax (flight inclusive only)
Carbon offset flights (flight inclusive only)
Visa assistance at the airport
and much more...
Call our
friendly team
North to South Vietnam in Style
Tour
Duration: 16 days from the UK
Walks on: 1 day
Flight inclusive from £2,845,
Land only from £2,250
Book now or call 01453 844400
An indulgent journey to discover the best of Vietnam's stunning scenery, compelling history and captivating culture.
Highlights
Explore the historic and cultural attractions of Hanoi, Hue and Saigon (Ho Chi Minh City)
Sail through the scenic delights of Ha Long Bay on a two night cruise
Visit UNESCO World Heritage Sites such as the Royal Citadel of Hue and Trang an Landscape Complex
Stay in 4 and 5 star hotels and the luxurious Au Co cruise boat
Reviews
This tour gave a great insight into Vietnam, with beautiful food, culture and scenery it was a trip to remember. Ha Long Bay was a definite highlight for me, the crew were fantastic and always helpful. I was able to immerse myself in the peacefulness of Trang An and explore the treasures of Hanoi.
H Gray, Mountain Kingdoms
View All
Our fantastic cultural tour takes us on a journey from north to south Vietam. Our days are packed with scenic, historic and culinary delights, as we explore vibrant cities, southern frontiers and stunning national parks.
In northern Vietnam we explore the historic attractions of Hanoi, travel to the beautiful Ninh Binh province and discover the fantastic landscape complex of Trang, before heading to the coast for a cruise amongst the dramatic limestone pillars of Ha Long Bay. We continue south via Hue with its magnificent Royal Citadel and the wildlife rich Bach Ma National Park, before touring the evocative cities of Hoi An and Saigon (Ho Chi Minh City). Finally, we take a cruise on the Ben Tre River, one of the tributaries of the Mekong River, to discover its lively waterway.
Our delightful accommodation has been chosen for those wanting to explore in style, and includes top quality hotels and a two-night cruise on board the luxurious Au Co in Ha Long Bay.
---
At a glance
Duration: 16 days from the UK
Walks on: 1 day
Guaranteed to run for a minimum of 4 clients
Maximum group size: 12
Land only joining city: Hanoi
Accommodation types: Hotels, Boat
Meal arrangements: 14 Breakfasts, 13 Lunches, 10 Dinners.
Itinerary overview
| Day | Activity |
| --- | --- |
| 1-3 | Fly to Hanoi. Sightseeing. |
| 4-5 | Transfer from Hanoi to Ninh Binh. Explore by boat and on foot and visit the Trang An Landscape complex. |
| 6-8 | Ha Long Bay cruise and sightseeing. Transfer to Hanoi. |
| 9 | Fly to Hue. Afternoon sightseeing. |
| 10 | Day walk in Bach Ma National Park. |
| 11-12 | Transfer from Hue to Hoi An. Sightseeing tour and visit to My Son Holy Land. |
| 13 | Fly from Da Nang to Saigon. Sightseeing in Saigon. |
| 14 | Day cruise on the Mekong Delta. |
| 15-16 | Time at leisure in Saigon. Fly to London. |
Leader: Local Leader, Vietnam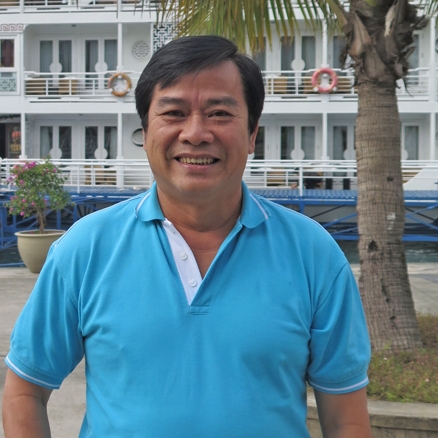 Our holidays in Vietnam are led by professional English-speaking Vietnamese tour leaders. They have an intimate and expert knowledge of the history, culture and nature of Vietnam.
They will be sure to provide you with an unforgettable experience in their wonderful country of Vietnam.
---
North to South Vietnam in Style Itinerary
Day 1 - Fly London to Hanoi.

Today you will depart the UK and fly to Hanoi

Overnight: In flight

Day 2 - Arrive Hanoi and transfer to your hotel. Half day sightseeing tour.

Today you will arrive in Vietnam's capital Hanoi. Once you have passed through customs and collected your baggage, it is a short drive to the city. Your hotel rooms will be available for immediate check in, and the morning will be spent at leisure to relax and recuperate after the flight. Your first taste of authentic Vietnamese cuisine will be lunch at Cau Go restaurant overlooking Hoan Kiem Lake.

This afternoon you will be taken to see one of northern Vietnam's cultural highlights - a private water puppet show. The water puppet artist is the descendant of a family of puppeteers and, after the show, there will be a chance to talk to the artist and view the handcrafted puppets.

After the show you will take a walking tour of Hanoi's old quarter. This is a chaotic yet architecturally fascinating area with its appealing mix of old French colonial buildings and tall, narrow, Vietnamese style houses lining bustling streets filled with small shops, coffee houses and street vendors selling a dizzying array of wares. It is here within the old quarter that you'll learn the art of crossing the road, a task that may be daunting at first given the tide of mopeds and traffic, but will be second nature by the end of the trip! After the city tour you will be transferred back to your hotel to rest before enjoying a welcome dinner.

Overnight: Hotel De L'opera Or Similar, Hanoi

Day 3 - Full day sightseeing tour of Hanoi.

Today's tour begins at the Ho Chi Minh Complex - the resting place of Ho Chi Minh who died in 1969. Opened in 1975, the mausoleum is a place of sombre pilgrimage for many Vietnamese people, and, as you slowly walk through the granite building, you will notice the guards positioned throughout in their pristine white uniforms. After making your way up the darkened steps you pass through to the viewing room where Ho Chi Minh lies. For those who have chosen to view inside it is a rather surreal and sobering experience and one that requires a high level of respect. You will be expected to wait in line in single file with hands out of your pockets and by your sides at all time. You should dress modestly and hats should be removed. You will also not be able to take a camera, day pack or phone into the mausoleum with you, these can be left with your guide and returned after the viewing.

Please note that during October and November, Ho Chi Minh's body is removed from the mausoleum for restoration work and therefore this will not be included on these months.

As you continue the tour you will be taken through to Ho Chi Minh's old living quarters where you will learn the importance of his role in Vietnam's history. You will also pass the presidential palace and Ho Chi Minh's house-on-stilts.

From the Ho Chi Minh complex It is a quick transfer to the Temple of Literature, one of Hanoi's oldest surviving temples and said to be one of the oldest universities in the world. Opened in 1076, the Temple of Literature (known as the Van Mieu) welcomed only those of royal descent. However this later changed so that all of those who were deemed to be gifted enough to study there, were admitted. The Van Mieu is one of Hanoi's top sights, where many gather to view its wonderful gardens and pagoda.

Before lunch there will also be a visit to the Museum of Ethnology. The museum provides in-depth information on the many tribes in Vietnam and, outside the museum you will get the chance to view the houses that have traditionally been built and used by minority groups and still remain part of their culture today.

After lunch you will visit Hoa Lo Prison, otherwise known as the 'Hanoi Hilton'. The prison was built in 1896 by the French when Vietnam was still part of French Indochina, and housed at its peak up to 2,000 Vietnamese political prisoners .The majority of inmates, living in conditions that can only be described as subhuman, were protesting for independence; the prison was soon recognised as a symbol of the exploitation of colonial power. In 1996 the building was demolished, however a small part of the jail still remains open to the public and pays tribute to many of those who died within its walls. From there you will then be taken to the Vietnam Women's Museum, and end the day with a walk around the beautiful Hoam Kiem lake.

Overnight: Hotel De L'opera Or Similar, Hanoi

Day 4 - Transfer from Hanoi to Ninh Binh. Visit Hoa Lu and the Trang An Landscape Complex.

Today you'll drive south to the UNESCO World Heritage Site of Trang An Landscape Complex, located in Ninh Binh province. As you draw closer to the complex, the landscape will begin to change with typical limestone karst scenery emerging all around. Huge rock formations jut out from the rice paddies, with vast cave systems underground.

On arrival you will start by visiting Hoa Lu, the capital of Vietnam during the Dinh dynasty in the 10th century. You'll then make your way to the Trang An Eco Centre where you will join your first guided rowing boat tour. Gliding serenely along the crystal clear water the route will take you through shallow rice paddies and a string of caves, each varying in length. The caves have low ceilings and low-level lighting, however the local guide will navigate the twists and turns with ease. En route you may also stop at one of the many pagodas in the area. You will then transfer to a local restaurant and finally your hotel where you will spend the evening.

Overnight: Emeralda Resort or Similar, Ninh Binh

Day 5 - Explore Ninh Binh.

This morning after breakfast you'll take a short walk to Van Long Wharf for a rowing trip lasting around 1 hour 30 minutes. As you pass through the picturesque landscape you may see different species of large water birds or even a White langur monkey. Once you've reached land it's on to two wheels for a short cycle ride to explore the local countryside. You will be able to interact with the friendly locals and lunch is taken with a local family. You will then head back to the hotel where there will be time to relax and freshen up before your evening meal.

Overnight: Emeralda Resort or Similar, Ninh Binh

Day 6 - Transfer to Tuan Chau port, 4-5 hours. Board the Ha Long Bay cruise boat. Visit Cua Van floating village.

Today you will be transferred to Tuan Chau port to begin your tour of Ha Long Bay aboard the luxurious Au Co cruise ship.

After a welcome drink and safety briefing you will set sail and enjoy lunch as the ship cruises towards the southwest corner of Ha Long Bay. After lunch you visit Cua Van floating fishing village either by kayak or on a traditional rowing boat. This beautiful village is well known for its location in the heart of the World Heritage Site of Ha Long Bay.

Back on the Au Co, you may want to try your hand at fruit carving and join in the 'Master Chef' competition or simply relax on deck, sipping a sundowner, as the sun sets. After dinner there's time to catch a movie on board or even try a bit of squid fishing wilst the ship is anchored.


Overnight: Au Co Cruise, Ha Long Bay

Day 7 - On board Au Co cruise, Ha Long Bay.

You can choose an early start today with some Tai Chi, or to take in the beautiful views as the boat raises its anchor and sets sail again. After breakfast you visit a pretty island and explore its villages and a community farm project in the company of one of the Au Co's expert guides.

Returning to the boat for lunch, the afternoon is free for you to relax onboard or to kayak out to discover some of the delightful sandy beaches in the Ho Ba Ham area. Dinner tonight is a BBQ on the sundeck followed by movies and other optional activities.

It is important to note that the cruise itinerary and schedules are subject to change due to weather, tide levels and operating conditions without prior notice. Swimming or kayaking excursions may be cancelled due to poor weather.


Overnight: Au Co Cruise, Ha Long Bay

Day 8 - Visit the Tien Ong Cave. Disembark cruise boat and transfer to Hanoi. Time at leisure.

This morning brings a final chance to take part in one of the Tai Chi classes available. After breakfast you'll visit Tien Ong Cave. Covering an area of 1,000 m2, with stunning stalactites and stalagmites, Tien Ong is one of the finest caves in Ha Long Bay.

You re-board the Au Co for a traditional tea ceremony after which it is time to say a fond farewell to the crew members and disembark back on to dry land. You will then be transferred back to Hanoi where the rest of the day is yours at leisure.

Overnight: Hotel De L'opera Or Similar, Hanoi

Day 9 - Fly to Hue. Afternoon city tour.

After breakfast you will be transferred to the airport for your morning flight to Hue.

Hue was formerly known as the capital of Vietnam during the Nguyen dynasty 'the last ruling family of Vietnam' which ended in 1945. The city itself is a hive of culture, history and normal day-to-day business. There is a bustling local market by the river where everyday items and all kinds of food are for sale, and the streets are teeming with a jumble of cars, motor bikes, cycles and pedestrians.

After having lunch at a local restaurant you will be taken to the Hue Imperial Citadel for a guided tour. This Imperial City was actually a walled fortress and palace and is an astonishing remnant of the mighty power that was the Nguyen dynasty. Although many parts have been destroyed and reduced to rubble by the Vietnam war, it is still a fantastic spectacle. The citadel was built in the 19th century and is surrounded by a 10 km moat fed by the Perfume River. There are lots of huge fish in the moat which you can feed and then watch them in their feeding frenzy trying to grab the food.

Some of the buildings in this huge complex have been re-built and renovated to a high standard while other parts are still in ruins and require more imagination as to how they looked in their original condition. There are also a few cafes dotted around where you can sit in the shade and watch the world go by. Of course there are souvenirs to buy and many photo opportunities and you could easily fill a whole day here if time allowed.

However it is the Perfume River where the next part of your tour takes you, as you join a small river cruise to the Thien Mu Pagoda located on the north bank of the river. As you travel down the river you can see the pagoda through the trees as you approach. Standing seven storeys tall, the Thien Mu Pagoda was originally constructed in 1601 and, although it has been renovated over the years, it is one of the main attractions in Hue. Interestingly it is worth looking behind the pagoda where you can find an old Austin car which transported Thich Quang Duc to Ho Chi Minh City for his self-immolation in 1963.

Tonight you will eat at a local restaurant in Hue before being transferred to your hotel just outside the city.


Overnight: Pilgrimage Village or Similar, Hue

Day 10 - Day walk in Bach Ma National Park - approximately 10 km.

Today you will take a walk through Bach Ma National Park and view the wonderful scenery whilst exploring the various ecosystems. It was a French-era hill station, the cool climate attracting the French colonialists who built over a hundred villas here. Not surprisingly the Viet Minh tried hard to destroy the area and it saw some heavy fighting in the early 1950s and again during the American War. A nature lover's paradise, the park is today filled with more than 1,400 species of plants, including many rare ferns and orchids which represents a 5th of the total flora of Vietnam, as well as 132 different kinds of mammals, three of which were only discovered in the 1990s: the antelope-like saola, Truong Son muntjac and the giant muntjac. Nine species of primates are also present, including small numbers of the rare red-shanked Douc langur.

You will walk on good stone pathways through the park enjoying the impressive flora and fauna to reach the fantastic rhododendron waterfalls. These falls are some of most spectacular in the in the park, rising up to 300 meters high. You can descend by many steps to get to the pool at the base for a great view, or take a quick dip in the refreshing water.

After returning to the park gates you will re-join your transport and return to the hotel for dinner.


Overnight: Pilgrimage Village or Similar, Hue

Day 11 - Transfer to Hoi An. City tour of Hoi An taking in the Japanese Bridge.

This morning you will transfer to Hoi An. During the 17th to 19th centuries this was one of Southeast Asia's major international ports and home to many Dutch, Portuguese, Chinese and Japanese traders. It is now a hub of culinary delights and historic buildings attracting visitors from all round the world who want to experience its unique charm. What used to be traders homes are now restaurants, cafes, and outlets for local craftsmen. The majority of the buildings in Hoi An are constructed of wood, infused with Vietnamese, Chinese and Japanese designs. Many are astonishingly well preserved, and you can explore them inside and out.

You will be taken on a guided walking tour of this amazing city. Many of the city streets are pedestrianised, making it a pleasure to walk around and browse in the shops, look at the old temples dotted around and watch the world go by whilst relaxing in one of the many cafes and restaurants. During your tour you will visit the Japanese Bridge, created by the Japanese both as a physical link and as a sign of peace, between themselves and the Chinese traders who lived across a small stream. Constructed in a unique architectural style the bridge has not been altered much since its creation in 1590. The rest of the tour will be spent exploring the old quarter within Hoi An which in 1999 became a UNESCO World Heritage Site.

After the tour you will be taken to one of the many local restaurants for dinner before returning to your hotel for the night.


Overnight: Hotel Royal Hoi An M Gallery or Similar, Hoi An

Day 12 - Day visit to My Son Holy Land.

This morning you will visit the My Son Holy Land. A UNESCO World Heritage Site, it is a fascinating mixture of cultures and owes its spiritual origins to the Hinduism of India. In importance and grandeur it can be compared to Angkor Wat in Cambodia or Bagan in Burma. Surrounded by mountains and home to the Cham people, My Son was created as a religious and political capital for the Champa Kingdom between the 4th and 13th centuries. The towers themselves symbolise Mount Meru the mountain home of the Hindu Gods at the centre of the universe. As you walk around the red brick temples, you'll be amazed by the intricate designs and architectural sophistication.

The setting for My Son is delightful, within a verdant valley and with the massive Hon Quap mountain towering above. During your tour you will be given a brief introduction in to the history of the site and the Hindu influence on it. You will also have time to explore on your own before you head to a local restaurant for lunch. The rest of the afternoon is at leisure for you to continue your exploration of My Son or take an optional cooking class.

Optional Cooking Class
If you have chosen to take this option you will meet your local guide who will take you by bike to visit Hoi An's central market. Here you will have the chance to learn about the ingredients that will be used in your cooking lesson. You will then continue to Tra Que vegetable village where you will be greeted with a drink and a chance to see the farmers working their fields. Here you will observe and learn, working together with the chef, to make traditional Vietnamese pancakes, spring rolls and Tra Que vegetable salad. Once you have admired your handiwork you can enjoy sampling the food. Hopefully you can take your new found skills away with you and impress your friends when you return home!

Overnight: Hotel Royal Hoi An M Gallery or Similar, Hoi An

Day 13 - Fly from Da Nang to Saigon (Ho Chi Minh City). City highlights tour.

This morning after breakfast you will take a morning flight from Da Nang to Saigon (Ho Chi Minh City), Vietnam's largest city. The fast-paced nature of the city helps this economic capital to thrive, whilst still retaining its traditions and ancient culture.

In the afternoon you will be taken on a city tour visiting many of its highlights including the Reunification Palace, which was the home to the President of Southern Vietnam. It was subsequently heavily associated with the fall of Saigon, when Northern Vietnamese tanks burst through the palace gates. Other famous landmarks that you will visit are the Notre Dame Cathedral - built entirely with materials bought from France - and Saigon Post Office, also dating from the French colonial era. Finally you'll be taken to the Ben Thanh Market. Packed full of anything and everything, there really are great bargains to be had here and it definitely is a real 'must see' of the city.

Returning to your hotel for the evening you can enjoy a well-earned rest before you embark on the Mekong Delta boat trip tomorrow.


Overnight: Majestic Hotel or Similar, Saigon

Day 14 - Day cruise on the Mekong Delta.

The delta of the mighty Mekong River marks the end of its 2,800 mile journey from the Tibetan plateau. The land is pancake flat, but brilliant green, as this area is known as Vietnam's 'rice-basket'. You start the cruise down the Ben Tre River, one of the tributaries of the Mekong. As you sail down the river you will stop to see the traditional methods of brick making and coconut processing, and to observe local fishermen. Gradually the river becomes smaller and smaller until you reach a local village where you will leave the boat and visit a traditional sleeping mat business. The sleeping mats are made from dried reeds which are then dyed in beautiful colours and woven together.

Travelling by moto cart you will pass through the lush green rice fields, and see lychees, pineapples, jackfruits, bananas and coconuts growing. You can observe the southern Vietnamese culture and way of life - the traditional farmers here produce much of Vietnam's rice and tropical fruits. After lunch you return to your boat and make your way back leisurely through this incredibly picturesque region to Hùng Vuong Pier where the day began, and transfer back to Saigon.

This is your final night and you will probably want to find a good restaurant for farewell drinks and dinner. Your guide will be able to advise you on suitable places to go and arrange transport if needed.


Overnight: Majestic Hotel Or Similar, Saigon

Day 15 - Day at leisure. Transfer to airport for flight to the UK.

Your hotel room will be available today for late check out at 6pm. You are free to further explore Saigon, to do some last minute shopping in the markets or sit in one of the many cafes or bars and watch the world go by. In the evening you will be transferred to the airport for your flight back to London.

Overnight: In flight

Day 16 - Arrive UK.

In the early hours of the morning it will be time to say a very fond farewell to Vietnam and board your flight back to the UK.
Map
Map Key
Airport
Point of interest
Mountain Peak
Day walk in this area
Flights
Internal Transfers
Trek
---
2018
| Dates | Availability | Land Only | Flight Inclusive from |
| --- | --- | --- | --- |
| Fri 7 Dec - Sat 22 Dec 2018 | Available | £2310 Book | £2910 Book |
2019
Hold your place
Not quite ready to book? Why not call us on 0044 (0)1453 844400 to hold a no obligation place while you make up your mind?
Optional supplements
Single room supplement
From £795
Insurance
No Surcharge Guarantee
No surcharges will be applied to your holiday after you book. Prices on this website are updated regularly. The Flight Inclusive holiday price, or Land Only holiday price, will be confirmed to you at the time you make your booking. There will be no surcharges after your booking has been confirmed.
Flight inclusive holidays
The 'flight inclusive' holiday prices shown on this website are based upon our preferred airlines and the best priced economy class fares we are able to secure at the time of publication.
We will be able to advise on fares with alternative airlines, upgrades to Business Class, and the options for flights from regional UK airports, please contact us for more details.
Loyalty discount
Find out more
What's included
All airport transfers
A local English-speaking Vietnamese guide
4* and 5* standard hotels throughout the tour
First class cruise boat
All road transport by modern, comfortable, quality private vehicles
All sightseeing as specified
Economy class return air fares from the UK & UK Departure Tax (flight inclusive only)
Carbon offset flights (flight inclusive only)
Visa assistance at the airport
What's not included
Travel insurance
Visa fees
Optional trips
Tips
---
---
Review your holiday
Reviews
Read holiday reviews by Mountain Kingdoms travellers.
Overall score: 5.0 (Based on 3 reviews)
North to South Vietnam in Style
Enjoyable Vietnam tour 12/06/2017
I enjoyed everything, I don't know how you did it for the money. The hotels were stunning. The transport, guides, hotels, boats, bikes, restaurants used were all excellent.
Ms M B, Scottish Borders
North to South Vietnam in Style
North to South Vietnam 29/03/2017
A wonderful holiday. Seeing Cities, Mountains and the ocean. A full on trip, lots to see and do.
Mrs S Abercrombie, Northumberland, UK
North to South Vietnam in Style
A trip to remember 06/12/2014
This tour gave a great insight into Vietnam, with beautiful food, culture and scenery it was a trip to remember. Ha Long Bay was a definite highlight for me, the crew were fantastic and always helpful. I was able to immerse myself in the peacefulness of Trang An and explore the treasures of Hanoi.
Harry Gray, Mountain Kingdoms
---
Extend your holiday
There are many ways you can extend your holiday with Mountain Kingdoms: book extra hotel nights, relax at a beautiful beach resort, take a warm-up trek, arrange a personal sightseeing tour or enjoy specialist activities such as rafting, birdwatching or a safari.
We're happy to suggest ideas, provide quotes and make all the arrangements. We can also assist with flight and hotel upgrades. Just call us on +44 (0)1453 844400 or email info@mountainkingdoms.com and we will be pleased to help.