What's included
An English-speaking Sherpa leader
Good standard hotel accommodation in Kathmandu and Pokhara on a bed and breakfast, twin share basis
Kathmandu sightseeing tour
Economy class return air fares from the UK & UK departure tax (flight inclusive option only)
Single, timed group airport transfer for international flights on arrival and departure
All internal flights and domestic transfers and all road transport by private vehicles
Free use of a good quality down jacket, sleeping bag and fleece liner
Trek staff and full porterage
Sherpa/porters properly insured and equipped
1 night in a lodge in Bandipur, 12 nights in tea houses, 2 nights camping
All camping facilities & staff to carry out camp work
Park fees
A free high-quality Mountain Kingdoms kit bag
Carbon offset for flights (flight inclusive option only)
The opportunity to attend one of our pre trip meets in the Cotswolds
and much more...
Call our
friendly team
Naar-Phu & the Annapurna Traverse
Walking & Trekking
Nepal, Annapurnas | Walking & Trekking
Strenuous
Suitable for fit individuals who have regular experience of mountain walking.
Find out more...
Grade: Strenuous ? Strenuous
Duration: 21 days from the UK
On trek: 13 days
Flight inclusive from £3,590,
Land only from £2,495
Book now or call 01453 844400
Crossing the Annapurna massif via high passes and remote valleys
Highlights
Camp at 5,000m at Lake Tilicho with its stunning sunrise
Visit the remote mountain villages or Phu and Naar and get away from the main trail and into a truly remote area
Take in the stunning views from the Kang la Pass and the breathtaking Tilicho mountain range
Relax in a four-star hotel in Kathmandu and enjoy a guided walking tour
This trek takes you to areas you simply can't see without a knowledgeable local guide. The Naar and Phu section of this trek only opened up recently to trekkers and is still very much a hidden gem that most walkers to the area are unaware of. As such it offers you the opportunity to get away into a truly beautiful and peaceful area.
The villages you will visit are remote and beautiful; Phu is built like a hill fort with the barley fields taking up any other available space. The monastery that sits above the village is worth the extra walk, providing 360 degree views of the surrounding mountains. The villagers of Naar are very friendly and are likely to invite you into their homes for a cup of local butter tea which provides you with a fascinating insight into local life and the pride that each family takes in their mud brick houses.
The high passes on this trip are a challenge but they are worth the effort for the amazing sense of achievement and the spectacular views you get upon reaching the summit. The one thing all the passes have in common is the amazing views from the tops, ensuring that tired legs will be forgotten and your breath will be taken away for an entirely different reason.
Tilicho Lake is one of the world's highest lakes at an elevation of just under 5,000m. The mountains towering over the lake are considerably higher, with the highest being Tilicho peak at 7,134m. The proximity of these high mountains is incredible and provides you with amazing views along the mountain range that will stay with you long after the trip is finished.
---
At a glance
Grade: Strenuous
Strenuous
Duration: 21 days from the UK
On trek: 13 days
Max. Altitude: 5,322m/17,460ft, Kang La Pass, Day 13
Guaranteed to run for a minimum of 4 clients
Maximum group size: 8
Land only joining city: Kathmandu
Accommodation types: Hotels, Tea Houses, Camping
Meal arrangements: All meals on trek, bed and breakfast in Kathmandu and Pokhara
Itinerary overview
| Day | Activity |
| --- | --- |
| 1-2 | Fly to Kathmandu |
| 3-4 | Sightseeing in Kathmandu and drive to Bandipur |
| 5 | Drive to Besisahar and continue to Dharapani by jeep |
| 6 | Trek from Dharapani to Koto |
| 7 | Trek to Chhaucha Oder |
| 8-10 | Trek to Meta and on to Phugaon. Rest day with walk to Tashi Choling Gompa |
| 11-14 | Trek back to Meta and on to Nar. Continue to Ngawal over the Kang La Pass, 5,322m/17460ft and to Manang |
| 15-16 | Trek to Tilicho Base Camp and on to Tilicho High Camp. |
| 17 | Trek over Mesokanta La to Yak Kharka |
| 18-19 | Trek to Jomsom and fly to Pokhara |
| 20-21 | Fly to Kathmandu and fly to UK |
Leader: Local Leader, Nepal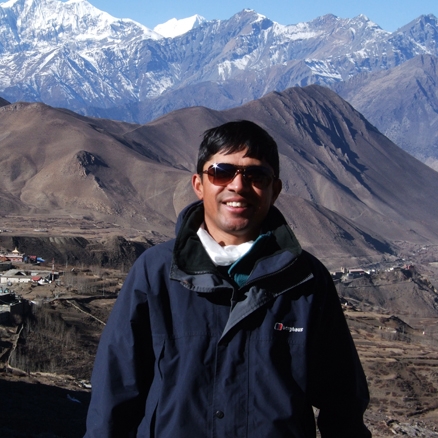 Whether it's a cultural tour, gentle walking holiday or strenuous trek, our holidays in Nepal are led by professionally-trained English speaking leaders. They have an intimate and expert knowledge of the history, culture and nature of Nepal and will make your trip a memorable experience.
---
Naar-Phu & the Annapurna Traverse Itinerary
Day 1 - Fly London To Kathmandu

Fly overnight from London to Kathmandu.

Overnight: In flight

Day 2 - Arrive Kathmandu. Group transfer to hotel.

You will be met upon arrival at the airport where one of our staff will be waiting to greet you. They will more than likely spot you and your bright red Mountain Kingdoms duffel bag before you spot them, but they will be carrying a Mountain Kingdoms sign just in case. They will then transfer you to your hotel. You might like to venture out to Thamel for your evening meal, or eat in the hotel restaurant if you are tired from your journey.


Overnight: Shangri La Hotel, Kathmandu

Day 3 - Half day sightseeing tour. Afternoon at leisure.

This morning you will head out on a sightseeing tour, visting the Swayambhunath Temple (also known as the Monkey Temple) and the Durbar Square in the heart of the city. Many of Kathmandu's most historic and important temples are located here. You will also have a chance to visit Thamel with its multitude of shops and souvenirs.

The rest of the day is free for you to either explore the streets of Kathmandu or simply relax by the pool at your hotel. You can either choose to eat in the restaurant at your hotel, or head out to one of Kathmandu's many great restaurants.

Overnight: Shangri La Hotel, Kathmandu

Day 4 - Drive to Bandipur - 4-5 hours. Explore village.

Today, after breakfast you will drive out of the Kathmandu valley and west along the main Kathmandu to Pokhara road. After some hours, passing through the town of Mugling and continuing west you turn off to drive up to the lovely Newari village of Bandipur. You will stay here overnight to break the long drive to the start of your trek. Bandipur is a traditional Newari village, set high on a ridge, with pretty traditional houses and quiet paved streets. Once a thriving town on the trade route to India, Bandipur was left stranded when the main Pokhara to Kathmandu road was built far below in the valley. The village is proud of its environmental credentials and has been carefully restored while managing to maintain the traditional lifestyle of its inhabitants. Bandipur commands panoramic views of the Himalaya and on a clear day, from the village, you can see the whole Annapurna range in front of you, as well as peaks in Langtang to the east and Dhaulagiri in the west.

You should have time in the afternoon for a bit of exploration and a leg stretch. There are some easy, pretty walks starting from your hotel in Bandipur bazaar, such as the walk to Ramkot village (2 hours), a walk in the mixed Sal forest at Raniban east of the bazaar, or to Purano Kot, an old fort, 20 minutes/500m west of the bazaar. There is a small temple containing some old statues and next to it a newly built temple. Local people believe that praying here during a drought to the god Mahadev will bring rain.


Overnight: The Old Inn, Bandipur

Day 5 - Drive to Besisahar, 50 km - 2 hours. Continue by local jeep to Dharapani – 35 km - 3 hours.

In the morning you may rise early to enjoy, if the mountains are clear, spectacular sunrise views of the mountain ranges of Dhaulagiri, Annapurna and Manaslu.

Then, after breakfast you continue your drive to the start of your trek. Firstly you drive down from the ridge on which Bandipur is situated to rejoin the main Kathmandu/Pokhara road. Driving along this road for a short while you soon turn north up the road which leads up the valley of the Marsyangdi River, towards the town of Besisahar. Upon arrival at Besisahar, it's time to switch vehicles and board a 4 x 4 vehicle to take you to Dharapani. The track for this section is quite rough and bumpy. The lovely village of Dharapani has great views across the river to the towering rock face that forms the other side of the valley and your well situated tea house for the night is a great spot to watch the last rays of the sun catching the mountains.

Overnight: Tea House

Day 6 - Trek to Koto, 2,600m/8,530ft - 5-6 hours.

You will be woken this morning with tea in bed and the welcoming sight of the first morning rays of the sun hitting the high peaks. After breakfast, you will start walking gently uphill, with the fresh morning air and the sights and sounds of the valley waking up all around you. As the warm rays of the sun hit the path you will notice that the trail comes alive, with colourful butterflies mimicking the colours of the prayer flags flapping in the wind. Behind you the impressive sight of the snow covered summit of Manaslu will come into view. From here the trail zigzags and the views get better and better as you climb through the towering pine forest.

The trail soon opens up to a 360 degree panorama with Manaslu as the focal point. For the rest of the afternoon the trail contours around the valley. As you approach Koto your guide may point out the direction for tomorrow's trek; it may well look as though you will be walking into a cliff face, but rest assured there is a narrow valley leading the way. Koto is a small village in the shadow of the mighty Annapurna II, which when lit up by the moon, shines astoundingly brightly.


Overnight: Tea House

Day 7 - Trek to Chhaucha Oder, 3,010m/9875ft - 4-5 hours.

This morning you will need your permits ready, as you will be passing through the checkpoint that separates Naar and Phu from the Annapurna Circuit. From here on in you are unlikely to see another group and if you do, it's likely to be a group of mountaineers on their way to summit attempts of the 7,000m+ peaks that loom at the end of this valley. Firstly you cross the Marsyangdi river to start the ascent up the Naar Phu valley. You will notice once you leave the main trail that the path changes into a narrower track which requires more attention when trekking. Initially the trail has been created by blasting into the rock in places. You ascend through beautiful pine forest, crossing the Phu Khola three times on suspension bridges. The walk is mostly in the shade of a deep gorge with views of the Annapurna wall behind you. There are few tea-houses along the way today, just the occasional basic tea shop or cave so it is important to be topped up with water before you leave. Today you will stop for the night in the middle of dense, mixed forest at a place called Chaucha Oder (oder = cave). This is not a village but was traditionally a place used as shelter by sheep herders and the people of Naar Phu travelling up the gorge. Now there are a few tea shops here, one of which offers accommodation. You will arrive in time for lunch and have an afternoon to relax.


Overnight: Tea House

Day 8 - Trek to Meta, 3,560m/11,679ft – 4-5 hours.

Today you trek through mixed forest of pine and juniper and mixed scrub. You cross several suspension bridges and pass some hot springs, to reach Dharmasala. From Dharmasala you ascend through juniper scrub to reach the Meta stream which you cross and then ascend to your first pass on loose moraine and glacier debris. From the pass you will be greeted by the welcome sight of tonight's stop, the remote mountain town of Meta. The village provides a great vantage point to take in all the views, with views stretching back to where you have been and in front the Kang la, where you will be in the near future. You will have the afternoon to rest and enjoy the views.

Overnight: Tea House

Day 9 - Trek to Phu, 4,200m/13,799ft - 7-8 hours.

The walk today is quite long with lots of ups and downs, but with stunning views all along the route. You start today with views to the other side of the valley where you will be walking past in a few days' time (Mahendra Pul). As you follow the valley up to Phu, you will be shaded from the morning sun for the first couple of hours of the day. As you start to climb past gompas and seasonal shepherd's huts, you may notice the high altitude flower Edelweiss growing in beautiful bunches.

With dramatic views up to the Kangaru glacier on your right, you make your way up to Kyang, a settlement used by the shepherds in winter when Phu is too cold for the livestock. From here it's down to the valley floor to follow the Phu Khola River upstream. Keep an eye out on the other side of the valley for blue sheep clambering over the rock face. The price you pay for reaching Phu is a short sharp climb up to the gates marking the start of the village territory. Don't forget your stone to add to the pile at the top. From here it is a gentle walk into this beautiful village and your tea house for the next two nights.

Overnight: Tea House

Day 10 - Acclimatisation/rest day and walk to Tashi Choling Gompa, 4,746m/15,571ft – 2-3 hours walk.

Today you have time to rest and acclimatise, with gentle walks around the village and up to the Tibetan influenced hilltop monastery, a sign of the close links Phu has with Tibet. The border with Tibet is not much further north of Phu and in the past the local villagers would regularly trade with their Tibetan neighbours, and as such the village is a fascinating mixture of cultures. The village itself resembles a hill fort and is a rabbit warren of little paths and tracks leading to people's homes and barley stores. The main crop here is barley which is harvested in early October, a time when the whole village is alive with activity.

The walk up to Tashi Choling Monastery is well worthwhile both for the cultural interest of the gompa itself and the views of the summit of Pokharkan, 6,346/30,821ft, and it's also valuable for acclimatization. It's fascinating to walk around the gompa and take in all the little details, from the slate carvings to the numerous gompas and prayer flags.


Overnight: Tea House

Day 11 - Trek to Meta, 3,560m/11,679ft - 6-7 hours.

Today you will follow the trail back down the valley you climbed up a couple of days ago. The walk should be a bit quicker today as you are losing more altitude than gaining and your legs will be stronger from the rest day. As you retrace your steps it's surprising how different the scenery looks heading the other way. You will arrive back in Meta to see the familiar faces from a few days ago greeting you.

Overnight: Tea House

Day 12 - Trek to Naar, 4,200m/13,780ft - 3-4 hours.

It's a half day walk to Naar, but the morning still involves a fair amount of climbing so take it steady and enjoy the views. As you approach Mahendra Pul you will see the wire bridge that crosses the valley, with a long drop and a river underneath. You may want to pay a visit to the monastery on the other side to give your thanks for a successful crossing. There are in fact two monasteries on this side and it is worth visiting both of them, noting the contrasting styles of traditional and contemporary.

Later in the morning you reach a large stone wall and will have made it to the outer limits of Naar village. The main livestock here is the woolly yak; they are big creatures and should be treated with respect, so don't get too close!

As you pass the gompa situated inside the wall you will get your first glimpse of Naar. It's very different from Phu and a lot more open, with more farming land. The houses themselves are all linked by small wooden ladders and narrow paths and it is fascinating to go for a walk/climb about and to meet the incredibly friendly local people. The village has four beautiful monasteries in the North, South, East and West.

Overnight: Tea House

Day 13 - Trek to Ngawal, 3,660m/12,008ft, via Kang-La Pass, 5,300m/17,388ft - 8-9 hours.

Today you will be crossing your first pass over 5,000m/16,404ft, so an early start is a good idea, Be sure to take plenty of water as there are limited options once you set off. The local villagers will already be up and working away. You will walk through the village gates and start climbing and the next 4+ hours will be spent heading up to the pass, so it is best not to set off too fast. As you start climbing you will notice the water channels created for irrigation and the local hydro-electric power station.

The best views of the Annapurna range are to be found on the other side of this pass. As you reach the jagged ridge line at the top of the Kang-la Pass you will have time to sit down and enjoy this spectacular view and take all the pictures you want. From here it will be downhill all the way to Ngawal. The trail is quite steep to start with, but it levels out as you make your way down. As you look back up to the pass it's hard to grasp the scale as there are no trees to help you judge distances. After about 3 hours you will reach Ngawal and your stop for tonight.

Overnight: Tea House

Day 14 - Trek to Manang, 3,540m/11,614ft - 3-4 hours.

It is only a half day walk today to Manang through the pine forests with views back up to the Kang-la Pass reminding you just how high you were yesterday. As you make your way back towards the main Annapurna circuit trail, there will be a few indications that you are reaching 'civilisation' again, with German bakeries and fresh coffee on offer on your walk towards Manang. As you approach the town you will notice various other side walks heading off from the main trail, but none of these are quite as stunning as Tilicho Lake, where you are heading in a few days.

The village of Manang is the largest on your trek and offers such luxuries as hot showers, the internet and a cinema (DVD player and a projector). Lots of trekkers take a rest day here, before making their way up to the Thorung la Pass. As you marvel at just how much oxygen there is down here at 3,500m/11,482ft, for most people here it will be the highest point of their walk so far and they may well be wheezing their way up through the village.

You should arrive in time for lunch leaving all afternoon to explore the town and visit the various cafes offering fresh coffee, apple pies and muffins.

Overnight: Tea House

Day 15 - Trek to Tilicho 'Phedi' Base Camp, 4,150m/13,616ft – 6-7 hours.

Leaving Manang for the next section of your epic journey you walk to Khangsar village, which is around a three hour walk away. As you leave Manang be sure to give the mani wheels a spin for good karma on your onward journey. Trekking along a wide trail, don't forget to look behind you as there are lovely views back down the valley towards Manang. Just before you reach Kangsar, the ancient gompa of Tasab is well worth a visit.

The trail is alive with the smell of fresh mint and large birds of prey soar majestically overhead. Once past Khangsar the trail is prone to landsides as the path contours round the side of the mountain. The views are expansive and epic, but it's best not to hang around too long for pictures!

Overnight: Tea House

Day 16 - Trek to Tilicho High Camp, 4,985m/16,355ft - 5-6 hours.

After breakfast at your tea house you will set off for high camp. This morning there are a couple of stream crossings; be careful first thing as the path can be icy and makes the crossings difficult. The trail zigzags upwards, continually climbing, but at a steady gradient. Every time you stop to catch your breath the beauty of the area amazes you. As you approach the top of the pass the tall upturned stones used to mark the path in winter make you think of how different this pass would be in heavy snow.

As you reach the top and make your way round to the viewpoint the first thing to strike you is how impossibly turquoise this glacial lake is, then the sheer scale surprises you. The left hand side of the lake is a mixture of glacier and the sheer rock face of the Tilicho range. After some time relaxing with a cup of hot tea and taking pictures it will be time to head round to your campsite for the night, which is about an hour's walk around the lake.

Tonight will be your first night of camping. The tents will be set up for you and dinner will be a delicious feast prepared by your camp chef. The campsite for tonight is next to a beautiful glacial stream and the sound of the babbling water will lull you to sleep.

The evening is spent admiring the sun setting on the mountains and being spoilt by your camp chef.

Overnight: Camp

Day 17 - Trek to Yak Kharka, 4,100m/13,451ft, via the Mesokanto La, 5,120m/16,798ft - 6-7 hours.

After a lovely camp breakfast and some hot cups of tea it is time to start walking again, as you make your way to the last high pass of the trip, the Mesokanto La. There is a fair amount of up and down on today's walk and you actually reach a high point fairly early on in the day's walk at nearly 5,300m/17,388ft. From here it's downhill to a mixture of boulder and slate fields.

The path then starts climbing again and heads up to a ridge line with great views back to the lake, from exactly the other side of the lake that you were on just yesterday. From here it's onwards to the Mesokanto la and the Rhino horn shaped rock that marks the pass. As you reach the pass you will be greeted by another stunning 360 degree panorama. The mountains in front of you are the Dhaulagiri range with the highest peak at 8,167m/26,794ft. From here it's a steep downhill path to tonight's campsite at Yak Kharka.

Overnight: Camp

Day 18 - Trek to Jomson, 2,800m/9,186ft - 4-5 hours.

This is the last day of walking on the trek and it will be all downhill. After another delicious camp meal last night and breakfast this morning, it is time to make your way to Jomson. The landscape changes from shrub-like bushes to sparse trees to desert-like features the further you head down the valley. Far off in the distance you will notice the runway at Jomson. You will get a sense of the scale of this area when you notice how tiny the planes look as they take off. There is still a fair amount of walking to do.

As you gradually make your way down and reach Jomson, you will notice that compared to your remote nights of camping, this little town seems more like a bustling metropolis. For the first time in a good few days you will see vehicles with 4 wheels and you may get a swift reminder that you are no longer 'king of the road' with the honk of a lorry's horn. After a hot shower and a cold drink it's time for dinner and the opportunity to celebrate with your trekking crew, and to thank them for all their hard work.

Overnight: Tea House

Day 19 - Fly to Pokhara.

After breakfast it's time to head to the airport to board your plane for the scenic flight to Pokhara. As the plane takes off, the scenery changes from a relatively barren landscape to dense forest. Upon arrival in Pokhara the heat hits you as soon as you step from the plane; luckily your hotel has a nice swimming pool to relax in.

Pokhara is a vibrant town and has many shops, restaurants and bars for you to explore. Many of the cafes overlook the beautiful lake and offer a relaxing option for those looking to put their feet up. This is also a well know paragliding area and on a normal day you will see up to 30 in the air at any one time; amazingly whilst you were camping at Tilicho lake you were over three times the altitude that they fly at.

Overnight: Shangri La Village Hotel, Pokhara or Similar

Day 20 - Fly to Kathmandu. Time at leisure.

Then it is back to the airport for your flight to Kathmandu in the morning. Upon arrival at Kathmandu you will head to your hotel.

The rest of the day is free for you to either explore the streets of Kathmandu or simply relax by the pool at your hotel. It's your last night in Nepal. You can either choose to eat in the restaurant at your hotel, or head out to one of Kathmandu's many great restaurants.

Overnight: Shangri La Hotel, Kathmandu

Day 21 - Group transfer to airport. Fly to London.

After breakfast you will bid a fond farewell to Nepal as you are transferred to the airport for your flight back to London.
Map
Map Key
Airport
Point of interest
Mountain Peak
Day walk in this area
Flights
Internal Transfers
Trek
---
2019
| Dates | Availability | Land Only | Flight Inclusive from |
| --- | --- | --- | --- |
| Sat 12 Oct - Fri 1 Nov 2019 | Available | £2495 Book | £3590 Book |
Hold your place
Not quite ready to book? Why not call us on 0044 (0)1453 844400 to hold a no obligation place while you make up your mind?
Optional supplements
Single tent
From £60
Single room Kathmandu & Pokhara
From £195
Insurance
No Surcharge Guarantee
No surcharges will be applied to your holiday after you book. Prices on this website are updated regularly. The Flight Inclusive holiday price, or Land Only holiday price, will be confirmed to you at the time you make your booking. There will be no surcharges after your booking has been confirmed.
Flight inclusive holidays
The 'flight inclusive' holiday prices shown on this website are based upon our preferred airlines and the best priced economy class fares we are able to secure at the time of publication.
We will be able to advise on fares with alternative airlines, upgrades to Business Class, and the options for flights from regional UK airports, please contact us for more details.
Loyalty discount
Find out more
What's included
An English-speaking Sherpa leader
Good standard hotel accommodation in Kathmandu and Pokhara on a bed and breakfast, twin share basis
Kathmandu sightseeing tour
Economy class return air fares from the UK & UK departure tax (flight inclusive option only)
Single, timed group airport transfer for international flights on arrival and departure
All internal flights and domestic transfers and all road transport by private vehicles
Free use of a good quality down jacket, sleeping bag and fleece liner
Trek staff and full porterage
Sherpa/porters properly insured and equipped
1 night in a lodge in Bandipur, 12 nights in tea houses, 2 nights camping
All camping facilities & staff to carry out camp work
Park fees
A free high-quality Mountain Kingdoms kit bag
Carbon offset for flights (flight inclusive option only)
The opportunity to attend one of our pre trip meets in the Cotswolds
What's not included
Travel insurance
Visa fees
Lunch and evening meals in Kathmandu and Pokhara
Tips
---
---
Review your holiday
Reviews
Read holiday reviews by Mountain Kingdoms travellers.
Overall score: 5.0 (Based on 4 reviews)
Naar-Phu & the Annapurna Traverse
Naar-Phu trek 12/01/2017
Well-organised trip.
Mr W & Ms B, Shropshire
Naar-Phu & the Annapurna Traverse
Naar-Phu & the Annapurna Traverse 11/01/2017
Well-organised staff at airports, hotels and on trek. Interesting slightly "non-mainstream" itinerary.
Mr J, Avon
Naar-Phu & the Annapurna Traverse
Stunning on all levels 10/11/2016
Out of all the many treks I have done in Nepal this is up there with the best. Fantastic variety of scenery, culture and wildlife. We met few other trekkers. The organisation was superb and the crew terrific. Lake Tilicho in the snow was a breathtaking sight - well worth a trip even if you do not continue over the pass. I can highly recommend this trip. Thanks to all.
Gillian Marshall, West Sussex
Naar-Phu & the Annapurna Traverse
I can't wait to go back!
This really was a trip of a lifetime. I loved every part of this trek, from the satisfaction of crossing the challenging mountain passes, through to the remoteness of the beautiful high mountain villages and camping at the stunning Tilicho lake. I can't wait to go back!
Jim Davies, Operations Manager, Mountain Kingdoms
---