What's included
Transfers to/from Leknes airport (or Stamsund ferry or Moskenes ferry) and the accommodation, in a private vehicle
Economy class return air fares from the UK (flight inclusive option). If you are travelling land only, check with our office for joining time at the airport.
Transfers to/from start /end of the walks, in a private vehicle
Good standard accommodation in Lofoten
All meals included whilst in Lofoten, as detailed in the itinerary
Entrance fee for the Viking Museum
A Mountain Kingdoms Appointed Leader
A free Mountain Kingdoms Water to Go bottle or a free Mountain Kingdoms micro fleece
The option of joining one of our four pre-trip meets in the Cotswolds
and much more...
Call our
friendly team
Midnight Sun & the Mountains of Lofoten
Walking & Trekking
Grade: Vigorous ? Vigorous

Book now or call 01453 844400
Enjoy wonderful day walks exploring the scenic coastline and impressive peaks of Norway's beautiful Lofoten Islands.
Highlights
Six days walking above the Arctic Circle, with an aim to summit five different mountains
Stay in a beautiful and comfortable converted vicarage, near to the beach
Super views across the dramatic mountain, fjord and coastal scenery
Discover Lofoten's history at the Viking Museum
The natural beauty of the Lofoten archipelago, lying to the west of Norway, derives from its jagged mountains which rise abruptly from the crystal clear sea, and a coastline dotted with secluded white sand beaches. Here, above the Arctic Circle, the sun never sets during the summer, giving unlimited opportunity to enjoy the stunning scenery — even at midnight.
Based at the lovely Old Vicarage on the coast of Flakstadøy Island, a traditional lodge with stylish Scandinavian décor, this walking holiday has been designed to make the most of the impressive landscape. We aim to walk to a different summit each day for far-reaching views of the mountains, fjords and fishing villages of Lofoten, and even across to the mainland. To give our legs a rest, we also spend a day visiting a Viking Museum to learn about the history of the islands, before taking a leisurely walk along the beautiful pristine coast.
---
At a glance
Grade: Vigorous
Vigorous
Max. Altitude: 964m/3,163ft, Himmeltindan summit, day 5
Guaranteed to run for a minimum of 6 clients
Maximum group size: 8
Land only joining city: Leknes
Accommodation types: Lodge
Meal arrangements: All meals are included whilst in Lofoten. This includes a continental-style breakfast buffet, a packed lunch which you prepare at breakfast, a snack on return from the walk and a good, healthy, home cooked dinner. Special diets are catered for with notice prior to departure. Alcoholic drinks are not included, but can be purchased locally.
Itinerary overview
| Day | Activity |
| --- | --- |
| 1 | Arrive Leknes. Transfer to accommodation. |
| 2 | Walk to the summit of Ryten, 543m/1,781ft - 6–7 hours. |
| 3 | Walk to the summit of Moltinden, 485m/1,591ft - 7–8 hours. |
| 4 | Visit Viking Museum and coastal walk - 2-3 hours. |
| 5 | Summit Himmeltindan, 964m/3,163ft - 6–7 hours. |
| 6 | Summit Tverrfjellet, 490m/1,608ft - 6–7 hours. |
| 7 | Summit Hustind, 691m/2,267ft - 5-6 hours. |
| 8 | Return to Leknes airport for flight to London, or Stamsund ferry terminal. |
Leader: Roope Roine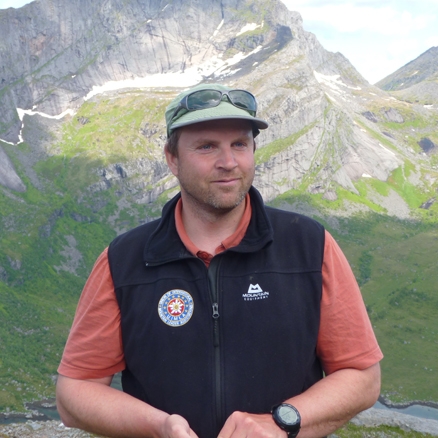 Roope Roine (IML, MIA) is a mountaineer with 20 years' experience of walking and climbing around the world including four years' experience leading treks in Lofoten, and is very knowledgeable of the geography, culture and wildlife of the area. Born and raised in arctic Finland, he works as a mountaineering instructor in Scandinavia. He has lead treks and climbing trips in Nepal, South America, and Greenland and spent two years working at the National Mountaineering Centre (Plas-y-Brenin) North-Wales. When not in the mountains he spends his time in a sea kayak. Other passions include photography and he loves Scottish winter climbing and walking. Alternatively, we will use another western leader with equal qualifications and experience.
---
Midnight Sun & the Mountains of Lofoten Itinerary
Day 1 - Fly to Leknes.

Arrive in Lofoten either by air at Leknes Airport (or by prior arrangement at the ferry at Stamsund). You will be met and transferred by private minibus to the Old Vicarage (Prestgård), your base for the holiday. In Lofoten, the sun doesn't set during midsummer, the natural phenomena known as the Midnight Sun. This happens because the earth is tilted on its axis so that the Polar Regions are constantly facing the sun at their respective summer solstices and are tilted away from the sun in winter. Visitors may initially find it difficult to sleep whilst it is light, so it may be necessary to use an eye mask. Being light for 24 hours means that there is no rush to return from the mountains and the Midnight Sun is best seen from Flakstad beach about 300m away from your accommodation.

Overnight: Prestgård (Old Vicarage)

Day 2 - Walk to the summit of Ryten, 5,43m/1,781ft - 6–7 hours.

After breakfast, you will drive for 20 minutes to the start of today's walk. You begin walking quite steeply uphill, before dropping down to the sandy Kvalvika beach. Here it may be possible to visit a small hut built into the mountainside, resembling one of Tolkien's hobbit houses. It was built by two men who, as a challenge, decided to live on this beach and build a shelter made only from materials washed up on the beach. The walk then continues steeply up the mountain to the right hand side of the beach until you reach a circular lake and then on to the summit. On a clear day you can enjoy your picnic lunch overlooking the beach you have just visited and out across the sea. You then descend back to the lake and from here take a different path back down towards the road and then a short minibus drive back to the accommodation.

Situated next to the Prestgård is Flakstad Church, a red wooden building with an onion shape dome. There has been a church on this spot since the 13th Century, but it was rebuilt in 1780, after a storm wrecked the original. Some of the interior has been salvaged from the old church. There are views of the church from the dining room and some of the bedrooms and it looks particularly pretty illuminated by the midnight sun.


Overnight: Prestgård (Old Vicarage)

Day 3 - Walk to the summit of Moltinden, 485m/1,591ft - 7-8 hours.

Today you walk to the summit of another mountain, Moltinden, on the island of Flakstadøy. At first you follow a steep path until you reach a plateau, where the path disappears. You now climb over the rock face and scree to reach the top of the mountain, and carefully walk along the ridge to reach the final summit. Despite being only 485m/1,591ft high, the summit gives 360° views out over lakes, fjord and the coast, as well as views to other impressive peaks, carved by glaciers during the last ice age. Descend to the east coast, again carefully walking across and over large boulders. Lunch may be taken in a sheltered spot overlooking a fjord. You may be able to catch sight of a sea eagle or two. The bird, also known as the White-tailed eagle, may appear to be quite common, but 30 years ago the population was under threat as farmers accused the eagle of taking their livestock. In fact the eagle is largely a scavenger, feeding on dead and dying fish, carrion, and prey taken from other animals. Sea birds are also targeted. The eagle weighs between 3-7kg, with a wingspan of 2m and once mature at about 4 years old, they pair for life.

After lunch you can visit a small cave where archaeologists think humans were living about 3,000 years ago. The walk then follows around the rocky coast, but approximately 100m above the sea. This is probably the longest walk you will do this week, and due to the undulating path, the total ascent and descent is about 900m. You may like to stop and refill your water bottle at the waterfall you pass. The route eventually joins back to the plateau you passed through at the beginning of the day, and the path back to the minibus. It is approximately 30 minutes' drive back to the accommodation.


Overnight: Prestgård (Old Vicarage)

Day 4 - Visit Viking Museum and coastal walk - 2-3 hours.

It is a 30 minute drive to the Lofoten Viking Museum at Borg on Vestvågøy Island. The museum includes a full scale 83m long reconstruction of Europe's largest Viking Longhouse, built after archaeological evidence was unearthed on this spot. You can see an exhibition, film and craft demonstrations, as well as try on replica Viking armour, and learn more about the heritage of Lofoten. After the museum visit you drive a short distance to the west coast. This gentle walk starts at one bay, follows a level gravel track around the base of a cliff and finishes at another beautiful bay. There's a picnic table sheltered in a cave about half way around where you can have lunch. This gentle day has been built into the itinerary as an opportunity to give your legs a rest and to find out about the history of Lofoten. In addition, if the weather is bad, you will swap one of the longer walks for this shorter walk and museum visit.


Overnight: Prestgård (Old Vicarage)

Day 5 - Summit Himmeltindan, 964m/3,163ft - 6-7 hours.

It is about 30 minutes' drive to the start of today's walk on west coast where you will have done the short coastal walk. You follow a stream up the mountainside to a glacial lake. From here the route zig-zags up towards the summit, the path varying between soil, bog, boulders and perhaps even snow. Reaching today's summit is a great achievement - and the view more than compensates for the steep walk up! The mountain is called 'Heavenly Mountain' and it does feel like you are on top of the world, despite being less than 1,000 m high. There are views of the mountains, lakes, villages and coast of Lofoten and even across to the mainland on a clear day. There is a Norwegian tradition of keeping a book at the summit, which is signed by people upon reaching the top, like a guest book. After lunch at the summit you walk back down the same way, but this way around you can fully appreciate the view. If it is a warm, sunny day, you may like to relax on the white sandy beach before driving back to the accommodation.

As you travel around the islands you will see many wooden racks along the coast, used for drying cod. This traditional preservation method is used to dry the fish between February and May, producing 'stockfish'. 'Stockfish from Lofoten' is a geographically protected name in Norway such as Champagne and Parma Ham. Vikings were the first people to introduce stockfish to the rest of Europe, and it is still produced in the same way today.


Overnight: Prestgård (Old Vicarage)

Day 6 - Summit Tverrfjellet, 490m/1,608ft - 6-7 hours.

A 20-30 minute drive will take you to the start of today's walk on the island of Moskenesøy. Whereas the other walks you will have done this week involve a steep ascent at the beginning of the walk, this walk starts off with an hour of walking on fairly level ground, through a lush vegetated area. Because of this the area will be boggy so gaiters or waterproof trousers are an advantage this day. The path reaches a lake and then zigzags up the mountain to the summit, which makes a good lunch spot. This is a relatively low mountain, circled by much taller mountains whose steep sides and pointed peaks were shaped by glaciers. Your guide will probably tell you more about how the landscape was created. You take a slightly different path down from the summit to the lake and then back down through birch and ferns, to the minibus.

Overnight: Prestgård (Old Vicarage)

Day 7 - Summit Hustind, 691m/2,267ft - 5-6 hours.

On the other side of the fjord from our accommodation stands Hustind. A 20 minute drive around the fjord to the village of Vikten takes you to the starting point for this walk. The path climbs up the hillside past a small lake. When the terrain steepens the path disappears and you are left to choose your own way up to the north ridge. The broad ridge rises gently to the summit. After descending back down the mountain to the village you may like to visit the local glass blowers workshop and have a stroll along the white sandy beach before returning to your base.

This is the last night at the accommodation, so there will probably be an extra special dinner. You might like to stop off and buy some celebratory drinks at the nearest supermarket on your drive home.


Overnight: Prestgård (Old Vicarage)

Day 8 - Return to Leknes airport for flight to London, or Stamsund ferry terminal.

After breakfast you will be transferred to either Leknes airport or Stamsund ferry terminal for your journey back to the mainland ready for your flight home.
Map
Map Key
Airport
Point of interest
Mountain Peak
Day walk in this area
Flights
Internal Transfers
Trek
---
No Dates Available
There are no available booking dates for this holiday yet since we are still finalising details. If you are interested in this holiday and would like further details, please contact us.
Hold your place
Not quite ready to book? Why not call us on 0044 (0)1453 844400 to hold a no obligation place while you make up your mind?
No Surcharge Guarantee
No surcharges will be applied to your holiday after you book. Prices on this website are updated regularly. The Flight Inclusive holiday price, or Land Only holiday price, will be confirmed to you at the time you make your booking. There will be no surcharges after your booking has been confirmed.
Flight inclusive holidays
The 'flight inclusive' holiday prices shown on this website are based upon our preferred airlines and the best priced economy class fares we are able to secure at the time of publication.
We will be able to advise on fares with alternative airlines, upgrades to Business Class, and the options for flights from regional UK airports, please contact us for more details.
Loyalty discount
Find out more
What's included
Transfers to/from Leknes airport (or Stamsund ferry or Moskenes ferry) and the accommodation, in a private vehicle
Economy class return air fares from the UK (flight inclusive option). If you are travelling land only, check with our office for joining time at the airport.
Transfers to/from start /end of the walks, in a private vehicle
Good standard accommodation in Lofoten
All meals included whilst in Lofoten, as detailed in the itinerary
Entrance fee for the Viking Museum
A Mountain Kingdoms Appointed Leader
A free Mountain Kingdoms Water to Go bottle or a free Mountain Kingdoms micro fleece
The option of joining one of our four pre-trip meets in the Cotswolds
---
---
Review your holiday
Reviews
Read holiday reviews by Mountain Kingdoms travellers.
Overall score: 5.0 (Based on 9 reviews)
Midnight Sun & the Mountains of Lofoten
Midnight Sun and the Mountains of Lofoten 15/08/2017
This is a lovely week in wonderful scenery, comfortable accommodation with excellent meals provided by Katya. The trip was well graded and our leader was first rate.
Dr C, Cumbria
Midnight Sun & the Mountains of Lofoten
Mountains of Lofoten 15/08/2017
We had a great trip and it fully met our expectations. Roope modified the trip to make the most of the excellent weather that we were lucky enough to experience. The views from the peaks were stunning.
Mr B, Gloucestershire
Midnight Sun & the Mountains of Lofoten
A great week of walking with spectacular views 08/07/2017
A most enjoyable week in which we clambered up some of the Lofoten's peaks and were rewarded by stunning views in fine sunny weather. The trip fully met our expectations.
Jenny & John Bartram, S Glos.
Midnight Sun & the Mountains of Lofoten
Lofoten Islands - great scenery 28/06/2016
All the meals and snacks after the walks were of very good quality, quantity and variety. The scenery and the walks were first-class. All went without a hitch. Staff were very helpful and friendly. The group got along well.
Mr J, London
Midnight Sun & the Mountains of Lofoten
Lofoten Islands - pleasant holiday 28/06/2016
An extremely good trip with pleasant company and great weather. Accommodation and food was of a high standard. Amazing scenery, great holiday! Thank you.
Ms J & Mr W, Essex
---
Extend your holiday
There are many ways you can extend your holiday with Mountain Kingdoms: book extra hotel nights, relax at a beautiful beach resort, take a warm-up trek, arrange a personal sightseeing tour or enjoy specialist activities such as rafting, birdwatching or a safari.
We're happy to suggest ideas, provide quotes and make all the arrangements. We can also assist with flight and hotel upgrades. Just call us on +44 (0)1453 844400 or email info@mountainkingdoms.com and we will be pleased to help.