What's included
Four local leaders (Caracas, Ciudad Bolivar, on trek, Canaima)
Economy class return air fares from the UK & UK Departure Tax (flight inclusive only)
All internal flights and hotel/airport transfers
Good standard guesthouse accommodation in Caracas, on bed and breakfast basis
Comfortable guesthouses/lodges in outlying towns
Full service camping on 5 nights
All road transport by private vehicles
All meals outside Caracas
Costs of all porterage and porter insurance
Sightseeing where specified
Carbon offset for clients taking our flight-inclusive option
A free high-quality Mountain Kingdoms kit bag
The option of joining one of our pre-trip meets in the Cotswolds
and much more...
Call our
friendly team
Lost World Trek, Venezuela
Walking & Trekking
Venezuela | Walking & Trekking
Grade: Moderate ? Moderate

Book now or call 01453 844400
An inspirational adventure incorporating Angel Falls and the classic trek to Mount Roraima.
Highlights
Fully supported camping trek to the summit of Mount Roraima
An overflight of Angel Falls in the dry season or a boat trip to the base of the falls in the wet season
Domestic flights included to avoid several long road journeys before the trek
Comfortable lodges and guesthouses; beach & wildlife extension options available
Reviews
I thoroughly enjoyed the trek. The guide was fantastic.
Ms A, Devon
View All
Our journey through the magnificent highlands of Venezuela begins with a flight from the colonial city of Ciudad Bolivar. We then start our six-day trek, taking in the summit of Mount Roraima, 2,810m/9,220ft. This seemingly impregnable plateau sits atop sheer cliffs that tower some 400m/1,300ft above the surrounding grasslands. However, in a style reminiscent of Conan Doyle's famous tale, we take a hidden route through cloud forest and beneath waterfalls to reach the 'Lost World' above. Two nights on the plateau give us time to trek on to the 'Triple Point', where Venezuela borders Brazil and Guyana, and to explore this most exotic of mountain summits.
After our trek, we fly to Canaima from where we view Angel Falls, the highest waterfall in the world. This gives a spectacular climax to a memorable trip, which has been carefully designed to avoid long driving days, provides comfortable accommodation and offers a first-rate trekking experience.
Important note - travel advice
The Foreign and Commonwealth Office are currently advising against all but essential travel to Venezuela. We are accepting provisional bookings on this trip in the hope that the advice will change in the near future. However, we won't accept confirmed bookings until the advice actually changes. If you would like to reserve a provisional place on our Lost World Trek, Venezuela trip, please call us on 01453 844400. FCO updates can be found here.
---
At a glance
Grade: Moderate
Moderate
Max. Altitude: 2,810m/9,220ft – Roraima ( day 6)
Guaranteed to run for a minimum of 2 clients
Maximum group size: 12
Land only joining city: Caracas
Accommodation types: Hotels, Lodges, Camping
Meal arrangements: Bed and Breakfast in in Caracas. All meals elsewhere.
Itinerary overview
| Day | Activity |
| --- | --- |
| 1-2 | Fly to Caracas, Puerto Ordaz and transfer to Ciudad Bolivar. Afternoon city tour. |
| 3-4 | Fly to Santa Elena and transfer to Eco Lodge. Drive to Paraitepuy and begin Roraima trek. |
| 5-7 | Trek to Base Camp then ascend to the Roraima Plateau. Thorough exploration of the plateau including a walk to Triple Point where Brazil, Venezuela and Guyana meet. |
| 8-9 | Descend to Tek River and return to Paraitepui to end trek. Drive to Santa Elena. |
| 10-11 | Fly to Canaima, afternoon walk to Sapo Falls. Travel to Kavac for a full day excursion including a flight over Angel Falls or an exciting river trip to the base of the falls. |
| 12-14 | Fly to Caracas via Puerto Ordaz, overnight in Caracas. Fly to London. |
Leader: Local Leader, Venezuela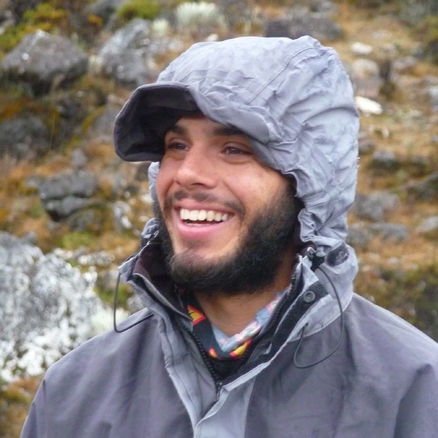 The trekking element of your trip will be led by an experienced trekking guide who is ideally placed to give you an insight into the environment through which you will be walking and is of course trained to take care of your safety and welfare. In Caracas and Puerto Ordaz you will be escorted by representatives of our local partners and in Canaima the group will have the services of a local guide.

Our Venezuelan leaders are selected on the basis of their experience, levels of spoken English and helpfulness.
---
Lost World Trek, Venezuela Itinerary
Day 1 - DEPART LONDON.

Fly to Caracas. Upon arrival, transfer to your first night's accommodation close to the airport.

Overnight: Miramar Suites Hotel

Day 2 - FLY TO PUERTO ORDAZ, DRIVE TO CIUDAD BOLIVAR, SIGHTSEEING

This morning you make the short transfer to the domestic terminal at Caracas airport for a domestic flight southwards to the town of Puerto Ordaz. Situated on the banks of the Orinocco River, Puerto Ordaz is a busy port city and growing commercial centre. On arrival here you will drive (approx. 1 hour) to one of Venezuela's most charming colonial cities, Ciudad Bolivar - capital of Bolivar State.

The settlement here, above the Orinocco, was originally named San Tome de Guyana. However, after Simon Bolivar based himself here during the final stages of the War of Independence against the Spanish, the shorter moniker of Ciudad Bolivar was bestowed. This afternoon you'll take a guided city tour through the brightly painted buildings of the Historic Centre and along the banks of the river.


Overnight: Posada Angostura Or Similar, Cuidad Bolivar

Day 3 - FLY TO SANTA ELENA

After breakfast you head back to Puerto Ordaz for your morning flight south towards the Brazilian border. Beneath you stretch miles of water ways and the immense Guri Lake. Beyond lies the Gran Sabana, a national park covering some 12,000 square miles and incorporating a bewildering array of wildlife and natural beauty. To the western edge lies Angel Falls and to the east Mount Roraima. As you fly over the savannah landscapes you will get your first glimpse of the table mountains (tepui) that seemingly litter this landscape. With their cliff edges often fringed by wisps of cloud and broken by dramatic plunging waterfalls, the ethereal tepui are a sure fire sign that your adventure has begun.

Your flight lands in Santa Elena de Uairen. Home to the region's dwindling population of miners, Santa Elena is a true frontier town. The border with Brazil is just a few minutes' drive south on the only road connecting Venezuela with its vast neighbour. Trade in petrol is brisk here with many Brazilians crossing into the town to fill up their cars at a cost of around US$1 per tank!

Your trekking guide will meet you on arrival in Santa Elena and accompany you on the short drive across town to the altogether more peaceful and relaxed surroundings of your overnight Lodge. Here you'll have a briefing on the trek to come and have plenty of time to organise your belongings and take a refreshing dip in the pool.


Overnight: Yakoo Eco Lodge, Santa Elena

Day 4 - DRIVE TO PARAITEPUI (1,400m/4,593ft) 1½-2hrs. TREK TO KUKENAN RIVER (1,050m/3,445ft) 4-6 hours

Following a restful night's sleep you leave the lodge this morning and make the drive north to the trailhead for your trek. The first hour, or so, the drive is along the main highway that in another 10 hours approximately would eventually lead you back to Puerto Ordaz. However, at the village of San Francisco, you turn off east and take a dirt road through open savannah that brings you to the village of Paraitepui. This village of indigenous Pemon Indians marks the start of your trek and here we will meet the villagers who are going to act as your porters. Formalities are quickly completed at the small National Park checkpoint where records of the number of visitors are taken and then it's soon time to take to the trail.

Overall you will lose altitude on today's trek, but the countryside is undulating, with a couple of short steep ascents, making it an excellent warm up for the days ahead. The paths are broad and clear, leading you through broad open savannah, with the impressive Tepui of Roraima and neighbouring Matawi on the horizon. It's likely to be quite hot today and with little natural shelter it will be important to cover up well against the sun. After around 3½ hours walking you will reach a small settlement set just above the Tek River. If river levels are high you may camp here for the night, but otherwise you'll continue on, crossing first the Tek River and then 20 minutes, or so later the Kukenan River. There are no bridges across these rivers so it's a good idea to change into sandals for the crossings and a trekking pole may also come in handy. You'll make camp for the night on the far bank of the river.


Overnight: Kokana Camp

Day 5 - TREK TO RORAIMA "BASE CAMP"(1,870m/6,135ft) 5-6 hours

This morning your guide and trek crew will prepare breakfast whilst you organise your belongings for the day ahead. Typically breakfast will consist of tea or coffee with bread, cooked eggs and perhaps cereal, or arepas - a local staple consisting of a wheat or corn flour 'dumpling' fried and then eaten hot once stuffed with scrambled egg, cooked meat, cheese, or vegetables.

A long steady ascent lies ahead today as you trek up from the lushest savannah grasslands to a more scrub like landscape of stunted trees, rocky outcrops and rougher ground. Mount Roraima now dominates the view ahead and if you look carefully you'll be able to make out the line of tomorrow's ascent, an apparent diagonal crack in the vertical cliffs. You'll probably have refreshment or a snack break in an open area known as the 'Military Camp', which lies approximately halfway, in terms of ascent, to your overnight halt.

Tonight, you will make camp a short distance from the foot of Roraima, in an area called 'Base Camp.' There is a small dilapidated shelter here, often used by other groups for cooking, or to shelter from rain showers. However, you will be able to relax in the comfort of a dining tent, complete with table and chairs/stools, or of course your own tent. The altitude here makes for noticeably cooler temperatures than you will have encountered thus far, typically 15ºC, and overnight rain is not unusual as Roraima and its neighbouring tepuis create their own micro-climate.


Overnight: Base Camp

Day 6 - ASCENT OF MOUNT RORAIMA (2,810m/9,220ft) 4-5 hours. EXPLORING THE SUMMIT PLATEAU

The Lost World of Roraima is your goal today, the toughest, but also one of the most memorable days of the trip. After breakfast, your ascent begins almost as soon as you leave camp. Initially, you're trekking up through cloud forest, which as the term suggests is likely to be wet. You will have noticed on previous days the clouds forming, moving and breaking over Roraima's summit. These permeate the forest and feed many streams and many small waterfalls that flow into it from the summit plateau. The forest is lush and verdant and amongst the trees you will spot a wide variety of orchids, bromeliads and other vibrantly coloured plants. Good waterproofs are a must here.

Your route follows an overlapping break in the cliff walls of the tepui, often referred to as the Ramp. On one or two of the steeper sections you may need to use your hands for better balance/stability, but there are no sheer drops, or issues with vertigo. Breaking out from the forest the ground becomes rockier and you will have views across to Kukenan and the dramatic cliffs of Roraima right alongside you. After around 900 metres (3,000ft) of ascent your path suddenly leads you onto the summit plateau, which now stretches before you, as far as the eye can see. The way ahead is now almost instantly less distinct as the rocky plateau offers any number of directions in which you could now head. But as your guide takes the lead you'll see the differently coloured areas of rock across which the main trails cross and every now and again small cairns.

You'll camp tonight in one of the "hotels" that lie around this south western end of Roraima. These are actually a series of caves and rock overhangs, offering shelter from the elements and nice sandy floors upon which to pitch camp. Within an hour of reaching the summit plateau you're likely to be installed in camp, perhaps enjoying a late lunch. This afternoon you will take a short 2-3 hour walk to see some of the nearby viewpoints and rock features, including: the 'Window' a gap in the rocks that gives a plunging view down the cliff face to the savannah below; the rock pools of the 'Jacuzzis' and the 'Valley of Crystals'.


Overnight: Camp

Day 7 - TREK TO THE 'TRIPLE POINT' (2,723m/8,985ft) 6-7 hours

Today will be a day for exploration and discovery in this amazing landscape, with a trek across the plateau to the 'Triple Point' - a small monument that marks the junction of borders between Venezuela, Guyana and Brazil. Along the way you will encounter numerous fascinating rock formations carved by the elements, including arches, spires and giant boulders improbably balanced on small stones.

Although it is certainly a harsh environment for flora and fauna, the myriad of rocky outcrops and gullies host an abundance of fascinating plant life. Where sufficient soil has accumulated, dense clusters of tree ferns can be found, whilst the very low nutrient content of the soil generally, gives rise to a variety of carnivorous plants e.g. Pitcher Plants and Bromeliads, whose leaves create a rain filled funnel which traps and drowns unsuspecting insects. As you trek today keep an eye out too for the tiny black quelchii. No bigger than a thumbnail this endemic species of frog crawls rather than hops and is only found on Roraima. You will reach the 'Triple Point' in time for lunch and after this and the obligatory photo-opportunity (positioning yourself in 3 countries at the same time) you'll follow an alternative route back to your overnight 'hotel'.


Overnight: Camp

Day 8 - DESCEND FROM RORAIMA TO TEK RIVER CAMP (1,050m/3,445ft) 6-7 hours

You'll make an early start this morning to give you plenty of time for a relaxed descent back to the Savannah, far below. You'll be retracing your upward route all the way back, ultimately, to Paraitepui but after walking back across to the plateau edge it's worth taking some time to drink in the scenery one last time before beginning the steep descent.

Descending from the plateau you cross beneath a couple of waterfalls before entering the cloud forest that brings you to 'Base Camp' once more in around 3 hours. Depending on the time you may break for an early lunch here or continue on towards the 'Military Camp'. The gradient is gentler here and you'll be able to enjoy the broadening vistas and warmer air that seems to be rising to meet you. Crossing the Kukenan River it's then a short distance to the Tek River beyond which you'll camp for the final night of your trek.


Overnight: Tek River Camp

Day 9 - TREK TO PARAITEPUI (1,400m/4,600ft) 4hrs DRIVE TO SANTA ELENA1½-2hrs

Leaving Tek River you now retrace your steps across the savannah back to Paraitepui. Before you know it Roraima becomes a distant feature on the skyline and the village comes into view. You can enjoy lunch here before saying your farewells to the trekking crew and boarding your transport for the drive back to Santa Elena. On the way you'll make a short stop to see a beautiful waterfall and river that flows over an exposed outcrop of semi-precious Jasper. You'll arrive back at your lodge by mid-late afternoon, in time for a dip in the pool and a refreshing drink.


Overnight: Yakoo Eco Lodge, Santa Elena

Day 10 - FLY TO CANAIMA. WALK TO SAPO FALLS 2hrs

Fully refreshed after a hot shower, good food and a comfortable night you leave Santa Elena this morning and make the short flight west to Canaima Lagoon in Canaima National Park. Established in the early 60's, Canaima has become one of the largest National Parks in the World, covering an area of some 3 million hectares. Within its boundaries lie black water rivers, tepuis, thick rainforest and most famously of all Angel Falls.
From the small landing strip it's just a short 5 minute transfer to your lodge for the next two nights, on the shores of Canaima lagoon. There'll be time to freshen up before lunch and then this afternoon you'll take a motorised curiara (canoe) across the lagoon for an afternoon walk to Salto El Sapo (Frog Waterfall). Created by the turbulent waters of the Carrao River, Cainama lagoon has as its backdrop two small but fierce waterfalls - Golondrina and Hacha. The waters here are an unusual coloured mix of black in the deepest parts and yellowish-red along the shores. This is due to the different concentrations of acids in the waters.

Alighting from the canoe you'll make the short walk up away from the lagoon to enter a gallery forest rich in bird life. After 20 minutes or so you will reach Sapo falls. The path continues directly behind the falls here but before continuing you'll need to pop your camera into a waterproof or plastic bag and perhaps even strip down to a swimming costume. The back-draft from the tumbling falls is such that even in drier periods you're likely to get soaked as you traverse behind the falls. Once on the other side you get an impressive view of the falls themselves and a little higher along the path fantastic views across savannah and Moriche palm trees to Nonoi tepui beyond. Retracing your steps behind the falls your walk continues to a second, higher set of falls before you return to your canoes and cruise back across the lagoon.

Overnight: Parakaupa Lodge Or Similar, Canaima

Day 11 - ANGEL FALLS OVERFLIGHT & EXCURSION TO KAVAC MARCH AND NOVEMBER DEPARTURES

Angel Falls
Angel Falls is the world's highest waterfall, tumbling from an altitude 979m (3,212ft) on Auyantepui. The falls have a vertical drop of 807m (2,648ft), with waters at their most forceful and impressive during the rainy season (June-December). There are various stories as to which outsider first discovered the falls but generally their existence only became known worldwide in the 1930's, following the exploits of American pilot Jimmy Angel. On 9 October 1937, in order to prove a disputed earlier sighting, Angel, his wife and two companions flew to Auyantepuy to put beyond doubt the existence of the falls. After a magical overflight, Angel actually managed to land his small aircraft on the summit of the tepui but it became so bogged down in mud that it was impossible to take off once more. There followed an unplanned 11 day epic adventure as the small party tried to find a way down off the tepui, which eventually culminated in their reaching safety in the village of Kamarata (a neighbouring village to Kavac). Angel's dramatic story soon spread and the falls were subsequently named in his honour.

March departure
During the dry season it is not possible to access the base of Angel Falls by river. Instead during this period you will view the falls on an overflight (included in the trip cost), as part of a day trip to Kavac, on the northern side of Auyantepuy.

Your day starts with a flight up above Auyantepuy, for a fantastic aerial view of Angel Falls. After a thrilling flight you'll land on the southern side of the tepui at an isolated dirt strip near the Pemon indigenous village of Kavac. You'll walk from the airstrip for 20-30 minutes through savanna and forest to reach Kavac gorge, carved out by the waterfalls over the centuries. You'll continue your trek along the gorge across 1,800 and 3,600 million year old rocks - some of the oldest on the planet. In some sections you may use a fixed rope to aid balance as you make your way into the deepest part of the gorge and to an impressive 100m/300ft waterfall. Swimming is possible in the large pool here before trekking on to Kavac for lunch. Later in the afternoon you'll fly back to Canaima lagoon.

November departure
Although the dry season typically extends from November to April, river levels in November remain such that it is usually possible to access the base of Angel Falls by river. For those wishing to experience a flight over the falls on this trip, this can be arranged locally (at a cost of approximately $100) following the planned river trip on the morning of Day 12.

A long day lies ahead today and is full of spectacle and adventure. After a light early morning breakfast, you board motorised curiara for the 3½ journey up the Carao River. Where the Carao joins the Churum River you'll disembark and trek to Ratoncito Island, which offers great views of the Angel Falls. After another hour's walking you'll arrive at the base of the falls, with time to rest, marvel and take those important pictures. After lunch and time perhaps for a swim you'll return to your curiara and make your return journey to Canaima.

Overnight: Parakaupa Lodge Or Similar, Canaima

Day 12 - FLY TO CARACAS VIA PUERTO ORDAZ. FLY TO LONDON

For those travelling on the November departure there's time this morning to take an optional short overflight of Angel Falls. Leaving Canaima you now fly north over the National Park and beyond to Puerto Ordaz. From here it's a further flight on to Caracas where you will check-in for your international flight back to the UK.

Overnight: Miramar Suites Hotel

Day 13 - Transfer to airport

You will be transferred to the airport in time for your international flight home.


Overnight: In flight

Day 14 - ARRIVE LONDON.
Map
Map Key
Airport
Point of interest
Mountain Peak
Day walk in this area
Flights
Internal Transfers
Trek
---
No Dates Available
There are no available booking dates for this holiday yet since we are still finalising details. If you are interested in this holiday and would like further details, please contact us.
Hold your place
Not quite ready to book? Why not call us on 0044 (0)1453 844400 to hold a no obligation place while you make up your mind?
No Surcharge Guarantee
No surcharges will be applied to your holiday after you book. Prices on this website are updated regularly. The Flight Inclusive holiday price, or Land Only holiday price, will be confirmed to you at the time you make your booking. There will be no surcharges after your booking has been confirmed.
Flight inclusive holidays
The 'flight inclusive' holiday prices shown on this website are based upon our preferred airlines and the best priced economy class fares we are able to secure at the time of publication.
We will be able to advise on fares with alternative airlines, upgrades to Business Class, and the options for flights from regional UK airports, please contact us for more details.
Loyalty discount
Find out more
What's included
Four local leaders (Caracas, Ciudad Bolivar, on trek, Canaima)
Economy class return air fares from the UK & UK Departure Tax (flight inclusive only)
All internal flights and hotel/airport transfers
Good standard guesthouse accommodation in Caracas, on bed and breakfast basis
Comfortable guesthouses/lodges in outlying towns
Full service camping on 5 nights
All road transport by private vehicles
All meals outside Caracas
Costs of all porterage and porter insurance
Sightseeing where specified
Carbon offset for clients taking our flight-inclusive option
A free high-quality Mountain Kingdoms kit bag
The option of joining one of our pre-trip meets in the Cotswolds
What's not included
Travel insurance
Visa fees
Meals in Caracas (except breakfast)
Tips
Optional trips, e.g. Angel Falls overflight on October departure
Airport departure taxes, except UK Departure Tax, where not included in the ticket price.
---
---
Review your holiday
Reviews
Read holiday reviews by Mountain Kingdoms travellers.
Overall score: 4.5 (Based on 2 reviews)
Lost World Trek, Venezuela
Good trip overall 10/03/2017
Enjoyed the trip. Varied itinerary and well-thought through.
Ms W, Dorset
Lost World Trek, Venezuela
Enjoyable
I thoroughly enjoyed the trek. The guide was fantastic.
Ms A, Devon
---
Extend your holiday
Two different wildlife-rich regions to choose from, Los Roques and Los Llanos
Los Llanos are vast flood plains, home to hundreds of bird and mammal species
Los Roques is a beautiful Caribbean archipelago and coral reef system
Enjoy wildlife viewing excursions, plus time to relax
More Details
After your adventurous time in Venezuela why not add a relaxing extension to your trip? We offer extensions to two different regions:
Los Roques, a beautiful Archipelago reef system with 42 small islands surrounding the stunning blue and green water of the 400 square kilometre lagoon. Los Roques is due North of Caracas and was declared a National park back in 1972 in order to keep the fragile eco system safe. This coral reef is home to thousands of amazing species.
Los Llanos, The plains or llanos as they are known in Spanish are located in the country's central depression, between the Andes, the coastal mountain range and the Guayana shield, occupying about a third of Venezuela's territory. The area is home to 400 species of birds, as well as a wide array of other animals such as giant anteaters, armadillos, iguanas, tortoises, red howler and capuchin monkeys, capybaras and caiman. The rivers teem with fresh water dolphins, piranhas, anacondas, and turtles.