What's included
A Mountain Kingdoms appointed European Trek Leader
Economy class return air fares from the UK (flight inclusive option)
UK Departure Tax
Train journey to Chandigarh.
Hotel/airport transfers and road travel by private vehicle
Domestic flight Leh - Delhi
Good standard 4* hotel accommodation in Delhi, bed and breakfast basis
Best available hotels in outlying towns on full board
All camping facilities
Camp staff to carry out all camp work
Rafting trip with modern zodiacs and all safety equipment.
All meals on trek and while rafting
Costs of all porterage or horses/mules and their insurance
Sightseeing where specified
Carbon offset for clients taking our flight-inclusive option
and much more...
Call our
friendly team
Land of the Lamas & Rafting the Zanskar Gorge
Walking & Trekking
India, Ladakh | Walking & Trekking
Strenuous
Suitable for fit individuals who have regular experience of mountain walking.
Find out more...
Grade: Strenuous ? Strenuous

Book now or call 01453 844400
A fantastic trek through the Kingdom of Zanskar with an exhilarating rafting trip on the Zanskar River
Highlights
See spectacular gorges and wild scenery on this challenging, yet rewarding, off-the-beaten-path trek
Visit Padum, the capital of Zanskar
Trek to the precariously positioned and fascinating Phuktal Gompa
Visit Leh, the capital of Ladakh
Exhilarating three days of white water rafting
Reviews
I am very excited to be offering this route, it is certainly challenging, but the memories will stay with you for a lifetime!
Steve Berry, MK Managing Director
View All
The prospect of undertaking this journey is at the same time daunting, exciting and challenging. For the explorer in you, it is the stuff to make the adrenalin flow! It is an experience you will remember and treasure for the rest of your life.
The original classic trek into the Kingdom of Zanskar crossed the Shingo La Pass and then dropped down into the Lunak Valley, ending eventually at Zanskar's main township of Padum. However, the Indian government (in their infinite wisdom) has been pushing jeep tracks from the Manali side towards the Shingo La, and similarly from Padum up the Lunak Valley. Our feeling is that this spoils the pristine nature of this wild and remote trek. We have therefore designed a new route to avoid the 'roads' and to regain the magic nature of trekking in Zanskar. You will follow a really off-the-beaten-track trail, which is exposed in places, taking you to rarely visited villages, gorges and high passes.
What makes this trek so fantastic is not necessarily the high passes, or the myriad river crossings, or the cliff paths, but the remarkable gorges. They are so gigantic and impressive, just amazing. The remoteness adds to the whole sense of adventure, and the Tibetan Buddhist culture adds to that feeling of 'unreality'. You'll see what we mean!
We are very excited to be offering this route combined with an exhilarating white water rafting trip through the gorges down the Zanskar River. During these three days we will raft 70 miles down the Zanskar River through spectacular scenery, making stops in Nierak and Chilling where we will camp overnight.
---
At a glance
Grade: Strenuous
Strenuous
Max. Altitude: 5,574m/18,287ft (Day 10) Phirtse La
Guaranteed to run for a minimum of 5 clients
Maximum group size: 12
Land only joining city: Delhi
Accommodation types: Hotels, Camping
Meal arrangements: 21 Breakfasts, 19 Lunches, 19 Dinners. Basically this means B&B in Delhi and all meals elsewhere.
Itinerary overview
| Day | Activity |
| --- | --- |
| 1-2 | Fly to Delhi. Afternoon sightseeing of the old mosques and markets in Old Delhi as well as some sites in New Delhi. |
| 3-5 | Train to Chandigarh, drive to Manali with rest day and drive to Keylong. |
| 6-13 | Drive to Sarchu and trek via Phirtse La to Purne. |
| 14-17 | Trek to Phuktal Gompa and trek on to Gyalpoh. Drive to Padum and on to Zangla. |
| 18-20 | Rafting the Zanskar Gorge, making stops in Nierak, Chilling and Nimmu. Drive to Leh. |
| 21 | Time at leisure in Leh. Perhaps explore the streets for last-minute shopping, visit the deserted Royal Palace, or walk up to Shanti Stupa for the amazing views over Leh. |
| 22-23 | Fly to Delhi and fly to London. |
Leader: David Spear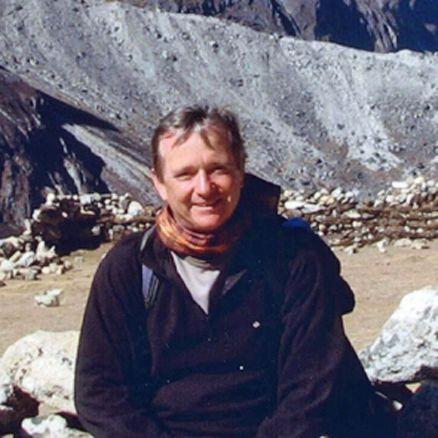 David is widely travelled in the Himalaya, and in particular Nepal which he first visited at the end of the overland "Hippy Trail", back in 1978. He has subsequently led treks and cultural tours in Tibet, Bhutan, Nepal, Kazakhstan and Kazakhstan (Celestial Mountains). He has also explored remote parts of Peru, where he found the Copper Mines his explorer ancestor worked, over 100 years ago. In Venezuela he took part in the first ascent of Nanoy Tepui after climbing Mount Roraima. David has also booked a sub-orbital space flight with Virgin Galactic and is a Fellow of The Royal Geographical Society.
---
Land of the Lamas & Rafting the Zanskar Gorge Itinerary
Day 1 - Fly London To Delhi

Fly overnight from London to Delhi.

Overnight: In flight - London to Delhi

Day 2 - ARRIVE DELHI. AT LEISURE, AND SIGHTSEEING IN DELHI

On arrival you will be met and transferred to your hotel (see end notes for details of hotels in Delhi). The rest of the morning is free. You might like to catch a few hours' sleep after your long flight, or alternatively the hotel has a very good swimming pool.
In the afternoon, we arrange a half-day sightseeing tour of Delhi in the company of an English-speaking Indian guide, to sample the heat, dust, smells, sights and sounds of the frenetic capital of India. Delhi is basically twelve old towns/cities laced together by the new City of Delhi built by the British in the times of the Raj. The sheer size and scale of the old colonial buildings in New Delhi give some idea of the power of British imperialism in India. Many of the old Lutyens/Baker buildings survive to this day. This sightseeing tour will take in some of the old mosques and markets of Old Delhi, along with some sights of the grand design of New Delhi.


Overnight: Hotel Oberoi Maidens Or Similar, Delhi

Day 3 - TRAIN TO CHANDIGARH, DRIVE TO MANALI (1,950m/6,400ft) 3 ½ hour train journey. 7 hour drive

Early in the morning you will transfer to the noisy, bustling train station to take the train to Chandigarh. Delhi's train station has been greatly modernised but still there are 20 lines bringing trains in from all over India and as such there is a great deal of hustle and bustle and an exciting atmosphere. The Kalka Shatabdi Express leaves at 0740hrs from Delhi and reaches Chandigarh at 1105hrs. The service on the train is amazing! Staff will serve tea/coffee/lemon juice and a cooked breakfast in a box to you in your seat and later on will bring more tea/coffee. It puts our trains to shame! From Chandigarh you will drive by a/c mini bus to the town of Manali via Bilaspur, Mundi and Kulu. Manali lies near the head of the Kulu Valley at 1,950m (6,400ft). It is a popular hill resort for Indians and Westerners alike. Manali itself nestles in the foothills barely a dozen miles from the main Himalayan peaks.

Overnight: Mayflower Hotel Or Similar, Manali

Day 4 - REST DAY AT LEISURE IN MANALI

There is plenty to do in Manali. You may visit the Hindu temple in the forest above town, explore the bazaar or walk to a nearby village. You might also visit the large and thriving Tibetan Buddhist monastery, or some hot spring baths higher up the valley at Vashist - it's your choice whether you walk or take a taxi there. This is all useful rest and acclimatisation after your long journey to get this far.

Overnight: Mayflower Hotel Or Similar, Manali

Day 5 - DRIVE TO KEYLONG 3,050m/10,006ft (6hrs drive, 195km)

You depart Manali, to travel towards the trek start, by minibus or jeep. Today you drive to Keylong, crossing the Rothang La, 3,978m /13,051ft. This pass featured heavily in the early exploration of the western Himalaya and gives excellent panoramic views of glaciers and the high peaks, from here you drop into the region of Lahoul. A picnic lunch is taken at Mahli, 3,405m /11,171ft, 17km before the pass or on the other side of the pass, depending on how early a start you make. The road is narrow and exciting, following the mighty River Chandra for the last 60 km

Overnight: Dekyid Hotel Or Similar, Keylong

Day 6 - DRIVE TO SARCHU (4,266m/13,996ft) OVER THE BARALACHA LA PASS (4,883m/16,020ft) 6 hours' drive, 103km

You continue on the Manali-Leh highway and today you will start to see a big change in the landscape as you move into the rain shadow north of the main Himalayan chain. After about an hour, you will reach the settlement of Darcha, which basically consists of an army checkpoint and a small collection of tea huts and shops. This was originally the place where groups used to camp before starting to trek up the Barai Nala to the Shingo La and into the Zanskar Valley. In 1995, after an unusually heavy monsoon, the Barai River changed its course and flooded the campsite - now groups camp at Jispa. At Darcha they are in the process of building a huge bridge over the main river. After some minor checkpoint formalities you continue on your way up to Patseo where there is an army camp. You then start the long ascent of the Baralacha La, (4,883m/16,020ft), which cuts the main Himalayan chain (3hrs drive). If the weather is good, you should see fine views of the surrounding mountains and the plains around Sarchu. After a long descent you reach Sarchu, where you will meet your crew and camp near the river.


Overnight: Camp

Day 7 - TREK TO LINGTI CHU CAMPSITE (4,392m/14,409ft) 7/8 hours

Today you start trekking firstly following the wide Lingti Chu Valley. You will gain stunning views of mountains with beautiful shades of brown and orange. You have your first river crossing today after approximately 30 minutes walking and will therefore need your river sandals today. After about an hour from camp you come across two strange, large circular depressions in the surface of the plain. They must surely have been caused by meteorite impact. After lunch, you continue past mani walls, which have prayers engraved on them and an old bear trap. Following Tibetan Buddhist belief that holy places should be walked round in a clockwise direction you should always keep mani walls and chortens to your right when passing them.

All day the main river snakes below you to your right. You are basically crossing the edge of a large plain which is cut occasionally by ravines at the bottom of which are small streams. The position of your campsite for tonight will vary according to the availability of water, but is likely to be on a level 'platform' just below the main plain. Plenty of marmots live round here.


Overnight: Camp

Day 8 - TREK TO RIVER CAMP BERGA SONGCHAK (4,450m/14,600ft) Approx 3 ½ hours

The rise in altitude from Manali and over the Phirtse La Pass is more rapid than we would normally like, which is why these first three days trek are taken at a very slow pace. Our crew will also be carrying a Gamow bag (recompression chamber) as a precaution in case any member of the party suffers unduly from the altitude. They will also be carrying a bottle of oxygen.

Today for instance the walk is just 3 or 4 hours, with an easy day wandering beside and above the river, and a short climb out of camp onto the plateau. After an hour crossing a large grassy 'flat', and after some rocky slopes, you drop down to a mini plateau with a mani wall and an area shepherds have used for cooking. This is Thoyor on the Swiss map. Up, and back onto the main plateau and after a long flat section there are a series of small climbs and dry stream beds. Later there are two actual streams to hop across. Then a final climb to the high point of the day. Looking up the valley you can see tomorrow's river crossing and can begin to see towards the Phirtse La.


Overnight: Camp

Day 9 - TREK TO CHUMIK MARPO (4,726m/15,505ft) Approx 6 hours

You head up the river on the 'plateau' until you come to the major river crossing at Khamirap. The water here may even be waist deep and perhaps one of the horses could be used for this crossing. A huge flat plain follows until you reach a 'gorge'. Not really a gorge but a steep sided valley with scree and sun baked rocks. The path is on the left bank sometimes high above the river until a 'corner' where you will cross to the right bank. It is still a long way to go, up and down, but slowly gaining height. After the 'corner' the valley widens and there are beautiful views of the silver river snaking ahead. Camp on a rocky meadow next to the river. You may pass Zanskari nomadic settlements today. Look out for tents, stone walls and yaks grazing. You may be able to sample some of their delicious fresh curd in exchange for tea and biscuits.

Overnight: Camp

Day 10 - CROSS PHIRTSE LA (5,574m/18,287ft) DESCEND TO ZINGCHAN (4,606m/15,111ft) Approx 9-10 hours

This is a long, long day but a really rewarding one! It is an easy and gradual ascent to the pass, in and out of valleys, two river crossings, and rising traverses. Higher up there are pretty blue flowers and hard mosses that look just like coral. So hard in fact you can stand on them. It takes about 4 ½ hours to reach the pass, incredible views. Then after hugs all round and shouts of "so so la gyelo" (victory to the gods), you start the descent on moderately steep unpleasant scree until a rocky path leads down the obvious valley towards the edge of Zanskar. Camp is at Zinchan which is set like an indented table on the mountainside.

Overnight: Camp

Day 11 - TREK TO TESTA (3,950m/12,959ft) Approx 4-5 hours

Today is an easier day, with fantastic scenery along the way. There is a short uphill slope out of camp to gain a path that contours easily around the mountainside. After 2 - 2 ½ hours you come to the 'Toden La' pass. Not really a pass, but the end of the traverse and the start of the descent into a fantastic gorge which eventually spits you out into the main Zanskar valley. First though, before descending into the gorge you will be drinking in your first views of Zanskar. Near the 'pass' there is a group of orange coloured cliff tops from where you can look down into the Lunak valley. Below you can see the fields and houses of Table, up the valley you can almost see the village of Kargiak, and down the valley are the pretty villages of Tangzen, Kuru and Testa. Beautiful yellows from the barley and splashes of green from the carefully irrigated fields add exquisite colour to a dramatic backdrop of brown, copper and grey mountains. You trek down through the gorge, with its beetling cliffs and a short way down the valley to Tangzen for lunch. People will be working in the fields here collecting the harvest. After lunch, cross the river on a girder bridge and take the long rising traverse to Kuru. Wonderful Tibetan style houses here. A short stretch brings you to the larger village of Testa. Your campsite may be next to a group of chortens, and a grove of willows. There is plenty of opportunity for interaction with the Zanskari people today.

Overnight: Camp

Day 12 - TREK TO PURNE. (3,846m/12,618ft) - 3 hours

Today is a glorious day's walking with lots of cultural interest as you pass through the villages, watching the families working the fields, harvesting the barley and peas. The freshly-picked peas are absolutely delicious! Make sure you have plenty of digital cards in your day sack today for the many photo opportunities. A steep dusty descent takes you to a further bridge which you cross to reach your campsite at Purne. There are a couple of shops in Purne selling soft drinks, chocolate and a few other items. You may wish to trek to another lovely campsite at Kang Sar, a small hamlet in the direction of Phuktal.

Overnight: Camp

Day 13 - REST DAY

A welcome day to rest, potter around, and do some laundry. You could also turn the mess tent into a bath house and take turns with buckets of warm water.

Overnight: Camp

Day 14 - DAY TREK FROM PURNE TO PHUKTAL GOMPA (3,895m/12,779ft) AND RETURN, 4 hours round trip

You walk up a very deep and impressive gorge with a fast-flowing river to this remarkable and remote monastery. The great gorge has cliffs of rich red rock where millions of years previously large chunks had fallen down. These great orange blocks are scattered on the floor of the gorge. The path is sensational in places, built into the sides of cliffs. The occasional lama may pass you by. The 500 year old gompa is built literally on the side of a cliff. Here you can visit the inner temples. You will return to your camp in Purne.

PHUKTAL GOMPA
This is one of the most famous monasteries in Zanskar and is about five hundred years old. The monastery is like a honeycomb cut into a rock under a gigantic grotto, and is of the "yellow hat" sect of Tibetan Buddhism. The name means 'through cave'. There is a story here that a few hundred years ago a Kashmiri robber attempted to break into the monastery (the monks had gone away to visit a festival) and the caretaker monk had locked the door. Failing to gain entry, the robber lowered himself on a rope down the cliff above the monastery and tried to swing into the cave. The rope somehow got caught round his head and his head came off. Apparently, the dried head is kept in the temple and brought out once a year to celebrate the victory of the guardian deity of the monastery. In the cave above the monastery there is a waterhole whose level never changes and it is said to have healing properties. There is also a stone tablet left by the Hungarian explorer, Alexander Csoma de Körös. He was one of the first explorers of Tibet and spent some time here in 1826-27.


Overnight: Camp

Day 15 - TREK TO GYALPOH

We now head on down the Lunak valley towards the little township of Padum which serves as the 'capital' of Zanskar. There is a jeep track now which we hope to meet at Gyalpoh though what with the occasional landslip the day's trekking could take us further down the valley to meet our vehicles. Here below is a bit of a description of the Lunak valley all the way down to Padum.

The valley deepens and takes on the proportions of a gorge. We pass some small hamlets: Cha, Kaydang (with a small tea shop) and on to Hamuni where it is possible to camp, but people often continue past the village of Surle and on towards Ichar where we may cross the river. Early in 2015 the Zanskar river was dammed up in a gorge by a landslide and when the spring thaw set in it burst through and a wave of water swept down the Lunak valley which demolished all the bridges. Nobody was killed thank goodness. However, we know the bridges are being reconstructed but it is not clear at this time where the river will be crossed. Once we have crossed the river it is possible we may visit Ichar which is an interesting fortified village. The fortified village of Ichar is perhaps the most beautiful of the villages on the way to Padum.

The gorge now contains a turbulent river and has more magnificent gorge scenery. Before reaching Shila, we pass Mune Gompa and come to Bardan Gompa, an impressive monastery sitting on top of a rocky outcrop in the middle of the gorge. The building was erected in the early sixteen hundreds on the orders of Nawang Namgyal, the first ruler of Bhutan, who was given various lands in Ladakh to further his Drukpa sect of Tibetan Buddhism, by the ruler of Ladakh at that time.

Finally the Lunak gorges open out into a much wider Valley before arriving at Padum.

So, Gyalpoh is where we expect to camp for the night but be prepared for the fact it might be further down the valley.


Overnight: Camp

Day 16 - DRIVE TO PADUM

Reaching Padum, you can celebrate the completion of the first part of the trek with a few drinks and perhaps explore the few shops here. The Ibex Hotel has good food and friendly service. While in Padum you may get an introduction to Phuntshok Dawa, Gyalpo ("Precious Ruler") of Padum. Phuntshok's ancestors collected taxes and had a quasi-judicial role dealing with any disputes or family problems for the villages around Padum. Phuntshok speaks good English and his stories of times past and explanations of Zanskari culture are of great interest. There are a number of campsites - we suggest out on the edge of town, on the road to Pipiding.

Overnight: Camp

Day 17 - DRIVE TO ZANGLA (3,600m/11,810ft) 2 hours drive.

As the drive to Zangla is only a relatively short distance, this day can also be used as a contingency day in case of unforeseen problems in the gorges. You may well have time on this day either to rest in Padum, have a look at some of the interesting villages and temples nearby, perhaps even cross over to visit the incredible monastery at Karsha. Anyway, having driven to Zangla, you will camp near there for the night and meet your rafting crew. With a bit of luck you may well have met Phuntshok Dawa, one of the two kings of Zanskar in Padum. The other lives here at Zangla, and you may also try to get an interview with him.

Overnight: Camp

Day 18 - RAFT TO NIERAK (3,180m/10,432ft).

Your first day's rafting! You will by now have trimmed your baggage down to the minimum and any spare baggage will go back to meet you at Nimmu in the vehicle that will drive out of Zanskar over the Pele La. Whatever you need to take will be packed into waterproof drums or waterproof bags. You then say your last-minute goodbyes to your faithful trekking crew (who will meet you again either at Nimmu or in Leh) and then it is on with lifejackets, wetsuits, spray jackets and helmets and into the raft. To begin with, it is slow and gentle down past the village of Zangla then Pidmu on your left-hand side and after that Hanumil. Beyond Hanumil, the gorges start for real and then you start to see rapids. Today is absolutely unbelievable scenery, and arguably some of the best of the whole three days' rafting. It is about four and a half hours to where you pull up at Nierak. Here there is a small climb to a camp site above the river not far from, and before reaching, the bridge. If you have the energy, you might like to walk up to the village which is half an hour above the campsite.

Overnight: Camp

Day 19 - RAFT TO CHILLING (3,070m/10,072ft). 6 hours

Another great day! On any of your rafting days you may well spot blue sheep or Ibex - it is amazing what they can climb! You will probably stop for lunch on a beach somewhere beyond the hot springs. Shortly after leaving the camp at Nierak you will pass under the traditional wooden cantilevered bridge. The scenery is constantly changing and more and more amazing peaks and cliffs come into view.

Sometime after lunch, you come to "India Gate" where the river narrows down to a slot of only twelve feet wide between two vertical cliffs. Your raft captains may well try to stop your rafts before entering India Gate to assess the best approach.

Reaching Chilling, there is a choice of good campsites next to the river. The people of Chilling are well-known for their skill at metal work, and again if energy and inclination allows, it is worth taking a wander up to have a look around the village.


Overnight: Camp

Day 20 - RAFT TO NIMMU (2,990M/9810FT) 3 hours rafting. DRIVE TO LEH (3,500m/11,500ft). 1 hour's drive

It has to be said, the scenery is not quite as spectacular on this day as it has been on the previous two days, but this is made up for by the fact that you have some of the biggest rapids in front of you. These are Grade 4 and 4+ rollers which are real heart-stoppers! Then there comes a rather long, slow, less interesting section to the takeout point on a bank just before you get to the village of Nimmu.
From Nummu it is then less than an hour's drive to Leh and check-in to the hotel for hot showers, a beer of two, and time to relax.


Overnight: Kang Lha Chhen Hotel Or Similar, Leh

Day 21 - AT LEISURE IN LEH.

Ladakh was at one time a powerful Himalayan kingdom in its own right and Leh, its capital, is a fascinating medieval town with bags of atmosphere. The town, dominated by the old royal palace, is a hive of trading activity and is crowded with people, many in Ladakhi national dress. Here too are many Tibetan refugees and a taxi ride to visit their enclave is well worth it.
Today you have time to celebrate an absolutely amazing adventure and to enjoy the relative comforts of town: beers, hot showers and good food. Of course there is also time to do some shopping in crowded bazaars and narrow back streets to buy souvenirs and presents for friends and family back home. Perhaps you will also find time to fit in a visit up to the deserted Royal Palace or to walk out to Shanti Stupa which you can climb up to for fantastic views out over town - this is especially atmospheric at sundown.


Overnight: Kang Lha Chhen Hotel Or Similar, Leh

Day 22 - FLY LEH TO DELHI.

Today you will have an early transfer to Leh airport for your flight back to Delhi. This must be one of the most sensational scheduled flights in the world, as it literally crosses right over the Greater Himalaya range. On a nice clear day, you can enjoy good views of K2 and the other Karakoram giants to the north, and you may pass close by Nun Kun, highest mountain in Kashmir - first British ascent of Nun Kun was made by Steve Berry, our M.D. and friends in 1981. On arrival in Delhi, you will be met and transferred to your hotel. You may then either relax at the hotel or there is a metro station a short walk from the hotel if you want to go into the centre of town for some shopping or sightseeing.

Overnight: Hotel Oberoi Maidens Or Similar, Delhi

Day 23 - FLY TO LONDON.

You will be transferred to the airport after breakfast to take the early afternoon flight to London.
---
No Dates Available
There are no available booking dates for this holiday yet since we are still finalising details. If you are interested in this holiday and would like further details, please contact us.
Hold your place
Not quite ready to book? Why not call us on 0044 (0)1453 844400 to hold a no obligation place while you make up your mind?
No Surcharge Guarantee
No surcharges will be applied to your holiday after you book. Prices on this website are updated regularly. The Flight Inclusive holiday price, or Land Only holiday price, will be confirmed to you at the time you make your booking. There will be no surcharges after your booking has been confirmed.
Flight inclusive holidays
The 'flight inclusive' holiday prices shown on this website are based upon our preferred airlines and the best priced economy class fares we are able to secure at the time of publication.
We will be able to advise on fares with alternative airlines, upgrades to Business Class, and the options for flights from regional UK airports, please contact us for more details.
Loyalty discount
Find out more
What's included
A Mountain Kingdoms appointed European Trek Leader
Economy class return air fares from the UK (flight inclusive option)
UK Departure Tax
Train journey to Chandigarh.
Hotel/airport transfers and road travel by private vehicle
Domestic flight Leh - Delhi
Good standard 4* hotel accommodation in Delhi, bed and breakfast basis
Best available hotels in outlying towns on full board
All camping facilities
Camp staff to carry out all camp work
Rafting trip with modern zodiacs and all safety equipment.
All meals on trek and while rafting
Costs of all porterage or horses/mules and their insurance
Sightseeing where specified
Carbon offset for clients taking our flight-inclusive option
What's not included
Travel insurance
Indian visa fee
Lunch and evening meals in Delhi
Tips
---
---
Review your holiday
Reviews
Read holiday reviews by Mountain Kingdoms travellers.
Overall score: 5.0 (Based on 1 reviews)
Land of the Lamas & Rafting the Zanskar Gorge
Memorable experience
I am very excited to be offering this route, it is certainly challenging, but the memories will stay with you for a lifetime!
Steve Berry, Managing Director, Mountain Kingdoms
---
Extend your holiday
Spend the end of your trek or tour relaxing on a luxurious houseboat in Kashmir.
Cosy bedrooms with en-suite bathrooms.
Includes all meals, tea and coffee on-board, provided by your own cook.
More Details
We are very pleased to say we can now offer extensions to visit Srinagar in Kashmir. Closed since 1990, it is now thankfully open again to western tourists and at last you have the opportunity of true relaxation aboard one of the famous houseboats either on Dal Lake, or Nagin Lake.
The flat-bottomed houseboats have cosy bedrooms with en-suite bathrooms, a large living/dining room, and a verandah where you can enjoy mountain views and watch the shikaras (wooden boats) gliding along on the lake from shore to houseboat.
You will have your own cook on your houseboat so all you have to do is relax, put your feet up, and enjoy a well earned rest after the rigours of your trek or tour.
1-day and 6-day extension options available
Add at the beginning or end of your holiday in India
Sights include the Red Fort, Taj Mahal, City Palace and Amber Fort
More Details
After your adventures in India why not add an exciting day trip to Agra to see the sights of the one time capital of the great Mughal empire? Or, if you have more time available, perhaps a longer trip visiting both Agra and another gem of the 'Golden Triangle', Jaipur. Whichever option you take, once in Agra you will be looked after by one of our fully trained, English-speaking guides who will show you around the Red Fort, the Taj Mahal and the ancient city and mosque of Fatehpur Sikri. For those travelling on to Jaipur, you will take guided visits to the Amber Fort, Palace of the Winds and City Palace, along with time to explore the colourful bazaars of the 'Pink City'.