What's included
A local, English-speaking, Japanese guide,
Economy class return air fares from the UK (flight inclusive option).
Single, timed group airport transfer on arrival and departure
All baggage transfers as per the itinerary
All road transport by train, bus and private vehicles
Ferry crossings
Sightseeing and activities as specified
Good standard accommodation in a variety of accommodation styles
Meals as specified - 13 breakfasts, 9 dinners
The option of joining one of our pre-trip meets in the Cotswolds
A free Mountain Kingdoms Water-to-Go bottle or a free Mountain Kingdoms micro fleece
and much more...
Call our
friendly team
Kyushu Trails - Island of Fire
Walking & Trekking
Grade: Moderate ? Moderate
Duration: 15 days from the UK
Walks on: 7 days
Flight inclusive from £6,220,
Land only from £5,495
Book now or call 01453 844400
Walk the ancient paths and volcanic mountain trails of verdant Nara, historic Kyushu, and the hauntingly beautiful island of Yakushima.
Highlights
Explore an ancient rainforest on the beautiful island of Yakushima
Enjoy superb walking between volcanic lakes and steaming fumaroles in the geothermally active Kirishima range
Experience a Yamakawa hot sand bath and then relax in the hot spring pools in Ibusuki
Stay in traditional ryokan, watch sacred Yokagura dances and sit down to a Japanese banquet
Take the Bullet train from Kagoshima to Hiroshima
Reviews
My time is Japan was amazing; it is an incredible country for so many different reasons. The first thing that struck me was how exotic and different it was in comparison to anywhere I have ever travelled to before. I felt very at home during my time in Japan, the people were extremely welcoming, the culture and history both interesting and fascinating and the scenery was beautiful, unlike any I...
Mr D, Gloucestershire
View All
Explore the islands of south Japan and experience the many different sides of this fascinating country, from the hustle and bustle of Osaka, to laid-back island living on Yakushima, with boats, bullet trains and Japanese baths in between.
Flying into Osaka, your adventure begins as you follow in the footsteps of ancient Samurai warriors and walk the historic Yagyu Kaido Trail. Then an overnight boat journey through the Inland Sea takes you to Kyushu Island, arriving early morning into Beppo, a city of natural steam plumes spectacularly set beneath a ring of mountains. Sub-tropical Kyushu is Japan's third largest island, and considered the cradle of Japanese civilization. The island has a wealth of natural treasures; active volcanoes, brilliant blue volcanic lakes, hot black sand beaches and natural hot springs. During your time on the island you will walk the stunning Kirishima volcanic range, an other-worldly landscape, and stay in minshuku and ryokan inns which offer a unique chance to experience traditional Japanese culture first hand.
Another ferry ride and you arrive on UNESCO listed Yakushima Island. Known as 'The Alps on the Ocean' the mountainous interior of this subtropical island has granite peaks which rise from the sea to just under 2,000m. Here you will hike into the mystical rainforest interior amongst the mighty Yakasugi cedar trees, many of them thousands of years old and some the width of a small car. The holiday concludes with a bullet train ride back to Osaka for a final celebratory dinner.
---
At a glance
Grade: Moderate
Moderate
Duration: 15 days from the UK
Walks on: 7 days
Max. Altitude: Mt Takachihonomine, 1,574m/5,165 ft, day 7
Guaranteed to run for a minimum of 5 clients
Maximum group size: 12
Land only joining city: Osaka
Accommodation types: Hotels, Minshuku/ryokan, Ferry
Meal arrangements: All Breakfasts, no Lunches, 9 Dinners.
Itinerary overview
| Day | Activity |
| --- | --- |
| 1-2 | Fly to Osaka. |
| 3 | Walking on 'Yagyu Kaido' and ferry to Beppu |
| 4-5 | Transfer to Takachio, visit Mount Aso on the way. Loop walk of Takachio. |
| 6-7 | Explore Kirishima area. Day walks in Volcanic Geopark. |
| 8 | Train to Kagoshima. Visit Sangen-en Gardens. |
| 9 | Train to Kaimon. Walk to Ibusuki hot sand baths. |
| 10-12 | Jetfoil to Yakushima Island. Day walks and sightseeing on island. |
| 13-14 | Ferry to Kagoshima. Bullet train to Hiroshima. Sightseeing. Transfer to Osaka. |
| 15 | Fly to UK |
Leader: Local Leader, Japan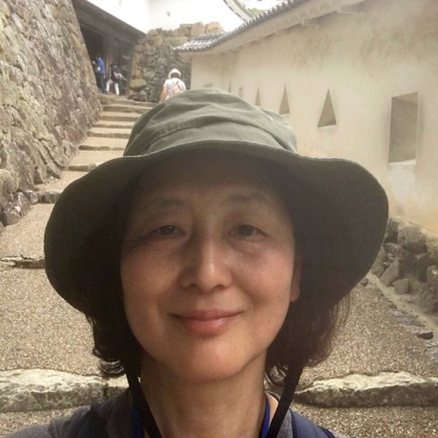 Your trip will be led by an English-speaking Japanese guide. They are all highly experienced, and will greatly enhance your experience on holiday. They will both guide you on the trail, and accompany you on all train and road journeys.
---
Kyushu Trails - Island of Fire Itinerary
Day 1 - Fly London to Osaka

Fly overnight from London to Osaka.

Overnight: In flight

Day 2 - Arrival in Osaka. Group transfer to hotel. Welcome dinner.

Upon arrival at Osaka airport you will be met and transferred to your hotel. You will have some time to explore the city before meeting up in the evening for a traditional Japanese meal. Welcome to Japan!

Overnight: Monterey Grasmere Hotel Or Similar, Osaka

Day 3 - Walk the historic Yagyu Kaido Trail to Nara. Overnight ferry to Beppu on Kyushu Island -12km walk, 240m of ascent / 535m of descent – 5 hours.

Today you will travel by train and bus to the historic Yagyu Kaido trail which linked the sword-making village of Yagyu with Nara. You will walk a 7.5 miles/12km section of the trail from Enjo-ji Temple to Nara, following in the footsteps of Samurai warriors of old. The hike ends with a wonderful stroll through Nara Park, with its famous deer and temples. After you finish the walk, you will take the train to the ferry port and board a ferry for the overnight journey to Kyushu, through the Seto Inland Sea. On board the ferry there is a fine Japanese 'Sento' (bath) and a good restaurant.

Your luggage will be sent on ahead today to Takachiho, so you will carry your daypacks with the things you need for the next 2 days.


Overnight: Overnight Ferry To Beppu

Day 4 - Disembark at Beppu. Transfer to Takachiho via visit and walks at Mount Aso.

This morning you will either have an early breakfast on board before the ferry docks or after you have disembarked. Arriving in Beppu by sea can be a dramatic and memorable experience. The city is surrounded by mountains and steam from the abundant hot springs can rise skyward to give it an otherworldly feel.

You will then board your coach for the journey to Aso, this town is set inside a massive volcanic caldera stretching 25km x 18 km and is the second largest caldera in Japan. You will visit the Volcano Museum near to the crater of Mount Aso. After an interesting visit to the museum you will head out on the walking trails around Mt Kijimadake and the Furumi-Ike Craters. You will then board your bus for the transfer to Takachiho. Dinner will be another Japanese feast, prepared by the ryokan chef and presented as a multi-course banquet.

Your luggage sent from Osaka will meet you in Takachiho.


Overnight: Ryokan

Day 5 - Loop walk around Takachiho -12km walk, 5-6 hours.

After breakfast at the ryokan, you will visit the shrine of Amanoiwato, literally the 'Shrine of the Sun Goddess'. From there, you visit Takachiho gorge, astride which sits the town of Takachiho, and make a loop walk of the town. The gorge features a number of strange rock formations created by volcanic activity, which have become part of local folklore. After dinner at the ryokan you visit Takachiho shrine to watch the Yokagura sacred dances which tell the mythical story of Japan's creation.

Overnight: Ryokan

Day 6 - Travel to Kirishima Geopark. Walk in Ebino Kogen area - 5.5km walk, 3 hours.

Leaving Takachiho early, you will travel by private vehicle to the Kirishima Volcano range. Today you will enjoy some walking in the Ebino Kogen area beside the gloriously blue volcanic lakes of Byakushi and Rokkannon. This area is breathtakingly beautiful and is relatively untouched by western tourism. You will arrive at the fascinating Ebino Eco Museum visitor centre. Here you will find lots of interesting maps, videos and information about the walks you will be undertaking. Ebino Kogen was part of the first National Park in Japan and is known for its fumaroles releasing clouds of steam. In the autumn, the pampas grass gently swaying in the wind provides the impression of a truly living landscape. The highland is at an altitude of around 4,000 feet/1,200m above sea level. The cobalt blue volcanic lakes shimmer in sunshine.

From the centre you will head out on one of the walks, the exact route will depend on the weather conditions and the status of the volcanoes in the region. The routes around the caldera of Mt Karakunidake and Onbami Pond are two great options of the many different trails you could take. After your walk you will head to your accommodation in the small town of Kirishima. This town has plentiful hot springs and you will see the steam rising from various Onsens inviting you in.

Your luggage will be sent ahead from Takachiho to Kagoshima so you may travel hands-free for the next two nights. Please bring an overnight bag for your essentials.


Overnight: Minshuku

Day 7 - Visit Kirishima Shrine. Walk to caldera of Mt Ohachi and the summit of Mt Takachihonomine and return to Kirishima - 8.5km walk, 475m of ascent and descent, 4 hours.

This morning you will visit the Kirishima Shrine for mountain worship. It was built around the 6th century. Originally it was at the foot of the sacred mountain Takachiho-no-mine but repeatedly burnt down due to volcanic eruptions and was moved to the current location. The current shrine buildings are reconstructions made in 1715 and designated as Important Cultural Property of Japan. You will visit both locations on today's walk and will understand why the shrine was moved!

From the Shrine you will drive uphill to get to the trailhead at the Takachio visitor centre. Your route along the side of the volcano at Takachihonomine, 1,574m/5165ft, takes you through an area associated with the Japanese creation myth as it is said that at this location, Ninginnomikoto, the grandson of the sun goddess Amaterasu, descended to earth.

The trail climbs steadily, starting on stone steps before you make your way up on volcanic rock to the stunning caldera of Mt Ohachi. As you carry on from the Caldera you will arrive at the original site of the Kirishima Shrine. You are now at around 1,400m and you get a bit of an understanding how committed the worshippers must have been 1,500 years ago as they would have started their walk all the way back down from Kirishima at sea level. From here you continue up the short distance to the summit of Mt Takachihonomine. From the top you will get 360 degree views of the surrounding area with its smouldering volcanoes and expansive views towards Kagoshima.

When you have taken in all the views you will walk back down to the visitor centre and meet your transport back to Kirishima for a well-deserved hot spring bath.


Overnight: Minshuku

Day 8 - Train to Kagoshima. Visit Sangen-en Gardens.

Today you will travel to the city of Kagoshima, dramatically situated on Kagoshima Bay opposite Sakurajima, an active volcano. Kagoshima used to be the home of the Shimazu clan, southern Kyushu's most powerful feudal family. After checking into your hotel you will visit Sangen-en (also known as the Iso Teien), the Shimazu clan's lovely villa and gardens. Across the bay is the impressive backdrop of Sakurajima. The gardens are quite expansive and there are some lovely walks inside to enjoy.

You will then head back to town. Dinner is not included tonight leaving you free to explore the many restaurants offering delicious local delicacies. Your guide will be able to make some great suggestions.

Your luggage sent ahead from Takachiho will be waiting for you at the hotel.


Overnight: Solaria Nishitetsu Hotel Or Similar, Kagoshima

Day 9 - Train to Kaimon, walk to hot sand baths - 10km walk, 3 hours.

You will travel south this morning, by train along Kagoshima Bay and walk along the coast from Kaimon to Yamakawa, where thermally-heated mineral water bubbles up through the black volcanic sand on the beach. Locals mix the sand to ensure a steady temperature. You will be provided with a cotton yukata robe to lie in the warm sand. Very relaxing! Kagoshima Bay is a beautiful natural harbour, crowned at one end by Kaimondake, the 'Little Fuji' of Satsuma. You will then return to Kagoshima for dinner.

This morning, your luggage will be sent ahead to Yakushima.

Overnight: Solaria Nishitetsu Hotel Or Similar, Kagoshima

Day 10 - Jetfoil to Yakushima Island. Time at leisure.

From Kagoshima you travel by jetfoil to Yakushima Island, a UNESCO World Heritage Site. The small population lives around the coast of this mountainous island, while the interior is almost totally undeveloped. Giant cedars - Yakusugi - stand tall in the moss-laden forest, some of them thousands of years old. Two other endemic species are found here; the Yakushika Deer, and Yakuzaru Macaque. Around the coast are stunning beaches and hot springs. You will stay at a local guesthouse to enjoy the local hospitality and evening meals prepared from the day's catch. There will be some free time in the afternoon today to explore the surroundings.

Luggage sent on from Kagoshima will be waiting for you at your Minshuku.


Overnight: Minshuku

Day 11 - Walk in the interior of Yakushima Island - 5km walk, 350m of ascent/250m of descent, 3 hours.

Today you will visit the Yakusugi Shizenkan to learn about the nature of the island. Then you will hike into the interior, walking amongst the giant yakusugi trees, and if you are lucky spot some of the macaques. The oldest tree on Yakushima has been dated as at least 2,000 old, but some experts believe it could be more than 5,000 years old. Many of the trees have huge trunks, wider than a car. The centre of the island is a temperate rain-forest, and the highest peak on Yakushima is the tallest mountain in the south of Japan. It's a unique ecosystem and has escaped any significant development.

You will return by bus to your guesthouse in the evening.


Overnight: Minshuku

Day 12 - Hot Springs and sightseeing on Yakushima.

Your second day on Yakushima will be spent visiting some of the lovely beaches and one of the most spectacular hot springs in Japan built into the rocks lapped by the waves. In the afternoon, you'll enjoy a cultural discovery as you tour the village of Harumaki and visit the local people. You may notice that the people living on the island have a much more 'laid back' attitude to life compared to people living in the often frenetic urban areas of Japan.

You may also have an opportunity to visit the local shochu brewery and visit a local craftsman of the islands native cedar wood.


Overnight: Minshuku

Day 13 - Ferry back to Kagoshima. Bullet Train to Hiroshima - 3 hours 17 minutes.

Leaving Yakushima by ferry you will arrive back in Kagoshima in time for a relaxed lunch before you board the Shinkansen (Bullet Train) to Hiroshima. The Shinkansens are still very space-age looking even though they have been around since the 80's. The onboard experience is very relaxing with spacious seats and a hostess selling hot drinks and Shinkansen paraphernalia.

On arrival at Hiroshima you will transfer to your hotel before heading out for dinner. There are a number of restaurants to choose from within convenient walking distance of your hotel.

Your luggage will be sent ahead from Yakushima to Osaka, allowing you to carry just a light daypack or small case with your overnight essentials.


Overnight: A N A Crowne Plaza Or Similar, Hiroshima

Day 14 - Morning sightseeing in Hiroshima. Afternoon Bullet Train to Osaka - 2½ hours. Farewell Dinner.

This morning you will be taken to the Peace Memorial Park at Hiroshima. Designated a UNESCO World Heritage site in 1996, this can be quite an emotional place to visit and if you would prefer not to visit then there are lots of other options.

After lunch you will board the Bullet Train and continue onto Osaka for your last night in Japan. You will say farewell with a delicious meal at a local restaurant.


Overnight: Monterey Grasmere Hotel Or Similar, Osaka

Day 15 - Group transfer to the airport. Fly to London.

After breakfast you will be transferred to the airport for your flight back to the UK.
---
2019
| Dates | Availability | Land Only | Flight Inclusive from |
| --- | --- | --- | --- |
| Fri 8 Nov - Fri 22 Nov 2019 | Available | £5495 Book | £6220 Book |
Hold your place
Not quite ready to book? Why not call us on 0044 (0)1453 844400 to hold a no obligation place while you make up your mind?
Optional supplements
Single Room Supplement
From £690
Insurance
No Surcharge Guarantee
No surcharges will be applied to your holiday after you book. Prices on this website are updated regularly. The Flight Inclusive holiday price, or Land Only holiday price, will be confirmed to you at the time you make your booking. There will be no surcharges after your booking has been confirmed.
Flight inclusive holidays
The 'flight inclusive' holiday prices shown on this website are based upon our preferred airlines and the best priced economy class fares we are able to secure at the time of publication.
We will be able to advise on fares with alternative airlines, upgrades to Business Class, and the options for flights from regional UK airports, please contact us for more details.
Loyalty discount
Find out more
What's included
A local, English-speaking, Japanese guide,
Economy class return air fares from the UK (flight inclusive option).
Single, timed group airport transfer on arrival and departure
All baggage transfers as per the itinerary
All road transport by train, bus and private vehicles
Ferry crossings
Sightseeing and activities as specified
Good standard accommodation in a variety of accommodation styles
Meals as specified - 13 breakfasts, 9 dinners
The option of joining one of our pre-trip meets in the Cotswolds
A free Mountain Kingdoms Water-to-Go bottle or a free Mountain Kingdoms micro fleece
What's not included
Lunches and four dinners
Travel insurance
Locally paid bar bills and laundry
Optional activities
Tips
---
---
Review your holiday
Reviews
Read holiday reviews by Mountain Kingdoms travellers.
Overall score: 5.0 (Based on 1 reviews)
Kyushu Trails - Island of Fire
A fantastic trip 01/05/2018
My time is Japan was amazing; it is an incredible country for so many different reasons. The first thing that struck me was how exotic and different it was in comparison to anywhere I have ever travelled to before. I felt very at home during my time in Japan, the people were extremely welcoming, the culture and history both interesting and fascinating and the scenery was beautiful, unlike any I have ever experienced. All in all, Japan is such a wonderfully diverse country – perfect for an unforgettable holiday.
Jim Davies, Gloucestershire
---
Extend your holiday
There are many ways you can extend your holiday with Mountain Kingdoms: book extra hotel nights, relax at a beautiful beach resort, take a warm-up trek, arrange a personal sightseeing tour or enjoy specialist activities such as rafting, birdwatching or a safari.
We're happy to suggest ideas, provide quotes and make all the arrangements. We can also assist with flight and hotel upgrades. Just call us on +44 (0)1453 844400 or email info@mountainkingdoms.com and we will be pleased to help.