What's included
A knowledgeable English speaking Indian leader
Economy class return air fares from the UK & UK Departure Tax (flight inclusive only)
All hotel/airport transfers
Good standard, characterful hotel accommodation
15 Breakfasts, 6 Lunches, 8 Dinners included
All road transport by private vehicle/s
Sightseeing and all entrance fees as specified
Carbon offset for clients taking our flight-inclusive option
A free high quality Mountain Kingdoms micro fleece
and much more...
Call our
friendly team
Kerala & South India Explorer
Tour
Duration: 17 days from the UK
Private Departures Available
Flight inclusive from £2,995,
Land only from £2,295
Book now or call 01453 844400
Tigers, palaces, temples, festivals & the Ooty mountain railway
Highlights
Search for the Royal Bengal Tiger at the Nagarole game park
Explore mountains, tea plantations and ride the Ooty railway
Attend a Theyyam festival
Stay in a houseboat, a plantation house and an opulent palace
Relax at a beautiful beach resort
Reviews
The staff in the Mountain Kingdoms office are always very helpful and approachable. Having travelled with Mountain Kingdoms a number of times in the past, I was confident that the advice and itinerary would be good. The local agents were very thorough and attentive and made sure that we were always well looked after.
Mr M, Leicestershire
This superb southern India tour takes you to some of the best places in northern Kerala, Karnataki and Tamil Nadu and Flameback Lodge must be one of the most atmospheric places I have encountered in many years of travel.
Steve Berry, Managing Director
View All
Southern India is a perfect winter destination, with a lovely climate and enchanting scenery. The south is completely different from the north. It is a land of colour and vibrancy, of tea, coffee and spice plantations, backwaters, ranges of inland hills rising to over 2,500m / 8,200ft and white, coconut-fringed beaches.
This tour will take you to some of the best places in northern Kerala, Karnataka and Tamil Nadu. There are pleasant and interesting day walks, sightseeing of fantastic palaces and temples - including two extremely grand palaces at Mysore, game drives at Nagarhole National Park which supports an abundance of wildlife including Royal Bengal tiger and some excellent birdwatching in the parks and countryside you visit. You will travel in style with a short Kerala houseboat cruise, stunning drives through tea estates and the beautiful western ghats and, of course a thrilling trip on the world famous Ooty steam mountain railway.
Accommodation is varied and full of character whilst still offering a high level of comfort. Some of the overnight hightlights include a fine colonial plantation house in Wayanad, the Savoy Hotel at Ooty - a heritage property full of faded colonial grandeur, a charming lodge on a coffee plantation, a former Maharajah's home now an opulent heritage hotel in Mysore, and a luxurious resort on the scenic borders of Nagarhole National Park.
Towards the end of your all too fleeting time in this beautiful country you will attend one or two of the famous Theyyam festivals and have time to relax at a boutique style beach resort, before returning home.
Kerala & South India Explorer - Private Departure
We can also offer Kerala & South India Explorer as a private departure, prices start from £2,695 per person, land only. International flights are available from £750. Contact the office for further details or to book your private departure.
Call 01453 844400 or Email us
---
At a glance
Duration: 17 days from the UK
Guaranteed to run for a minimum of 4 clients
Maximum group size: 12
Land only joining city: Calicut
Accommodation types: Hotels, Lodges, Home Stay
Festival:
All departures attend a Theyyam festival.
Meal arrangements: 15 Breakfasts, 6 Lunches, 8 Dinners included.
Itinerary overview
| Day | Activity |
| --- | --- |
| 1-2 | Itineraries may vary by departure. Download the Detailed Itinerary below for the departure of your choice. Arrive Calicut and transfer to hotel. Houseboat cruise. |
| 3-4 | Drive to Wayanad. Free time for exploration and optional walk to Chembra Peak. |
| 5-6 | Drive to Ooty. Ride Toy Train to Hillgrove. Local walks. |
| 7-9 | Drive to Nagarhole National Park. Game drives and boat trip. Drive to Mysore. Sightseeing. |
| 10 | Visit Ranganathittu Bird Sanctuary and continue to visit Srirangapatannam. |
| 11-13 | Drive to Mudigeri. Leisure time, plantation tour and walk up Seven Saints Mountain. |
| 14-15 | Drive to Nileshwar. Day at leisure by the beach. Visit Theyyam Festival. |
| 16-17 | Drive to Calicut. Fly to London. |
Leader: Local leader, Kerala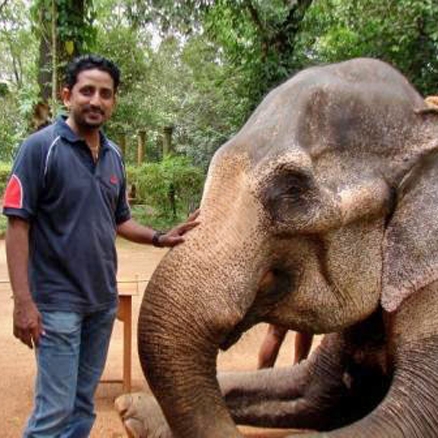 Your trip will be led by an English-speaking local leader. One such Leader is Mr Vipin Antony, specially selected for his leading experience and knowledge of the region through which you will be travelling.Leading walking and adventure groups around the jungles of Southern India is his forte. With a passion for adventure and a keen interest in photography, he is often off exploring areas lesser known. Having lived and worked in Europe and India and with years of experience in the field he is the best person to take you around this beautiful part of the world. Vipin will be with your party from start to finish, though he may well be assisted by local wildlife trackers for the walking days.
Please note if the group size is less than 4 there will not be an accompanying leader throughout but you will have an experienced English-speaking driver, plus guides at all places in the itinerary where sightseeing is indicated.
---
Kerala & South India Explorer Itinerary
Day 1 - Fly overnight from London to Calicut (Kozhikode).

Fly from London to Kozhikode (formerly Calicut)

Overnight: Fly From London To Calicut (Kozhikode)

Day 2 - Arrive Calicut and transfer to hotel - 45mins–1hour drive. Houseboat cruise.

On arrival at Calicut airport (Kozhikode) you will be met and transferred to your hotel 12 kms away. You will stay at the Kadavu Resort, which has beautiful gardens and a relaxing swimming pool. The remainder of the day will be at leisure to rest and recover from the long flight. There is a cruise in the afternoon (numbers permitting) on a converted rice barge up the river next to the hotel. This will be short, from 1630 to 1730. This is a relaxing cruise around the island near the hotel and starts and ends at the hotel jetty with good opportunities for birdwatching.


Overnight: Kadavu Resort Hotel, Calicut

Day 3 - Drive to Wayanad, 95 kms - 3 hours. Remainder of day at leisure.

After a leisurely morning drive up the ghats to Wayanad, you will stay at the Aranyakam Plantation for 2 nights. You will stop at Vythiri for lunch en route. Aranyakam is a homestay managed by Rajesh and his wife, Neema. The accommodation is in comfortable rooms in a building adjoining the main house and surrounded by coffee and other spice plantations. The area is also well known for its wildlife and vegetation. The property has the forests of Nilambur on one side and the Nilgiri hills on the other. Food is local and freshly prepared from locally sourced ingredients. For those interested, a cooking demo can also be arranged where you could try your hands at some local cuisine! Remainder of the day will be at leisure. Local walks in the plantation are possible.

Overnight: Aranyakam Plantation House, Wayanad

Day 4 - Day at leisure to explore Wayanad or Chembra Peak walk.

You will have the day at leisure to explore the area. Wayanad is a part of Kerala that has just recently opened up to Western tourists. The area is known for its tribal populations, estates of coffee and tea and plantations of hard wood trees.

For those of you who would like some exercise there is an excursion to Chembra peak, the highest hill in Wayanad, near Meppadi town. Trekking to the top of this peak takes half a day. You start the walk early in the morning to make the best of the cool weather. You will have a local guide to accompany you on the walk and a picnic lunch will be provided. You return to your homestay by the early afternoon. Please note, the peak is part of the Wayanad Wildlife sanctuary and is strictly monitored by the forest department. During the summer months the park is closed and walking is not permitted to prevent forest fires.


Overnight: Aranyakam Plantation House, Wayanad

Day 5 - Drive to Ootacamund, 105 kms - 3 hours. Board Toy Train to Hillgrove. Walk to Kurumba Village Lodge.

Drive to Ooty this morning, through the Nilgiri Hills. After a brief look around Ooty, and a snack lunch at the Savoy Hotel (not included), you will board the Toy train for the ride down through the hills. The initial journey from Ooty to Coonoor will be powered by a diesel engine, and then from Coonoor onwards, by a steam train, (they will change the diesel engine for a steam engine here). You will continue on the train for the steepest section of the journey down to Hillgrove, a small station near the foothills in the jungle. You will disembark at Hillgrove and walk down to your resort - approximately an hour's walk.(This walk is subject to local conditions and may not be possible). This is a good opportunity to experience the area and for bird watching. (Your luggage will travel down in the vehicle and will be waiting for you at the resort. If you would prefer not to walk, you can get off at Coonoor station, and be driven straight to your resort).

The Nilgiri Mountain Railway is one of the oldest mountain railways in India. Under consideration since 1845, the line was finally opened by the British in 1908, and was initially operated by the Madras Railway Company. The railway is one of the few in the world that is dependent on steam locomotives. In July 2005, UNESCO added the Nilgiri Mountain Railway as an extension to the World Heritage Site of Darjeeling Himalayan Railway, the site then became known as "Mountain Railways of India." The 'Nilgiri Passenger' train covers a distance of 26 miles (41.8 km), travels through 208 curves, 16 tunnels, and 250 bridges. The uphill journey takes around 290 minutes, and the downhill journey takes 215 minutes. It has the steepest track in Asia with a maximum gradient of 8.33%.


Overnight: Kurumba Village Resort

Day 6 - Morning jungle walk. Drive to Ooty via Coonoor, 33kms – 2 hours.

The resort will organise a walk for you depending on how easy or hard you would like the walk to be. You can decide on the duration of the walk and a naturalist will accompany you. For those who prefer to relax, the area around the hotel is a great place for bird watching. Later you will drive back up to Coonoor where you can have lunch. You will then drive back to Ooty for a sightseeing tour of the town and an overnight stay at the Savoy Hotel.

Overnight: Savoy Hotel, Ooty

Day 7 - Drive to Nagarhole National Park, 160 kms – 5 hours. Game drive if time permits.

Today you will drive down to the Nagarhole National Park. The drive will be through the Mudumalai and Bandipur National parks where there is a good chance of spotting some wildlife! You will stay at the Kaav River Lodge for 2 nights. Nagarhole is pure elephant country as one can see numerous herds at a time. However, the blaze of the elusive tiger always haunts you as you drive through the verdant jungle here. Once widely known for the mass elephant trapping operations called 'Khedda', Kabini stands as one of the brightest beacons for wildlife preservation in India today.

In the afternoon enjoy a game drive in the park (time permitting!) Being an important part of the Nilgiri Biosphere Reserve (which comprises the Nagarhole, Bandipur, Mudumalai and Wayanad Reserves); the park stretches over 643-square kilometers and is separated from Bandipur by the Kabini Reservoir. The park has rich forest cover, small streams, valleys, and waterfalls and a healthy tiger predator ratio; and tiger, Indian bison, and elephant are much more populous here than in Bandipur.


Overnight: Kaav Lodge, Nagarhole

Day 8 - Jungle activities.

Today you will enjoy various jungle activities, including jeep safaris and a boat trip on the lake to view wildlife. Walks can also be arranged with a naturalist, for people who are interested. When Steve and Seraphina Berry stayed at Nagarhole they saw three tigers but of course we cannot guarantee sightings.

Overnight: Kaav Lodge, Nagarhole

Day 9 - Morning game drive. Drive to Mysore, 80 kms - 2 hours. Visit the city palace and evening visit to market.

After your morning game drive, you will make your way to Mysore. You will stay at the Royal Orchid Metrople Hotel for two nights.

In the afternoon enjoy a visit to the city palace of the Maharaja in Mysore and a drive up Chamundi Hill to see the Chanakeshwara temple and the statue of Nandi Bull. The Chamundi Hills are located close to the palace city of Mysore. You will have a panoramic view of the city from the top of the hills. Amongst other landmarks, you will see the race course, the Lalitha Mahal palace, Mysore Palace, Karanji and Kukkarahalli lakes. There is a long stairway leading to the top of the hill, comprising 1,511 steps all in all, and climbing the first 400 or so steps takes some effort. En-route to the top, the steps pass the large monolithic statue of Nandi the Bull. You could also drive to the monuments, if you prefer.

The Palace of Mysore is the official residence of the Wodeyars - the erstwhile royal family of Mysore, and also houses two durbar halls (ceremonial meeting halls of the royal court). The Wodeyar kings first built a palace in Mysore in the 14th century. It was demolished and reconstructed many times. The current palace construction was commissioned in 1897, and it was completed in 1912, and expanded later around 1940. Mysore palace is now one of the most famous tourist attractions in India after the Taj Mahal, with more than 2.7 million visitors. Although tourists are allowed to visit the palace, they are not allowed to take photographs inside the palace, and all visitors must remove their footwear to enter. The architectural style of the palace is Indo-Saracenic, and blends together Hindu, Muslim, Rajput, and Gothic styles of architecture. The palace is surrounded by a large garden. The three storied stone building of fine gray granite with deep pink marble domes was designed by Henry Irwin.

In the evening, visit the Devaraja Fruit and Vegetable market. Devaraja market is an apt place to get a flavour of the local way of life. With more than 100 years of history, this market is well knitted into the heritage of Mysore. This is a good sample of a traditional Indian market place that is colourful, noisy and vibrant. You will find a generous mix of vegetable shops, fruit stalls, incense shops, shops selling traditional household tools, conical piles of kumkum (coloured powder used for bindi dots), beetle vine, banana leaves, local flowers, seeds and even some souvenir stalls. There is no concept of 'cold storage' here; everything is fresh and straight from the farm to the market to the home. This is a photographer's delight and best visited in the evening when it is busy!


Overnight: Royal Orchid Metropole Hotel, Mysore

Day 10 - Visit Ranganathittu Bird Sanctuary and continue to visit Srirangapatannam. Afternoon at leisure.

After breakfast you will drive the short distance to visit Ranganathittu Bird Sanctuary, about 18km from Mysore. This sanctuary is home to some of the most exotic birds. It is a group of small islands in the Cauvery River, and was formed when a small dam was built across the river in the 1600s. The Bird Sanctuary owes its existence to the world famous ornithologist Dr. Salim Ali who convinced the Maharaja of Mysore in 1940 to declare it as a protected area. The sanctuary is not very large, it covers an area of 0.67sq.km, but is home to a great variety of birds, including cormorants, darters, white ibis, spoon billed storks, open billed storks, painted storks, white necked storks, egrets, herons, terns, swallows, kingfishers, and sandpipers. There are a few mammals in the sanctuary as well, like fruit bats, bonnet macaques, palm civets, common mongoose and common otters. Marsh crocodiles make up the reptile population of the sanctuary. You take a boat ride around the sanctuary and get a closer look at the birds and the crocodiles.

You will then drive in about a further 10 minutes to visit Srirangapatannam. Srirangapatannam island takes its name from the celebrated Ranganathaswamy temple which dominates the town. Srirangapatannam became the de facto capital of Mysore under Hyder Ali and Tipu Sultan. There is lots to see there as well as Tipu's palace. Around town there are various old city gates, the old fort and the fascinating Garrison Cemetery which are all worth a visit. Among the major sights on the island is Tipu Sultan's Summer Palace which is lovely and one of the most famous palaces of Mysore. Hydar Ali started the construction of this palace, which was completed by his son Tipu Sultan in 1791. The palace was built exclusively for the durbar, which would deal with the happenings in the territory. Most palaces are made of stone or brick but this unique structure - including its delicately carved pillars, its beams and its ceiling - is built of wood. The palace has gardens on either side with fountains in front to keep the air cool. It was originally enclosed in a mud fortress, which was built in 17th century by Chikka Devaraja Wodeyar. The structure is built using the Mughal style of architecture, which resembles the Durbar Hall of Akbar at Allahabad.

You will return to Mysore for an afternoon at leisure.


Overnight: Royal Orchid Metropole Hotel, Mysore

Day 11 - Drive to Mudigeri with visits to statue at Sravanabelagola and Temples of Belur.

Today you will drive to near Chikmagalur with visits on the way to the statue of Gometeshwara Bahubali at Sravanabelagola and the intricately carved temples at Belur.

Firstly you drive for about 3hrs to Sravanabelagola an important pilgrimage destination for people of the Jain faith. Here you can visit the impressive statue of Gometeshwara Bahubali, which is built on top of a hill and can be seen from a long way off as you approach the town. The statue is said to date back to the 11th century and to be the largest monolithic stone statue in the world. You reach the complex up a long flight of stone steps, walking up in the company of cheerful Jain pilgrims - quite a haul up over 600 steps but worth it for the fabulous views from the top and for the close up spectacle of this huge statue and the temples surrounding it. As you need to leave your shoes at the bottom and the stone steps can get quite hot you may like to wear socks. The base of the statue has inscriptions in Kannada and Tamil, as well as the oldest evidence of written Marathi, dating from 981 AD. The inscription praises the Ganga king who funded the effort, and his general Chamundaraya, who erected the statue for his mother. Every twelve years, thousands of devotees congregate here to perform the Mahamastakabhisheka, a spectacular ceremony in which the statue is anointed with water, turmeric, rice flour, sugar cane juice, sandalwood paste, saffron and gold and silver flowers. The next Mahamastakabhisheka will be held in 2018.

After this visit you will continue your drive, stopping for lunch (not included) near the town of Hassan, before continuing to Belur.

The main attraction in Belur is the Chennakesava temple complex with the Chennakesava Temple (dedicated to Chennakeshava, meaning handsome Vishnu) as the centre piece, surrounded by the Kappe Chennigraya temple built by Shantaladevi, queen of king Vishnuvardhana. This temple is one of the finest examples of Hoysala architecture. It was built by king Vishnuvardhana in commemoration of his victory over the Cholas at Talakad in 1117 CE. Legend has it that it took 103 years to complete and Vishnuvardhana's grandson Veera Ballala II completed the task. The facade of the temple is filled with intricate sculptures and friezes with no portion left blank. The intricate workmanship includes elephants, lions, horses, episodes from the Indian mythological epics, and sensuous dancers (Shilabalikas). Inside the temple are a number of ornate pillars. The carving of Darpana Sundari (the Lady with the mirror) is one of major attractions in the complex.

You will then drive up to the coffee plantations in the hills near Mudigeri (Chikmaglur) to reach Flameback Lodge where you will stay for three nights. Flameback Lodge, named for the woodpeckers which are found in the surrounding forest, is a beautiful place, surrounded by coffee plantations and overlooking a beautiful lake. The accommodation is stylish and comfortable and there is a good swimming pool.


Overnight: Flameback Lodge, Mudigere

Day 12 - At leisure.

Today is free for you to explore the beautiful estate at Flameback. You can walk or cycle around the lakes, or simply relax by the swimming pool. In the evening there will be a plantation tour and visit to the owner's bungalow.

Overnight: Flameback Lodge, Mudigere

Day 13 - Walk up Seven Saints Mountain. Afternoon at leisure.

For the energetic, in the morning, there is a walk up the dramatic looking Seven Saints mountain. After a short drive you walk up a track that initially goes through forest before you reach open hillsides. The final ascent is steep (but short). The afternoon is at leisure.

Overnight: Flameback Lodge, Mudigere

Day 14 - Drive to Bekal and on to Nileshwar, 210 kms - 6 hours. Spend the day at leisure.

After breakfast, you will be drive down the western ghats to the coastal town of Mangalore. From there you continue south and further to Nileshwar, a resort with gorgeous, golden sand beaches.

Overnight: Kanan Resort Hotel, Nileshwar

Day 15 - Visit Theyyam Festival. Time at leisure.

You will have time to relax on the beach today and you may also enjoy an outing to witness a Theyyam performance. This is a ritual dance performed in temples and Hindu shrines in northern Kerala. The theyyam dancers go into a trance as the dance peaks, and are believed to become incarnations of the gods on earth. This is an intense religious experience for the locals, who however do not mind visitors. It is a real experience to witness a 'theyyam'! They are organised at the last minute, and may involve an early start or late evening.

Overnight: Kanan Resort Hotel, Nileshwar

Day 16 - Drive to Calicut, 170 kms - 5 hours.

Overnight: Kadavu Resort Hotel, Calicut

Day 17 - Depart Calicut. Fly to London.

After breakfast you will be transferred to Calicut airport for your flight back to the UK.
Map
Map Key
Airport
Point of interest
Mountain Peak
Day walk in this area
Flights
Internal Transfers
Trek
---
2018
| Dates | Availability | Land Only | Flight Inclusive from |
| --- | --- | --- | --- |
| Sat 24 Nov - Mon 10 Dec 2018 | Available | £2435 Book | £3185 Book |
2019
Hold your place
Not quite ready to book? Why not call us on 0044 (0)1453 844400 to hold a no obligation place while you make up your mind?
Optional supplements
Single room supplement
From £945
Insurance
No Surcharge Guarantee
No surcharges will be applied to your holiday after you book. Prices on this website are updated regularly. The Flight Inclusive holiday price, or Land Only holiday price, will be confirmed to you at the time you make your booking. There will be no surcharges after your booking has been confirmed.
Flight inclusive holidays
The 'flight inclusive' holiday prices shown on this website are based upon our preferred airlines and the best priced economy class fares we are able to secure at the time of publication.
We will be able to advise on fares with alternative airlines, upgrades to Business Class, and the options for flights from regional UK airports, please contact us for more details.
Loyalty discount
Find out more
What's included
A knowledgeable English speaking Indian leader
Economy class return air fares from the UK & UK Departure Tax (flight inclusive only)
All hotel/airport transfers
Good standard, characterful hotel accommodation
15 Breakfasts, 6 Lunches, 8 Dinners included
All road transport by private vehicle/s
Sightseeing and all entrance fees as specified
Carbon offset for clients taking our flight-inclusive option
A free high quality Mountain Kingdoms micro fleece
What's not included
Travel insurance
Indian Visa fee
Lunch and evening meals where specified
Airport departure taxes, excepting UK Departure Tax
Optional trips
Tips
---
---
Review your holiday
Reviews
Read holiday reviews by Mountain Kingdoms travellers.
Overall score: 5.0 (Based on 3 reviews)
Kerala & South India Explorer
Kerala & South India Explorer 12/06/2017
What we enjoyed about travelling with Mountain Kingdoms was the small group, excellent guide, good food & accommodation.
Ms D Wing, Yorkshire
Kerala & South India Explorer
Excellent service 11/01/2017
The staff in the Mountain Kingdoms office are always very helpful and approachable. Having travelled with Mountain Kingdoms a number of times in the past, I was confident that the advice and itinerary would be good. The local agents were very thorough and attentive and made sure that we were always well looked after.
Mr M, Leicestershire
Kerala & South India Explorer
Atmospheric
This superb southern India tour takes you to some of the best places in northern Kerala, Karnataki and Tamil Nadu and Flameback Lodge must be one of the most atmospheric places I have encountered in many years of travel.
Steve Berry, Managing Director, Mountain Kingdoms
---
Extend your holiday
1-day and 6-day extension options available
Add at the beginning or end of your holiday in India
Sights include the Red Fort, Taj Mahal, City Palace and Amber Fort
More Details
After your adventures in India why not add an exciting day trip to Agra to see the sights of the one time capital of the great Mughal empire? Or, if you have more time available, perhaps a longer trip visiting both Agra and another gem of the 'Golden Triangle', Jaipur. Whichever option you take, once in Agra you will be looked after by one of our fully trained, English-speaking guides who will show you around the Red Fort, the Taj Mahal and the ancient city and mosque of Fatehpur Sikri. For those travelling on to Jaipur, you will take guided visits to the Amber Fort, Palace of the Winds and City Palace, along with time to explore the colourful bazaars of the 'Pink City'.