What's included
Local, experienced English-speaking leader
A free high-quality Mountain Kingdoms kit bag
All internal flights and domestic hotel/airport transfers
Good standard hotel accommodation in Delhi, twin share, bed and breakfast basis
Best available hotels in outlying towns on full board basis
All camping facilities and all meals on trek
Camp staff to carry out all camp work
Costs of all porterage and their insurance
All road transport by private vehicles
Sightseeing where specified
Economy class return air fares from the UK & all Departure Tax (flight inclusive holidays only)
Single, timed group airport transfers for international flights on arrival and departure
Carbon offset flights (flight inclusive only)
Opportunity to join one of our pre-trek meets in the Cotswolds
and much more...
Call our
friendly team
Indian Himalaya, Sikkim | Walking & Trekking
Our first ever trek
Vigorous / Strenuous
Vigorous: Suitable for enthusiastic hill/mountain walkers.
Strenuous: Suitable for fit individuals who have regular experience of mountain walking.
Find out more...
Grade: Vigorous / Strenuous ? Vigorous / Strenuous

Book now or call 01453 844400
A breathtaking pass is the pinnacle of this classic trek through the stunning Indian Himalaya.
Highlights
Time in Delhi and Darjeeling to take in the sights
Good quality comfortable hotels in central locations
First-rate camping facilities, full porterage and a highly experienced guide on trek
A varied route with gradual acclimatisation, culminating in a sunrise at the Goecha La Pass
Kangchenjunga and the Goecha La is a classic Himalayan trek, one of the best in India, and it was the first trek this company ran. Kangchenjunga at 8,586m/28,169ft is the third highest mountain in the world and this trek takes you through majestic landscapes with grand views of the big mountains, and takes you up to the pass for fabulous, unforgettable close up views of the Kangchenjunga Massif for your reward.
Before your trek you visit Darjeeling where you will get your first fine views of Kangchenjunga and will also have time to explore this atmospheric hill station with all its echoes of the Raj. Here you will stay in one of the oldest established and most distinctive hotels in town. Then, over the next two days, you will drive to Yuksom wit an overnight stay on the way in Pelling, with again more glorious mountain views to whet your appetite. From Yuksom you start your trek entering the Kangchenjunga National Park and climbing through fine forest of rhododendron to reach Dzongri where you camp in beautiful meadows and have a full day to explore and enjoy the sweeping views of the surrounding Himalayan peaks - many standing 6,000m and higher. Then, rested and acclimatised, you continue your ascent past glacial lakes and waterfalls to reach, at last, the prayer flags which mark the Goecha La pass at 4,940m/16,207ft. As the sun rises you will be richly rewarded for your efforts with sublime close up views of the eastern flanks of Kangchenjunga and the Kangchenjunga Massif - a truly memorable moment.
Returning to Yuksom you will then end your trip with a visit to Kalimpong, a delightfully atmospheric hill station, which will give you your last, more distant views of Kangchenjunga as a final flourish to this great trip.
---
At a glance
Grade: Vigorous / Strenuous
Vigorous / Strenuous
Max. Altitude: 4,500m/14,764ft, Viewpoint below the Goecha La, Day 13
Guaranteed to run for a minimum of 4 clients
Maximum group size: 12
Land only joining city: Delhi
Accommodation types: Hotels, Camping
Meal arrangements: Bed and Breakfast in Delhi. All meals included elsewhere and on trek.
Itinerary overview
| Day | Activity |
| --- | --- |
| 1-2 | (This is the itinerary for our autumn 2019 and spring 2020 departures, other departures may vary and can be downloaded below). Fly to Delhi. Guided sightseeing tour. |
| 3-4 | Fly to Bagdogra. Drive to Darjeeling. Sightseeing in Darjeeling. |
| 5-7 | Drive to Pelling and Yuksom. Begin trek and walk to Sachen. |
| 7- 9 | Trek to Dzongri via Sachen and Tsokha. |
| 10 | Rest and acclimatisation at Dzongri. |
| 11-12 | Trek to Thamgsing and on to Lamuney |
| 13 | Trek to viewpoint below the Goecha La and return to Thamgsing. |
| 14-15 | Trek to Yuksom via Tsoka and end trek. |
| 16 | Drive to Kalimpong. Time at leisure. |
| 17-18 | Drive to Bagdogra. Fly To Delhi. Fly to London. |
Leader: Local leader, India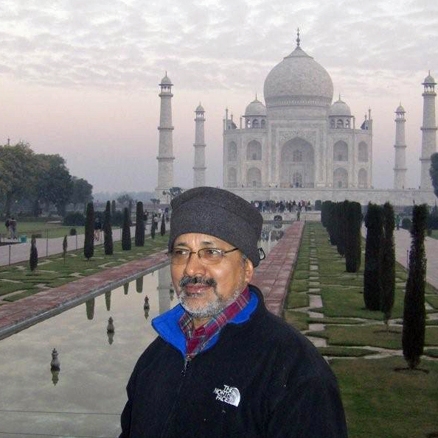 Your Indian tour, trek or walking guide will be friendly, very knowledgeable about the region you are visiting and speak fluent English. We use one of the largest and oldest tour operators in India whose staff all have excellent training.
---
Kangchenjunga & the Goecha La Itinerary
Day 1 - Fly London to Delhi

Fly overnight from London to Delhi.

Overnight: In flight

Day 2 - Arrive Delhi. Group transfer to hotel. Afternoon sightseeing.

You will arrive at Delhi International Airport by mid-morning and transfer to your hotel.

In the afternoon an English speaking guide will take you on a sightseeing tour of Old and New Delhi. The heat, dust, sights and sounds of India's frenetic capital are quite an initial culture shock! Be prepared for cows strolling down highways, families of 4 riding on motor scooters (ladies side saddle, of course) and every type of business, from secretarial services to laundry, being carried out on the street. Sights you may see include;- India Gate, Rastrapati Bhawan in New Delhi and in Old Delhi;- Jama Masjid (the largest mosque in India) and Raj Ghat - memorial of Mahatma Gandhi. You will see the immense scale of Imperial building - the sheer size of New Delhi's streets, buildings and monuments is staggering. Old Delhi is the real India and the back streets, spice markets, narrow streets and temples are fascinating.


Overnight: Hotel Broadway or Connaught Hotel, Delhi

Day 3 - Fly Delhi to Bagdogra. Drive to Darjeeling, 2,134m/7,001ft - 2½ hour drive.

After breakfast you will be transferred to the airport for your flight to Bagdogra. You will then drive the windy road which takes you up from the plains to Darjeeling, located on a ridge with views across to Kangchenjunga and the mountains of Nepal.

Darjeeling
Straddling a ridge in the Darjeeling-Sikkim Himalaya at 2,134m/7,001ft and surrounded by tea plantations on all sides. Darjeeling has been a popular hill station since the British established it as a Rest & Recuperation (R & R) centre for their troops in the mid-1800s. The industrious British, not averse to mixing a little business with pleasure, recognised that the quality of the soil and the mild climate were ideal for tea cultivation; the forested hill slopes were soon denuded of their cover and planted with this most lucrative revenue earner. These days, people come here to escape from the heat and humidity of the north Indian plain. You get an indication of how popular Darjeeling is from the 70 or so hotels recognised by the tourist office and the scores of others which don't come up to their requirements. Here you will find yourself surrounded by mountain people from all over the eastern Himalaya who have come to work, to trade or, in the case of the Tibetans, as refugees. Mother Teresa spent her early years as a nun here with the sisters at Loreto Convent and Lawrence Durrell was educated at the prestigious St Joseph's College.

Overnight: New Elgin Hotel, Darjeeling

Day 4 - Sightseeing in Darjeeling.

It is worth getting up early to walk to the Observatory Hill to see spectacular views. Later you will visit the Everest Museum at the Himalayan Mountaineering Institute. You then drive to the Tibetan Refugee Self-Help Centre where you can see carpet making and other handicrafts and visit the centre's shop.

There is a primary school for disadvantaged children, called Roseberry School, 10 minutes' walk from the hotel. The teachers and children would be very happy to receive English speaking visitors and if you are interested please talk to your guide and he will arrange a visit. Small cash donations to the school would be appropriate and extremely well received. Return to the hotel for lunch.

A half-day trip on the world-famous railway is highly recommended payable locally. (Please be warned that it sometimes runs out of coal, and therefore the train on the tourist circuit does not always operate. You can always get onto the regular departure, getting off at the first stop and we can arrange for you to be picked up). Sometimes the train goes so slowly it is faster to walk!


Toy Train of Darjeeling
Trains came to India in the latter part of the 19th Century; among the very first and most novel is the famous 'Toy Train' of Darjeeling.

In 1870, an agent working for the Eastern Bengal Railway came up with a brilliant idea to reduce the costs of transport. It took eight long years for Franklyn Prestage to submit his scheme to Governor Sir Ashley Eden, who gave it immediate sanction. Construction had begun in 1879, the first 20 miles from Siliguri to Tindharia station was opened in March 1880 for the Viceroy's special train only and finally, on 4 July 1881, the baby locomotive and three coaches puffed right up to Darjeeling - a total of 50¾ miles. The mountain railway is now a UNESCO World Heritage Site.


Overnight: New Elgin Hotel, Darjeeling

Day 5 - Drive to Pelling, 1,750m/5,741ft - approximately 5 hour drive.

Today you will drive to Pelling a pleasant town situated on a ridge with fantastic views across to Kangchenjunga. You might like to visit nearby Pemayangtse Monastery, one of the oldest and most important monasteries in Sikkim.

Overnight: The Hotel Mount Pandim, Pelling

Day 6 - Drive to Yuksom, 1,780m/5,840ft - approximately 2 hour drive.

The little village of Yuksom is famous in Sikkimese history as the first King of Sikkim was crowned here. The first monastery of Sikkim, Dubde is also located here. By the lake the stone throne where the king was crowned can be seen. From the lake you can walk up the hill, past fluttering prayer flags, to a calm spot in the forest which bears the imprint of the Guru Rinpoche's foot on one of the rocks.

Overnight: Tashigang Hotel, Yuksom

Day 7 - Trek to Sachen, 2,207m / 7,241ft - 5-6 hours.

The trek starts from outside the hotel and you walk gently uphill, following the Rathang river gorge, through dense, rich untouched forest with ferns and many different varieties of orchid and brightly coloured birds. After an hour or so you cross the Paha Khola suspension bridge, 5,685ft/1,733m, and into rhododendron country. After about 4 hours, you'll reach a swimming spot beside a waterfall (if you're feeling brave!) and you can stop for lunch by a bridge over a stream. Camp is close by in a forest clearing called Sachen at 2,200m/6500ft.

Trek distance: 6.6km. Total Ascent: 743m. Total Descent: 365m.

Flora and fauna
Altitude, aspect and rainfall have influenced the vegetation of Sikkim. In the lowest parts there is wet sal (Shorea Robusta) forest with 660 species of orchids and 20 species of bamboo. This gives way to tropical ever-green mountain and rain forests (tree ferns, epiphytes, bamboo, oak, beech, chestnut, tree fern, giant magnolia, rhododendron, firs and pines) up to the tree line at 3,600-4,200m/11,800-13,800ft. The alpine forests at 3,900-5,000m/12,800-16,400ft are characterised by such beautiful flowering plants as primulas, gentians, blue poppies and wild strawberry, raspberry and rhubarb. Sikkim is a botanist's delight.

The animal and bird life is correspondingly rich, with 81 species of mammals, 600 species of birds and 631 species of butterflies - wild asses and yaks in the north, bears, lesser (red) pandas, silver foxes and leopards in the tropical forests. The bird life is also rich, with pheasants, teal, partridges, cuckoos, babblers and thrushes among many others.


Overnight: Camp

Day 8 - Trek to Tsokha, 2,990m/9,810ft - 4-5 hours.

Passing by sweet smelling viburnum, you cross the Prek Chu River before ascending steeply for two or three hours to arrive at the lodge at Bakhim. You can stop for lunch here and then continue for another hour and a half through rhododendron forests climbing up to the deserted village of Tsokha where you camp tonight.

Trek distance: 5.6km. Total Ascent: 1090m. Total Descent: 306m.

Overnight: Camp

Day 9 - Trek to Dzongri, 3,950m/12,959ft - 5-6 hours.

A fairly steep climb above Tshoka takes you into beautiful rhododendron forests and along a well-defined, uphill path to Phedung (about 2-3 hours from Tshoka) - a good lunch spot. A further climb of around 2 hours takes you to the trek lodges at Dzongri. A brief climb beyond brings you to a meadow where you can pitch camp in a site with views of Koktang 6,147m/20,167ft, Ratong, Kabru 7,338m/24,075ft, Kangchenjunga 8,586m/28,169ft, Simvo 6,815m/22,359ft and Pandim 6,691m/21,952ft.

Trek distance: 6.4km. Total Ascent: 1,146m. Total Descent: 190m.

Overnight: Camp

Day 10 - Rest and acclimatisation at Dzongri.

Today is a chance to explore the area and to climb the small peaks near to the campsite for tremendous views. This is particularly worthwhile in the early morning and the evening. While you can rest if you wish, there will be the option of a short acclimatisation walk around the local area to help prepare you for the next few days.

Overnight: Camp

Day 11 - Trek to Thamgsing, 3,940m/12,927ft - 5-6 hours.

Today, you ascend gradually over open hillside for a mile or so to a low ridge visible from the camp site. From here, beside some chortens on the skyline there are fabulous views of Kangchenjunga and Pandim. You then descend, at first traversing down towards Pandim on the far side of the valley, then dropping steeply on a good path through rhododendron forest for lunch at the Prek Chu River (a 3hourr trek and at 3,749m/12,300ft). You cross the river and ascend gradually for 1½hrs through pine forest to reach a grassy campsite, beneath the shapely unclimbed peak of Pandim.

Trek distance: 6.6km Total Ascent:560m. Total Descent: 570m.

Overnight: Camp

Day 12 - Trek to Lamuney, 4,166m/13,667ft - 1½ hours. Acclimatisation walk to Samiti Pokhari.

Today's walk to Lamuney is fairly short with plenty of opportunity to rest before tomorrow's big day. You begin by continuing parallel to the Prek Chu River. You will go on further to Samiti Pokhari, 4,298m/14,100ft, for an acclimatisation walk and then return to camp at Lamuney. Samati Lake is beautiful, holy and emerald green nestling behind brightly coloured, wind-torn prayer flags.

Overnight: Camp

Day 13 - Trek to viewpoint, 4,500m/14,764ft, for sunrise views - 2-2½ hours. Return to Lamune for breakfast and trek to Thangsing - 1½-2 hours.

Due to recent snow leopard sightings, and to avoid disturbing these rare and endangered animals, the Forestry Department has closed the path to the Goecha La for the autumn season. However, you are still able to trek to a fine viewing point that will give you sweeping vistas across to Kangchenjunga and the surrounding mountains.

To ensure you reach the viewpoint for sunrise, you will set off in the early hours climbing above Samiti Lake for around 1½ hours. As the sun emerges, the full grandeur of the surrounding scenery will be revealed and you will enjoy magnificent views of Kangchenjunga and other Himalayan peaks. Photos taken, you will descend back to Lamune for breakfast. After this, there will be time to pack your gear before taking a leisurely walk downhill to Thangsing. The rest of the day is yours to relax.

Overnight: Camp

Day 14 - Trek to Tsoka, 2,990m/9,810ft - 7- 8 hours.

It's worth getting up early to make the short hike to the ridge behind camp. From here there are fantastic views of Kangchenjunga and one can look back up to the Goecha La. Leaving Thamgsing, you take a different route back, avoiding the long climb to the Dzongri Plateau. Descending to the Prek Chu River, you contour round through jungle with, inevitably, some ups as well as downs, to emerge at Phedung again. From there it is a steep walk down to Tsoka. This, of course, saves a day on the return march, but does involve quite a long day.

Trek distance: 12.4km. Total Ascent: 486m. Total Descent: 1,435m.

Overnight: Camp

Day 15 - End trek at Yuksom, 1,780m/5,840ft - 6-7 hours.

Today you descend steeply back down to the Prek Chu River, following the route taken on the first day and then contour gradually downwards to reach the village of Yuksom, the starting point.

Trek distance: 13.5km. Total Ascent: 713m. Total Descent: 1,940m.

Overnight: Tashigang Hotel, Yuksom

Day 16 - Drive to Kalimpong, 1,250m/4,101ft - 108km, 4-5 hours. Afternoon at leisure.

After breakfast you will drive from Yuksom to kalimpong which you shoud reach in time for lunch.

Kalimpong is a pleasant small town located on a ridge above the River Teesta and enjoying good views of the mountains. During the days of the British Raj, Kalimpong was a gateway for trade with Tibet and also a jumping off spot for much of the 19th and 20th century exploration of the eastern Himalaya, and there are many old colonial bungalows and churches in the town from that time. Like Darjeeling, the town is also known for its educational institutions. Nowadays Kalimpong is important for horticulture, with many nurseries and a flower market notable for its wide array of orchids. The town is also a cente for Buddhism and the Tibetan Buddhist Monastery, Zang Dhok Palri Phodang, has a number of rare Tibetan Buddhist scriptures which were brought to Kalimpong from Tibet.

Overnight: The Himalayan Hotel Or Similar, Kalimpong

Day 17 - Drive to Bagdogra - 80km, 2 hours. Fly To Delhi.

After breakfast you leave the mountains to travel down to the Indian plains at Bagdogra. Here you will board your plane for Delhi. In Delhi you will be met and transferred to your hotel. You will then have the rest of the day free in Delhi for sightseeing and shopping.

In the evening you may choose to splash out on a final meal to celebrate the end of your trip, possibly at the plush Bukhara Restaurant at the Sheraton Hotel, once described as 'the finest Indian cuisine on planet earth'. Although smart the prices there are not too steep when compared to an equivalent meal in a similar setting in Europe or the USA and Mountain Kingdoms clients have in the past certainly considered it to be worth a visit.


Overnight: Red Fox Hotel Or Similar, Delhi

Day 18 - Fly to London.

After breakfast there will be a group transfer to the airport for your flight back to the UK.
Map
Map Key
Airport
Point of interest
Mountain Peak
Day walk in this area
Flights
Internal Transfers
Trek
---
No Dates Available
There are no available booking dates for this holiday yet since we are still finalising details. If you are interested in this holiday and would like further details, please contact us.
Hold your place
Not quite ready to book? Why not call us on 0044 (0)1453 844400 to hold a no obligation place while you make up your mind?
No Surcharge Guarantee
No surcharges will be applied to your holiday after you book. Prices on this website are updated regularly. The Flight Inclusive holiday price, or Land Only holiday price, will be confirmed to you at the time you make your booking. There will be no surcharges after your booking has been confirmed.
Flight inclusive holidays
The 'flight inclusive' holiday prices shown on this website are based upon our preferred airlines and the best priced economy class fares we are able to secure at the time of publication.
We will be able to advise on fares with alternative airlines, upgrades to Business Class, and the options for flights from regional UK airports, please contact us for more details.
Loyalty discount
Find out more
What's included
Local, experienced English-speaking leader
A free high-quality Mountain Kingdoms kit bag
All internal flights and domestic hotel/airport transfers
Good standard hotel accommodation in Delhi, twin share, bed and breakfast basis
Best available hotels in outlying towns on full board basis
All camping facilities and all meals on trek
Camp staff to carry out all camp work
Costs of all porterage and their insurance
All road transport by private vehicles
Sightseeing where specified
Economy class return air fares from the UK & all Departure Tax (flight inclusive holidays only)
Single, timed group airport transfers for international flights on arrival and departure
Carbon offset flights (flight inclusive only)
Opportunity to join one of our pre-trek meets in the Cotswolds
What's not included
Travel insurance
Visa fees
Lunch and evening meals in Delhi
Tips
---
---
Review your holiday
Reviews
Read holiday reviews by Mountain Kingdoms travellers.
Overall score: 5.0 (Based on 8 reviews)
Kangchenjunga & the Goecha La
Himalayan adventure 29/10/2017
I had never been trekking before, let alone high altitude trekking. This was one of the best experiences I have ever had seeing new places in a way I could never have imagined. The best care was taken of us, and our safety and comfort were very definitely their priority. Humour and friendship prevailed. It's only a case of which holiday I'll choose next. I can't praise Nima our guide enough.
Mr I Wisloch, Avon
Kangchenjunga & the Goecha La
Excellent trek in Sikkim 21/12/2016
Just a brief note to thank you for all your support and good advice regarding our treks in Sikkim. The Singalila ridge/Goecha La trek was fantastic. Nice to see blue sheep and mouse hares high up (but no signs of the yeti!). Pemba Sherpa was a superb sirdar - what a great guy and an extraordinary life story. Thank you very much again, we wouldn't think of using any other company for future trips.
Dr K, Herefordshire
Kangchenjunga & the Goecha La
Great trekking team 05/04/2014
The trekking team were absolutely great, the food on the trek was very good, varied and the team were really helpful in every respect, with Pemba taking great care to manage expectations. Overall we enjoyed the walking and the mountain experience as we are well used to winter walking conditions.
Mr & Mrs D, Shropshire
Kangchenjunga & the Goecha La
Moving and spectacular 07/04/2012
Reaching the mountains near Goecha La was deeply moving and spectacular - such fresh evidence of glacial movement and stunning morning scenes. The trekking staff were dependable - courteous, attentive and pleasant and the flights and drives all ran to plan.
Mr & Mrs G, Cambridgeshire
Kangchenjunga & the Goecha La
Memorable 04/10/2007
The emotional elation I felt on reaching the Goecha La will stay with me forever.
Mrs A, Devon
---
Extend your holiday
Known for its population of tigers.
Home to fascinating wildlife including jungle cats, hyenas, jackals, bears, crocodiles and large populations of langur monkeys.
Enjoy safari drives as you look out for wildlife amongst the picturesque grassland, hills and lakes.
More Details
Ranthambore National Park in Rajasthan is one of the finest national parks in northern India. Formerly a hunting reserve for the Maharajas of Jaipur, you can see a huge variety of fantastic wildlife and birds in Ranthambore, but the park is particularly famous for its population of tigers - although of course sightings of tiger can never be guaranteed many visitors to this park are lucky enough to get good views. The scenery of the park is very varied with grassland, hills and lakes and there are also some very picturesque and atmospheric ruins located in the park. Even if you don't see tigers there is abundant wildlife on view in Ranthambore with leopard and other cats such as jungle cats, caracal, hyena, jackal, wild boar, bear, several species of deer, and large populations of langur monkeys. Marsh crocodiles and other reptiles are also found in the lakes within the park. Owing to the wide range of habitats within the park there is also a large variety of fantastic and colourful birds, both resident and migrant, to be seen - in total, 272 bird species have been documented within the park.
Corbett National Park is home to one of the largest Royal Bengal Tiger populations in India.
Over 50 species of mammals, many reptiles and hundreds of bird species to look out for.
Ideal extension from Delhi to explore some of India's most fascinating wildlife.
More Details
Corbett National Park is the oldest national park in India. Located between the Himalayan foothills to the north and the ancient Shivalik Hills to the south, the reserve covers a wide range of habitat with dense woodlands, open grasslands, riverine vegetation, dry riverbeds and more hilly terrain and so offers much diversity. This varied habitat hosts a spectacular diversity of mammal, bird and reptilian life, unmatched anywhere in India.
The park is home to one of the largest Royal Bengal Tiger populations in India as well as other large cats such as leopard. There are also around 50 species of mammals including large herds of elephant and four species of deer. In the park you also find many reptiles, including the rare and highly endangered Gharial crocodile. Corbett has a spectacular bird diversity – there are several hundred resident species of bird with as many more crossing on their migratory routes with bird diversity being at its peak during the winter months.
1-day and 6-day extension options available
Add at the beginning or end of your holiday in India
Sights include the Red Fort, Taj Mahal, City Palace and Amber Fort
More Details
After your adventures in India why not add an exciting day trip to Agra to see the sights of the one time capital of the great Mughal empire? Or, if you have more time available, perhaps a longer trip visiting both Agra and another gem of the 'Golden Triangle', Jaipur. Whichever option you take, once in Agra you will be looked after by one of our fully trained, English-speaking guides who will show you around the Red Fort, the Taj Mahal and the ancient city and mosque of Fatehpur Sikri. For those travelling on to Jaipur, you will take guided visits to the Amber Fort, Palace of the Winds and City Palace, along with time to explore the colourful bazaars of the 'Pink City'.