What's included
Local English-speaking leaders in Thailand, Laos & Cambodia
Economy class return air fares from the UK & UK Departure Tax (flight inclusive only)
Single, timed group airport transfers for international flights on arrival and departure
All internal flights and domestic airport transfers
All other transfers as per the itinerary
Good standard hotel accommodation (usually 4 or 5*) in Bangkok and Luang Prabang on a twin share, bed and breakfast basis unless otherwise specified
Best available hotels in outlying towns
12 breakfasts, 9 lunches and 7 dinners included.
All road transport by private vehicles
Sightseeing where specified
The option of joining one of our pre-trip meets in the Cotswolds
and much more...
Call our
friendly team
Indochina Experience
Tour
Duration: 15 days from the UK
Flight inclusive from £3,125,
Land only from £2,425
Book now or call 01453 844400
This superb adventure tour takes in Bangkok and the best of Laos along with a visit to fabled Angkor Wat in Cambodia.
Highlights
Visit Thailand, Laos and Cambodia in one superb holiday
Explore Bangkok, Luang Prabang and Phnom Penh
Cruise the mighty Mekong
Spend two full days exploring the remarkable World Heritage site of Angkor Wat
Stay in 4 & 5 star hotels and comfortable lodges throughout
This exploration of Indochina was designed to give you a relaxed-pace tour, of the highlights of Laos, combined with visits to the incomparable Angkor Wat and fascinating Phnom Penh in Cambodia and a full day sightseeing in Bangkok; the starting point of your adventure.
Leaving the fascinating markets, temples and canals of the Thai capital behind, you fly to Chiang Rai in Laos and begin your journey with a cruise down the Mekong River to Luang Prabang. The former royal capital is renowned for its ancient red-roofed temples, French-Indochinese architecture, beautiful surrounding mountains and languid, sinuous rivers. In fact, Luang Prabang encapsulates the very essence of dreamy, timeless Laos. Staying in a lovely boutique hotel you will enjoy a comprehensive walking tour of the old city, visit the nearby Kuangsi Waterfalls and spend a day walking through some of the hill tribe villages on the opposite bank of the Mekong.
From Laos you fly south to Siem Reap in Cambodia spending two full days touring the remarkable temple complex of Angkor Wat as well as the ancient city of Angkor Thom and several of the region's other most notable temple sites. Finally, your adventure ends in the evocative Cambodian capital of Phnom Penh where you will have a guided tour of the most significant sights including the Royal Palace, the National Museum of the Arts and the infamous Killing Fields.
Staying in well-appointed and well-located hotels throughout, and with an excellent balance of sightseeing, leisure time and travel, this is a superb tour of a truly captivating part of the world.
---
At a glance
Duration: 15 days from the UK
Guaranteed to run for a minimum of 4 clients
Maximum group size: 12
Land only joining city: Bangkok
Accommodation types: Hotels
Meal arrangements: 12 breakfasts, 9 lunches and 7 dinners included.
Itinerary overview
| Day | Activity |
| --- | --- |
| 1-3 | Fly to Bangkok. Full day sightseeing including: Wat Arun, Grand Palace and Wat Po. |
| 4-6 | Fly to Chiang Rai. Cruise to Luang Say, visit Pak Ou caves en route. |
| 7 | See morning donations to monks. Walking tour of Luang Prabang, afternoon excursion to Kuangsi Waterfallls and Ban Thapaene. |
| 8-9 | Cross the river to Wat Long Khoun. Walk to the village of Xiang Men. Return to Luang Prabang for the night market. Fly to Siem Reap. |
| 10-11 | Visit Angkor Wat temple complex, Angkor Thom and other nearby temples. |
| 12-13 | Fly to Phnom Penh. City tour including Silver Pagoda. |
| 14-15 | Transfer to Phnom Penh airport. Fly to London. |
Leader: Local leaders, Laos, Cambodia & Thailand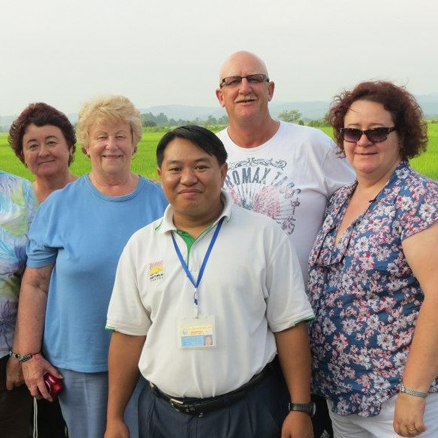 Throughout the tour you will be accompanied by English-speaking, professionally trained tour guides who possess a large fund of knowledge regarding the culture of Laos and Cambodia.
You will be met on arrival at the Laos border at Houeixay by your first English-speaking guide who will accompany you on the river cruise to Luang Prabang and during your sightseeing there. You will then have separate Cambodian guides for your time in Siem Reap and Phnom Penh.
Mountain Kingdoms will also provide English-speaking Thai guides for the transfers and sightseeing in Bangkok.
---
Indochina Experience Itinerary
Day 1 - Fly London to Bangkok

Today you will catch your flight from London and fly to Bangkok

Overnight: In flight

Day 2 - Arrive Bangkok. Group transfer to hotel.

You will be met on your arrival at Bangkok airport and transferred to your hotel. The rest of the day is yours to relax after your long flight.

Overnight: Raweekanlaya Hotel Or Similar, Bangkok

Day 3 - Full day sightseeing in Bangkok.

Your day's sightseeing starts by boarding a long tailed boat for a canal tour of Thonburi Klong. There are many canals in Bangkok known as 'klongs' and in a reasonably short time one can escape the confines of the city to experience the life of people living on the canals. You will also visit an Orchid farm before coming back to the main river that cuts through Bangkok, the Chao Praya. You will then ride down the river for a short distance to view Wat Arun, one of the main temples of Bangkok. The 'Temple of Dawn' is as tall as a 20-storey-high building and dates back to the 16th century. It used to house the famous Emerald Buddha and when this was moved to the Grand Palace, Rama I compensated the monks for their loss by instructing his son to make the temple 'more glorious than the others'. After this you will cross the river and walk around a large amulet market. Thai people are very keen on amulets as they believe that these small images of Buddha will protect them in various ways and bring them good luck. The market is often crowded and noisy and gives a really interesting view of the way of life in Thailand.

In the afternoon you will take a tour of the Wat Po temple complex to see the Reclining Buddha, followed by a trek up to the top of the Golden Mount. The enormous Reclining Buddha measures 46 metres long and 15 metres high and represents the Buddha entering Nirvana. King Rama III donated it to the monastery. It is covered in gold leaf and the soles of the feet are of special interest as they are covered in mother of pearl. The Golden Mount, or Wat Sa Ket, is the only hill in Bangkok and artificial at that. Steps spiral up the side of the Mount leading to a viewing platform where you can identify the palaces and temples spread out below. The temple contains relics of the Buddha which were given to King Rama V by Lord Curzon, then Viceroy of India.


Overnight: Raweekanlaya Hotel Or Similar, Bangkok

Day 4 - Fly to Chiang Rai. Drive to Chiang Saen.

Early morning transfer to catch the internal flight to Chiang Rai. Here you will be met and driven to the area near Chiang Saen, known as The Golden Triangle. You should reach there in time for lunch and will then have the afternoon to explore, or relax by the hotel pool. You have great views across the River Mekong to where three countries, Burma, Laos and Thailand meet. It is pleasant to walk along the banks of the Mekong and perhaps have a beer in a simple bar overlooking the bustle of the Mekong River. Wat Phra That, just a short walk up from the village street, is worth a visit. This attractive ancient temple possibly dates back to the 8th century - here you will see local people using candles and dice to foretell their fortunes. You might also climb to the ridge top behind the hotel for good views of the Mekong and across to Burma - the large building you can see across the river is a casino.

Overnight: Imperial Golden Triangle Hotel, Chang Rai

Day 5 - Drive to Chiang Khong. Cross the Mekong River by the Friendship Bridge to Houeixay. Begin Mekong boat cruise.

An early morning start is required to cross the border into Laos and board your cruise boat for the river journey down the Mekong. These boats are 30-35m long, steel hulled with timber covered saloons and open decks. It takes most of the day to cruise down the river to Pak Beng, probably making one or more stops to view local villages and meet hill tribes. A delicious buffet lunch is served on board the boat and you arrive at Pak Beng well before sunset. Pak Beng is a small, rustic town/village, which sits on a steep hillside offering spectacular views over the Mekong River.

The Mekong River
From its source on the 4,875m/15,994ft high Mount Tang Kula on the Tibetan plateau, the Mekong River begins a 4,550km journey towards the South China Sea. It flows through China's Yuang province before entering South East Asia. The 12th longest river in the world acts as a border between Burma and Laos and then enters Laos' territory again to become another border, this time between Laos and Thailand. The river reaches Cambodia at the Khone Pha Pheng waterfalls and, after traversing Cambodia, flows into southern Vietnam where it forms a fertile delta. Before the completion of the Thai/Lao Friendship Bridge in 1993, not a single span crossed its entire south-east Asian length and in Laos it is still not dammed.


Overnight: Luang Say Lodge, Pak Beng

Day 6 - Continue river cruise to Luang Prabang.

After an early breakfast, there is the chance to visit the nearby Pak Beng market where people from surrounding hill tribe villages trade and exchange their goods. It is well worth making the effort as it is highly colourful. You will board the boat at approximately 08:30 hours and depart for Luang Prabang making a stop at a Hmong village, before having lunch on board the cruise ship.

In the afternoon you will reach Pak Ou caves near the mouth of the Nam Ou River where you will stop to visit Tam Ting, the 'caves of a thousand buddhas'. Traditionally in ancient times the King used to travel up once a year from Luang Prabang with his entourage to pray and make a pilgrimage. He started the tradition of placing images of Buddha inside the two main caves here. There is a higher and lower cave at the foot of vertical limestone cliffs. After this visit, carry on down river to Luang Prabang. There are many interesting things to see on the way, but look out for the people panning for gold on the right bank of the river. You will also see lots of fishing activity from small boats using the traditional circular throw nets and no doubt you will be passed occasionally by the very fast speed boats coming down from the Thai border. On arrival you will be met and transferred to your hotel.


Overnight: Le Sen Boutique Hotel or Maison Dalabua or Similar, Luang Prabang

Day 7 - Walking tour of Luang Prabang. Afternoon visit to Kuangsi Waterfalls.

Your guide and vehicle will pick you up just before dawn to make a pre-breakfast trip into town to see the monks collecting alms. Early in the morning the town is very quiet and it is a memorable sight to see more than 100 monks walking through the streets with their alms bowls, past temples and shops, to collect their daily rice and other foodstuffs from ordinary local people who line the streets to distribute it. You will then return to the hotel for breakfast.

After breakfast you will return to town for a comprehensive walking tour of the old city of Luang Prabang. In 1995, UNESCO voted Luang Prabang a World Heritage city and the walking tour features the best parts. You will probably start with a walk through the morning market where you will see all kinds of foodstuffs on sale - where else can you see up to 5 or 6 types of rice for sale on a single stall? Next you will visit the Royal Palace. Built in 1904 for King Sisavang Vong it is now a museum and is full of the possessions of the last members of the Royal family and works of art collected over several generations. There are many items in the collection that were gifts from early explorers or diplomats. Whenever official visitors came to Luang Prabang, they came up river and the King would meet them at the riverside entrance to his palace. His son was prevented from taking the throne by the 1975 revolution and he and his wife were exiled to a cave in northern Laos where they died from starvation. Opposite the Royal Palace is the Hill of Phusi and it is well worth climbing this hill for the views of the city. You will also visit other wats such as Wat Xiang Thong the most historic and prettiest temple in the city, Wat Khili and Wat Mai, built in 1796 and famous for its five-tiered roof.

In the afternoon you will visit the nearby Kuangsi Waterfalls, the largest in the Luang Prabang area with opportunities for swimming.


Overnight: Le Sen Boutique Hotel or Maison Dalabua or Similar, Luang Prabang

Day 8 - Day walk visiting villages across the river.

After breakfast you will drive down to the river and take a boat across the Mekong River to visit several pretty Wats and villages over there, away from the hustle-bustle of the city.

First you will visit charming Wat Long Khoune, traditionally a retreat for the king before his coronation; there are lovely views of the town from here. You will then walk through trees to see a nearby limestone cave (Wat Tham Xiang Maen) where the king also traditionally meditated. You can explore this cave with a torch and you may see bats if you descend far enough. You then climb to the hill top to see Wat Chom Phet, now a little dilapidated. The small temple here contains the remains of the late king's wife who died in 1929 and again the views of Luang Prabang from here are superb. From this Wat you descend to walk through the attractive and well-kept village of Xiang Men and may visit yet another charming Wat in the middle of the village. The temple at Xieng Mene was rebuilt in 1927 and is particularly important as it once housed one of the main treasures now kept in the Royal Palace, a golden Buddha statue that was twice taken out of the country to Thailand. It stayed in this village on its way back to Luang Prabang in 1867 from Vientiane. From the village you will walk back to the riverside to pick up your boat again and continue along the river for a short way to visit a village where the locals are well known for their traditional skills in pottery. Be sure to walk through the village to see the huge underground kiln where this pottery is fired. Unfortunately many of the articles made here, such as large pots, are too big to make practical souvenirs. This walking tour can be taken at a leisurely pace, though it may consume most of the day and you will either have a picnic lunch on the way, or have lunch back in town.

You will have the rest of the afternoon free to enjoy the pleasures of Luang Prabang.

In the evening you will go into town to visit the night market. This comes as quite a surprise as virtually the whole of the main street is closed off to traffic and stalls are erected up and down the street selling anything and everything.


Overnight: Le Sen Boutique Hotel or Maison Dalabua or Similar, Luang Prabang

Day 9 - Fly from Luang Prabang to Siem Reap. Afternoon visit to the temples of Angkor Wat.

You will transfer to Luang Prabang Airport for your flight to Cambodia. The flight takes about an hour. On arrival you will be met and transferred to your hotel. If flight time allows, there may be an afternoon visit to Angkor Wat.

Overnight: Pavillon D'orient Hotel, Siem Reap

Day 10 - Visit Angkor Wat and Angkor Thom.

This morning you will visit the legendary Angkor Wat. As the majority of tourists visit Angkor Wat in the afternoon you will be taken there in the morning. This means you will be able enjoy the serenity and beauty of the monument without having to fight your way through masses of coach parties. You will also be able to view the detailed bas-reliefs unhindered. Of course you will want to take photographs, so you will be taken back to Angkor Wat in the late afternoon, which is the best time for photography as the warm sunlight bathes the temples producing their familiar 'red glow'.

Angkor Wat was built in the first half of the 12th century by King Suryavarman II. There has been debate as to whether Angkor Wat was built as a temple, or a tomb, but it is now generally accepted that it was both; a temple of worship when the King was alive and a mausoleum after his death. It is surrounded by a wide moat and its architectural plan was designed to be symbolic. It was built to represent the universe with the five central towers symbolising the mythical Mount Meru, the outer wall the mountains on the edge of the world and the surrounding moat either the oceans beyond or the universe. The first causeway is flanked by Naga, seven-headed snake and the causeway represents the bridge between Earth and Heaven.

The temple consists of three rectangular, or square platforms, each of which is progressively smaller and higher than the one below. The lower platform contains amazingly-detailed bas-reliefs, which depict battle scenes as well as scenes derived from Hindu epics such as the 'Churning of the Ocean of Milk'. At the heart of the temple is a tower, which rises 65m/213ft, surrounded by four other towers at each corner. It is estimated that the temple took 30-40 years to construct. It is believed that King Suryavarman II died before the temple's completion with some carving being unfinished. The name 'Suryavarman' also has symbolic meaning with Surya meaning sun and Varman meaning power, so in effect meaning 'the power of the sun'.

In the afternoon you will visit the city of Angkor Thom which was the capital built by King Jayavarman VII at the end of the 12th Century. This city complex includes the Bayon temple, the Terrace of Elephants, the Royal Enclosure, the Temple of the Leper King and Baphoun Temple. The city itself was surrounded by a moat, is nine square miles and held a population of around 100,000 at its peak. The Bayon Temple is every bit as impressive as Angkor Wat. Built around 100 years later, it consists of 54 large towers with 216 faces smiling down at you. However, they still seem strangely impassive lending the whole scene a sense of eeriness. These faces are thought to be either representations of the Bodhisattva Avalokiteshvara, King Jayavarman VII, or a composite of both. The temple stands in the geographic centre of Angkor Thom, but it is thought it was built on top of an earlier monument. The temple also contains some intricate bas-reliefs which are particularly interesting as they are the only carvings in Cambodia which depict the everyday lives of the Khmer people. Such scenes include markets, cock-fights, fishing and festivals. The temple is on three levels with the bottom two featuring bas-reliefs and the third level featuring a central sanctuary. It is estimated that the Bayon took 20 years to build and that the building contains more than 200,000 blocks of stone. Due to renovations, beginning in 2020, access to the Bayon Temple is restricted, but you will still be able to see and admire the carvings from a distance.

Following your visit to Bayon you will make your way to Baphuon Temple. Baphuon has recently been renovated and is situated 'next door' to Bayon. The triple tiered temple mountain was originally built in the Mid-11th century as a temple dedicated to the Hindu God Shiva. In the 15th century the temple was converted into a Buddhist temple and a 9 meter tall reclining Buddha was built within the temple. It was in the 20th century when the temple was on the brink of total collapse when restoration started on a large scale, however due to conflict of the Khmer Rouge this was put on hold and was later restarted in 1996. The restoration was finally completed after 51 years in 2011.

After your time in Angkor Thom you will return to Angkor Wat for photographs then back to Siem Reap for dinner at a local restaurant.


Overnight: Pavillon D'orient Hotel, Siem Reap

Day 11 - Further temple visits.

This morning you will drive further out of Siem Reap to see some more of the area's temples. These include Ta Prohm, Prasat Kravan, Srah Srang, Bangteay Kdei, Takeo, Thomannon and Chau Say Tevoda. Then in the afternoon you will visit Ta Som, Neak Pean, and Preah Khan.

Prasat Kravan
This was built during the reign of Hashavarman I. Composed of five brick towers two of them are decorated with bas-reliefs, representing Vishnu and Lakshmi, cut into the bricks of the interior walls.

Bangteay Kdei
Built by Jayavarman VII and surrounded by four concentric walls. Carved 'Garudas' guard the entrances.

Srah Srang
Located opposite the Bangteay Kdei complex, this artificial lake was used for ritual bathing by royals.

Ta Som
Again built by Jayavarman VII; this was dedicated to his father. This has yet to be restored and is a small temple in peaceful surroundings.

Neak Pean
This is a square pool with four smaller square pools arranged on each axis. In the centre is a circular island, which is encircled by two Nagas. It was built by Jayavarman VII and was used for ritual purification.

Preah Khan
Preah Khan means 'Sacred Sword'. The temple was built by Jayavarman VII and was dedicated to his father.

Lunch and dinner will be at local restaurants.


Overnight: Pavillon D'orient Hotel, Siem Reap

Day 12 - Fly from Siem Reap to Phnom Penh. Time at leisure.

Today you will transfer to the airport for the flight to Phnom Penh. Here you will be met and transferred to your hotel. The remainder of the day is then free for you to relax or to begin exploring the city.

The Central Market, with its impressive high roof, where most people do their shopping and the 'Russian' Market which specialises in antiques, souvenirs and cheap CDs and DVDs are both worth a look. There are many branches leading off the central area. Both markets are places to pick up a few bargains, especially the 'Russian' market.


Overnight: Villa Langka or Similar, Phnom Penh

Day 13 - Sightseeing in Phnom Penh.

With its wide tree-lined boulevards and warm climate, Cambodia's capital Phnom Penh has a distinctive North African feel to it. There is an absence of the normal 'hustle and bustle' that is characteristic of most Asian cities, as the residents themselves seem to make the city 'laid-back'.

Today you will enjoy a full day guided tour of Phnom Penh including, in the morning, the National Museum of Arts. This museum holds many of the country's rarest art works. As much of the country's art was either destroyed by the Khmer Rouge or sold by unscrupulous dealers over the Thai border these impressive exhibits offer only a glimpse of what once was. Before lunch you'll see the Royal Palace with its Silver Pagoda. The Royal Palace, home to Cambodia's current King, Norodom Sihamoni, is a striking example of Thai-influenced Cambodian architecture. The Silver Palace (so called because of the 5,000 silver tiles which make up its floor) again contains many rare relics of the country's history.

After lunch you'll visit the Toul Sleng Museum and the Killing Fields of Choeung Ek. The Toul Sleng Museum (better known as the Genocide Museum) provided the base for the Khmer Rouge security force and prison and interrogation centre, S21. The building, formerly a primary school, and the photographs of many of its victims displayed on the walls, now stand testament to the brutality and murderous actions of the Pol Pot regime. After the prisoners were interrogated here they were taken to Choeung Ek to be executed. Many of the country's intellectuals along with some Westerners were labelled 'enemies of the revolution' and killed in this complex. There now stands a stupa filled with human skulls as a memorial to the victims.

Overnight: Villa Langka or Similar, Phnom Penh

Day 14 - Group transfer to the airport for your flight to London.

After breakfast you will transfer to the airport to check in for your flight back to the UK.

Overnight: In flight

Day 15 - Arrive London.
Map
Map Key
Airport
Point of interest
Mountain Peak
Day walk in this area
Flights
Internal Transfers
Trek
---
2020
| Dates | Availability | Land Only | Flight Inclusive from |
| --- | --- | --- | --- |
| Sun 4 Oct - Sun 18 Oct 2020 | Available | £2425 Book | £3125 Book |
2021
| Dates | Availability | Land Only | Flight Inclusive from |
| --- | --- | --- | --- |
| Sun 3 Jan - Sun 17 Jan 2021 | Available | Contact us | Contact us |
Hold your place
Not quite ready to book? Why not call us on 0044 (0)1453 844400 to hold a no obligation place while you make up your mind?
Optional supplements
Single room supplement
From £550
Insurance
No Surcharge Guarantee
No surcharges will be applied to your holiday after you book. Prices on this website are updated regularly. The Flight Inclusive holiday price, or Land Only holiday price, will be confirmed to you at the time you make your booking. There will be no surcharges after your booking has been confirmed.
Flight inclusive holidays
The 'flight inclusive' holiday prices shown on this website are based upon our preferred airlines and the best priced economy class fares we are able to secure at the time of publication.
We will be able to advise on fares with alternative airlines, upgrades to Business Class, and the options for flights from regional UK airports, please contact us for more details.
Loyalty discount
Find out more
What's included
Local English-speaking leaders in Thailand, Laos & Cambodia
Economy class return air fares from the UK & UK Departure Tax (flight inclusive only)
Single, timed group airport transfers for international flights on arrival and departure
All internal flights and domestic airport transfers
All other transfers as per the itinerary
Good standard hotel accommodation (usually 4 or 5*) in Bangkok and Luang Prabang on a twin share, bed and breakfast basis unless otherwise specified
Best available hotels in outlying towns
12 breakfasts, 9 lunches and 7 dinners included.
All road transport by private vehicles
Sightseeing where specified
The option of joining one of our pre-trip meets in the Cotswolds
What's not included
Travel insurance
Visa fees
Some lunches and evening meals in major cities
Overseas airport departure taxes where not included in the airfares
Locally paid bar bills and laundry
Optional trips
Tips
---
---
Review your holiday
Reviews
Read holiday reviews by Mountain Kingdoms travellers.
Overall score: 5.0 (Based on 8 reviews)
We loved every day! 01/02/2017
This is a fabulous itinerary, and we thoroughly enjoyed it from start to finish. It was in turn relaxing, fascinating and fun. No two days were the same but every day was made interesting by the very personable guides. The standard of service was always high and the arrangements both in terms of travel and accommodation lived up to our expectations. The big attraction of this trip was the variety of what we did and saw. Never a dull moment ( but occasional ' chill-out' time by a nice pool was always welcome). One of the best holidays we've ever had ( in the last 30 years!)
Mountain Kingdoms' comment: Thank you for posting your review Rachel - we are so pleased to hear you had such a fantastic time on our Indochina tour.
Rachel Dineley, UK
Indochina - very enjoyable 12/01/2015
My first holiday with Mountain Kingdoms - really enjoyed it. Very impressed with choice of hotels, efficiency of guide and drivers, and so much included in price. Hope to use Mountain Kingdoms again!
Ms B, Cumbria
Good itinerary - Indochina 12/01/2015
Varied trip through many different places. Interesting itinerary. Very well planned, all guides were excellent and gave personal insight into the country's history. Small group travel great. Good hotels.
Mr & Mrs M, Buckinghamshire
Quality service 01/11/2012
MK provided that little extra comfort, quality and personal service to enable full enjoyment of the trip.
Mr & Mrs H, Bristol
Mountain Kingdoms did not disappoint 16/01/2012
All connections and flights went like clockwork, we were always given the best of attention by our guides. All transport and hotels were first class and my second trip with MK didn't disappoint. Thank you.
Ms McG, Berwick upon Tweed
---
Extend your holiday
There are many ways you can extend your holiday with Mountain Kingdoms: book extra hotel nights, relax at a beautiful beach resort, take a warm-up trek, arrange a personal sightseeing tour or enjoy specialist activities such as rafting, birdwatching or a safari.
We're happy to suggest ideas, provide quotes and make all the arrangements. We can also assist with flight and hotel upgrades. Just call us on +44 (0)1453 844400 or email info@mountainkingdoms.com and we will be pleased to help.