What's included
A local English speaking Bhutanese leader
Flights between Kathmandu and Paro and hotel/airport transfers
Bhutan visa
4 star hotel in Kathmandu, bed & breakfast basis
In Bhutan, good standard hotel accommodation in main towns and best available hotels in outlying towns, on full board
Economy class return air fares from the UK (if taking flight inclusive option)
UK Departure Tax
Bhutan departure tax
All road transport by private vehicles
The use of a good quality down jacket and sleeping bag (when travelling to Bhutan via Kathmandu).
Camp staff to carry out all camp work
All camping facilities and meals on trek
Sightseeing where specified
Carbon offset for clients taking our flight-inclusive option
A free high-quality Mountain Kingdoms kit bag
The opportunity to attend one of our pre trip meets in the Cotswolds
and much more...
Call our
friendly team
Haa Valley Trek
Walking & Trekking
Moderate / Vigorous
Moderate: Suitable for anyone who enjoys hill walking.
Vigorous: Suitable for enthusiastic hill/mountain walkers.
Find out more...
Grade: Moderate / Vigorous ? Moderate / Vigorous

Book now or call 01453 844400
Trek on one of Bhutan's least frequented but prettiest routes.
Highlights
Visit the iconic Taktsang Monastery, known as 'Tigers Nest'
Acclimatise in the beautiful Haa Valley and stay in a lovely heritage lodge
Trek over small passes, up to easy rocky summits and through pristine forests
Camp near sacred Tsho Napatta Lake
Reviews
The Haa valley and its surrounding mountains are tight up against the borders of Sikkim and Tibet, and until relatively recent times was off-limits to foreign visitors. I carried out the reconnaissance trek and can say that not only is the Haa valley as beautiful as any of the better known Bhutan valleys, but the mountains that wrap around it are uninhabited, wild, and make for extremely...
Steve Berry, Managing Director
View All
The enchanting Haa Valley lies in the far west of Bhutan, and was only opened to foreign visitors relatively recently in 2002. Mountain Kingdoms was the first British company to take a group to explore this remote valley and even today few travellers venture into what remains one of the kingdom's least visited regions.
We fly into Paro, and have time to explore the Paro valley and visit the nearby cliff-top Tiger's Nest monastery, also known as Taktsang. On our spring departure we will also attend the Paro festival where the giant, sacred thangkha is unfurled at daybreak. From Paro we drive over the Cheli La – a spectacular 3,990m/13,090ft pass which is famed for its panoramic mountain views. Descending into Haa, we spend a full day exploring the valley from our base in the picturesque village of Lechu. The two nights here also provide important acclimatisation before we head off on trek, crossing the mountains to the west and passing into stunning, unspoiled country.
We trek through pristine alpine forest, cross small passes, ascend some easy rocky summits and camp by serene, sacred lakes. Although tiny, the isolation of this beautiful region has provided a sanctuary for wildlife, and with luck during our 8-day trek we should see marmot, herds of blue sheep, and some magnificent birds.
There is time at the end of the trek to visit some of the sights in Bhutan's distinctive capital, Thimphu, before bidding farewell on the sensational flight back along the Himalaya.
---
At a glance
Grade: Moderate / Vigorous
Moderate / Vigorous
Max. Altitude: 4,620m/15,157ft, Day 9
Guaranteed to run for a minimum of 3 clients
Maximum group size: 12
Land only joining city: Kathmandu
Accommodation types: Hotels, Camping, Lodges
Festival:
The March 2018 departure attends Paro Tsechu.
Meal arrangements: Bed and Breakfast in Kathmandu, all meals in hotels and on trek in Bhutan.15 Breakfasts, 13 Lunches and 13 Dinners.
Itinerary overview
| Day | Activity |
| --- | --- |
| 1-2 | Fly to Kathmandu. Time at leisure upon arrival. |
| 3-4 | Fly to Bhutan. Visit Taktsang (Tiger's Nest) and sightseeing in Paro Valley. |
| 5-6 | Drive to the Haa Valley. Time to acclimatise with day walks to visit villages and Yongto Gompa. |
| 7-13 | Haa Valley trek with visit to sacred Tsho Napatta. |
| 14 | End of trek at Haa. Drive to Thimphu |
| 15 | Day walks and sightseeing in Thimphu, including a visit of Tashishoddzong and the option to visit a zoo. Drive to Paro. |
| 16-17 | Fly to Kathmandu. Fly to London |
Leader: Local leader, Bhutan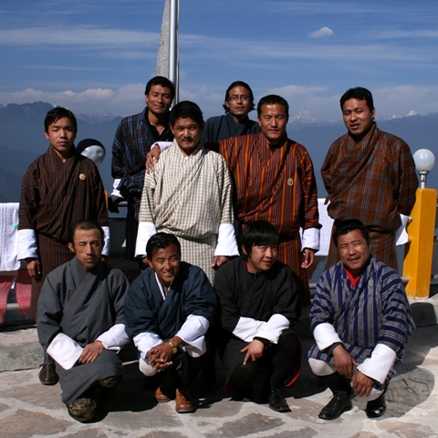 Our holidays in Bhutan are led by fully qualified English-speaking guides. Mountain Kingdoms have been taking visitors to Bhutan since 1986, and our guides are some of the best in the Kingdom. They speak fluent English, as this is taught in all Bhutanese schools, and are fully qualified guides. The Tourism Authority of Bhutan maintains that a Bhutanese trek or tour leaders must pass their guiding exams in Thimphu before accompanying groups of foreign visitors. Our guides receive regular 'top- up' training and 15 of our regular leaders have completed an extended training course organised by Mountain Kingdoms in Bhutan.
---
Haa Valley Trek Itinerary
Day 1 - Depart London.

Depart the UK on an overnight flight to Kathmandu.

Overnight: Overnight Flight To Kathmandu

Day 2 - Arrive Kathmandu.

On arrival in Kathmandu you will be met and transferred to the Shangri La Hotel. This is a very comfortable hotel situated to the north of Thamel, the tourist district of Kathmandu. It has a lovely garden with a swimming pool and several excellent restaurants. The bustle of Thamel, with all its restaurants, shops and bars, is a 20 minute walk or 10 minute taxi ride away.

Overnight: Shangri La Hotel, Kathmandu

Day 3 - Fly to Paro.

You will be transferred to take the Druk Air flight through to Bhutan. The flight is only 30-40 minutes but taking off from Kathmandu you very soon see the Himalaya spread out on the left hand side of the plane, and if the weather is clear no doubt the pilot will point out Everest. Passing Everest you then you pass over the small kingdom of Sikkim and the world's third highest mountain, Kangchenjunga, and if you are lucky, before the plane starts its descent into the Paro valley, you may see the second highest peak in Bhutan, Chomolhari. The approach to Paro airport is very exciting necessitating a number of steep turns before you land at Bhutan's only international airport. On arrival you will be met by your Bhutanese guide and transferred to the Olathang Hotel which sits up on the mountainside above Paro valley. The Paro Valley has had a great strategic importance in the history of Bhutan and was in the past an important staging post on the trade routes with Tibet. Paro Dzong, situated on a rocky outcrop above the Paro Chu and with views down both sides of the valley was historically one of Bhutan's strongest and most strategic fortresses. Before the rebuilding of the Tashidodzong in Thimphu it was also the seat of Bhutan's National Assembly.

Depending on your flight schedule there may well be time to do some initial sightseeing in the Paro Valley and round Paro town. On the March departure you may visit the festival in the afternoon.

Overnight: Olathang Hotel, Paro or Similar

Day 4 - In the Paro Valley - Trek to Taktsang Monastery. March departure also attends the Paro Tsechu.

To visit Taktsang you drive half an hour up the Paro Valley to walk up to view the most famous of all Bhutanese temples. Taktsang is commonly known as the 'Tiger's Nest' because it was said to be where the legendary Indian saint, Guru Padma Sambhava flew from Tibet on the back of a tiger to defeat five demons, who were opposing the spread of Buddhism in Bhutan. Taktsang is perched some 600m/2,000ft up on a cliff overlooking the valley and although steep, the walk up is relatively straightforward. You may have lunch at the café built at the main viewing point for Taktsang, or alternatively back at the Olathang Hotel.

Later in the afternoon you should have a bit of time for sightseeing in the Paro Valley. You could walk up to the Paro Dzong Paro historic monastery/fortress. Sitting above the Dzong and housed in the old watchtower to the dzong is the national museum. The museum holds a fantastic collection of Bhutanese national treasures including the King's famous 'dragon hat', a wonderful collection of Bhutanese stamps, highly decorated thangkas (painted religious hangings) statues, and weaponry.
If you feel like a bit of a walk you could walk back to your hotel from here.

Note: On the March departure you will also attend the Paro Tsechu today. The arrangements for the festival vist and the walk to Taktsang will be organised by your guide depending on the timing of the festival events.

Tsechus are colourful festivals of music and ceremonial dance staged in honour of Gun Rimpoche. They commemorate his great deeds, all believed to have taken place on the tenth day of the month- the meaning of the word 'Tsechu'. Such festivals are primarily religious but they are also a rare opportunity for people to come together in their finery to socialise, celebrate and have fun.


Overnight: Olathang Hotel, Paro or Similar

Day 5 - Drive over the Chelila La to Haa, 2,950m/9,700ft.

Today you leave the Paro Valley to drive over the Cheli La Pass to Haa. The drive to the pass takes about 1½ hours and on the way you will pay a visit to the temple of Dzong Drakha, a beautiful cliff temple spectacularly located on a broad ledge with vertical limestone cliff above and below There are lovely views from here. Continuing up to the Cheli La, a pass at 3,990m/13,090ft, in clear weather you will have wonderful views of the snow capped mountains to the west which mark the border with Tibet. You then descend on a long, long zig-zag road down into the Haa Valley. As you approach you will notice three almost identical conical hills in a line on the other side of the valley. These are believed by the locals to be the physical manifestations of three very important Buddhist saints. The left one is Manjushri (the god who holds the flaming sword which cuts the knot of ignorance), the middle one is Chenrizig (the Buddha of compassion of which the Dalai Lama is the human incarnation) and the right hand hill is Chana Dorji (this being the protector god of Bhutan). Collectively they are known as Rigsum (three hills). As you descend further you look down on the square yellow roof of the main monastery/fortress, Namgay Dzong. Spread around the dzong are the buildings of the Indian Army dating from the visit of President Nehru - the Indian army has a presence in Bhutan ostensibly to protect the kingdom from possible invasion from China. Although part of the dzong is used by the Indian Army the central tower of the Dzong is still used by the local people. The old town itself is just to the north-west and is really quite attractive with traditional two storey shops and a post office. There is a large school in Haa. In the afternoon you should have time for a little exploration in the Haa Valley.

Overnight: Lechuna Heritage Lodge or Similar, Haa

Day 6 - Acclimatisation in Haa. Local walks to villages and a gompa.

Today you have a full day in the Haa Valley. Initially it is worth driving up to the very top of the valley for an overview. This takes about 40 minutes (11 kms) and is a very pretty drive. From here you will get really good views of Haa Valley itself as well as over to the west to some of the mountains through which you will be trekking. Coming back down towards the town you take a spur road to Talung village which is 20 minutes on a rough road. This village is situated in a small side valley and it's a good idea to take the vehicles to the top of the village and then walk down through the houses for a look at a typical Haa village. You may well receive 'invites' into one or two of the farmhouses which would provide an interesting look at the way of life and standards of living of typical Bhutanese farmers. You can rejoin your vehicle at the bottom of the village and then drive the short distance to the bottom of a track for a nice walk up to Yongto Gompa, an ascent of 100 metres which takes about 30 minutes. Yongto Gompa is perched on a ridge overlooking the main valley and is one of the oldest monasteries in Haa, thought to have been built in the 15th century. From here you walk steeply down the hill, 30 minutes and 200m descent, through pine trees, to Yangtha village. This is a large village on the floor of the main valley. In 2001 they suffered a huge fire which destroyed 12 houses. Amazingly, the fire left the temple of the village perfectly intact. After the fire the King visited the people of the village and paid for the reconstruction. The new houses are built in exactly the same traditional style and blend in remarkably well.

You will return to Lechuna Lodge for lunch and then have the afternoon at leisure. Your guide will be able to make suggestions for afternoon activities - these might include a walk to the village or to the Indian army golf course (look out for the red flags warning of golf balls landing!). Or you may just relax and prepare for setting off on trek in the morning.


Overnight: Lechuna Heritage Lodge or Similar, Haa

Day 7 - Begin trek to Tso Kham - 3½-4 hours.

The first two days in Paro and Haa Valley will have provided some very useful acclimatisation before the beginning of your trek. Today you will be driven the short distance to the edge of town to the hamlet of Kajina, 2,990m/9,809ft, where you will meet your trek team and your horses will be loaded up. From here a good gentle path leads up through scattered houses and fields and just before the last house, after half an hour, you break off to the right and start slowly climbing up through mixed forest to reach a very old temple called Jana Dingkha and thought to date back to the 15th century. The temple is set at 3,305m/10,843ft and it takes approximately two hours to reach here. It has fine wall paintings and idols with a central figure of Sakyamuni Buddha. To one side of the temple is a standing trio of fearsome local deities. In the spring all around the temple is carpeted with primulas. There are also seven old houses here that seem to have been largely abandoned.

You will have lunch at this temple. Thereafter the path continues less steeply through pine forest lightly festooned with Spanish moss, a pleasant walk, sometimes following a vague ridge, giving occasional views of the Ha Valley. Passing through one or two clearings you eventually come to a much larger clearing where it is said there used to be a lake, hence the name Tso Kham. It takes 1-1½ hours from the temple to Tso Kham. Again the ground here is covered with primulas in the spring. In the evening you may well enjoy a camp fire as there is plenty of dead wood in the vicinity.

Overnight: Camp

Day 8 - Trek to Wangjithang, 3,925m/12,877ft - 6 hours.

Your trek today starts with a slow ascent for over an hour up through forest, with increasing amounts of rhododendron, to the first small 'pass' at 4,075m/13,369ft. You may well see Monal pheasant here. From the 'pass' you traverse right and leave the forest behind. There are good views down into the valley on the other side. Half an hour brings you to another small col, not really a pass. From here the path continues traversing right and another half hour brings you to a third col from which you can again look back down into the top of the Haa Valley. You can also see Jana Dingkha temple from here. Now the path climbs slowly up before traversing easily across and down to a large yak camp area with a stream situated below the Tshago Pass. This place is about an hour's walk from the last col, 4,235m/13,894ft. You will have lunch at the yak camp. After lunch it's an easy 30 minutes to the pass where there are three tall circular cairns marking the top, 4,305m/14,129ft. To the left of the pass is a small rocky peak and it is well worth the half hour walk up to the summit, 4,430m/14,534ft, 130 metres/400 feet higher than the pass. Interestingly, on the way up there are a whole series of flat stones placed on their ends to show the way to the top, where there are more circular stone cairns. From here there are wonderful views and on a clear day you can see Chomolhari and the other giant peaks way off to the north. You may also catch tantalising glimpses of a line of snow peaks on the Tibetan side. This is an excellent place for an overview of the surrounding country and from here you can clearly see a ridge of small mountain tops hemming in the Ha Valley, plus the main ridges and valleys to the west.

From the pass it is a long descent, crossing three streams, to arrive at the yak herder camp of Wangjithang. Yak herders come here in the summer months. This is easy walking and only about an hour's walk from the pass to the camp. You are back into the edge of the forest now and further down you will see lots of juniper and spruce trees. There are signs here of marmot and pika (a small mouse-like rodent). Wangjithang has a number of places to camp - the first is marked by a rough yak herder's hut and has a hot stone bath built into the ground just up above.


Overnight: Camp

Day 9 - Trek to above Napatta Lake, 3,890m/12,762ft - 7-8 hours.

At first the path is fairly level through the juniper forest and then drops a short way down to a stream and then up through forest, where on the spring departure there may occasionally still be patches of snow from the winter. Eventually you break out above the tree line and a rising traverse takes you to the Gongchey La Pass, 4,365m/14,321ft. It is approximately 2 hours to the pass. Up to the right is another rocky peak which is again well worth a detour. To reach it you carry on up a broad ridge, past some rocks with big drops off to the right and finally, you reach the summit cone of rocks, 4,620m/15,157ft, where there are two rock cairns and an old pole which must have had prayer flags at one time. Way off to the north can be seen a huge pointed peak which must be the start of the Chomolhari group. On a clear day, Chomolhari may also be seen. There are fabulous views all round, including part of your route on Days 11 and 12. You will no doubt feel a real sense of achievement here. Allow about 90 minutes for the round trip.

You return to the pass and then hurry on down, tending right. At the bottom you cross a large stream to a meadow for lunch. The lunch place is about half an hour from the pass (4,205m/13,796ft). Behind you here is an amphitheatre of huge rock cliffs that are the buttresses of two of the peaks that you saw from the top of the last peak. You may see more Monal pheasant in this area. After lunch an hour and a half's walk will bring you to the next pass, the Sejo La Pass, 4,500m/14,764ft. To reach this pass your path takes a wide gully before heading left. Then having left the tree-line behind there is a long, rising traverse to the final slopes below the pass. There are one or two small sections here of landslide where the path is quite narrow. Below and to the right of the pass there are some old yak herder huts which was the original camp site at Zaypu, not the first yak herder huts but further on down; again it is further than you think and takes nearly an hour from the pass. A gradual left contouring ascent to a final spur with a cairn has a view down to the camp site, 20 minutes descent to above Napatta Lake.

Although it is illegal, and no-one is supposed to know that it is going on, there is still quite a lot of illegal trading with Tibet. Those Bhutanese who dare, take their horses over into the Chumbi valley, buy Tibetan goods and bring them back to sell in the markets in Bhutan. If they are caught by the border police they stand to have their horses, goods and cash confiscated so they often choose to travel on little known paths and sometimes at night to avoid being spotted!


Overnight: Camp

Day 10 - Local walks including visit to Tsho Napatta Lake.

Today is a leisurely day as you have a second night here. It is about a 20 minute walk down to the lake which is regarded as very holy. Local people often come here as a kind of pilgrimage. One of the two brass cymbals that are said to have flown from the lake landed at Paro Dzong and the other apparently flew to the east of Bhutan. The trek crew may light a fire of juniper and your guide will explain the significance of the lake to them.

You might also consider another walk north west to a nearby ridge with a prayer flag on its summit (an hour return) which affords excellent views, including most of tomorrow's route. A walk down to the horses' pasture would also be interesting. There will also be free time for personal chores such as laundry and there is plenty of dead wood around to collect for fire in the evening.

Overnight: Camp

Day 11 - Trek to Rigona, 4,150m/13,615ft - 6 hours.

It is 30 minute walk back up to the cairn with panoramic views including the Tibet-Sikkim highway and the huge north to south valley called Lolithang, which looks like it ought to be inhabited but is not. Yak herders occupy it in July/August and it is possible to spot a few stone and wooden yak herder huts. Beyond the valley is a vast ridge line and at its northern end is a pimple peak next to which is the pass leading over into the Chumbi valley. Beyond that again are snow peaks which must be in Sikkim. Retracing the contour line for about an hour to the stream near Zaypu (Day 8), the path now contours left and north, sometimes in bits of forest and in huge banks of rhododendron, invariably on the north slopes. The path is often stony. After 45 minutes you come to a large rock which has a tunnel through it (care needed if entering it), but the path actually climbs over the top.

After another 15 minutes you reach a single yak hut built on the end of a spur, 4,215m/13,829ft, an ideal place to relax for a moment to enjoy the views. From here you get your first good view of Chundugang. This is a fantastic looking conical peak directly north and lies like a throne at the end of this huge valley system. No wonder the locals think of it as a protective deity - it sits there, a mysterious full stop at the valley's end. Another half hour of contouring brings you to a flat area next to two big rocks where you can stop for lunch.

From the lunch stop, looking to the north-east, you can see the impressive rock and ice mountain, Shoko Padey. Facing north you are looking down into a side valley in the bottom of which, it is said there is a lake, Ragona Tso. On the other side of the lake is a bare mountainside with a path leading east over a pass. This would actually provide a short cut back to Haa Valley. A stony path leads down through forest covered in Spanish moss and suddenly below there is a beautiful large oval lake. At the head of the valley is a north/south ridge closing it off, which has vertical cliffs and a massive waterfall splitting the cliffs. Your camp is just below the lake and a more beautiful place is hard to imagine. To the south is the spruce and rhododendron forested mountainside at the foot of which is a wide stream strewn with flat rocks. To the west are the views over Sikkim and Tibet. To the east is the huge snow and rock peak and the waterfall cliffs, and to the north the mountainside with its winding path. You may well see Blue Sheep in this area.


Overnight: Camp

Day 12 - Trek to Jara Woma, 4,355m/14,288ft - 7 hours.

There is a possibility of a frosty start here. Your trail takes you along a rising diagonal path up and over the shoulder of the mountainside, then down a long way through forest hanging with candy floss lichen. There are beautiful trees here and quite a number of birds, though you need time and patience and a good pair of binoculars to spot them. Evidently there are even more interesting birds when the rhododendrons are in bloom. You descend on a muddy path to cross a stream, 3,930m/12,894ft and then it is a long climb up the other side and leaving the tree line you again come to a yak herders' hut built out on a spur, 4,190m/13,747ft, and affording excellent views of Chundugang. This may well be closed up against weather and intruders. Below you now, spread out before you to the west, is the enormous valley of Lolithang. Through binoculars you can pick out at least 9 houses in the best looking area. However, there are no crops or vegetables in evidence. We are told that lower down the valley there is a small Bon temple and once a year families from Haa travel all the way for a special Bon ceremony.

Leaving the yak huts you now enter the stunningly beautiful side valley, Hashuna, which contains Dungtshorom Lake. This is the next side valley north parallel to the one you were in last night. The valley contains all manner of impressive cliffs on its north side. The path weaves its way through some impressive cliffs and passes very close to a huge cantilevered rock. The path eventually descends to a yak camp by an almost dried up lake, Tshephu, 4,255m/13,960ft. Sometimes yak herders live in a cave in this area, and you will see plenty of eagles. Nearby, water cascades over a big cliff. You could stop here and camp but it's a bit early so you will carry on and your path can now be seen zig-zagging upwards. It is one hour to the first small pass next to a small lake, 4,380m/14,370ft, and then it is on more gently for another half an hour to the highest part of the pass, (about three hours since starting), just beyond a huge rectangular rock, 4,435m/14,550ft. It is worth a 200m walk north east to a vantage point to view Chomolhari. Here the main path carries on slightly left but avoid a very indistinct path leading off right and down diagonally, threading its way down through stacked cliffs.

Lunch is best taken after 30 minutes descent (90m) at a stone wall circle giving a view of the remainder of the day's route. After lunch, it is a 15 minute descent before the path contours to a col (three hours) from where the camp, on a large flat shelf of grassland, can be seen 10 minutes below. During the contouring your camp site from day 7 and the Gonchey La from day 8 with the peak you may have climbed, can be seen. Behind are serried ranks of cliffs and before you is a steep drop down into the valley with the green lake of Dungtshorom below and to the right. You can see the path for tomorrow descending to the head of the valley then climbing towards a pass. Over in that direction is the big peak of Shoko Padey which you have been slowly but surely making your way round. You will enjoy the lovely views down the valley from here especially at sunset.


Overnight: Camp

Day 13 - Trek to Jumchokha, 3,610m/11,844ft - 6 hours.

Leaving camp you head straight up to a notch in the main ridge. It was here that Steve spotted a brilliant blue bird, the grandala. It is 40 minutes to the pass (4,470m/14,665ft). Now there is an exciting path across a series of rocky ledges and narrow paths cutting rightwards across the sentinel mountain. In fact, from the pass you ascend slightly before hitting this path. It is an exciting route and you are now looking back down into the back of the Haa Valley. It takes an hour to pass under the back of the mountain and to cross onto the side of the main ridge that faces away from Haa. Carrying on now, the path traverses for miles and miles, eventually hitting a bend in the ridge where there are 4 large stone cairns, the Rumzu La, 4,310m/14,140ft. This is not really a pass and eventually you join the path you walked up on Day 7. However, instead of descending back to the Haa Valley on the path which you came up, there is another route that takes you left, by which time the horses would have overtaken (two hours). It is increasingly steep and muddy in the forest, not helped by the horses, to a clearing (one hour, 600m/1,970ft descent). This is Jumchokha, 3,610m/11,844ft, from where the Cheli La (Day 4) can be seen to the north. Lunch is best taken 20 minutes later in another clearing. It is another hour (300m/1,000ft) of steep descent to the camp site.

Overnight: Camp

Day 14 - End trek at Haa. Drive To Thimphu.

It is now a short walk of less than an hour through the forest to arrive back at the old township of Haa where your vehicle will be waiting to meet you. The horses will soon arrive with your kitbags and you will regretfully say goodbye to your horsemen and trek crew. You will then drive out of town. It is worth stopping at the large suspension bridge and chorten to see the original end of the trek although now the bridge is unsafe for the horses to cross. It is then an interesting drive for about 2½ hrs through a number of pretty villages, including Dobji Dzong. You travel south, east and then north towards Chukha dam and the confluence of rivers where the roads from Paro, 24 kms north west, Thimphu, 31kms north east, and India to the south, all meet. You will arrive at Thimphu after a further hour's driving to arrive at the Phuntsho Pelri Hotel where you will overnight. There might be time in the afternoon to drive up to the giant Buddha statue for an overview of town and for an orientation walk through town.

Overnight: Phuntso Pelri Hotel or Similar, Thimphu

Day 15 - Sightseeing in Thimphu. Evening drive to Paro.

You will have the day in Thimphu before you return to Paro. There are many places of interest to visit in Thimphu, including the Tashishoddzong (the main government buildings), the Textile Museum, the Heritage Museum, the late King's Memorial Chorten, the National Library, the School of Painting and the silversmiths and pottery workshops. The Government Handicrafts Emporium is possibly the best place to look for local handicrafts especially if you are looking to buy national dress. A visit to the handmade paper workshop is very interesting to see the paper being made and some nice items made from handmade paper are also for sale. You may also visit the Post Office to buy some of Bhutan's very attractive stamps. They also have good t-shirts on sale there.

You might also like to visit the 'zoo'. This is in fact a very large enclosure (several acres) just above the town, containing only Takin, the very rare animal found exclusively in Bhutan and parts of China and possibly one of the most quirky and strangest looking animals you will ever see. They did try releasing these animals from the zoo but instead of escaping to the wild they hung around the main street in Thimphu, and were in danger of being hurt by traffic.
Later you will drive back to Paro.


Overnight: Olathang Hotel, Paro or Similar

Day 16 - Fly to Kathmandu.

After breakfast you will transfer to the airport for your departure from Bhutan. When you take off try to have seats on the starboard side! Within a few minutes you should get views of Kanchenjunga, the world's third highest peak, and then a few minutes later you should see Everest as well as many other peaks in the Himalayan range before landing after about 50 minutes in Kathmandu. You will be met and transferred to the Shangri La Hotel and will have the afternoon at leisure.

Overnight: Shangri La Hotel, Kathmandu

Day 17 - Fly to London.

After breakfast you will be transferred to the airport for your flight back to London.
---
No Dates Available
There are no available booking dates for this holiday yet since we are still finalising details. If you are interested in this holiday and would like further details, please contact us.
Hold your place
Not quite ready to book? Why not call us on 0044 (0)1453 844400 to hold a no obligation place while you make up your mind?
No Surcharge Guarantee
No surcharges will be applied to your holiday after you book. Prices on this website are updated regularly. The Flight Inclusive holiday price, or Land Only holiday price, will be confirmed to you at the time you make your booking. There will be no surcharges after your booking has been confirmed.
Flight inclusive holidays
The 'flight inclusive' holiday prices shown on this website are based upon our preferred airlines and the best priced economy class fares we are able to secure at the time of publication.
We will be able to advise on fares with alternative airlines, upgrades to Business Class, and the options for flights from regional UK airports, please contact us for more details.
Loyalty discount
Find out more
What's included
A local English speaking Bhutanese leader
Flights between Kathmandu and Paro and hotel/airport transfers
Bhutan visa
4 star hotel in Kathmandu, bed & breakfast basis
In Bhutan, good standard hotel accommodation in main towns and best available hotels in outlying towns, on full board
Economy class return air fares from the UK (if taking flight inclusive option)
UK Departure Tax
Bhutan departure tax
All road transport by private vehicles
The use of a good quality down jacket and sleeping bag (when travelling to Bhutan via Kathmandu).
Camp staff to carry out all camp work
All camping facilities and meals on trek
Sightseeing where specified
Carbon offset for clients taking our flight-inclusive option
A free high-quality Mountain Kingdoms kit bag
The opportunity to attend one of our pre trip meets in the Cotswolds
What's not included
Travel insurance
Visa fees for Nepal
Single supplements
Lunch and evening meals in Kathmandu
Bar bills and laundry
Optional trips
Tips
---
---
Review your holiday
Reviews
Read holiday reviews by Mountain Kingdoms travellers.
Overall score: 5.0 (Based on 1 reviews)
Haa Valley - remote and unspoilt
The Haa valley and its surrounding mountains are tight up against the borders of Sikkim and Tibet, and until relatively recent times was off-limits to foreign visitors. I carried out the reconnaissance trek and can say that not only is the Haa valley as beautiful as any of the better known Bhutan valleys, but the mountains that wrap around it are uninhabited, wild, and make for extremely exciting exploration. You may even bump into Bhutanese smugglers who trade illicitly with their neighbours in Tibet! The scenery is fabulous and the sense of being somewhere untouched by the outside world is magnified as it is so unspoilt.
Steve Berry, Managing Director, Mountain Kingdoms
---