What's included
An English-speaking leader
Boutique or good standard hotel on a twin share basis. Swimming pools except in Kratie.
All meals from dinner on day 2 to breakfast on day 15
All road transport by private vehicles
Sightseeing where specified
All entrance fees as per the itinerary
Economy class return air fares from the UK & UK Departure Tax (flight inclusive only)
Single, timed, group airport transfers for international flights on arrival and departure
A free Mountain Kingdoms Water-to-Go bottle or a free Mountain Kingdoms fleece
Opportunity to join one of our pre-trip meets in the Cotswolds
and much more...
Call our
friendly team
Gentle Walking Wildlife & Temples Cambodia
Walking & Trekking
New for 2019
Gentle
Suitable for people who enjoy easy-paced walks or exploring the countryside on foot.
Find out more...
Grade: Gentle ? Gentle
Duration: 16 days from the UK
Walks on: 8 days
Flight inclusive from £3,015,
Land only from £2,265
Book now or call 01453 844400
Head deep into the heart of Cambodia; stay on a Mekong island, go in search of rare wildlife, visit the forgotten hilltop temple of Preah Vihear and explore the quieter temples of Angkor Wat on foot.
Highlights
Visit remote corners of wild Cambodia including hilltop Preah Vihear Temple
Explore the architectural wonders of Angkor Wat and Angkor Thom
Walk with rescued elephants at the Elephant Valley Project
Spot rare Irrawaddy river dolphins and search for Yellow-cheeked crested gibbons
Take to the water to see the 'floating' stilt houses of Tonle Sap Lake
Join a Ko Trong family for lunch and experience daily life with the Bunong rural ethnic minority
Reviews
This is a really fascinating holiday due to the sights and the culture of the country, plus the wonderful food and the lovely Cambodian people.
Mr D, South Glos
On a trip with so many highlights my favourite moments were being up close to the elephants at the Elephant Valley Project and watching the rare Irrawaddy river dolphins in the Mekong.
Linda Denniff, Mountain Kingdoms
View All
Present day Cambodia is the successor state to the mighty Khmer empire which also ruled much of what is now Laos, Thailand and Vietnam and the most impressive remains can be seen at the fabled temples of Angkor, the most impressive monuments in Southeast Asia. While the intricately carved temples of Angkor Wat will always be a main attraction of Cambodia, elsewhere in the country are great swathes of wilderness and vibrant minority villages, whose people still have enduring ties to the land. This trip is designed to show you all this and in addition, some of the fantastic rare wildlife of Cambodia.
Starting from Phnom Penh where you will see the major sights, you travel to the northeast of the country, an area of hills and forests, which as well as being home to a resilient minority group, the Bunong people, also shelters wildlife which ecotourism projects are working to protect from loggers and speculators. Here you will spend time in a Bunong ethnic minority village, search for gibbons and other wildlife, and enjoy a day walking with a herd of rescued elephants.
Moving on to the charming colonial town of Kratie you will take a boat trip on the Mekong River to see Irrawaddy river dolphins and have a day to walk and relax on the tranquil island of Koh Trong. You will then drive north toward the Thai border to explore the spectacular 11th Century ruins of Preah Vihear, high in the Dangrek Mountains. Finally while in Siem Reap you will visit the riverbed carvings at Kbal Spean and then have two full days to explore the temples of Angkor Wat and the surrounding area. The walking tour of Angkor Wat is the perfect way to end this fabulous holiday in Cambodia.
Throughout this trip you will stay in comfortable accommodation, including some delightful boutique hotels, and be able to enjoy swimming pools on all days except one.
---
At a glance
Grade: Gentle
Gentle
Duration: 16 days from the UK
Walks on: 8 days
Guaranteed to run for a minimum of 4 clients
Maximum group size: 12
Land only joining city: Phnom Penh
Accommodation types: Hotels
Meal arrangements: 13 breakfasts, 12 lunches and 13 evening meals are included
Itinerary overview
| Day | Activity |
| --- | --- |
| 1 | Fly London to Phnom Penh |
| 2-3 | Arrive. Phnom Penh sightseeing & river cruise. |
| 4 | Drive from Phnom Penh to Modulkiri. |
| 5 | Visit Dak Dam village and walk in community forest. |
| 6 | Animal tracking in Seima Protected Forest |
| 7 | Walking with Elephants |
| 8 | Drive Mondulkiri to Kratie. Afternoon boat trip to see river dolphins |
| 9 | Walking on Koh Trong Island |
| 10 | Drive Kratie to Preah Vihear |
| 11 | Explore Preah Vihear on foot. Drive to Siem Reap. |
| 12 | Visit 'River of a Thousand Lingas' at Kbal Spean. Explore Banteay Srie. |
| 13-14 | Explore Angkor Wat and Angkor Thom. |
| 15-16 | Transfer to airport for flight to UK and fly home. |
Leader: Local leader, Cambodia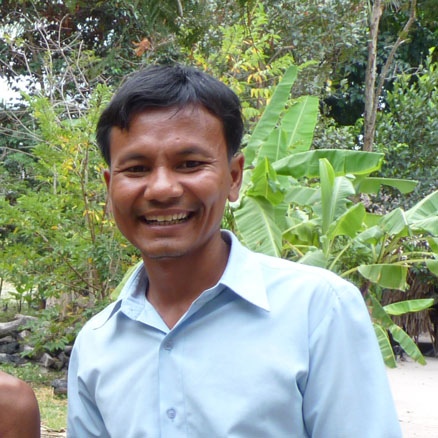 We use English speaking local leaders - they are certified/registered guides, and in their company you will certainly gain an insight into the way of life, traditions and culture of Cambodia.
---
Gentle Walking Wildlife & Temples Cambodia Itinerary
Day 1 - Fly London to Phnom Penh

Overnight: In flight

Day 2 - Arrive Phnom Penh. Group transfer to Hotel.

On arrival in Phnom Penh, you will be met by and transferred to La Rose Suite Hotel. The hotel is located close to the Independence Monument and a short walk from the royal palace and the riverside. On arrival you might like to unwind with a walk in the lush tropical gardens, have a swim or perhaps venture out to take a stroll along the river side.

Phnom Penh, the capital of Cambodia, was founded in the 15th century and is known for its beautiful, historical architecture. There are a number of surviving French colonial buildings along the grand boulevards.


Overnight: La Rose Suites Or Similar, Phnom Penh

Day 3 - Sightseeing in Phnom Penh.

Your morning's sightseeing in Phnom Penh begins at the stunning Royal Palace complex, home to the Cambodian royal family and a symbol of the nation. The palace, built in the 19th century, is a fine example of Khmer architecture with a slight French touch. It is set in beautiful gardens, landscaped with tropical plants and dotted with gleaming spires. You will visit the throne room, the Moonlight Pavilion and the Silver Pagoda, so called after the 5,000 silver tiles covering the floor. Here are found some of the country's most cherished treasures, including a life-size gold Buddha studded with diamonds and a delicate emerald Buddha made of crystal, which gives the temple its Khmer name of Wat Preah Keo (Temple of the Emerald Buddha).

After your visit to the palace you will continue to the nearby National Museum. The museum is housed in a graceful terracotta structure of traditional design with a pretty courtyard garden and is home to the world's finest collection of sculpture from the Angkor period.

In the afternoon there is an optional tour to learn about the horrific crimes of the Khmer Rouge. If you prefer not to take this rather disturbing tour you may relax at your hotel or explore in town. Firstly you visit Tuol Sleng, formerly a school, which the Khmer Rouge turned into a prison. Today it is a museum which serves to remind visitors of the terrible atrocities that came to pass in Cambodia. Tuol Sleng is a profoundly moving experience and not everyone will want to visit. However, it is key to understanding the hell into which Cambodia descended and how far it has come in the years since. You then travel out of town to the Killing Fields of Choeung Ek. Prisoners from Tuol Sleng followed this same route to their fate. An old Chinese cemetery, Choeung Ek was turned into an extermination camp for political prisoners. The remains of 8,895 people were exhumed from mass graves and are kept in a memorial stupa here. Despite the horrors of the past, this is a peaceful place to visit and to reflect on the tragic events that engulfed Cambodia and its people.

In the late afternoon, you will board a local boat for a sunset and dinner cruise on the Tonle Sap River. The Tonle Sap River famously reverses its direction each year, acting as natural flood barrier, the largest in the world, to the Mekong River. You will enjoy the sunset views and see a side of Cambodia that seems far removed from life in Phnom Penh as you cruise past small floating villages and watch fishermen working with their boats. You return to Phnom Penh after dark.


Overnight: La Rose Suites Or Similar, Phnom Penh

Day 4 - Drive to Mondulkiri, 800m/2,624ft – 370 km, approximately 5 hours.

Today you drive to Mondulkiri, a hilly province located 370 kilometres east of Pnomn Penh. Firstly you drive north out of town across the Chruoy Changvar Bridge and then cross the mighty Mekong River into Prey Veng Province. Later you go through the bustling junction town of Snuol and the border town of Kaoh Seima, before the road climbs into the hills and through some areas of pristine forest and jungle.

After a journey of about five hours you emerge into a landscape of rolling hills and pine trees in the province Mondulkiri and continue to the regional capital, Sen Monorom.

Although it is the largest province in Cambodia, Mondulkiri is also the most sparsely populated. This upland landscape has a mix of grassy hills, pine forest and jade green rainforests. Wild animals, such as bears, leopards and especially elephants, are more numerous here than elsewhere, although sightings are usually limited to birds, monkeys and the occasional wild pig. Conservationists have established several superb ecotourism projects in the province, but are always having to battle against loggers, poachers, plantations and well-connected speculators. The area is home to various ethnic minorities including the hardy Bunong people and their noble elephants.

In the late afternoon, if time permits, you may visit the double-drop Bou Sraa waterfalls, and perhaps enjoy an afternoon swim there.


Overnight: Mayura Hill Resort Or Similar, Mondulkiri

Day 5 - Gentle walk to explore Dak Dam Village and Bunong Forest - 2-3 hours.

After breakfast you will drive half an hour from town to reach Dak Dam village which is inhabited by Bunong people. You will explore the village, witnessing the daily life of this rural ethnic minority before heading out on a walk through the local community forest. Your guide will point out various indigenous plants and explain the many ways in which the local people use them. On your walk through this wild area there are some lovely clear rivers and beautiful hidden waterfalls where you will have the chance to swim.

After you walk you join a local family for a traditional Bunong lunch, cooked with local produce. You might also have the chance to try Sra Peang, the famous local wine.

Overnight: Mayura Hill Resort Or Similar, Mondulkiri

Day 6 - A full day in the Seima Protected Forest. Gentle walks and game tracking – approximately 3 hours.

Today you will visit the Seima Protected Forest, an area which covers 2,000 square kilometres and is home to 25 different species of carnivore, including Tiger and seven other species of wild cat. This protected area is of international importance for the conservation of primates, gibbons, Black-shanked doucs, macaques and langurs as well as Asian elephants, wild cattle and an enormous diversity of birdlife, including the spectacular Giant hornbill. Importantly, the Seima forest is also home to several communities who have depended on the forest economically, culturally and spiritually for many generations.

In Seima Forest, the tented Jahoo Gibbon Camp will be your base for the day's walking and exploration. Jahoo Gibbon Camp is a responsible community-based ecotourism and conservation project. The community is composed mainly of Bunong indigenous people, who have traditionally lived in a close relationship with the forest, but who have limited access to means of income, education, and healthcare. Jahoo Gibbon Camp seeks to address this by providing a sustainable way for the community to earn an income through their forest resources.

You will need a very early start to drive to Jahoo Gibbon Camp in order to have the best opportunity to see the rare and endangered Yellow-cheeked crested gibbons and other wildlife of the park. Experienced local guides will help you identify the wildlife and do their utmost to ensure that you get the most out of your visit. Breakfast and lunch will be provided at Jahoo Gibbon Camp.


Overnight: Mayura Hill Resort Or Similar, Mondulkiri

Day 7 - Full day at the Elephant Valley Project - 'Walking with the Herd for a day'. Approximately 4-5 hours walking depending on the herd.

Today you will drive half an hour to the nearby Elephant Valley Project. This project, with the support of the Bunong villagers, rescues and rehabilitates captive elephants who have suffered injury and mistreatment.

You will have a unique 'Walking with the Herd for a day' experience. You will be introduced to two herds of elephants and get to know more about their history, character, behaviour and body language while walking alongside them in their natural environment. This is a chance to observe these majestic animals at close quarters in a natural habitat that gives them total respect and as much freedom as possible.

Please note that the daily activities at Elephant Valley Project may vary depending on the season and weather, as the elephants are able to roam over a wide area - but whatever happens a unique experience is guaranteed.

Overnight: Mayura Hill Resort Or Similar, Mondulkiri

Day 8 - Drive to Kratie – 123 km, 3 hours. Boat trip to see river dolphins.

Today you leave the wild hills of Mondulkiri and head back to the lowlands to the port of Kratie, a charming, provincial town situated on the banks of the Mekong river. Kratie is the gateway for encounters with the rare freshwater Irrawaddy dolphins which inhabit the upper reaches of the Mekong River.

On arrival in Kratie you will check in to your hotel. After a leisurely lunch, you will drive about 11 miles north of Kratie to the village of Kampi where there is one of the many deep pools where these rare river dolphins gather to feed. Late afternoon or early evening is considered the best time for viewing, as the weather is cooler and the dolphins are more active. You will board a local boat and cruise out onto the Mekong for a chance to encounter these endearing creatures. There are thought to be fewer than 100 Irrawaddy dolphins in Cambodia and Laos, of which about 20 are thought to be living near Kampi where they can be found swimming and playing in the fresh waters of the Mekong.

On the way back to Kratie, you can stop at the hilltop temple of Phnom Sombok to watch sunset over the Mekong.


Overnight: Mekong Dolphin Hotel Or Similar, Kratie

Day 9 - Boat to Koh Trong Island. Island walk - 2-3 hours.

This morning you will take a short boat ride from Kratie to Koh Trong Island, a quiet island in the Mekong River facing Kratie Town. This peaceful green island is a perfect place to explore on foot. There is a path of about 9 kilometres which leads right round the island giving you the opportunity to enjoy picture perfect villages and peaceful, rural Cambodian life. The scenery is lush and unspoilt, with a few villages, grazing cows and smiling kids. The locals here are very welcoming and you will have lunch in a community house.

After lunch you will make your way to your hotel where the rest of the day will be free for you to relax and enjoy your peaceful surroundings.

Overnight: Rajabori Villas Or Similar, Koh Trong

Day 10 - Drive to Preah Viheah - 275 km, 4-5 hours.

After breakfast at your hotel on Koh Trong you take the boat back to Kratie. You then drive north towards the Laos and Thai borders. Firstly you travel along the new National Highway 7 to Stung Treng. Stung Treng is traditionally a fishing and farming region as well as being a port and gateway to the nearby Lao border. You will have a local lunch In Stung Tren and after lunch you will visit the Mekong Blue weaving centre, originally established to help vulnerable women in the province. Here you can learn about traditional silk production in northeast Cambodia as well as visiting the kindergarten where you will be greeted by lots of happy smiling children.

You then continue your journey to Preah Vihear through more lovely rural scenery.

On arrival at your hotel in the Preah Viheah province, there will be time to relax in the hotel garden and maybe have a swim in the pool.


Overnight: Preah Vihear Boutique Hotel Or Similar, Siem Reap

Day 11 - Explore Preah Vihear Temple. Drive to Siem Reap – 238km, 3-4 hours.

Today you will visit the temple of Preah Vihear. Preah Vihear is an ancient Hindu temple, built during the period of the Khmer Empire and considered to be one of the outstanding masterpieces of Khmer architecture. This site is particularly well preserved mainly due to its remote location. To reach Preah Vihear you take 4 by 4 vehicles up a snaking mountain road into the Dangrek Mountains, which mark the border between Cambodia and Thailand. The final section of the road clings to the face of a cliff which plunges precipitously away to the plains of Preah Vihear province, hundreds of metres below and the views are breath taking. This impressive complex is a World Heritage site and you will explore the sprawling temple complex on foot.

Later you journey to Siem Reap where you check into your hotel.

The rest of the day will be at leisure. You can relax by the pool or maybe treat yourself to a massage in the hotel spa. If you are feeling adventurous, you could jump in a tuk tuk and head into town to barter for the many souvenirs and clothing on offer.

Overnight: Hanuman Alaya Villa Or Similar, Siem Reap

Day 12 - Drive & walk to Kbal Spean - 1 hour drive, 1 hour walk. Explore Banteay Srei. Evening circus performance.

After breakfast you will drive north to visit Kbal Spean. Commonly known as the 'River of a Thousand Lingas', Kbal Spean was only 'discovered' in 1969. It is an intricately carved riverbed, located deep in the foothills of the Cambodian jungle. The Khmers adorned the limestone river bed with a riot of carvings, depicting Hindu mythological scenes and symbols, including thousands of lingams. There is a uphill walk to reach the river carvings. This takes about 50 minutes from the road, an easy climb up through the jungle on a very pretty path.

Later you head to Banteay Srei, Angkor's ultimate art gallery. This petite pink temple is considered the jewel in the crown of Angkor-era sculpture. The elaborate carvings here are the finest found in Cambodia - the name translates as 'Fortress of the Women', thanks to the intricate detail here, considered too fine for the hands of a man.

On the way back to Siem Reap, you will visit the small Cambodia Landmine Museum to learn more about the scourge of landmines and the shadow they cast over rural communities in Cambodia. The museum promotes mine awareness and education and shows how land mines and bombs are being defused every day by a growing group of dedicated men and women, how help is being given to those disabled by explosions and also how schools are being set up to help educate and train the local young people.

In the evening you head out to the home of the innovative circus performers from Phare Ponleu Selpak. This modern circus includes acrobatics, dancing, juggling, live music and much more. Please note that Phare is a modern circus and there are no animals. The show is one hour long.


Overnight: Hanuman Alaya Villa Or Similar, Siem Reap

Day 13 - Sunrise at Angkor Wat. Visit Tonle Sap Lake.

Rising at the crack of dawn, you journey out to that mother of all temples, Angkor Wat. The majority of Angkor Wat was built in the first half of the 12th century by King Jayavarman II. There has been debate as to whether Angkor Wat was built as a temple or a tomb, but it is now generally accepted that it was both; a temple of worship when the King was alive and a mausoleum after his death. It is surrounded by a wide moat and its architectural plan was designed to be symbolic. It was built to represent the universe with the five central towers symbolising the mythical Mount Meru, the outer wall the mountains on the edge of the world and the surrounding moat either the oceans beyond or the universe. The first causeway is flanked by Naga - seven-headed snakes and the causeway represents the bridge between Earth and Heaven. The temple consists of three rectangular or square platforms, each of which is progressively smaller and higher than the one below. The lower platform contains amazingly-detailed bas-reliefs, which depict battle scenes as well as scenes derived from Hindu epics such as the 'Churning of the Ocean of Milk'. At the heart of the temple is a tower, which rises 65m/213ft, surrounded by four other towers at each corner. It is estimated that the temple took 30-40 years to construct. It is believed that King Jayavarman II died before the temple's completion with some carving being unfinished.

After plenty of time to enjoy Angkor Wat you will visit Ta Prohm. Now cloaked in shadows Ta Prohm was once
a monastery and Buddhist temple dedicated to the mother of Jayavarman VII. There are many towers, corridors
and piles of carved stones, now lying in ruins. It has become famous as one of the places used in the 'Tomb
Raider' film, but despite its popularity it is one of the most atmospheric of all the monuments

You then drive to Tonle Sap lake, stopping en route to have lunch at Sala Roluos Khmer House, a beautiful traditional wooden house located close to the 9th century capital of Hariharalaya and the rustic Cambodian town of Roluos. After lunch you continue south to visit Kompong Khleang, one of the largest and least-visited villages on the Tonle Sap Lake. The village has a population of about 10,000 people, all of whom make a living from the fishing industry. During the wet season you may explore the canals or during the dry season the streets of this incredible town. In the wet season, the houses appear to be floating, as water laps at the verandas, but in the dry season towering stilts are revealed, the houses almost like wooden skyscrapers. You visit one of the pagodas, built on the site of an ancient temple, to see the wall paintings.


Overnight: Hanuman Alaya Villa Or Similar, Siem Reap

Day 14 - Walking tour of Angkor Thom and Bayon.

Today you will explore Angkor Thom on foot. This walk is a fantastic way to experience the best of Angkor Thom and offers a real insight into the size and scale of this ancient city. You begin your walk at the impressive South Gate of the walled city of Angkor Thom and walk on the immense ancient walls towards the South-West corner where there is a small temple, Prasat Chrung. You also discover the irrigation and drainage system that enabled the waters of the Siem Reap river to flow through the city from the North-East to South-West. You continue walking around to the West Gate, where the causeway has collapsed leaving a muddle of stone figures looking like victims of some terrible historic accident.

From the West Gate you weave your way towards the principal temples, exploring the Baphuon, often nicknamed the world's largest jigsaw puzzle, as it was dismantled before the civil war and the Khmer Rouge destroyed all the archaeological records; the Royal Palace complex, which was once home to the God-kings of Angkor; Phimean Akas, a petite pyramid temple; before finally arriving at atmospheric Preah Palilay, a Buddhist temple overshadowed by huge Capok trees.

You will then take a long break for lunch within the walls of Angkor Thom, enjoying some Cambodian food and perhaps a fresh coconut to boost your energy for the afternoon. Lunch will be at Sala Kdei, a beautiful traditional wooden house overlooking the royal bathing pool of Sra Srang.

After lunch, you explore the central square of Angkor Thom, starting at the Terrace of the Leper King. This intricately carved platform was the royal crematorium and the statue that was originally thought to be the leper king is now believed to be Yama, the god of death. You continue along the Terrace of Elephants, originally used as a viewing gallery for the king to preside over parades, performances and traditional sports. You may cross over the royal parade ground to take a look at the towers of Prasat Suor Prat, originally believed to have been connected by rope bridges and used for dance and circus performances.

The climax is the enigmatic and enchanting temple of the Bayon. At the exact centre of Angkor Thom, this is an eccentric expression of the creative genius and inflated ego of Cambodia's most celebrated king. Its 54 towers are each topped off with the four faces of Avalokiteshvara (Buddha of Compassion), which bear more than a passing resemblance to the king himself. These colossal heads stare down from every side, exuding power and control with a hint of compassion, just the mix required to keep a hold on such a vast empire. Before clambering upwards, you puzzle over the mysteries of the bas-reliefs, with their intricate scenes of ancient battles against the Chams and their snapshot of daily life during the Angkor period.

The rest of the day will be at leisure.


Overnight: Hanuman Alaya Villa Or Similar, Siem Reap

Day 15 - Group transfer to airport for flight to London.

After breakfast you will be transferred to the airport in good time for your flight back to the UK.

Overnight: In flight

Day 16 - Arrive UK.
Map
Map Key
Airport
Point of interest
Mountain Peak
Day walk in this area
Flights
Internal Transfers
Trek
---
2019
| Dates | Availability | Land Only | Flight Inclusive from |
| --- | --- | --- | --- |
| Sat 23 Nov - Sun 8 Dec 2019 | Available | £2265 Book | £3015 Book |
Hold your place
Not quite ready to book? Why not call us on 0044 (0)1453 844400 to hold a no obligation place while you make up your mind?
Optional supplements
Single Room Supplement
From £620
Insurance
No Surcharge Guarantee
No surcharges will be applied to your holiday after you book. Prices on this website are updated regularly. The Flight Inclusive holiday price, or Land Only holiday price, will be confirmed to you at the time you make your booking. There will be no surcharges after your booking has been confirmed.
Flight inclusive holidays
The 'flight inclusive' holiday prices shown on this website are based upon our preferred airlines and the best priced economy class fares we are able to secure at the time of publication.
We will be able to advise on fares with alternative airlines, upgrades to Business Class, and the options for flights from regional UK airports, please contact us for more details.
Loyalty discount
Find out more
What's included
An English-speaking leader
Boutique or good standard hotel on a twin share basis. Swimming pools except in Kratie.
All meals from dinner on day 2 to breakfast on day 15
All road transport by private vehicles
Sightseeing where specified
All entrance fees as per the itinerary
Economy class return air fares from the UK & UK Departure Tax (flight inclusive only)
Single, timed, group airport transfers for international flights on arrival and departure
A free Mountain Kingdoms Water-to-Go bottle or a free Mountain Kingdoms fleece
Opportunity to join one of our pre-trip meets in the Cotswolds
What's not included
Travel insurance
Visa fees
Airport transfers (if flight times do not coincide with the timings of the group flights)
Airport departure taxes, excepting UK Departure Tax
Optional trips
Tips
---
---
Review your holiday
Reviews
Read holiday reviews by Mountain Kingdoms travellers.
Overall score: 5.0 (Based on 1 reviews)
Gentle Walking Wildlife & Temples Cambodia
Amazing trip 24/08/2018
This is a really fascinating holiday due to the sights and the culture of the country, plus the wonderful food and the lovely Cambodian people.
Mr D, South Glos
---
Extend your holiday
There are many ways you can extend your holiday with Mountain Kingdoms: book extra hotel nights, relax at a beautiful beach resort, take a warm-up trek, arrange a personal sightseeing tour or enjoy specialist activities such as rafting, birdwatching or a safari.
We're happy to suggest ideas, provide quotes and make all the arrangements. We can also assist with flight and hotel upgrades. Just call us on +44 (0)1453 844400 or email info@mountainkingdoms.com and we will be pleased to help.