What's included
All internal flights and domestic airport transfers
Local guides in Chile and Argentina
Good standard hotel accommodation on a twin share basis
Meals as shown in the detailed itinerary
All road transport by private vehicles (except for the transfer to the tango show on day 13 which will be on a shared coach)
Sightseeing where specified
Economy class return air fares from the UK & UK Departure Tax (flight inclusive only)
A single, timed group airport transfer for international flights on arrival and departure
Carbon offset for clients taking our flight-inclusive option
A free Water-to-Go bottle or a free high-quality Mountain Kingdoms micro fleece
The opportunity to attend one of our pre trip meets in the Cotswolds
and much more...
Call our
friendly team
Gentle Walking Atacama & Northern Argentina
Walking & Trekking
Argentina, Argentine Patagonia, Chile | Walking & Trekking
Gentle / Moderate
Gentle: Suitable for people who enjoy easy-paced walks or exploring the countryside on foot.
Moderate: Suitable for anyone who enjoys hill walking.
Find out more...
Grade: Gentle / Moderate ? Gentle / Moderate
Duration: 15 days from the UK
Walks on: 9 days
Flight inclusive from £5,295,
Land only from £4,500
Book now or call 01453 844400
Wonderful walking trails through the spectacular rock formations of the Atacama Desert, and the enchanting landscape of El Norte.
Highlights
Enjoy superb walks to Moon Valley, Rainbow Valley and the Taito Geysers
Walk through stunning, multicoloured valleys and gorges in northern Argentina
See the dazzling Atacama Salt Flats
Discover ancient rock paintings and visit an observatory
Tour renowned wineries and take in a tango show in Buenos Aires
This fabulous trip will introduce you to two totally distinctive and contasting regions of South America, the amazing Atacama Desert in Chile, a high altitude desert plateau and the driest place in the world, and the El Norte region of Argentina, an area of extraordinary landscapes of hidden valleys, spectacular gorges and glittering salt flats. You will have opportunities for some fantastic walking in both these regions.
You begin your trip in Santiago in Chile with a city tour. Then flying north, you arrive in the somewhat drier environs of San Pedro de Atacama, one of the oldest and driest places on earth. The Atacama landscape is characterised by high altitude desert, volcanoes, salt lakes, lagoons, hot springs, strange rock formations and sand dunes. Famous natural landmarks include Licancabur Volcano, Valle de la Luna, the Tatio Geysers and the Atacama Salt Flat. Atacama also has a fascinating indigenous culture and pre-Columbian archaeological relics which have been perfectly preserved by the dryness and minerals. During your visit to the desert you will encounter some fantastic walking, exploring beautiful canyons and altiplano with far reaching views of snow-capped volcanoes. You will pass through Rainbow Valley to Yerbas Buenas with its famous prehistoric rock carvings, make a visit to the third largest geyser site in the world, and learn about the surprising variety of flora and fauna that is found in this region. The brilliantly clear skies makes Atacama a famous place for star gazing and you will enjoy a guided astronomical tour of one of the observatories near San Pedro. The low moisture content and lack of light pollution make this one of the best places in the world to view the night skies.
For the second half of your holiday you head across the border to the El Norte region of Argentina. The landscape here is truly extraordinary and you will explore hidden valleys, wind-sculpted canyons, glittering white salt flats and vivid striped gorges which resemble something out of a Hollywood western. You will enjoy walks through the spectacular scenery, have the chance to sample some superb wines in the region's celebrated wineries, share lunch with a local family and attend a traditional 'Pena Folklorica' on your last night in El Norte. All the while discovering the traditions, culture and history of this absorbing region.
Your holiday concludes in the fabulous, cosmopolitan city of Buenos Aires with its engaging Latin spirit and cultural elegance.
---
At a glance
Grade: Gentle / Moderate
Gentle / Moderate
Duration: 15 days from the UK
Walks on: 9 days
Max. Altitude: 4,500m/14,100ft, Copa Coya, day 6
Guaranteed to run for a minimum of 5 clients
Maximum group size: 12
Land only joining city: Santiago
Accommodation types: Hotels
Meal arrangements: 12 breakfasts, 11 lunches and 7 dinners are included (lunches may be a packed lunch or taken in a local restaurant/cafe).
Itinerary overview
| Day | Activity |
| --- | --- |
| 1-2 | Fly to Santiago. Group transfer from airport. Afternoon city tour. |
| 3 | Fly to Calama in the Atacama region. Hike in Moon Valley. |
| 4 | Walk in Rainbow Valley and to Yerbas Buenas. |
| 5 | Visit the Atacama Salt Flats. Evening astronomy tour. |
| 6 | Walks at Taito Geysers and at Guatin-Guatchi. |
| 7 | Archaeological hike and walk at Quebrada del Diablo-Vilam. |
| 8 | Drive to Paso de Jama and continue to Purmarmarca, Argentina. Walk at Salinas Grande Salt Flats en route. |
| 9 | Walk through Los Colorados. Drive to Salta. |
| 10 | Drive to Cafayate. Walk at Quebrada de las Conchas to el Paso. Optional winery visit. |
| 11 | Drive to Cachi and visit the Colomé winery and James Turrell Museum. |
| 12 | Walk in the Cachi Adentro Valley. Drive to Salta. |
| 13 | Fly to Buenos Aires. City walking tour. Evening tango show and dinner. |
| 14-15 | Group transfer to airport. Fly overnight to London. |
Leader: Local Leader Chile & Argentina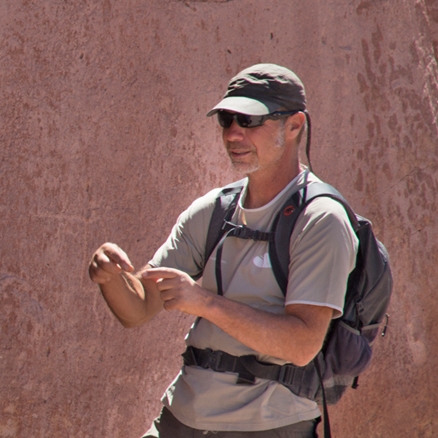 You will have local guides for both the Atacama Desert in Chile and for Northern Argentina. They will be experienced, qualified guides who live in the area and who have expert knowledge of the walking trails, the geology of the areas you are visiting, the local history and flora and fauna.
---
Gentle Walking Atacama & Northern Argentina Itinerary
Day 1 - Fly London to Santiago

Fly overnight from London to Santiago in Chile.

Overnight: In flight

Day 2 - Arrive Santiago, 520m/1,706ft. Group transfer to hotel. Afternoon city tour.

Upon arrival at Santiago Airport, (usually early in the morning when flying from the UK) you will be met and transferred to your hotel. Your will have a briefing by your guide.

Later you will enjoy an escorted tour of the city. From your hotel you head 'downtown' to the Mercado Central, the bustling colourful market that supplies many Santiago homes and businesses with fresh fish and seafood all year round. You will then walk to the Plaza de Armas, Santiago's main square surrounded by some of Chile's finest architecture. In the square you often find street photographers with old fashioned cameras, pavement artists, shoe polishers and a large number of "British" doves, reputed to have been imported by a homesick Englishman. You should also see equestrian statues of Pedro de Valdivia, founder of Santiago and Simón Bolívar, the South American liberator. On the western side of the square stands the cathedral, whilst on the northern side is the Correo Central - the present post office building. A short walk leads you to the impressive Tribunales de Justicia, which houses the Supreme Court which was once the Congreso Nacional (House of Parliament). Following the pedestrianised Paseo Ahumada, you will reach Palacio La Moneda, one of Santiago's most famous landmarks and considered by Chileanos to symbolise not only their democracy but also their independence. Before finishing your tour in the cosmopolitan Lastarria district, there will be time to take in the views from the hilltop Cerro Santa Lucía - where Pedro Valdivia first founded Santiago in 1541. Lunch will be taken in a local restaurant during your tour.


Overnight: Hotel Torre Mayor Or Similar, Santiago

Day 3 - Fly to Calama and drive to San Pedro 2,400m/7,874ft. Kari Canyon walk - approximately 2 hours.

Upon arrival at Calama Airport, 2,299m/7,543ft, you are driven straight to San Pedro de Atacama, past the impressive rock formations of the Cordillera de la Sal (Salt Mountains). Once in San Pedro you check into your hotel where you can have a short rest before it's time for the first excursion amidst the vast desert ripples of Kari Canyon. You will drive 20 minutes to a viewpoint where you can look out over the majestic Cordillera de la Sal and the huge sand dunes leading to Kari Canyon. From here you will begin your moderate hike initially along a rocky plateau before dropping down a small rocky climb onto the magnificent sand dunes which you then walk along before descending into the Kari canyon. The canyon, set at 2,550 m altitude, is an old dry riverbed with beautiful rock formations, grottos and caverns.

At the bottom of Kari Canyon you meet your vehicle and after a short drive you arrive at a lookout point where you will witness one of the world's most beautiful sunsets over Moon Valley, intensified by the warm colours of the sand dunes stretching out to the horizon.

Dinner will be taken at a local restaurant.

Overnight: La Casa De Don Tomás Or Similar, San Pedro

Day 4 - Walk the Rainbow Valley and Yerbas Buenas, 12kms, 3,100m/10,170ft.

A short transfer takes you to the start of today's desert canyon walk. You start by crossing rocky, scrubby ground on a wide jeep track very rarely used by vehicles and then climb a small hill. Your efforts are rewarded by a fantastic view down into Rainbow Valley. The valley is aptly named due to the amazing colours of the eroded rocks that appear in all shades and colours, including beautiful greens, purples, browns and blues. It's a place to linger and enjoy one of the wonders of nature.

From here you drive a short way past the village of Yerbas Buenas, 3,000m/9,840ft, to visit the site of some pre-Columbian ruins featuring over a thousand ancient stone carvings from the "atacameño" people. The paintings were created over the time period from the first lama caravaners across the Atacama desert to the Incas. Your guide will help interpret the meanings of the messages and drawings which include local animals such as llamas and flamingos.

Overnight: La Casa De Don Tomás Or Similar, San Pedro

Day 5 - Walk around Menique and Miscanti Lagoons, 4,200m/13,779ft - 1-2 hours. Visit Atacama Salt Flats. Evening astronomical visit.

A drive of around 2 hours brings you to the lagoons of Miscanti and Meniques considered to be one of the undisputed highlights of the region. From the parking spot you are greeted by a spectacular mountainous landscape with high snowy peaks of over 5,000m surrounding the lagoons.

These picture-perfect lagoons create a truly incredible landscape, and you can see the surrounding mountains reflected in the beautiful still waters as you walk down to Miscanti lagoon. This is a protected area where the rare Horned coot nests and you are only allowed to walk on the pathways. As you walk on to Miñiques you might see herds of vcuñas grazing on the clumps of yellow grass growing here, a particular favourite of these protected animals. Vicuñas are an endangered Andean camelid that are highly protected in Chile and were rescued from the verge of extinction thirty years ago.

You will continue in the vehicle to Laguna Chaxa.This national reservation in the middle of the Atacama salt flat is home to beautiful Chilean, Andean and the rare James flamingos as well as many other wading birds such as avocets and plovers. The salt flat measures 100km x 50km and the ground appears in shades of grey, brown and white due to the salt crystals which have formed into twisted shapes. The salt grass growing here is the only plant which can exist in such a harsh environment. Walking from the information centre you have time to enjoy the unique landscape and beautiful bird life.

On the return drive you may, if there is time, stop at Socaire, a small village with an interesting 200 year old church.

Returning to San Pedro you can relax and have dinner before being taken on a guided astronomical tour at one of the local observatories to view the stars and planets through one of the impressive telescopes. The tour starts with an introduction to the night sky by an expert and you will then have the chance to gaze at the incredibly clear skies found here in the desert.

Overnight: La Casa De Don Tomás Or Similar, San Pedro

Day 6 - Tatio Geysers and Guatin-Guatchi walk.

Today starts with a drive of around 2 hours to visit the celebrated Tatio Gesyers. This is the third largest geyser site on earth with over 80 active geysers some of which are the highest in the world when they erupt. By arriving just sunrise the crowds should have dispersed and the geysers can be appreciated in daylight at a more relaxed pace. It is also a more pleasant temperature, as, situated at an altitude of 4,300m, it is a very chilly experience before sunrise! The geothermic field is truly incredible - boiling steam bursts up to 40 meters above the surface of the earth, from almost 900 meters below the earth, in an explosive display of nature's force.

In this area you may see wild vicuñas, an endangered Andean camelid that is highly protected in Chile and was rescued from the verge of extinction thirty years ago.

Having explored the geyser area you then return to your vehicle and drive, via San Pedro, to the beautiful Guatin Valley. Here you will discover a great variety of distinctive desert flora and a landscape of rock, sand and rivers. Your walk here begins beside a forest of giant cacti called Cardon, which abound in the area, before reaching the point where the Puritama and Purifica rivers merge to form the Vilama River. As one of the rivers comprises warm thermal waters and the other cold snow melt from the mountains, they combine to create a unique source of life that supports the delicate ecosystem of the valley. You continue walking through the valley along a rocky trail, by small waterfalls, observing the unusual and interesting vegetation on the way which is endemic to the region. At the end of your walk you will have captivating views of the valley.

You will drive back to San Pedro in the late afternoon.


Overnight: La Casa De Don Tomás Or Similar, San Pedro

Day 7 - Archaeological walk at Tulor dunes in the morning. Afternoon walk at Quebrada del Diablo - 2 hours.

This morning you will leave your hotel on foot, walking through the oasis of San Pedro until you reach Tulor village. The site, which has numerous circular adobe structures surrounded by a perimeter wall, was abandoned around A.D.300 when the oasis dried up and the dunes advanced. En route to this ancient village there are various archaeological artefacts which will help you understand the Atacamenian lifestyle, both past and present. There is a small museum in the village that is well worth a visit for a small fee - the money goes directly towards the village.

In the afternoon you will explore the impressive rock formations of the Quebrada del Diablo and the heritage sites of the Cordillera del Sal (Salt Mountain Range). You drive to the end of the Quebrada del Diablo and begin your walk down the dry river bed, easy walking over flat terrain, surrounded by towering red rock walls. You then ascend steadily to a viewpoint with endless views of encircling mountains and volcanoes. Here you will see rock petroglyphs engraved on the rocky walls, evidence of travelers and traders who have journeyed this historic route for hundreds of years. You finish your walk at Vilama, a historic fortress which blends seamlessly into its earth coloured surroundings.

You return to San Pedro for your final evening in this remarkable part of Chile.


Overnight: La Casa De Don Tomás Or Similar, San Pedro

Day 8 - Drive to Paso de Jama in Argentina, 4,200m/13,780ft. Stop for lunch then drive to Purmamarca, 2,324m/7,625ft, along the Cuesta de Lipan. Short walk en route at Salinas Grande salt flats.

Today you will make the long drive across the border into Argentina. Your first stop will be at the border town of Paso de Jama where you will have lunch and meet your Argentinian guide and driver.

You will then continue to Purmamarca. On the way you have the opportunity to stretch your legs with a welcome short walk at Las Salinas Grandes - the Great Salt Flats. Covering an area of 6,000 sq km/2,300 sq mi, at the foot of the Cordoba Mountains, the dazzling white salt provides an incredible contrast to the blue sky if it's a clear day.

The drive from Salinas Grandes to Purmamarca follows the spectacular Cuesta de Lipan highway which winds its way through beautiful mountain scenery and past eye-catching rock formations including, near the end of the drive, the aptly named Hill of Seven Colours.

Arriving at Purmamarca, which sits at an altitude of 2,324m/7,625ft, there should be time to take a short walk above the town to enjoy the sight of the sun setting on the breathtaking landscape.

Overnight: Hotel La Comarca Or Similar, Purmamarca

Day 9 - Walk from the village of Tumbaya, 2,820m/9252ft, to Purmamarca - 5 hours. Drive south to Salta through the Yunga region.

A short 20 minute drive after breakfast takes you to Tumbaya for the start of today's walk. An ancient path leads past an old abandoned mine to the pass at 2,800m. From here you enter Los Colorados - a striking area of rock coloured in all shades of red which is at its most impressive and colourful in the morning light. The path through the rock eventually takes you back to Purmamarca. In total the walk is around 15km long with a height gain of 700m and takes approximately 5 hours. Lunch today will be a packed lunch.

In the afternoon, you will drive south to Salta along National Road 9. This route takes you through the Yunga region - one of the most verdant and picturesque regions of Salta. Your overnight stop is in the small town of Salta at an altitude of 1,190m/3,904ft.




Overnight: Hotel Inkai Or Similar, Salta

Day 10 - Drive to Cafayate. Hike at Las Conchas Gorge, 1,800m/5,906ft - 2 hours. Afternoon at leisure with option of winery visit with wine tasting.

It's an early start today to make the drive south from Salta to the Calchaqui Valley and the village of Cafayate. The route passes from the green tobacco producing towns of the Lerma Valley and into the breathtaking Quebrada de las Conchas - a region of weird and wonderful rock formations caused by wind and water erosion over many years. The different formations have been given various names that reflect their shapes and you will stop to see El Anfiteatro (the amphitheatre) and La Garganta del Diablo (the Devil's Throat). There are also panoramic views to be enjoyed across the Quebrada from the point known as Tres Cruces, the Three Crosses.

Your next stop is in La Yesera where you break your journey with a great two hour walk through a magnificent multi-hued gorge. You will enjoy a packed lunch today which may be taken during or after your walk. Afterwards, you return to your vehicle and drive to Cafayate where you will have the option to visit a celebrated winery, tour the bodega and have the taste the wares (payable locally). If you opt for the winetasting be sure to try the Torrontés wine which is only produced in Argentina and for which the region is famed. At a height above sea level of 1,620m/5,249ft, Cafayate is known for the production of high altitude wines which have a higher alcohol and sugar content.

If you do not wish to visit the winery you may explore the town instead. Dinner will be taken tonight in a local restaurant in Cafayate.

Overnight: Hotel Los Sauces Or Similar, Cafayate

Day 11 - Drive to Cachi, 2,513m/8,304ft. Visit Colome winery and the James Turrell Museum.

After breakfast you take to the road again for a journey of about 220km. You begin by heading north, past the villages of Animana and San Carlos, also known for their wine production. En route you will pass through the Quebrada de Las Flechas, or the Gorge of Arros, famous for the arrow like shape of the towering rock fins which line the gorge. Following the course of the Calcahqui River you arrive at the colonial town of Molinos which used to be part of the Inca Trail. Though small, the town is full of history and culture and you will have a little time to stroll round its atmospheric streets.

From Molinos you continue south to reach the Estancia Colomé which is a winery and also home to the James Turrell Museum. The museum is dedicated to the work of James Turrell, an American artist who is best known for his work with light and space. The estancia has an informative visitor centre and there will be time to tour the winery and enjoy lunch in its delightful restaurant. You will have the option to taste some of the wines (payable locally). After lunch you return north, passing Molinos again before entering El Camino de los Artesanos famous for its loom woven ponchos that are traditional to the region. You continue to Cachi, your final destination today, which is an attractive town with white houses, cobbled streets and a pleasant central plaza. The town is set at 2,531m/8,304ft.

The rest of the day is at leisure and you may like to walk up to the town's small cemetery on top of a hill which offers great views of the surrounding area.

Overnight: El Cortijo Hotel Or Similar, Cachi

Day 12 - Walk in the Cachi Adentro Valley - 3 hours. Scenic drive across high point at 3,348m/10,984ft to Salta, 1,190m/3,904ft. Dinner at a traditional 'Pena Folklorica'.

After breakfast you will enjoy a walk through the gorgeous green valley of Cachi Adentro. The trail crosses land rich with a variety of crops including alfalfa, paprika and corn. You will see how local farming communities work and their traditional methods of cultivation. After the walk, you will stop at a house for lunch with a local family where you will no doubt be served a delicious meal.

In the afternoon you return to Salta. The road crosses the Parque Nacional Los Cardones reaching its highest point of 3,348m at Piedra del Molino: a stunning viewpoint. The road continues through the Obispo slope and the fertile Valle Encantado before entering the Quebrada de Escoipe where condors are often sighted. After the gorge you will enter the Valle de Lerma, known for its production of tobacco, and continue to Salta.

This evening you have a special treat with dinner at a 'Pena Folklorica' where you can enjoy traditional live music with your meal.


Overnight: Hotel Inkai Or Similar, Salta

Day 13 - Transfer to Salta airport. Fly to Buenos Aires. Half day walking tour. Evening dinner and tango show.

After breakfast, you'll be transferred to Salta airport for your flight to Buenos Aires. On arrival you will be met by a city guide and taken to your hotel. You will then enjoy a tour of this fascinating city which combines European style with Latin American spirit. The tour will begin on foot, giving an introduction to the main cultural and historic sights in the city centre and San Telmo district. It will then continue by taxi or public transport (payable locally) to explore some of Buenos Aires' other key attractions and areas such as Caminito and Boca. The tour will last around four hours after which you return to your hotel.

Your holiday concludes in style this evening with a dinner and tango show.


Overnight: Patios De San Telmo Hotel Or Similar, Buenos Aires

Day 14 - Transfer to International airport for flight to London.

Depending on your flight time today, there may be time for some last minute shopping or sightseeing in Buenos Aires.

There will be a single group transfer to the airport in good time for your overnight flight back to London.

Overnight: In flight

Day 15 - Arrive London.
Map
Map Key
Airport
Point of interest
Mountain Peak
Day walk in this area
Flights
Internal Transfers
Trek
---
2021
| Dates | Availability | Land Only | Flight Inclusive from |
| --- | --- | --- | --- |
| Sat 10 Apr - Sat 24 Apr 2021 | Available | £4500 Book | £5295 Book |
Hold your place
Not quite ready to book? Why not call us on 0044 (0)1453 844400 to hold a no obligation place while you make up your mind?
Optional supplements
Single Room Supplement
From £620
Insurance
No Surcharge Guarantee
No surcharges will be applied to your holiday after you book. Prices on this website are updated regularly. The Flight Inclusive holiday price, or Land Only holiday price, will be confirmed to you at the time you make your booking. There will be no surcharges after your booking has been confirmed.
Flight inclusive holidays
The 'flight inclusive' holiday prices shown on this website are based upon our preferred airlines and the best priced economy class fares we are able to secure at the time of publication.
We will be able to advise on fares with alternative airlines, upgrades to Business Class, and the options for flights from regional UK airports, please contact us for more details.
Booking your holiday
For the majority of our holidays, a deposit payment of £100.00 per person is required to secure your place(s), however a small number of holidays require a higher deposit - please refer to the holiday itinerary for more details. If the holiday departs within 60 days, a minimum deposit of £750.00 per person is required.
Book now!
Book your small group holiday securely online – click the 'Book' button next to your chosen departure or visit our How to Book page
Complete and return a Booking Form available to download here.
Call us on 01453 844400 and one of our travel specialists will talk you through the booking process.
Loyalty discount
Find out more
What's included
All internal flights and domestic airport transfers
Local guides in Chile and Argentina
Good standard hotel accommodation on a twin share basis
Meals as shown in the detailed itinerary
All road transport by private vehicles (except for the transfer to the tango show on day 13 which will be on a shared coach)
Sightseeing where specified
Economy class return air fares from the UK & UK Departure Tax (flight inclusive only)
A single, timed group airport transfer for international flights on arrival and departure
Carbon offset for clients taking our flight-inclusive option
A free Water-to-Go bottle or a free high-quality Mountain Kingdoms micro fleece
The opportunity to attend one of our pre trip meets in the Cotswolds
What's not included
Some dinners and lunches as indicated in the itinerary
Drinks with meals
Tips
Travel insurance
Visa fees – if applicable
Optional wine tasting, days 10 & 11
Any entrance fees and taxi/bus fares on the tour of Buenos Aires
---
---
Review your holiday
Reviews
Read holiday reviews by Mountain Kingdoms travellers.
Overall score: 5.0 (Based on 3 reviews)
Gentle Walking Atacama & Northern Argentina
A lot packed into 2 weeks 26/11/2018
This was our 4th trip with MK, I think that speaks for itself. It is great to know you're going to have excellent guides in the country and decent, or even great, hotel, food and transport!
Mrs E McCulloch, Edinburgh
Gentle Walking Atacama & Northern Argentina
Stunning 26/10/2018
Absolutely stunning scenery throughout - a very varied and well paced trip - mountains, deserts, canyons, lakes, wildlife and some amazing archaeological sites. The local guides were very knowledgeable - informative about both environment and history - able to take us to some quiet and more remote areas. There were numerous occasions to sample the local wines (Bodega Nanni in Cafayate particularly stands out) - Well organised with comfortable hotels and some great walks. Definitely a bucket list trip.
Peter Evans, Oxfordshire
Gentle Walking Atacama & Northern Argentina
Atacama Desert 03/11/2017
I was blown away by the beauty and variety of the Atacama Desert, its canyons, wildlife and plants. It really was not what I expected when I thought 'desert'.
Liz Noakes, Former Mountain Kingdoms Operations Manager
---
Extend your holiday
See the spectacular Iguazu Falls on both the Argentine and Brazilian sides
Stay in a 4* hotel in Puerto Iguazu
Tour with an expert local guide
Choose a 2 or 3 night extension option including flights, transfers, accommodation and guide
More Details
Visit one of nature's most awe-inspiring sights on a 2 or 3 night extension to Iguazú Falls. Fly from Buenos Aires to Puerto Iguazú and visit both the Argentine and Brazilian sides of the Iguazú National Park in the company of an expert guide. Walk along the park's many trails that wind through rainforest, and feel the raw power of the falls from numerous viewing points. The extension includes accommodation in a good quality hotel in Puerto Iguazú, domestic flights and all airport transfers.
Enjoy walks amidst the glorious scenery of the Chilean Lake District
Take a ferry to Chiloe Grand Island to get up close to a penguin colony
Walk the Tepual Trail at Chiloe Nationa Park
Visit some of the cultural sights of the region before returning to Santiago
Stay in good quality hotels throughout
More Details
On this seven day extension you enjoy several walks amidst the glorious scenery of the Chilean Lake District including Vincente Perez Rosales NP and Alerce Andino NP. You also take a ferry to Chiloe Grand Island to get up close to a penguin colony and visit some of the cultural sights of the region before returning to Santiago. Please contact us for more details.