What's included
A Local Leader
International flights economy class (flight inclusive option)
International airport transfers
All other transfers as per the itinerary
All road transport by private vehicles
Good standard accommodation
12 Breakfasts, 11 lunches, 8 dinners
Sightseeing as specified
Activities as specified
Entry fees and permits for national parks and native sites
The option of joining one of our four pre-trip meets in the Cotswolds
A free high-quality Mountain Kingdoms kit bag
and much more...
Call our
friendly team
Garibaldi & Chilcotin Trek
Walking & Trekking
Grade: Moderate ? Moderate

Book now or call 01453 844400
Discover picturesque trails in Garibaldi and Whistler and take a floatplane into the wilds of South Chilcotin for an unforgettable remote wilderness trek.
Highlights
Take a scenic flight by floatplane and embark on a five day trek in the remote wilds of Chilcotin
Enjoy remarkable scenery on picturesque day walks in Garibaldi Provincial Park
Explore the stunning mountains of Whistler and Squamish
Stay in comfortable accommodation and remote backcountry camps
Reviews
The flight from Tyax Lodge to Lorna Lake was a highlight for me. The bird's eye views of gentle-rolling hills and snow-capped peaks were superb and the experience of taking off and landing on the lake was very exciting and unforgettable.
Kerry Robins, Mountain Kingdoms
View All
In the sweeping mountain landscapes of British Colombia this unique Mountain Kingdoms trip is a combination of picturesque day walks in the Garibaldi Provincial Park and Whistler mountains together with a five day trek through the wilderness of the South Chilcotin Mountain Park.
Garibaldi Park and Whistler provide a superbly scenic start to our trip. We ride gondolas to high mountain trailheads, hike through splendid scenery to impressive overlooks and spend relaxed nights in the mountain resorts of Whistler and Squamish, before a short flight takes us north to Lorna Lake and the start of our trek.
Staying in comfortable accommodation at four beautifully located backcountry camps, we wake each day to a good breakfast before heading out on the trail. We walk from camp to camp through a landscape of dome shaped mountains and distant jagged peaks with gently sloping valleys dotted by alpine lakes, enjoying the rare solitude of a true wilderness trek. Revitalised, we return to civilisation and end our fantastic holiday in the attractive waterfront city of Vancouver.
---
At a glance
Grade: Moderate
Moderate
Max. Altitude: 1,800m/5,905ft
Guaranteed to run for a minimum of 4 clients
Maximum group size: 8
Land only joining city: Vancouver
Accommodation types: Hotels, Fixed Camps, Lodges
Meal arrangements: Breakfast 12, lunch 11, dinner 8.
Itinerary overview
| Day | Activity |
| --- | --- |
| 1 | Fly to Vancouver. Afternoon at leisure to explore Vancouver. |
| 2 | Drive to Squamish, ride the Sea to Sky Gondola and hike the stunning Al's Habrich Trail. |
| 3-4 | Drive to Garibaldi Provincial Park and hike to Garibaldi Lake, one of the most scenic destinations in British Columbia. Continue to Whistler and discover its pristine alpine city. Take the Gondola to Whistler Mountain and spend a day hiking the High Note Trail, with views of Cheakamus Lake in Garibaldi National Park. |
| 5-6 | Travel north to Pemberton and enjoy walks to Joffre Lakes and Marriot Basin and/or Rohr Lake. |
| 7-11 | Drive to the Chilcotin area and take a Beaver plane (floatplane) to South Chilcotin Provincial Park. Embark on five days trekking over rolling mountain passes whilst staying in remote backcountry camps. |
| 12 | Return to Vancouver, stopping en route to explore the Xwisten Native Traditional Fishing Rock and Archaeological Village. |
| 13-14 | Depart Vancouver, arrive UK. |
Leader: Local leader, Canada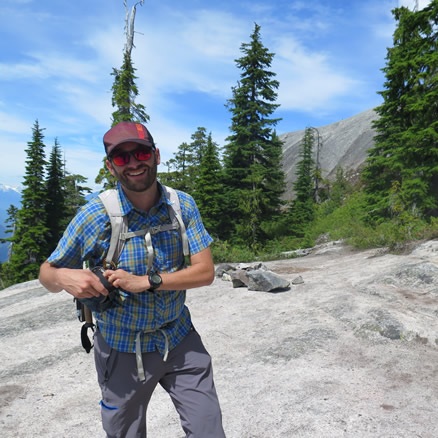 Our walking and trekking holidays in Canada are led by experienced, friendly and knowledgeable, English-speaking local guides. They have extensive knowledge of their surroundings and bring an in-depth aspect to your adventure. Our local guides are members of professional organisations including the Association of Canadian Mountain Guides, they are Wilderness First Responders accredited by the National Outdoor Leadership School, and are members of Leave No Trace Canada.
---
Garibaldi & Chilcotin Trek Itinerary
Day 1 - Fly London to Vancouver

Fly from London to Vancouver. On arrival you will be greeted at the airport by your local guide and transferred to your hotel. The remainder of the day is at leisure, for you to recover from your flight and to enjoy the delightful city of Vancouver.

Overnight: Sandman Vancouver or Similar, Vancouver

Day 2 - Drive from Vancouver to Squamish - 65km, 1hour 30 minutes. Walk along Al's Habrich Trail - 7km, 5 hours.

Today is the perfect introduction to the breathtaking scenery that accompanies you throughout your British Columbia adventure. Travelling north to Squamish, along the captivating Sea-to-Sky Highway, you'll be enchanted by the superb mountain scenery and ocean views. Squamish bills itself as 'The Outdoor Recreation Capital of Canada' and you will be itching to get out of your vehicle to explore. You will ride the Sea-to-Sky Gondola transporting you to a point 850m above the scenic Howe Sound; a network of fjords directly northwest of Vancouver, and hike along the Al's Habrich Trail as it weaves through old growth forest, ancient glacial formations, creeks and waterfalls. You'll be surrounded by granite outcrops and sub-alpine meadows and will arrive at an outlook with far-reaching views, including the staggering peaks of Sky Pilot Mountain, Mt. Habrich, plus the beautiful coastline below. Retracing your steps and returning to sea level, a short transfer takes you into Squamish town, now a popular base for outdoor enthusiasts. Dinner will be enjoyed with your group at one of the recommended restaurants.


Overnight: Sandman Squamish or Similar, Squamish

Day 3 - Drive to Garibaldi Provincial Park - 65km, 1 hour. Walk to Garibaldi Lake - 18km, 5-6 hours, 820m ascent and descent).

After a hearty Canadian breakfast and a short transfer to Garibaldi Lake trailhead, you'll set off on your day hike. This scenic area surrounding Garibaldi Lake is the heart of Garibaldi Provincial Park. Here, alpine meadows come alive with wild flowers and within a small radius are abundant outstanding natural attractions, such as the Black Tusk - a pinnacle of vivid volcanic rock and an iconic natural landmark, Panorama Ridge, Helm Glacier, the Sphinx, Guard Mountain, Garibaldi Lake, Sentinel Glacier, Sphinx Glacier and Castle Towers; just a small selection of the natural highlights here.

Today's hike is a nice challenge where you gain an elevation of 820m in just 9 km. Hiking to the lake with turquoise-coloured water nestled between alpine mountains with a spectacular glacier as the backdrop; Garibaldi Lake is one of the most scenic destinations in British Columbia. Lunch, prepared by your guide, will be appreciated in this wonderful setting. Returning to your vehicle you will continue to Whistler where striking landscapes and genuine, down-to-earth mountain culture await. Staying in the heart of Whistler Village you'll have time to discover this lively alpine resort and enjoy dinner in downtown Whistler amongst many who share your passion for the great outdoors.


Overnight: Aava Hotel or Similar, Whistler

Day 4 - Take a Gondola up to Whistler Mountain. Walk the High Note trail - 19km, 7-8 hours, 300m ascent and descent.

You don't need to venture far this morning before your adventures begin. Whistler is Canada's leading year-round destination, featuring two magnificent mountains teeming with active hiking options. Today you'll ride the PEAK 2 PEAK Gondola, for easy access to alpine trails on Whistler and Blackcomb Mountains, and hike the High Note trail.

The High Note Trail offers the most scenic view of Cheakamus Lake in Garibaldi Provincial Park and leads you on a high alpine traverse of Whistler Mountain and the adjacent Musical Bumps. Cheakamus Lake is a glacier-fed lake and on reaching its viewpoint you will be impelled to stop and admire the scenery; serving as an ideal place to rest for a snack. The trail starts from the top of Whistler Mountain and brings many ascents and descents as the path wraps around the mountain. You will enjoy incredible mountain top views before descending through an alpine area back to the Whistler Gondola for your journey down to the village.

Whistler Village has been created around a pedestrian-only walkway. Everything from the ski lifts to shops, hotels and accommodation, places to eat, entertainment and activities can be found within walking distance along the lovely Village Stroll. The remainder of your day is at leisure to enjoy your pristine alpine environment.


Overnight: Aava Hotel or Similar, Whistler

Day 5 - Drive to Joffre Lakes - 65km, 1 hour. Walk to Upper Joffre Lake - 6km, 2-3 hours, 300m ascent and decent.

Saying farewell to Whistler you will re-join the sensational Sea-to-Sky Highway, travelling north. The splendid scenic delights continue as you head towards Pemberton and on to Joffre Lakes Provincial Park.

Joffre Lakes Provincial Park is focused around three striking turquoise Lakes, and you will aim to walk to each of them. Well-constructed alpine trails lead you up through the trees, guiding you to each of the stunning lakes. The Joffre Lakes trail is well-known as one of British Columbia's most beautiful hikes and is unexpectedly busy, which is a testimony to how extraordinarily beautiful this location is. A highlight of your hike is the turquoise blue waters of each lake, all three of which are located along the trail and surrounded by rocky peaks and beautiful walls of alpine vegetation. As you ascend a new lake is revealed, each more stunning than the last. The huge Matier Glacier rises above and beyond the upper lake, making the setting even more spectacular. The lakes prominent, saturated blue colour is caused by rock flour, glacial silt, which is suspended in the water and reflects green and blue wavelengths of sunlight.

Descending back down the trail, you will then drive along the highway for a short distance to your hotel in the small, community village of Pemberton.

Overnight: Pemberton Valley Lodge or Pemberton Gateway Village

Day 6 - Drive to trailhead - 68km, 1hour 30 minutes. Walk to Rohr Lake - 9km, 5 hours, 370m ascent and descent. Or walk Marriot Basin - 16km, 8 hours, 460m ascent and descent.

Today's phenomenal trail is a must do for anyone with a passion for alpine hiking. The trail starts as one, then after a couple of hours forks right to Rohr Lake or left to Marriott Basin. Depending upon your guide's decision and local conditions, you will do one hike or the other. Both hikes are wonderful as much of this area consists of pristine alpine meadows surrounded by steep but appealing slopes, rambling ridges, and majestic peaks. Magical waterfalls cascade down to the valleys where crystal clear mountain streams wind slowly through alpine meadows.

Returning to Pemberton you'll have time at leisure and the opportunity to prepare your kit for your wilderness trek in remote South Chilcotin Park.


Overnight: Pemberton Valley Lodge or Pemberton Gateway Village

Day 7 - Drive to Gold Bridge - 200km, 4 hours. Fly to Lorna Lake - 1 hour. Walk to Bear Paw Camp - 2-3 hours, 8km, 331m ascent/ 521m descent.

Today your remote backcountry experience begins. Waking early and after breakfast, you'll head toward Gold Bridge, a small service and supply centre for the upper basin of the Bridge River Valley. Your journey this morning is, in itself, a thrilling adventure - towering jagged cliffs guide you alongside the picturesque Carpenter Lake where, although your route is a maintained Provincial Highway, there are unpaved and narrow sections, plus an assortment of dramatic twists and turns.

On arrival at Tyax Wilderness Lodge, you will board a small Beaver plane, the most iconic Canadian bush plane, also known as 'the airplane that opened the North', for a flight to picturesque Lorna Lake in the Spruce Lake area of South Chilcotin Provincial Park. Your main luggage will remain at the Tyax Lodge and from Lorna Lake you will hike, carrying your gear, 8km via Lorna Pass. The trail takes you across a beautiful landscape of dome shaped mountains with gently inclined valleys sprinkled with alpine lakes. Arriving at Bear Paw Camp, nestled in a picturesque meadow in Tyaughton Creek, you will spend your first evening enjoying the rare solitude of a true wilderness trek.

Overnight: Backcountry Camps

Day 8 - South Chilcotin Park - 12 km, 5-6 hours, 671m ascent / 755m descent.

Wake up and enjoy fresh coffee and a delicious hot breakfast cooked by your camp host. Today you will hike 12km to Trigger Camp crossing Deer Pass and enjoying stunning mountain views along the way.

South Chilcotin Mountains Park presents approximately 200km of trails providing relatively easy access to spectacular alpine meadows, broad valleys, ridge walks and mountain lakes. You venture further into remote wilderness, where there will be an abundance of wildlife, however it can be rare to gain frequent sightings. You may spot grizzly and black bears, mountain goats, cougars, bobcats, marmots, wolves, and a variety of birds.

You will receive a warm welcome as you arrive at Trigger Camp, located near the idyllic Trigger Lake. Here another memorable evening awaits, under canvas and the peaceful night sky.


Overnight: Backcountry Camps

Day 9 - South Chilcotin Park. Trek to Spruce Camp - 15km, 6 hours, 283m ascent / 326m descent.

Today's hike takes you from Trigger Camp through beautiful meadows alongside Gun Creek, passing tranquil Hummingbird Lake en route to Spruce Lake Camp. Your camp is located at the north end of Spruce Lake, along the scenic Spruce Lake Creek. Upon arrival, relax and enjoy a hearty meal. Here you can take advantage of the fishing boats available and head out onto the lake for some of the best fishing in the park.


Overnight: Backcountry Camps

Day 10 - South Chilcotin Park. Trek to Eldorado Cabin Camp - 6hrs, 14km, 804m ascent / 466m descent.

Setting off from camp after a warming breakfast this morning you head up to Windy Pass, 2,200m/ 7217ft. From Spruce Lake, you start climbing almost immediately through a mix of deciduous and evergreen alpine and out into colourful high meadows approaching the pass. The panoramic views of Dickson Mountain Range are outstanding and impressive Carpenter Lake comes into view as you approach Eldorado Cabin and descend down to Eldorado Creek.

At Eldorado Cabin soothe your tired muscles in the wood fired sauna; a welcoming reward after a long day on the trail, relax and relish your final evening in this treasured remote setting.


Overnight: Backcountry Camps

Day 11 - South Chilcotin Park. Trek to Taylor trailhead - 6 hours, 15km, 320m ascent / 900m descent. Drive to Tyax Lodge

Having weaved your way through some of the most scenic and beautiful terrain in British Columbia, your finaltrekking day will take you from Eldorado Cabin out to Taylor trailhead, where you will be picked up and taken back to Tyax Wilderness Lodge; here you will spend an indulgent evening with the opportunity to take advantage of the lodge's spa facilities; this is the perfect stopover after your remote backcountry trek.

Overnight: Tyax Lodge

Day 12 - Drive to Vancouver.

Energised, you depart the tranquillity of Chilcotin and head back to Vancouver - equally fabulous views escort you on your return journey back along the superb Sea-to-Sky Highway. You will stop en route in Lillooet to visit the Xwísten Native Traditional Fishing Rock and Archaeological Village and to learn about the rich native culture and history of this region, and the importance of fish to the people here.

Arriving in Vancouver around mid-afternoon you will have time to stroll the bustling city streets or perhaps take a walk around Stanley Park with its many famous landmarks, monuments, totem poles, gorgeous gardens and sweeping ocean views. Tonight you will enjoy a farewell dinner in downtown Vancouver.


Overnight: Sandman Vancouver or Similar, Vancouver

Day 13 - Transfer to the Airport. Fly Vancouver to London.

This morning you will transfer to the airport for your flight home.


Overnight: In flight

Day 14 - Arrive UK

Today you will arrive back in the UK.
Map
Map Key
Airport
Point of interest
Mountain Peak
Day walk in this area
Flights
Internal Transfers
Trek
---
No Dates Available
There are no available booking dates for this holiday yet since we are still finalising details. If you are interested in this holiday and would like further details, please contact us.
Hold your place
Not quite ready to book? Why not call us on 0044 (0)1453 844400 to hold a no obligation place while you make up your mind?
No Surcharge Guarantee
No surcharges will be applied to your holiday after you book. Prices on this website are updated regularly. The Flight Inclusive holiday price, or Land Only holiday price, will be confirmed to you at the time you make your booking. There will be no surcharges after your booking has been confirmed.
Flight inclusive holidays
The 'flight inclusive' holiday prices shown on this website are based upon our preferred airlines and the best priced economy class fares we are able to secure at the time of publication.
We will be able to advise on fares with alternative airlines, upgrades to Business Class, and the options for flights from regional UK airports, please contact us for more details.
Loyalty discount
Find out more
What's included
A Local Leader
International flights economy class (flight inclusive option)
International airport transfers
All other transfers as per the itinerary
All road transport by private vehicles
Good standard accommodation
12 Breakfasts, 11 lunches, 8 dinners
Sightseeing as specified
Activities as specified
Entry fees and permits for national parks and native sites
The option of joining one of our four pre-trip meets in the Cotswolds
A free high-quality Mountain Kingdoms kit bag
What's not included
Overseas airport departure taxes
Travel insurance
Visa fees
Optional activities
Tips
---
---
Review your holiday
Reviews
Read holiday reviews by Mountain Kingdoms travellers.
Overall score: 5.0 (Based on 1 reviews)
Garibaldi & Chilcotin Trek
An unforgettable trek in Canada 10/02/2017
The flight from Tyax Lodge to Lorna Lake was a highlight for me. The bird's eye views of gentle-rolling hills and snow-capped peaks were superb and the experience of taking off and landing on the lake was very exciting and unforgettable.
Kerry Robins, Mountain Kingdoms
---
Extend your holiday
There are many ways you can extend your holiday with Mountain Kingdoms: book extra hotel nights, relax at a beautiful beach resort, take a warm-up trek, arrange a personal sightseeing tour or enjoy specialist activities such as rafting, birdwatching or a safari.
We're happy to suggest ideas, provide quotes and make all the arrangements. We can also assist with flight and hotel upgrades. Just call us on +44 (0)1453 844400 or email info@mountainkingdoms.com and we will be pleased to help.