What's included
English speaking Tibetan guide who will be supported by Tibetan drivers for the sightseeing elements and by a Tibetan camp crew for the trekking section
All internal flights and domestic transfers
Good standard hotel accommodation in Chengdu, twin share, bed and breakfast basis
Best available hotels in Tibet, on full board
All camping facilities and all meals on trek
Tibetan camp staff to carry out all camp work
All road transport by private vehicles
Fees for Tibet permit
Sightseeing where specified, including entrance fees
Carbon offset for clients taking our flight-inclusive option
Economy class return air fares from the UK & UK Departure Tax (flight inclusive only)
Single, timed group airport transfers for international flights on arrival and departure
A free high-quality Mountain Kingdoms kit bag
and much more...
Call our
friendly team
Ganden to Samye Trek
Walking & Trekking
Grade: Vigorous ? Vigorous
Duration: 14 days from the UK
On trek: 4 days
Flight inclusive from £3,290,
Land only from £2,395
Book now or call 01453 844400
Explore Lhasa and trek the stunning pilgrimage route from Ganden to Samye.
Highlights
Enjoy a rarely travelled, short, vigorous trek in delightful countryside near Lhasa
Spend ample time exploring Lhasa's key sights to gain the best acclimatisation.
Visit the Valley of Kings, and Tibet's legendary Yumbulakang castle.
Stay in comfortable hotels in Lhasa and Chengdu with first rate camping facilities on trek
Reviews
Excellent organisation/backup from administrators/office staff. Small group. Varied itinerary. Good choice of hotels, excursions, etc. which showed that there had been a lot of research into the country/area/places of interest/history. It was certainly an adventure, and with a lot of variety. Thanks again, Mountain Kingdoms, for another amazing trip.
Ms V, Canada
View All
This little-trekked roue from Ganden to Samye is well-regarded for its diversity, leading us over high snowy mountain passes, through lush alpine meadows, yeak herder camps, peaceful Tibetan villages and highly respected sacred sites, before arrivng at the desert-like setting near Samye.
Our short trek takes through delightful countryside close to Lhasa, and offes a fantastic introduction to Tibetan Buddhism and religious culture. The walking, although high, is not difficult. To acclimatise and immerse ourselves in Tibetan culture we spend three days in the vibrant city of Lhasa and take the opportunity to explore some of Tibet's key cultural highlights, including the magnificent World Heritage Site of Potala Palace, Sera Monastery, one of the three famous monasteries within the city, and the holy cave retreat of Drak Yerpa.
We stay in comfortable hotels in Lhasa and Kathmandu and enjoy first-rate camping faciliites on trek.
---
At a glance
Grade: Vigorous
Vigorous
Duration: 14 days from the UK
On trek: 4 days
Max. Altitude: 5,300m/17,388ft, Shuga La Pass, Day 9
Guaranteed to run for a minimum of 4 clients
Maximum group size: 12
Land only joining city: Chengdu
Accommodation types: Hotels, Camping
Meal arrangements: 11 Breakfasts, 9 Lunches, 10 Dinners.
Itinerary overview
| Day | Activity |
| --- | --- |
| 1-2 | Fly to Chengdu in China. |
| 3-6 | Fly to Lhasa. Sightseeing around Lhasa - visit Jokhang Temple, Norbulingkha, Potala Palace, Sera Monastery and Drepung Monastery. |
| 7 | Drive to Drak Yerpa Hermitage. Continue to Ganden and on to Tubshi village. |
| 8-10 | Trek to Sumdo via Yamado and and Langtso crossing the Shuga La, 5,300m/17,388ft. |
| 11 | Trek to Emalung hermitage temple and walk to Samye. |
| 12 | Visit Samye Monastery. Drive to Tsedang. Visit Yumbulakang and Trandruk Temple. |
| 13-14 | Drive to Lhasa airport. Fly to London. |
Leader: Local leader, Tibet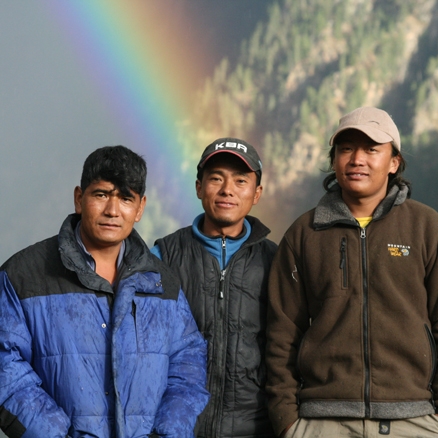 Our treks in Tibet have an English speaking Nepalese trekking leader appointed by our agents in Kathmandu. Your leader will be experienced in Tibet and will travel with the group from Kathmandu back to Kathmandu. Their job is primarily to look after the group, liaise with the local crew, handle hotel and airport and check-ins, and in fact do all the little jobs that will help make your holiday trouble free.
---
Ganden to Samye Trek Itinerary
Day 1 - Fly London to Chengdu

Fly overnight from London to Chengdu in China.

Overnight: In flight

Day 2 - Arrive Chengdu.

On arrival in Chengdu you will be met and transferred to your hotel.

Overnight: Minshan Lhasa Grand Hotel or Similar, Chengdu

Day 3 - Fly to Lhasa, 3,656m/11,995ft. Drive to hotel.

You will transfer to the airport for the flight to Gonggar in Tibet.

In Gonggar (the airport for Lhasa) you will be met and will drive to Lhasa. Nowadays the road passes through a road tunnel through the mountains so the drive takes just one and a half hours. Lhasa is today a very modern looking city but your first sight of the Potala Palace as you drive into town will still take your breath away. On arrival in Lhasa you will check in to your hotel which is situated in the centre of town. On arrival remember that you are now at altitude - 3,600m/11,800ft - so it is best to take it fairly easy for the afternoon. If you do have the energy there should be time for some exploration in the afternoon. Both the Barkhor market and Jokhang Temple are within a few minutes' walk of your hotel and you may venture out to mingle with the crowds of pilgrims, shoppers and tourists.

Overnight: Kyichu Hotel or Shambala Hotel or Similar, Lhasa

Day 4 - Visit Jokhang Temple and Norbulingkha.

This morning you will visit the Jokhang Temple. This is the most sacred temple in Tibet and the centre of the Tibetan city. Pilgrims from all over Tibet flock to visit it. You will see them circling the Barkhor turning their prayer wheels or making full-length prostrations around the temple. To visit the Jokhang you will join these pilgrims as they shuffle round inside, making their offerings and feeding the thousands of flickering butter lamps. The temple was initially established in the 7th century by King Songtsen Gampo. It takes its name from the sacred image of the Buddha, the Jowo Shakyamuni, the most highly revered image in Tibet, a statue which was brought to Tibet by Songtsen Gampo's Chinese wife and which is now housed in one of the chapels of the Jokhang. The Jokhang itself was, however, originally designed by Nepalese craftsmen brought to Tibet by Songtsen Gampo's second wife who was from Nepal. Since that time the temple was further enlarged during the reign of the Fifth Dalai Lama. It is worth visiting the roof of the Jokhang for wonderful views of the city and surrounding hills.

The Barkhor market is the area surrounding the Jokhang and is full of vendors selling all manner of wares; stirrups for dashing nomad horsemen, tacky souvenirs for Chinese tourists and all sorts of other ephemera. Shops in the nearby streets display huge slabs of butter which pilgrims purchase to feed the butter lamps in the Jokhang temple. The characteristic rather cheesy smell of such temples is from these butter lamps.

In the afternoon you will visit the Norbulingkha; nowadays it is known as 'People's Park' but the original name means 'Jewel Park'. The Norbulingkha was formerly the summer palace and recreation gardens of the Dalai Lama and it was from here that the present Dalai Lama escaped in 1959. The nearby Tibet Museum is well worth a visit. Pass rapidly through the galleries justifying the Chinese occupation and you will find that the galleries on Tibetan Buddhism and Tibetan arts and crafts, along with objects of everyday life, are the most interesting exhibits with many outstanding pieces on display.

Overnight: Kyichu Hotel or Shambala Hotel or Similar, Lhasa

Day 5 - Visit Potala Palace and Sera Monastery.

In the morning you will visit the Potala Palace. Luckily the Potala remained largely undamaged throughout the years of the Cultural Revolution. Songtsen Gampo was the first Tibetan ruler to establish a palace on this outcrop, the 'Red Hill', but construction of the grand palace that we see today began in 1645 during the reign of the Fifth Dalai Lama. The palace is named after Mount Potala, a sacred mountain in South India, and has served as the home of successive Dalai Lamas and their monastic staff. You will start your tour at the top of the building where the view from the roof is stunning. You then work your way down through successive storeys and through a maze of rooms - through the living quarters of the Dalai Lama and down through numerous highly decorated chapels and colourful assembly halls. Walls are decorated with intricate murals and hung with painted thangkas. One of the most awesome rooms in the Potala is the Chapel of the Dalai Lamas' Tombs, which contains the massive golden stupa of the Fifth Dalai Lama and smaller stupas containing the relics of other Dalai Lamas. When you have completed your tour you may like to make a kora (circuit) right around the building, along with many Tibetan pilgrims who will be making the same circuit.

In the afternoon you will drive 40 minutes to Sera Monastery, one of the three great Gelukpa monasteries near Lhasa. This monastery dates back to the 15th century and was formerly a monastic township housing over 5,000 monks. Although many of the outlying buildings have been destroyed the principal buildings were left relatively intact and nowadays the monastic population is again over 300 monks. Sera is particularly famous for its great monastic debates and monks can still be seen debating in the debating courtyard. More prosaic but equally fascinating are the large monastic kitchens where monks prepare industrial quantities of food in huge copper cauldrons. It is quite a sight to see Tibetan tea being blended with a mixer the size of a road drill!

Overnight: Kyichu Hotel or Shambala Hotel or Similar, Lhasa

Day 6 - Visit Drepung Monastery, 3,800m/12,467ft.

This morning you drive the short distance to Drepung Monastery. Seen from afar the monastery was said to resemble a huge heap of rice and occupied an area of about 250,000 square metres and was considered one of the 'Three Great Monasteries' of Tibet - (the other two being Ganden Monastery and Sera Monastery). Drepung was founded in 1416 by Jamyang Choje, a disciple of Tsongkapa, the founder of the Gelugpa Sect. At its zenith Drepung housed some ten thousand monk students. These were drawn not only from Tibet, but also from China, Himalayan India, Mongolia, and the Mongol regions of Eastern Russia. Although the monastery suffered during the Chinese Cultural Revolution, nowadays there are about 500 monks in residence and there is still plenty to see there.

You will have the afternoon free in Lhasa, to relax or do some personal exploration or shopping. The ancient Ramoche Temple, founded in the 7th century, is just a short walk from the Jokhang. Also worth a visit is the little nunnery (Ani Tshamkhung Nunnery), a stone's throw from the Barkhor - this is a very charming little community. You could also visit the tent factory (a ten minute walk from the Barkhor) to see where articles are being made in the same blue and white fabric seen in Tibetan picnic tents. It is possible to purchase lovely wall hangings and cushion covers here.


Overnight: Kyichu Hotel or Shambala Hotel or Similar, Lhasa

Day 7 - Drive to Drak Yerpa Hermitage, 4,885m/15,929ft - approximately 2 hours. Continue to Ganden and on to Tubshi village, 4,000m/13,100ft.

Today you drive from Lhasa to Drak Yerpa Hermitage, 4,800m/15,750ft located in a wonderful site with great views. There are meditation caves built in the mountainside. After the visit, you continue driving to Ganden monastery, 4,300m/14,100ft, which is another of the three most important monasteries in Lhasa (along with Sera and Drepung). Ganden sits high on a mountain ridge. You explore the monastery prayer halls, then hike around the ruins at the base of the mountain and do a kora (circumambulation) around the monastery. Ganden has extremely delicate and fine murals and sculptures. The most important and valuable arts here are the paintings of Buddha. After the visit, you continue driving to the camp site at Tubshi village.

Overnight: Camp

Day 8 - Trek from Tubshi to Yamado, 4,300m/14,107ft - 4 hours.

Your walk today begins on a trail along a saddle. After leaving this trail with wonderful views, you traverse the west side of the ridge before passing through an ancient Hepu village. Later in the day you pass through Ani Pagong, a narrow bottleneck in the trail and former site of a nunnery. From Ani Pagong the trail steadily climbs for one hour through marshy meadows to Yama Do. Above Yama Do the valley's watercourse splits into three tributaries. You will end the day with an ascent towards Yama Do. Today's walk is easy and is good for acclimatization. The campsite in Yama Do is near a nomad habitation where you will have the opportunity to see the nomad families and their lifestyle, their tents and animals.


Overnight: Camp

Day 9 - Trek to Lang Tso, 4,500m/14,764ft, crossing the Shuga La, 5,300m/17,388ft - 6-7 hours.

In the morning you leave Yama Do valley and make your way on the east side to avoid a steep gully rising from the stream bank. Another 45 minutes' walk will bring to you an alpine meadow. Finally, you climb over the Shuga La 5300m. It is at least one hour to one & half hours from the meadow and you have to negotiate boulders and rocky ground along the final climb to the pass. The Shu-gu La pass cannot be seen until you are virtually on top of it. It is marked by a large cairn covered in prayer flags and yak horns. You begin your descent through boulder fields. Later, you cross Tsotup Chu, a large stream winding through the valley floor. You will notice the Tibetan mastiffs of the nomad family on the other shore of the river. A comfortable camp will be set up in one of the many herder fields.

Overnight: Camp

Day 10 - Trek to Sumdo, 4,000m/13,123ft - 7 hours.

Today you follow the Tsotup Chu down to its tributary, which quickly disappears underground, and head towards the Chidu La pass, 4,900m/16,076ft. You then trek along a beautiful lake just after the pass. After ascending this rocky pass, you descend through several twisted curves in the valley, and encounter some nomad settlements and forest in the valley. Walking on the other side of the pass is much easier. You camp in a beautiful place in one of the fields alongside the stream.


Overnight: Camp

Day 11 - Trek to Emalung (Yamalung) hermitage temple, 3,800m/12,467ft and continue to Samye Monastery, 3,556m/11,667ft - 7-8 hours.

The trail gets wider and easier as you trek through shrub forests in the main valley. The desert is close by. After passing through this forest you arrive at the first permanent village, Changtang. This village is named after the northern Tibet Changtang Plateau. From Changtang, look south to the distant mountains; this is the range on the far side of the Yarlung Tsangpo valley. Approx. forty-five minutes down the valley is the turning point for the Yamalung Hermitage. It is a one-hour steep climb to the hermitage. Yamalung is where Guru Rinpoche is said to have meditated and received empowerment from the long-life deity Tsepame (Amitayus). The hermitage consists of several small temples and housed some meditating monks. Below the temple complex is a sacred spring and an old relief carvings in stone of Guru Rinpoche, King Trisong Detsen and the Indian scholar Shantarakshita, all of whom lived in the 8th century. The cave Guru Rinpoche meditated in is enshrined by the Drupug Mara Titsang Temple. Inside is the footprint and handprint of the saint said to have been created when he magically expanded the size of the cave.

From Yamalung you can either take a ride to Samye Monastery for about 40-50 minutes or keep walking for another 3 hours to Samye.


Overnight: Camp

Day 12 - Visit Samye Monastery. Drive to Tsedang, 3,580m/11,745ft. Visit Yumbulakang and Trandruk Temple. Overnight at Tsedang.

This morning you will visit Samye Monastery. Founed 1,200 years ago it was the first monastery in Tibet with monks. It is mostly closely associated with the Nyingmapa order of Buddhism, one of the earliest orders of Buddhism, and is one of the most important monasteries in Tibet.

From Samye you drive to the town of Tsedang. The area around Tsedang is thought of as the cradle of Tibetan civilisation and you will visit some of the principal sights. In the nearby Yarlung valley, a short half hour drive from Tsedang, is the fortress/chapel of Yumbulakhang, a distinctive tapering structure perched on a crag. Yumbulakhang is said to be the oldest building in Tibet and to have been built for the legendary King Nyentri Tsenpo. Its origins may date back more than 2,000 years. The temple is currently closed so you will not be able to go inside but the exterior is very photogenic.

If you climb the ridge above Yumbulakhang you will get good views of the Yumbulakhang, the Yarlung Valley and the mountains to the south. The first cultivation in Tibet is thought to have started in this valley. It was also from Yarlung that early Tibetan kings unified Tibet in the 7th century and in nearby Chongye are found the burial mounds of these earliest kings. One of the larger mounds, topped by a monastery, is that of King Songsten Gampo who was the first royal patron of Buddhism in Tibet and in whose reign building on the Jokhang Temple was started.

Trandruck Monastery, also situated near Tsedang, is one of the earliest Buddhist monasteries in Tibet, dating to about the same time as the Jokhang in Lhasa and you should have time to visit it on the way to Yarlung.


Overnight: Tsedang Hotel or Similar

Day 13 - Fly to Chengdu. Excursion to Panda Centre. Group transfer to airport and depart for London.

You will have a fairly early start for the drive to Gonggar International Airport which takes around two hours. You then fly to Chengdu. On arrival you will be met and have an excursion to the Chgendu Giant Panda Centre where scientists are running a very successful Giant Panda breeding programme. As well as the adult pandas you will may also see some rather adorable baby pandas and some delightful Red Pandas.

Later you will be transferred back to the airport to check in for your flight home.

Overnight: Departure Day

Day 14 - Arrive UK.

You arrive back in London.
Map
Map Key
Airport
Point of interest
Mountain Peak
Day walk in this area
Flights
Internal Transfers
Trek
---
2019
| Dates | Availability | Land Only | Flight Inclusive from |
| --- | --- | --- | --- |
| Sat 10 Aug - Fri 23 Aug 2019 | Available | £2395 Book | £3290 Book |
2020
| Dates | Availability | Land Only | Flight Inclusive from |
| --- | --- | --- | --- |
| Sat 8 Aug - Fri 21 Aug 2020 | Available | Contact us | Contact us |
Hold your place
Not quite ready to book? Why not call us on 0044 (0)1453 844400 to hold a no obligation place while you make up your mind?
Optional supplements
Single Supplement
From £65
Insurance
No Surcharge Guarantee
No surcharges will be applied to your holiday after you book. Prices on this website are updated regularly. The Flight Inclusive holiday price, or Land Only holiday price, will be confirmed to you at the time you make your booking. There will be no surcharges after your booking has been confirmed.
Flight inclusive holidays
The 'flight inclusive' holiday prices shown on this website are based upon our preferred airlines and the best priced economy class fares we are able to secure at the time of publication.
We will be able to advise on fares with alternative airlines, upgrades to Business Class, and the options for flights from regional UK airports, please contact us for more details.
Loyalty discount
Find out more
What's included
English speaking Tibetan guide who will be supported by Tibetan drivers for the sightseeing elements and by a Tibetan camp crew for the trekking section
All internal flights and domestic transfers
Good standard hotel accommodation in Chengdu, twin share, bed and breakfast basis
Best available hotels in Tibet, on full board
All camping facilities and all meals on trek
Tibetan camp staff to carry out all camp work
All road transport by private vehicles
Fees for Tibet permit
Sightseeing where specified, including entrance fees
Carbon offset for clients taking our flight-inclusive option
Economy class return air fares from the UK & UK Departure Tax (flight inclusive only)
Single, timed group airport transfers for international flights on arrival and departure
A free high-quality Mountain Kingdoms kit bag
What's not included
Travel insurance
China visa fees
Lunch and evening meals in Chengdu
Tips
---
---
Review your holiday
Reviews
Read holiday reviews by Mountain Kingdoms travellers.
Overall score: 4.0 (Based on 1 reviews)
Another wonderful trip by Mountain Kingdoms 14/12/2016
Excellent organisation/backup from administrators/office staff. Small group. Varied itinerary. Good choice of hotels, excursions, etc. which showed that there had been a lot of research into the country/area/places of interest/history. It was certainly an adventure, and with a lot of variety. Thanks again, Mountain Kingdoms, for another amazing trip.
Ms V, Canada
---
Extend your holiday
There are many ways you can extend your holiday with Mountain Kingdoms: book extra hotel nights, relax at a beautiful beach resort, take a warm-up trek, arrange a personal sightseeing tour or enjoy specialist activities such as rafting, birdwatching or a safari.
We're happy to suggest ideas, provide quotes and make all the arrangements. We can also assist with flight and hotel upgrades. Just call us on +44 (0)1453 844400 or email info@mountainkingdoms.com and we will be pleased to help.