What's included
An English-speaking local leader
Economy class return air fare from the UK (flight inclusive only)
Single, timed group airport transfers for international flights on arrival and departure
All internal flights and domestic transfers
All other transfers as per the itinerary
All road transport by private vehicles
Good standard hotel accommodation in main cities on a bed and breakfast basis
Best available hotels in outlying towns
All meals included except lunch and evening meal in Yangon
Sightseeing where specified
A free Mountain Kingdoms Water-to-Go bottle
Carbon offsetting with the Ecoan Tree Planting Project (for clients taking our flight inclusive option)
The option of joining one of our four pre-trip meets in the Cotswolds
and much more...
Call our
friendly team
Definitive Cultural Tour of Burma
Tour
Duration: 16 days from the UK
Flight inclusive from £2,945,
Land only from £2,195
Book now or call 01453 844400
A thorough exploration of this fascinating country visiting places both on and off the beaten track.
Highlights
Join the Buddhist pilgrims on the journey to 'Golden Rock'.
Explore the lovely limestone scenery of the Kayin State with its myriad little-visited caves and temples.
Soak up the atmosphere in Mawlamyine, known in Kipling's day as Moulmein
Enjoy a fascinating boat trip on the Salween River and an all day cruise on the Ayeryarwaddy River.
Explore serene Inle Lake and the atmospheric temples of Bagan plain.
Reviews
We've designed this holiday to take you right off the main tourist trail, visiting many areas that have only recently been open for foreign visitors to Burma.
Seraphina Berry, Reservations Manager
I felt that the itinerary had been very carefully planned to maximise our short time there and that we were visiting parts of the country and having experience denied to the majority of run-of-the-mill tours arranged by larger companies.
Mrs R, Kent
View All
We have used our detailed knowledge and experience of this stunning country to design a tour for those who prefer not to follow the crowds. You initially travel south via 'Golden Rock' before reaching the coast and spending time by Kipling's 'Old Moulmein Pagoda' - modern day Mawlamyine.
Your journey then takes you to the rolling hill country of Kalaw in central Burma and a visit to Kakku, the site of 2478 stupas, aptly known as the 'forest of temples'. You then break your trip, spending some time relaxing on Inle Lake and taking a boat trip to Sagar and some of the remoter reaches of the lake. Continuing your journey you fly to Mandalay the cultural heart of the country and an inspiration to a myriad of writers and artists. After exploring round Mandalay you then take a fascinating cruise on the Ayeyarwaddy River to reach Bagan – a vast plain filled with beautifully crafted temples and monuments which you will have a full day to explore before returning to Yangon.
This is an ideal trip for the traveler who wants a comprehensive tour of the main attractions of Burma but also to travel to some of the lesser-known sights as well. It is an opportunity to immerse yourself in Burma's long and varied history by visiting the buildings, pagodas and temples, which are today still so central to Burma's vibrant life and culture, and also to discover the variety of landscapes found within the country from the lovely karst landscapes of the south to the serene lake scenery of Inle Lake, and the stunning temple dotted plains of Bagan.
From start to finish, this is a trip of great variety and interest.
---
At a glance
Duration: 16 days from the UK
Guaranteed to run for a minimum of 4 clients
Maximum group size: 12
Land only joining city: Yangon
Accommodation types: Hotels
Meal arrangements: All meals included except lunch and evening meals in Yangon. 14 breakfasts, 12 lunches and 11 dinners.
Itinerary overview
| Day | Activity |
| --- | --- |
| 1-2 | (This is the itinerary for our Oct 2020 departure. Detailed itineraries for all departures can be downloaded below). Fly overnight to Yangon, evening visit to Shwedagon Pagoda. |
| 3-4 | Drive to Mt Kyaiktiyo. Visit Golden Rock for sunset. Drive to Hpa-An for sightseeing. |
| 5 | Boat trip on Salween River to Mawlamyine (Moulmein). Sightseeing. |
| 6 | Drive back to Yangon. Gentle walk at Lake Kandawagyi |
| 7-8 | Fly to Heho, drive to Kalaw, time for sightseeing. Visit Taunggyi and the lost ruins of Kak Ku. Continue to Nyaung Shwe. |
| 9-10 | Explore Inle Lake. Visit 5 day market. Fly to Mandalay. |
| 11-12 | Sightseeing in Mandalay including Sagan Hills and U Bein Teak Bridge. |
| 13 | Full day cruise on the Ayeyarwaddy River from Mandalay to Bagan. |
| 14 | Sightseeing in Bagan. |
| 15-16 | Fly to Yangon. Guided city tour. Fly to UK. (2021 departures have an overnight flight back to the UK so are 17 days long). |
Leader: Local leader, Burma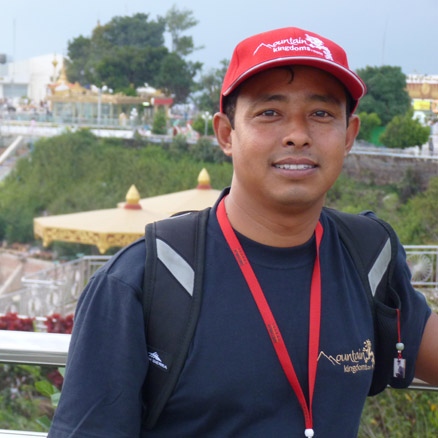 Your trip will be escorted throughout by an English speaking Burmese guide. Our Guides are all licensed to guide throughout the country and receive regular 'top-up' training. In addition to English, many guides will speak the dialects used by some of the ethnic groups you will encounter in rural areas – further adding to the interest and enjoyment of your holiday.
---
Definitive Cultural Tour of Burma Itinerary
Day 1 - Fly London to Yangon.

Depart London on an overnight flight to Yangon.

Overnight: In flight

Day 2 - Arrive Yangon. Group transfer to hotel. Evening visit to Shwedagon Pagoda.

You will be met and transferred to your hotel. International flights normally arrive by midday so you will have time to rest before venturing out to explore.

Later you will make a sunset visit to the Shwedagon Pagoda. Famous worldwide, the golden stupa of Shwedagon ('shwe' means golden) is considered to be the 'heart' of Buddhist Burma. The Pagoda is believed to be 2,500 years old and the central stupa is surrounded by dozens of intricately decorated buildings, shrines and statues. There are always many Burmese people praying and making offerings at Shwedagon and it is a fascinating place to spend time watching the world go by. The transformation from late afternoon light to evening, further adds to the spectacle and atmosphere of this wonderful temple complex.


Overnight: Chatrium Hotel or Similar, Yangon

Day 3 - Drive to Bago and on to Mt Kyaiktiyo. Visit Golden Rock for sunset.

Today you will drive out of Yangon towards Bago (about 50 miles). On the way you will stop off at Taukkyan War Cemetery a beautifully kept monument which contains the graves of over 6,000 dead of the Second World War as well as a memorial to 27,000 more who died with no known grave. You then continue to Bago, an ancient city with many pagodas and temples. Here you can visit the Shwemawdaw Pagoda, 1,000 years old and with a spire taller even than the Shwedagon.

From Bago you continue driving south another 50 or so miles to the town of Kin Pun at the base of Mount Kyaiktiyo (pronounced Chautyo), more commonly known as Golden Rock. Golden Rock is a major pilgrimage site for Buddhists from the whole region, mostly Burmese and Thai, and to get up there you join the rest of the pilgrims travelling to the top. It's a real jamboree!! In the bus station (called 'Base Camp') you board a truck along with other pilgrims. Your truck then weaves its way up through beautiful jungle to the top of the mountain. Here you get down and it's then just a short walk to your hotel. It is also possible to stop at a lower bus terminus ('Upper Base Camp') near the Golden Rock Hotel and walk the last 45 minutes steeply up to the top, or take one of the famous Golden Rock 'people carriers', a sedan chair like seat carried by 4 porters!

The Golden Rock defies gravity, balancing precariously on the edge of the mountain, and over the years devout pilgrims have covered the boulder in gold leaf. It is said to be held in place by a single hair of the Buddha. Like Lourdes, Golden Rock combines religious fervour with blatant commercialism and the area round the rock is crowded with temples, shops, food stalls, souvenir stands and street vendors. Visiting here is certainly an experience, especially in the evening when the sunset lights up the rock and pilgrims crowd the area.

Overnight: Mountain Top Hotel (Golden Rock)

Day 4 - Drive to Hpa-An and nearby sightseeing.

In the morning, along with crowds of pilgrims, you can walk back to the Golden Rock for more photos. Afterwards it is possible to take a truck down right from the top but it is much more pleasant to walk down part of the way. This takes about 40 minutes to the lower bus terminus ('Upper Base Camp') passing lots of pleasant cafes, stalls and vendors and taking in the lovely mountain views as you go. From the terminus you will then descend the rest of the way by truck to meet up with your transport.

You then continue your journey south toward Hpa-an driving through miles of rubber plantations. As you enter Kayin state the scenery becomes increasingly beautiful - a landscape of paddy fields and picturesque limestone outcrops. On the way you may visit the caves at Bayin Nyi. These caves, situated above hot springs, are filled with many colourful statues and Buddha figuress. Closer still to Hpa-an are the wonderful caves at Kaw-gun - these caves are the most atmospheric of all the caves in this area, with hundreds of terracotta images on the walls, a hidden gallery of thousands of tiny clay Buddhas dating back over a thousand years.

Nearing Hpa-an you cross the mighty Salween (Thanlwin) River, one of the great rivers of south east Asia which rises on the Tibetan high plateau and flows for 2,400kms down to the Andaman Sea. Hpa-an, the capital of Kayin state, is set on the banks of this river and sunset from the Shweyinhmyaw pagoda on the waterfront is a famous attraction of the town but there are also many other beautiful places to visit in the surrounding area. Not far from Hpa-an you will visit distinctive Kyaup Kalap (pronounced Chocalup). This is a stunning spot where a tall pinnacle of rock, sitting in the centre of a lake, is crowned with a golden pagoda. You will also have time to visit Saddar Cave, a large cave lined with statues that you walk through to get to a hidden secret lake. Because such caves in Burma are lined with Buddha statues they are considered sacred places so to explore them you need to be prepared to take off your shoes and explore in bare feet across sometimes slippery, rough or uneven pathways.

All round Hpa-an they make toddy, a local liquor, from local toddy palms. You may see men climbing the trees to collect this and even get the chance to try some. It is quite palatable. Evidently if you drink it in the morning it is mild, but by evening it has become very alcoholic! You will end a wonderful day's travel taking in the sunset views over the Salween River.

Overnight: Zwekabin Valley Resort & Spa, Hpa An

Day 5 - Visit Mount Zwekabin. Boat trip on Salween River to Mawlamyine (Moulmein). Sightseeing.

After breakfast you will visit Mount Zwekabin, a large limestone outcrop, crowned with a monastery and a radio mast. At the base there is a garden housing over 1,100 sitting Buddha statues which are quite a sight. You might like to walk part of the way up Mount Zwekabin to reach a small monastery set in the woods - this takes about 40 minutes up and half an hour down. (The whole trip to the summit and back is quite strenuous and would take about 2½ steep hours up and 1½ hours down so if you wanted to include this in today's itinerary you would need to arrange for a really early, pre breakfast departure from the hotel).

After your visit to Mount Zwekabin you return to town and go to the waterfront to pick up your boat to take you to Moulmein. You ride down the river in a simple local boat travelling through an idyllic landscape of limestone scenery and local rural life. On the way you may stop off to visit a local village and the lovely Kawhnat Pagoda. This is a richly decorated building built during the British era by a 19th Century Burmese entrepreneur U Nar Auk who came from Kawhnat and was famed for his wealth and generosity. The carving and decorations of the interiors are exquisite. Kawhnat is an interesting and friendly village and you may be invited to stop off at a local tea shop for a cup of tea. Returning to your boat you continue the short way to Mawlamyine (known by the British as Moulmein).

Mawlamyine (Moulmein), capital of British Burma for 20 years and once an important teak port, is an atmospheric, crumbling, colonial town. You may visit the Mon Museum which has some interesting exhibits about this fascinating ethnic group but is difficult to enjoy properly because the displays are so badly lit. You may also visit the Kyaikthanlan Pagoda - famously depicted in Kipling's poem 'Mandalay'. Kipling only visited Moulmein for a few days, but was captivated by his time there. George Orwell spent much longer there, it was the home of his maternal grandparents and his writings on Burma reflect a less romantic view of the British occupation. You may also visit Mahamuni Pagoda built in typical Mon style while later it is very pleasant to have a beer at a waterfront café as the sun goes down over the river.


Overnight: Sugatti Hotel Or Similar, Mawlamyine

Day 6 - Return to Yangon.

Today you drive back to Yangon, taking a different route to the one that brought you south. The journey should take around 6 hours. From Moulmein you cross a bridge over the mighty Salween River and drive back to Yangon on the west side. Just south of Bago you will come to a village on the banks of the river, famous for its fishing and its locally caught dried fish, which is displayed along the roadside. Arriving back in Yangon there might be time for a walk along the causeway which makes a circuit of Lake Kandawagyi.

Overnight: Chatrium Hotel or Similar, Yangon

Day 7 - Fly to Heho, visit Kalaw.

Today you transfer to the airport for the short flight to Heho. On arrival you will transfer (about 1 hour's drive) to the town of Kalaw, a former British hill station. This is a very attractive town with pleasant scenery and many attractive colonial houses which would not look out of place in Surrey. This town has a cosmopolitan feel to it and is also home to a large population of Nepali and Indian Hindus. You may have lunch in the Everest Restaurant run by a Nepali family who claim to have originated from a village near Pokhara. After lunch you can visit the busy market, the railway station with its echoes of the Raj, the so called 'Bamboo Strip Buddha' with its ancient Buddha statue, the Buddha lined caves at Shwe Oo Myin Paya pagoda as well as having a look at some of the old colonial houses which dot the hills.

Overnight: Kalaw Heritage Hotel Or Similar, Kalaw

Day 8 - Visit Taunggyi and the lost ruins of Kak Ku. Drive to Nyaung Shwe, transfer by boat to hotel.

Today you drive to Taunggyi, the capital of the Southern Shan State and a former British hill station. It is a busy trading centre and the markets are full of black-market Thai and Chinese goods, as well as locals selling their farm produce, including cheroots. A couple of hours drive from town, are the lost ruins of Kak Ku. Sprawled over a hillside are 2,478 stupas, built in a myriad of different designs. The area is slowly being rediscovered and restored and is surrounded by Pa-O villages, which you will also have a chance to visit.

Your day ends with a drive to Nyaung Shwe to catch a boat to transfer to your hotel set on Inle Lake.

Overnight: Golden Island Cottages or Similar, Inle Lake

Day 9 - Boat trip to Sagar.

The boat trip to Sagar takes you well away from the tourist hot spots on Inle Lake. It is 2-3 hours by boat to Sagar and on the way you will visit a Shan village where earthenware pottery is produced. At Kyainkhan you will visit a family workshop where clothes are produced from lotus stems, and view locals producing alcohol fermented from bran rice. The minority people living around are Pa-O and Intha people and there will be ample opportunity to view their settlements dotted alongside the canal and lake.

Overnight: Golden Island Cottages or Similar, Inle Lake

Day 10 - Visit the 5 day market at Inle Lake. Afternoon flight to Mandalay.

Inle Lake is a simply magical place. Its calm waters are dotted with Intha stilt house villages, floating vegetable gardens and fishing canoes against the back drop of the beautiful Shan hills which offer some delightful walks. Motorized boats are the means of transport across the lake although the Intha people get around in traditional flat bottomed boats using a unique and skilful form of leg rowing. Your guide will plan a walk to take in a 'Five Day Market.' These markets are a particular feature of life on Inle Lake and rotate between a number of villages on the lake, as the name suggests, every five days. In the afternoon you transfer to Heho airport and fly to Mandalay.

Overnight: Ayeyarwaddy River View or Similar, Mandalay

Day 11 - Sightseeing in Mandalay.

Mandalay was Burma's last royal capital. In contrast to the images evoked by its name in literature and song, first impressions of Mandalay can be a little disappointing. This is Burma's second largest city, with a population of over one million and the hub of economic activity across the north of the country. The roads are busy with trucks and cars and streets are lined with functional, but characterless buildings housing every type of commerce. However, Mandalay remains the cultural centre of Burma with over 700 pagodas and a number of key palaces, temples and monasteries, all supported by a wealth of crafts including wood carving, marble statuary, weaving, tapestry, and the creation of gold leaf.

Today you will visit some of Mandalay's most significant sights, beginning with Mandalay Palace. The palace was built when King Mindon founded his capital here in the late 19th century and was the residence of the last two kings of the country. The Palace was later renamed Fort Dufferin under the British.

You then visit nearby Shwenandaw Monastery. This monastery has ancient intricate wooden carvings which originally formed part of the old palace of Amanpura, which was dismantled and brought here under King Mindon. The monastery is also sometimes called the Golden Palace Monastery, because it used to be part of the Mandalay Royal Palace and was completely gilded.

Continuing, you will visit Kuthodaw Pagoda, which lies at the foot of Mandalay Hill. This complex, also built in the late 19th century, contains the 'world's largest book', a complete set of the Buddhist scriptures inscribed onto 729 marble slabs. At Kuthodaw Burmese families may be seen picnicing in the cool shade under the trees, picking the flowers to make star flower chains for the Buddha or to wear in their hair, while their children play hide and seek among the rows of stupas. On the southwest inner terrace is a very old tree believed to be 250 years old, its low spreading boughs propped up by supports.

You will also climb to the top of Mandalay Hill, which dominates the town and offers far reaching views right across the city, with the old city walls and moat and Kuthodaw Pagoda below and the river and hills in the distance.

Your day ends with a visit to Shwe Kyin Monastery just before sunset to observe the student monks begin evening prayers.


Overnight: Ayeyarwaddy River View or Similar, Mandalay

Day 12 - In and around Mandalay.

This morning you will visit Mahamuni Pagoda, home to Mandalay's holiest Buddha statue. Here the lower parts of the 4m/13ft high statue, i.e. those within reach of the pilgrims, are now encrusted with a layer of gold leaf around 15cm/6" thick. You will stop to see the stone carvers, seated on the pavement and in small open yards, producing fine marble statuary despite their seemingly less than perfect work conditions. At a workshop for gold leaf, small nuggets of gold, collected from rivers around the North of the country, are beaten into wafer thin pieces. Sold to pilgrims outside temples and pagodas, these small squares of gold are typically placed on shrines and figures of Buddha as an offering.

Later you travel out into the countryside to explore some of the historic sites outside Mandalay, starting at Shan Kalay Kyun Village, located south west of Mandalay on an island. During the rainy season Shan Kalay Kyun is surrounded on all sides by water, but in the dry season water levels drop and the fertile soil is used to grow peanuts, corn, water melon, cucumber and many other vegetables. You may enjoy a short walk here (up to one hour) and in and around some of the houses you will doubtless spot a number of local crafts in progress, from the sewing of tapestry and puppet costumes, to the carving of intricate decorative wooden panels, doors and windows.

After lunch at a local restaurant, you will head up into the Sagaing Hills, a popular retreat for Buddhist devotees, where you can enjoy a magnificent view over the surrounding area. An interesting temple to see here is Umin Thounzeh, which is built in a crescent shape and houses 45 sitting Buddhas in a vibrantly coloured colonnade. You then drive back to Amarapura, 10 miles (15 kilometres) out of Mandalay town to see the sunset at U Bein Bridge. Built in 1851, at the time when Amarapura was still the royal capital, U Bein Teak Bridge stretches some 1,200m/3,900ft across Taungthaman Lake. This impressive structure is the world's longest teak bridge, supported by over 1,000 separate wooden posts. After time to walk out to the centre of the bridge and perhaps enjoy some refreshments at a tea stall, you return to Mandalay.


Overnight: Ayeyarwaddy River View or Similar, Mandalay

Day 13 - Full day river cruise to Bagan.

After an early breakfast at your hotel you make the short 20 minute transfer to the banks of the Ayeyarwaddy River to board your boat for a full day river cruise to Bagan. You will travel aboard one of two boats that ply this route, either the RV N Mai Hka or the Malikha. On board you will find a lounge cabin with comfortable seating, outside seating areas on two levels (including shaded areas), a small café and toilets.

The scenery along the Ayeyarwaddy is timeless - oxen working the fields, water buffalo wallowing in the mud, golden pagoda spires, fishermen, villagers bathing in the river and, of course, every type of boat and river craft imaginable. Although dedicated to carrying foreign tourists your river boat may also be carrying some cargo and it's possible that you'll pull in to shore two or three times to unload/load bundles of crops, fuel or other supplies. The boat travels at a very slow pace and this journey normally takes a full day, allowing you to enjoy a relaxing break from your itinerary of walking and sightseeing. Assuming your boat runs to schedule there may be time upon disembarking to watch the sun set over the Bagan temples, before driving on to your hotel.


Overnight: Hotel @ Tharabar Gate Or Similar, Bagan

Day 14 - Full day sightseeing in Bagan.

In Bagan more than 3,000 temples, of all shapes and sizes and many dating back to the 11th-13th centuries, are scattered across the plain amongst acacia trees and toddy palms making it one of the most extraordinary and culturally important places in Burma. Indeed, it has now been recognised as a UNESCO World Heritage Site. Whilst there are conflicting accounts of the number of temples located across the 16 square miles of Bagan (varying from 1,800 to 4,000) the importance and splendour of this archaeological site is indisputable. The majority of monuments that you see today, date from between the 11th and 13th Centuries, when Bagan was the capital of the first Burmese Empire. Although with a cursory glance it may appear that one architectural form dominates there is actually a fascinating variety, from giant monolithic structures to small stupas standing not much taller than a human and with interiors filled with statues, or with walls adorned in beautiful paintings. The original settlement in Bagan was famously 'cleared' by the government during the late 1980s/early 1990s. Villagers were forced to relocate to 'New Bagan.' Today, therefore, apart from temples 'Old Bagan' is primarily the site of a few hotels, tourist restaurants and the grandiose (if somewhat out of place) archaeological museum. The other main settlement in this area is the river port of Nyaung U.

Firstly you will visit the colourful local market. In this very busy and friendly market, fish and other river produce are much in evidence along with vegetables, household goods and clothing. After your visit there it is just a short drive to visit the beautiful and impressive gilded Shwezigon Pagoda built by King Anawrahta in the early 11th Century. From here you move on to visit the Ananda Temple, a striking temple famous for its four giant standing Buddhas - your guide will point out how one Buddha gives the strange illusion of seeming to be solemn when viewed from close up but as you move further away it becomes more jovial until when seen from a distance the Buddha figure appears to be positively beaming! At this temple you can also see some very ancient and beautiful carved statues set in niches around the perimeter. Your morning sightseeing ends with a visit to Ku Byauk Gyi temple, possibly the most atmospheric of Bagan's temples with its exquisite painted murals of scenes from Buddhist legends, life and folklore, many of which have recently been beautifully restored.

In the afternoon you will take an excursion to Nat Htaung Kyaung, a monastery built in 1781 by a group of monks and famous for woodcarvings. Here you can admire the monastery's collection of ancient Buddha statues and lacquer boxes.
You will then take a leisurely journey by horse and cart, travelling slowly across the plains as the sun goes down.


Overnight: Hotel @ Tharabar Gate Or Similar, Bagan

Day 15 - Fly to Yangon. Afternoon sightseeing.

In the morning you will transfer to the airport to fly to Yangon. After checking in to your hotel your guide and driver will take you to the main downtown area in time for lunch.

In the afternoon you will take a walking tour of the historic downtown area of Yangon (Rangoon), beginning at the river front. Facing the river are some of Yangon's most impressive colonial era buildings including, the Myanmar Port Authority, the General Post Office and the nearby Strand Hotel. Across the road, the banks of Ayeyarwaddy River are a hive of activity with porters loading huge sacks of rice, street vendors, trishaws and ferry passengers all going about their daily business. Moving on you enter Chinatown where unpaved streets are lined with old wooden shuttered houses and shop fronts. Here you will see Chinese medicine shops and the colourful vegetable, fruit, fish and meat markets. A short distance beyond lies the Indian Quarter, where the small side-roads are full of shops selling Indian spices and ingredients used in cooking.

Shwe Bontha is perhaps the most photogenic of all the city centre streets, with its leafy sidewalks, pavement tea-shops and magnificent colonial buildings. This is the area where gold merchants buy and sell in a local version of a stock exchange. Walking through Mahabandoola Garden you will see Sule Pagoda and City Hall before walking north to Bogyoke (Scott) Market. Your walk will end at a café here, with time for those that wish to do some last minute souvenir shopping in the market. Your driver will wait and will then take you back to your hotel.

Note: If there was insufficient time on day two to make the visit to Shwedagon Pagoda this afternoon's walk will be shortened slightly in order to allow for a visit today instead.


Overnight: Chatrium Hotel or Similar, Yangon

Day 16 - Group transfer to airport. Fly to London.

Today you will be transferred to the airport for your overnight flight back to London.

Overnight: In flight

Day 17 - Arrive UK.
Map
Map Key
Airport
Point of interest
Mountain Peak
Day walk in this area
Flights
Internal Transfers
Trek
---
2020
2021
2022
---
---
Review your holiday
Reviews
Read holiday reviews by Mountain Kingdoms travellers.
Overall score: 5.0 (Based on 2 reviews)
Definitive Cultural Tour of Burma
Well-planned and varied 06/02/2014
The route was well planned and varied with at least one guaranteed 'wow factor' every day and the comparative lack of tourists we encountered fully justified the title of the tour. The small group size enabled us to have more interaction with the local people than one would normally expect on a package tour and was one of the main contributing factors to our enjoyment and appreciation of the country. I felt that the itinerary had been very carefully planned to maximise our short time there and that we were visiting parts of the country and having experience denied to the majority of run-of-the-mill tours arranged by larger companies.
Mrs R, Kent
Definitive Cultural Tour of Burma
Remote and little-visited
We've designed this holiday to take you right off the main tourist trail, visiting many areas that have only recently been open for foreign visitors to Burma.
Seraphina Berry, Reservations Manager, Mountain Kingdoms
---
Extend your holiday
Relax in style at a Ngapali beach resort, perfect to add on to your Burma trek or tour
Choice of hotels, from mid-range to luxury
Spa treatments are available
More Details
Ngapali Beach, with its pristine white sand and sparkling turquoise water, is the best in the country and a perfect way to end your holiday in Burma.
Spectacular sunrise views over the temples of Bagan
Excursion lasts 2.5 – 3 hours and includes hotel transfers
A glass of bubbly to celebrate when you land
Balloons take off daily from October through to March
More Details
Visitors to Bagan now have the opportunity to enjoy spectacular, sunrise views of the ancient Kingdom of Bagan in a hot air balloon. The world-famous archaeological site of Bagan is known for its marvellous sunrises, mostly enjoyed from the top of one of the monuments but a balloon flight gives you the chance to see Bagan from a bird's-eye view. We offer two levels service - Standard and Premium - both include hotel transfers and post-flight celebratory celebrations, whilst the Premium Service also includes an exclusive breakfast, a pre-launch balloon tour and a CD of in-flight photos.
Visit Angkor Wat, Ta Prohm, Angkor Thom, the Bayon and more. Each of these sites has its own individual charm.
Flights to Siem Reap from either Burma or Bangkok.
All entrance fees, guides and transport during your time in Cambodia.
Three nights stay at a lovely Boutique hotel with a pool and friendly staff.
More Details
Angkor Wat is the largest religious building in the world. The name translates to 'The temple that is a city' and after a visit to this amazing site you will understand why.
During your four days here you will have the chance to spend time not only at Angkor Wat but also the atmospheric ruins of Ta Prohm where the jungle has taken over the temple, the epic Angkor Thom, the enchanting Bayon and much more besides. Each of these sites has its own individual charm and will leave you with memories to last a life time. Angkor could be described as a giant game of one-upmanship with each successive king trying to out do the previous with a larger and more impressive temple, culminating in Angkor Wat. This four day extension can be added on to all our Burmese trips and any of our holidays ending in Bangkok.