What's included
Economy class return air fares from the UK & UK Departure Tax (flight inclusive only)
All internal flights and hotel/airport transfers
Good standard hotel accommodation in Delhi
Best available hotels outside Delhi, on full board
All camping facilities and all meals on trek
All park fees and permits
Camp staff to carry out all camp work
All road transport by private vehicles
Costs of all porterage and their insurance
A Mountain Kingdoms kit bag
and much more...
Call our
friendly team
Curzon's Trail & Kauri Pass
Walking & Trekking
India, Northwest India | Walking & Trekking
Grade: Vigorous ? Vigorous
Duration: 17 days from the UK
On trek: 10 days
Flight inclusive from £2,135,
Land only from £1,575
Book now or call 01453 844400
A stunning remote trek in the Garhwal Himalaya
Highlights
A stunning trek in the Garhwal Himalaya over the Kauri Pass
High mountain passes, dense forest and wide open meadows
Spectacular views of snow capped summits
Fully supported camping trek to a little-visited area
Scenic morning, raft to Rishikesh
This trek is one of India's hidden gems, called Curzon's Trail after the British Viceroy of India. With hardly any western trekkers in sight, we can enjoy this stunning trek in the company of our friendly trekking crew and a few passing pilgrims. We walk over mountain passes, through dense forests of oak, pine, rhododendron, fir and deodar, and wide, open meadows. Spectacular views of snow-capped summits abound, including Trisul, Nilkanth, Changabang and of course Nanda Devi.
We climb to the Kauri Pass, 3,658m/12,001ft, and are rewarded with a panorama of peaks. After descending to the pilgrim town of Joshimath, we complete our journey with a morning's rafting to Rishikesh.
---
At a glance
Grade: Vigorous
Vigorous
Duration: 17 days from the UK
On trek: 10 days
Max. Altitude: 3,658m / 12,001ft Kauri Khal – Day 13
Guaranteed to run for a minimum of 4 clients
Maximum group size: 12
Land only joining city: Delhi
Accommodation types: Hotels, Camping, Train
Meal arrangements: Bed and Breakfast in Delhi, all meals elsewhere.
Itinerary overview
| Day | Activity |
| --- | --- |
| 1-4 | Fly to Delhi, sightseeing of Old Delhi. Take the evening train to Haridwar, and drive to Loharjang. |
| 5-13 | Trek to Kulara over the Kauri Pass. |
| 14 | Trek to Tapovan and drive to Joshimath. |
| 15-16 | Drive to Aaranyya, by the Ganges, near Rishikesh. Morning rafting tour to Rishikesh |
| 17 | Fly Delhi to London. |
Leader: Local leader, India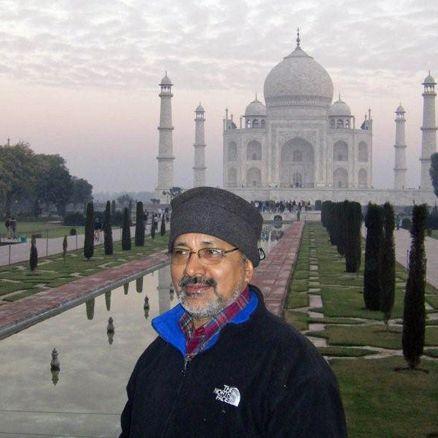 Your Indian tour, trek or walking guide will be friendly, very knowledgeable about the region you are visiting and speak fluent English. We use one of the largest and oldest tour operators in India whose staff all have excellent training.
---
Curzon's Trail & Kauri Pass Itinerary
Day 1 - Fly London To Delhi

Fly overnight from London to Delhi.

Overnight: In flight

Day 2 - MORNING AT LEISURE IN DELHI, AFTERNOON SIGHTSEEING, EVENING TRAIN TO HARIDWAR.

You will arrive in the morning, and be met and transferred to your hotel. After checking out at midday, you will be taken on a guided sightseeing tour providing an expert introduction to the main sights of Old and New Delhi. You will see crowded bazaars, shops selling everything under the sun, people on every form of transport imaginable and from every part of the sub-continent. In the evening you will take the overnight train, the Mussoorie Express, from Old Delhi station to Haridwar, departing Delhi 21.30 - 2nd class a/c sleeper.

Overnight: Train - Delhi To Haridwar

Day 3 - ARRIVE HARIDWAR, (293m/960ft) DRIVE TO RUDRAPRAYAG.

You arrive in Haridwar and will be met by our agent and driven for 1 ½ hours to Shivpuri to take breakfast and perhaps have a short sleep at Aarannya by the Ganges, a lovely resort hotel on the banks of the river Ganges which is owned by our agent. Here you may be fortunate enough to spot the vibrant blue verditer flycatcher and cinnamon sparrow.

After breakfast, you drive for 3-4 hours up river and stay overnight at the Monal Resort Hotel, near Rudraprayag.


Overnight: Monal Resort Hotel

Day 4 - DRIVE TO LOHARJANG (6,561ft/2,000m), 5-6 hrs

After an early start you follow the River Ganges until Deoprayag, the confluence of the rivers Alaknanda and Bagirathi. The road then follows the Alaknanda River, and finally the Pindar River up to Tharali. You are at the mercy of road conditions and while the road is good up until Karnprayag, there are often rough sections to cross up to Debal. From Debal the road runs up to Loharjang. You are likely to be woken to the gentle cries of the myna birds roosting in the nearby trees.

Overnight: Camp

Day 5 - TREK TO DIDANA, (8,202ft/2,500m) 4-5 hrs.

You start trekking down into the Gyan Ganga valley, entering rhododendron and oak forest, with parties of laughing thrushes, drongos and magpies. After an hour or so you reach a clearing with panoramic views of steep forested hillsides where you may spot soaring birds of prey and in spring hear the distinctive sound of the cuckoo. You continue to the river valley which takes around 2 hours from the start of your walk, and you follow the river valley before crossing the river and making the steep climb on a good path to the small village of Didana. Your first camp is above the village just below the forest, a very scenic spot in an open grazing meadow.

Overnight: Camp

Day 6 - TREK TO BEDNI BUGYAL. (11,000 ft/3,354m). 6 hrs.

The day starts with a steep climb up through the forest. After three hours you will emerge above the tree line for wonderful views of Chaukhamba and Nilkanth as you walk along high grassed ridges before reaching the meadows of Bedni Bugyal. This high meadow is the main camp used by travellers on the great pilgrimage to Roop Kund that takes place every 12 years. It is a beautiful place dotted with shrines and temples and the morning should give awesome views of Trisul, as well as of the mountains of the Garhwal such as Nilkanth to the north-west.


Overnight: Camp

Day 7 - TREK TO TOURIST BUNGALOW ABOVE WAN. (8,045ft/2,437m). 3-4 hrs.

The track makes a long, steep descent through a fine forest of firs and rhododendrons and across a beautiful clearing with much of the track being paved. After another drop, you reach the river 2 hours later. After a climb you reach the main valley, at the head of which is Wan. You camp above the village, by a tourist bungalow, on a wide tree-fringed terrace. Just above the bungalow is the sacred grove of Latu, another famous local devta (spirit), whose temple lies under one of the biggest Deodar trees in India. Unfortunately some of its branches have snapped off near the top. Wan is a fascinating old village where the men and women continue to wear traditional Garhwali brown, homespun wool blankets pinned across the chest. There are lovely views across the valley of small hamlets amongst the steep terraces and forested hillside. The fine forest is a perfect habitat in which to find hooded oriole, laughing thrushes and flycatchers.

Overnight: Camp

Day 8 - TREK TO NEAR SUTOL VIA KUNOL. (7,500ft /2,300m) 6-7 hrs.

Walking on past Latu's temple the path climbs gently up through magnificent cypress trees to the beautiful Kukin Khal pass at 10,070ft/3,069m, reached in about 1¾ hours. There are two graves of holy men here. The path drops down to broad meadows with the track marked with stone rows on either side. Another 45 minutes takes you to the end of the broad meadows to near Kunol. From here the track drops down east again on a long undulating traverse through magnificent forest, filled with monkeys, to the confluence of two rivers where you will camp below Sutol after a further 2½ hour walk. You may get views of Trisul through the trees.

Overnight: Camp

Day 9 - TREK TO GHUNNI (8,200ft/2,500m) via DEKHANDHAR. (6,955ft/2,120m). 9 hours

A short climb brings you to Sutol, a lovely village with paved alleys and heavy slate roofs. There is a post box here should you wish to post letters. The track now traverses along the valley with a number of ups and downs and huge drops to the river gorge below, through forests smelling of fir trees. After dropping to a river, crossed by a green girder footbridge there is a long steep climb to a little temple on a col at 8,200ft/2,499m. From here, passing fields and small holdings and dropping once again to a side river, there is a good place for lunch after a total of about four and a half hours. A very steep upper track leads you to a bridge and then after a gradual climb through forest you will emerge near farms and fields up to Dekhandhar at 6,955ft/2,120m, on a ridge with amazing views of Trisul, one and a quarter hours from the lunch stop. As you pass through the village of Ala you will see a house with magnificent carvings on the porch. After about four hours you reach your camp by the school of the small village of Ghunni.

Overnight: Camp

Day 10 - REST DAY

Time to rest, wash clothes and meet the local villagers.

Overnight: Camp

Day 11 - TREK TO KALIAGHAT. (7,500ft/2,300m) 9-10 hrs.

Today is a very long day - probably the longest. You will climb up steeply over 1,000ft/305m from the camp on a good zigzagging track to emerge on open grassy grazing meadows. Snow peaks begin to emerge above the forest to the north. You then begin to climb steeply again as the path moves diagonally through forests of rhododendrons and pines and holm oak with more pastures for summer grazing, with shepherd huts below to your right. You may meet flocks of sheep and goats moving along the track. The highest point, reached in two and a quarter hours from the camp, at 3,064m/10,053ft, is the Ramani Pass, also called Binayak Top. There are magnificent views of Trisul through the trees. It is also possible to make out the Kauri Pass which you cross on day 13. From now on there may be a chance to see the multi-coloured monal pheasant but they are very shy, being hunted by the locals for the pot.

You then trek gently down for a while across more pastures and open glades, then into lovely forests of horse chestnuts and walnut trees with waterfalls. The track now starts a steep and long zigzag descent, reaching the colourful village of Jhi-jhi. The trail carries on down past small farms through woods to the spectacular suspension bridge at 6,037ft/1,840m across the Birehi Gorge, currently inhabited by a large number of monkeys. From here a very steep climb takes you back to 2,250m/7,382ft where the track eases after one and a half-hours ascent. From here the path is almost flat passing through fine rhododendron forest with long-tailed magpies flitting about. There are many streams and waterfalls as the route contours round many deep re-entrants. If you look down to the deep gorge below, you can see the landslide and the Gauna Lake, which burst to flood the whole of the Ganga Valley down to Rishikesh in 1898. After going round the head of a horseshoe valley you reach two lovely rivers cascading down under the path. From here there is a short climb to a spot called Kaliaghat, a good campsite near the village of Pana.


Overnight: Camp

Day 12 - TREK TO DHAKAUNI VIA SARTOLI AND DOMABHITI. (11,000ft/3,353m) - 7 hours.

This is another long, but spectacular day. The route traverses above the village and then starts a steep climb up into rhododendron forest, with many zigzags - it is a broad, well-made track but after quite a number of false summits, a col is reached at 9,842ft/3,000m. The path now descends gently, traversing along the valley, to open meadows with views across to the Kauri Pass. The track then traverses down around the side of the valley, across several streams, before it plunges down a very steep and loose section, much of which has been washed away by the monsoons - an awkward and loose descent. At the bottom, you will see to your right that the river has cut through a deep rocky dramatic gorge. This is wild country with no settlements, and blue sheep and the Himalayan black bear are said to be roaming here. From the river, it is a very steep climb of about 3,000 feet (900m) with a small break about half the way up to cross a large stream. A final climb brings you above the tree line to the campsite on the large pastures where sheep and goats graze in summer, with the Kauri Pass towering above.

Overnight: Camp

Day 13 - TREK ACROSS KAURI PASS (KUARA KHAL) (12,000ft/3,658m) TO KULARA (11,155ft/3,400m). 3 hours.

The climb up to the pass is made on a zigzag track to the top. Frank Smythe, who came this way in 1931 en route to Kamet (25,443ft/7,757m), the second highest mountain in this region, summed it up beautifully. "We breasted the slope and halted, silent on the path. No words would express our delight. The Himalaya was arrayed before us in a stupendous arc". Some of the mountains seen are Kamet, Nilkanth (7,141m/23,425ft), Dunagiri (7,067m/23,182ft) and Changabang (6,864m/22,516ft), with even Nanda Devi herself visible if you walk along the ridge for a while. The blinding vision of snow peaks make all the effort worthwhile, for it is often said that this is one of the greatest mountain views in the world. You make a traverse along the high ridge past a shrine to Shiva before dropping down to your camp at Kulara; this is the name given to a clearing amongst the rhododendrons about half an hour and 500ft/150m below Shiva's shrine and it is here you will await the spectacular morning views.

Overnight: Camp

Day 14 - TREK TO TAPOVAN, DRIVE TO JOSHIMATH (6,562ft/2,000m). 5 hours.

For the early risers among you, it is worth getting up early to go back up to the pass for the dawn view of the Himalaya. A long way below lies Tapovan and the road head, a 5-hour walk. The descent to Tapovan is very steep, down through woods and pastures. At Tapovan your bus will be waiting for the drive to Joshimath which, although having none of the elegance of its sister hill resorts, does have a charm and beauty of its own. It is the site where the famous Adiguru Shankaracharya attained enlightenment before beginning his campaign for the unification of India and the revitalisation of Hinduism. There is a temple here called the Na Singh, where the statue of Na Singh invokes a legend that when the arm of the idol finally breaks, the road to Badrinath will be blocked. The arm gets smaller every year! You will have time to restock supplies, to relax and look around this bustling garrison town. It is the centre of the Indian ski scene, and the cable car up to the resort of Auli starts in the middle of Joshimath.

Overnight: Dronagiri Hotel

Day 15 - DRIVE TO AARANYYA BY THE GANGES, NEAR RISHIKESH. Approx 8 hours' drive

A long but excellent journey with fabulous scenery, especially for the first 50 km or so. Cliffs, waterfalls, rainbows, jungle, views of Elephant Parbat and Horse Parbat. It becomes more tropical the lower you descend with monkeys, palm trees, huge butterflies, and of course it is becoming hotter all the time.

Please Note:
If you are doing the Nanda Devi extension the route for this diverges from the basic itinerary today.

Overnight: Aaranyya By The Ganges

Day 16 - RAFTING IN RISHIKESH, EVENING TRANSFER TO HARIDWAR. TRAIN TO DELHI

Rishikesh is the ancient road-head for all pilgrim traffic and this small town, in the season, is bursting with groups of villagers from all over India, clamouring for seats on the buses to the four hill shrines. The northern part of the town is called Muni-ki-Reti and refers to the silver shores of the river where the rishis of old meditated. Across the Ganga, large, sprawling but well-maintained ashrams teach yoga and publish books on the scriptures. There will be time for a morning's rafting before driving on to Haridwar in time for your 1813 train to Delhi. Your train arrives Delhi at 2315 and you will be met and transferred to your hotel.


Overnight: Red Fox Hotel, Delhi

Day 17 - FLY TO LONDON

Transfer to airport for your flight to the UK.
Map
Map Key
Airport
Point of interest
Mountain Peak
Day walk in this area
Flights
Internal Transfers
Trek
---
2018
| Dates | Availability | Land Only | Flight Inclusive from |
| --- | --- | --- | --- |
| Sat 12 May - Mon 28 May 2018 | Available | £1585 Book | £2135 Book |
| Sat 22 Sep - Mon 8 Oct 2018 | Available | £1575 Book | Contact us |
2019
| Dates | Availability | Land Only | Flight Inclusive from |
| --- | --- | --- | --- |
| Sat 11 May - Mon 27 May 2019 | Available | Contact us | Contact us |
Hold your place
Not quite ready to book? Why not call us on 0044 (0)1453 844400 to hold a no obligation place while you make up your mind?
Optional supplements
Single room & tent
From £335
Insurance
No Surcharge Guarantee
No surcharges will be applied to your holiday after you book. Prices on this website are updated regularly. The Flight Inclusive holiday price, or Land Only holiday price, will be confirmed to you at the time you make your booking. There will be no surcharges after your booking has been confirmed.
Flight inclusive holidays
The 'flight inclusive' holiday prices shown on this website are based upon our preferred airlines and the best priced economy class fares we are able to secure at the time of publication.
We will be able to advise on fares with alternative airlines, upgrades to Business Class, and the options for flights from regional UK airports, please contact us for more details.
Loyalty discount
Find out more
What's included
Economy class return air fares from the UK & UK Departure Tax (flight inclusive only)
All internal flights and hotel/airport transfers
Good standard hotel accommodation in Delhi
Best available hotels outside Delhi, on full board
All camping facilities and all meals on trek
All park fees and permits
Camp staff to carry out all camp work
All road transport by private vehicles
Costs of all porterage and their insurance
A Mountain Kingdoms kit bag
What's not included
Travel insurance
Visa fees
Tips
---
---
Review your holiday
Reviews
Read holiday reviews by Mountain Kingdoms travellers.
Overall score: 5.0 (Based on 2 reviews)
Curzon's Trail & Kauri Pass
Well-looked after 12/01/2017
The overall package - from arrival to departure - we were looked after, and the agent kept checking up.
Mr & Mrs L, Wiltshire
Curzon's Trail & Kauri Pass
Hidden gem 12/06/2012
This trek is one of India's hidden gems...
Niki Morgan, Operations Manager, Mountain Kingdoms
---