What's included
An English speaking Burmese leader throughout
Economy class return air fares from the UK (flight inclusive option) and UK Departure Tax
All internal flights and hotel/airport transfers
Hotel Sule Shangri La or similar in Yangon on bed & breakfast on twin-share basis
All road transport by private vehicles
Outside of Yangon, comfortable hotel accommodation on full board, twin-share basis.
Lodge or home-stay accommodation where specified
Sightseeing where specified
A Mountain Kingdoms kit bag
and much more...
Call our
friendly team
Chin Hills Trek
Walking & Trekking
Burma (Myanmar) | Walking & Trekking
Grade: Moderate ? Moderate
Duration: 16 days from the UK
On trek: 5 days
walks on: 2 days
Flight inclusive from £3,195,
Land only from £2,485
Book now or call 01453 844400
This fabulous trip combines visits to Bagan and Inle Lake with a superb off-the-beaten-track trek.
Highlights
Trek in the beautiful Chin Hills
Stay in traditional tribal villages
Walk to the summit of Mount Victoria
Sightseeing in Bagan, Inle Lake and Yangon
With its fascinating ethnic diversity, a landscape which stretches from the Indian Ocean to the high Himalaya and a stunning abundance of gilded temples and monuments, Burma also offers many attractions which are not necessarily what one would expect from this wonderfully diverse country. This fabulous trip to Burma offers a great off the beaten track trek, which gives some real insights into real Burmese back country village life.
Firstly, after a short stay in Bagan, you travel to the Chin Hills, a fascinating and remote region far from the normal tourist route. The culture of the Chin Hills is unique and this trip offers a great opportunity to visit an extraordinary region. The peoples of this region have in many ways more in common with the tribes of north east India such as Nagaland and Arunachal Pradesh than with the rest of Burma, sharing many common customs and beliefs. It is a long drive to get to the region which ensures that not many tourists visit here. Mindat and Kampalat, the towns where the trek starts and ends will seem familiar to anyone who has visited a hill station in India. On trek you will stay in traditional Chin tribal villages. Here the people follow a very traditional life style, many women have intricately tattooed faces and smoke pipes and most men carry a gun and hunt in the jungles. Our trip to the Chin Hills will culminate with an ascent of Mount Victoria where you climb through fine forest ringing with birdsong and will finally be rewarded with great all round views from the summit. In the villages you will stay in very simple local accommodation, either in local lodges or in peoples' houses, but taking your own cooks along with you are guaranteed excellent food.
After your trek in the Chin Hills you fly south to Inle Lake where you will have time to relax and enjoy this beautiful area before returning to Rangoon (Yangon) and then home.
---
At a glance
Grade: Moderate
Moderate
Duration: 16 days from the UK
On trek: 5 days
walks on: 2 days
Max. Altitude: 3,180m/10,433ft Mount Victoria, day 10
Guaranteed to run for a minimum of 4 clients
Maximum group size: 6
Land only joining city: Yangon
Accommodation types: Hotels, Village Houses
Meal arrangements: 13 Breakfasts, 11 Lunches, 11 Dinners
Itinerary overview
| Day | Activity |
| --- | --- |
| 1-2 | Arrive Yangon. Sunset visit to Shwedagon Pagoda. |
| 3-4 | Fly to Bagan. Sightseeing and walking tour of Bagan. |
| 5 | Drive to Mindat. Explore town. |
| 6-9 | Trek through villages in the Chin Hills staying in homestays. |
| 10 | Trek to the summit of Mount Victoria, 3,180m/10,433ft. Descend and drive to Kampalat. |
| 11 | Visit Kampalat Town. Drive to Bagan. |
| 12-13 | Fly to Heho. Drive to Inle Lake. Visit 5 day market and boat trip on lake. |
| 14-16 | Fly to Yangon. Afternoon walking tour. Fly to London. |
Leader: Local leader, Burma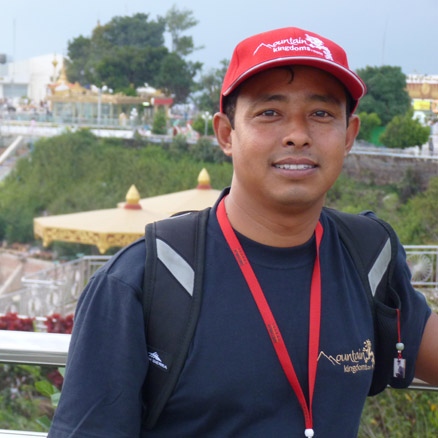 Your trip will be escorted throughout by an English speaking Burmese guide. Our Guides are all licensed to guide throughout the country and receive regular 'top-up' training. In addition to English, many guides will speak the dialects used by some of the ethnic groups you will encounter in rural areas – further adding to the interest and enjoyment of your holiday.
---
Chin Hills Trek Itinerary
Day 1 - Depart London.

Fly London to Yangon by overnight flight.

Overnight: Overnight Flight London To Yangon

Day 2 - Arrive Yangon. Sunset visit to Shwedagon Pagoda.

You will be met and transferred to the Hotel Sule Shangri La, a good standard hotel conveniently situated in the heart of the city. International flights normally arrive by midday so you will have time to rest for a while before venturing out for some sightseeing.

Later in the afternoon a guide will take you to the Shwedagon Pagoda. Famous worldwide, the golden stupa of Shwedagon ("shwe" means golden) is considered the 'heart' of Buddhist Burma. The Pagoda is believed to be 2,500 years old and the central stupa is surrounded by dozens of intricately decorated buildings, shrines and statues. There are always many Burmese people praying and making offerings at Shwedagon and it's a fascinating place to spend time watching the world go by. The transformation from late afternoon light to evening, further adds to the spectacle and atmosphere of this wonderful temple complex.

Overnight: Inya Lake Hotel Or Similar, Yangon

Day 3 - Fly to Bagan. Visit market, sightseeing and sunset pagoda visit.

After breakfast you will be transferred back to Yangon airport for your local flight to Nyaung U, the airport for Bagan. This flight takes about one hour. As you will arrive here quite early in the morning your rooms at the hotel will probably not be vacated yet so you will enjoy some sightseeing before you go there. In Bagan more than 3,000 temples, of all shapes and sizes and many dating back to the 11th-13th centuries, are scattered across the plain amongst acacia trees and toddy palms making it one of the most extraordinary and culturally important places in Burma.

Firstly you will visit the colourful local market. In this very busy and friendly market, fish and other river produce are much in evidence along with vegetables, household goods and clothing. If you have arrived in Burma without a hat this is just the place to buy one. After your visit there it is just a short drive to visit the beautiful and impressive gilded Shwezigon Pagoda built by King Anawrahta in the early 11th Century. From here you move on to visit the Ananda Temple, a striking temple famous for its four giant standing Buddhas - your guide will point out how one Buddha gives the strange illusion of seeming to be solemn when viewed from close up but as you move further away it becomes more jovial until when seen from a distance the Buddha figure appears to be positively beaming! At this temple you can also see some very ancient and beautiful carved statues set in niches around the perimeter. Your morning sightseeing ends with a visit to Ku Byauk Gyi temple, possibly the most atmospheric of Bagan's temples with its exquisite painted murals of scenes from Buddhist legends, life and folklore, many of which have recently been beautifully restored.

You will have time to relax at your hotel before later, in the cool of the afternoon, you will take a walk to visit more of Bagan's many temples and pagodas in the east of the plain ending with a visit just before dusk to a stepped pagoda from where you will get some wonderful sunset views. Walking is a good way to explore Bagan, allowing you to get away from other visitors and see some less visited villages and temples. You will walk through several small villages and along the way see elements of daily life such as bullock carts, zebu cattle and herds of goats. You pass by several smaller pagoda complexes to reach the massive Dhammayangyi Pahto. Built by King Narathu in the 12th century, legend has it that the king dictated that mortar should not be used to build the brick structure and that furthermore the bricks must fit together so as not to allow a pin to pass between them. Certainly this unfinished pagoda boasts some of the finest brickwork in Bagan. You will then walk on to reach your viewpoint for sunset. After sundown you meet your vehicle again and return to your hotel.


Overnight: Thazin Garden Hotel or Similar, Bagan

Day 4 - Walking tour of Bagan. Afternoon at leisure.

Bagan is located in Burma's dry zone and temperatures in Bagan are typically higher than in areas such as Mandalay and Inle Lake. The best time to explore on foot is therefore in early morning or late afternoon. Today you'll have an early breakfast with the aim to start a morning walk at around 8.30am.

Starting your walk you pass through the ruined city walls of Old Bagan at Tharabar gate. In the niches on the eastern side of the gate you'll see two statues representing Nat (spirits). A total of 37 Nat are worshipped in Burma and you'll see local people stopping here to make small offerings before continuing on their way. Within the city walls you'll see Pitaka Taik, originally built as a library, before walking across to Thatbyinnyu Temple, the tallest in Bagan. Close by is Nat Hlaung Kyaung the only Hindu temple in the group and opposite Nga kywe Nadaung, one of the oldest stupas in Bagan dating from the 10th century; the glazed green bricks used are still very much visible and it is a perfect example to show the evolution of the stupa. The final temple before exiting the city walls on the southern side is the 11th century Pahto Tha Myar where natural lighting illuminates a Buddha statue and some wonderful 11th century frescoes can be seen.

You continue your walk, at times skirting the main road and other times following sections of it to arrive in Myinkaba village, the centre for lacquer craftsmanship - perhaps Bagan's most famous export (apart from sunset photographs of temples of course). Here there is a chance for refreshment at a local tea-stall before visiting Mahua Paya, a Mon period temple with a large reclining Buddha almost hidden away at the rear of the temple, and nearby Nan Paya. You'll meet your vehicle here and return to your hotel for lunch.

You will have the afternoon at leisure to prepare to head off into the wilds or for some shopping. Tonight you'll have dinner at a local restaurant and enjoy a traditional puppet show.


Overnight: Thazin Garden Hotel or Similar, Bagan

Day 5 - Drive to Mindat, 1,395m/4,576ft - 100 miles, 7 hours.

Today after breakfast you will make the 7 hour drive via the town of Pauk to arrive at Mindat by late afternoon. An hour out from Bagan you cross the Ayeyarwaddy River by a newly constructed bridge. From here the next 38 miles to reach Pauk are through a sparsely inhabited region and the road can be bumpy and very dusty with some rivers to cross. You will have lunch in a local restaurant in Pauk. After lunch you continue for the final 60 or so miles. The green Kyautko Valley is a welcome sight after hours of relatively dry and arid landscape. From here on the air becomes pleasantly cool for the next couple of hours as you wind uphill into the Chin Hills to reach Mindat, the provincial capital.

Mindat town is a pleasant laidback place that feels reminiscent of an Indian hill station, being built on many different levels on the hillside with a main street lined with shops and stalls and many picturesque wooden houses.


Overnight: Mountain Oasis or Local Guesthouse, Mindat

Day 6 - Drive to Toun Pan village – 1½ hours. Trek to Hla Ma Sin,1,800m/5,905ft - 2 hours.

Today you will drive for 1½ hours into the Chin Hills to reach the settlement of Toun Pan from where you will have great views to Mount Victoria. You start your trek from here. This first day's walk will be an easy 2 hour hike downhill to reach Hla Ma Sin village, 1,800m/5,905ft, passing another small village on the way.

Here you will sleep either at a local village house or at the church/school (depending on the size of your group). In the evening your guide will prepare a tasty Chin curry for you.


Overnight: Village Homestay

Day 7 - Trek to Dak, 1,600m/5,249m – 6 hours.

In the morning you will again have some lovely views. After a good breakfast you trek through mountain forest to the small settlement of Thun, where you may rest for a while. Then, following a long ridge, you reach the big village of Shak. Shak consists of an old and a new village section (very typical for Chin state), divided by a mountain stream. Here you will have lunch at a local home before continuing your trek down to the Man River, which you cross on a spectacular suspension bridge.

Along the way today you may see local semi wild cattle called mithun. The mithun (Bos Frontalis) are distinctive cattle with pale socks and triangular shaped sharp horns and are venerated as sacred by the Chin people and are an important part of their culture, rituals and traditional life. The mithun roam free in the forest only occasionally being brought into the villages. They are often sacrificed as part of local festivals, religious rites or marriages and then their skulls will be exhibited on the fronts of houses. In villages along the way you may also see elaborate carved wooden sacrificial posts which are evidence of this complex ritual relationship which the local people have with the mithun, in common with the peoples of the neighbouring eastern Indian states such as Arunachal Pradesh and Nagaland. In coming days you may well also see the wooden troughs in the forest where the villagers feed these cattle salt as well as catching the occasional glimpse of the cattle themselves.

Ascending up on the other side of the river, you will reach the beautifully located settlement of Htwa Lo, and one hour later after an easy hike down the mountain, you reach the confluence of three small streams, an excellent spot for a refreshing dip. It is then 30 minutes to reach Dak village, the largest village in the area.

Overnight: Village Homestay

Day 8 - Trek to Ma Htler Am Nu, 1,945m/6,053ft – 6 hours.

Today you trek even deeper into the remote Chin Mountains. Firstly you will have time for some exploration round Dak village. You then follow a narrow trail for 2 hours with great views, to reach the next settlement of Hla Ruon, which received its first foreign visitors ever in February 2017. From there it's a steady up and down, crossing a suspension bridge on the way, to reach Khen Hle village. There are great views here of the surrounding area, with the Maan River far below you. You will have a tasty lunch and in the afternoon hike through beautiful rhododendron forest, almost level along a long ridge, so very enjoyable walking, to reach Ma Htler Am Nu village in the late afternoon.

Overnight: Village Homestay

Day 9 - Trek to Mo Kyor Village, 2,210m/7,251ft – 6-7 hours.

This morning starts with a steep, but not too long climb up a mountain ridge, a ridge which divides the Mindat and Kampalat districts, ascending on the other side to Phan Um village, an area inhabited by an ethnic group known as the Uppu. Depending on how long the climb has taken you, and the season, you will have lunch here or at the next village Khau Leng, which is an hour away.

In the afternoon it's a steady uphill to reach Mo Kyor village on the southern side of Mount Victoria, from where you will have fantastic views at sunset. You might even be able to get a cold beer here - yes, there's a tiny shop there. Then rest well for to prepare for the ascent tomorrow and your last day of trekking.


Overnight: Village Homestay

Day 10 - Trek to the summit of Mount Victoria, 3,180m/10,433ft. Descend and drive to Kampalat - approximately 7 hours.

Have a good breakfast this morning to prepare for the ascent ahead. Firstly you trek up to the last small settlement of Khun, on the southern slopes of Mt. Victoria at 2,300m/7,546ft altitude. From here you start the final ascent to Mount Victoria, which you will reach around lunch time. The main summit of Mount Victoria is crowned by a flagpole while a little lower down is a golden pagoda. The all-round views from the summit are really stunning and a fitting reward for the efforts of the ascent. Lunch will be waiting for you at the summit, and it will be very well-deserved after your last 5 days exploring the remote attractions of southern Chin.

From the summit it is an easy 2 hours descent to the area called 'Basecamp', where your transport will be waiting to deliver you to the resort in Kampalat, a drive of about 1½-2 hours. Here a soft bed, hot shower and dinner will be waiting.

Overnight: Pine Wood Villa or Mountain Oasis Resort, Kampalat

Day 11 - Visit Kampalat Town, 1,380m/4,527ft, and drive to Bagan - 6-7 hours.

After breakfast you will drive the short distance down into Kampalat town, originally built by the British, and like Mindat, a pleasant spread out hill town. After time for a quick look around Kampalat you start the long drive back to Bagan. This is a full day's drive and the roads may often be bumpy and dusty depending on how recently they have been resurfaced. It is approximately 1 hour from Kampalat to Saw and then a further 3½ hours to Kazunma junction and then a further 2½ hours via the town of Chauk back to Bagan. You will have lunch in a local restaurant on the way.

Overnight: Thazin Garden Hotel or Similar, Bagan

Day 12 - Fly to Heho - 1 hour, and drive to Nyaung Shwe town.

You will transfer to the airport after breakfast to fly to Heho and will then drive to Nyaung Shwe. Locally known as 'Jetty Town', Nyaung Shwe is a bustling hub of activity for both locals and tourists alike and is considered the main gateway to Inle Lake.

Inle Lake is a magical place. Located at an elevation of 1,000m/3,281ft, its calm waters are dotted with Intha stilt house villages, floating vegetable gardens and fishing canoes against the back drop of the beautiful Shan Hills, which offer some delightful walks. Motorized boats are the means of transport around the lake although the Intha people get around in traditional flat bottomed boats using a unique and skilful form of leg rowing.

In the afternoon you may relax at your hotel or your guide may take you for some local sightseeing.

Overnight: Hotel Maine Li Or Similar, Inle Lake

Day 13 - On Inle Lake. Visit 5 day market and boat trip on lake.

Today you will have a day to relax and explore the lake.Firstly you may visit a five day market. These markets are a particular feature of Inle Lake life and happen on a rotating basis so your guide will let you know whether there is one convenient for you to include today. There are then several options for your time on the lake.

You might choose to take a walk near the lake. One of the prettiest walks in the area is from Thalee Oo to Alae Myang. You take a boat to the jetty at Thalee Oo village, which in common with other lakeside villages has a water section as well as a land based one, both with their own monastery. You walk on a flat and shady bullock cart road through the heart of the village. Thalee Oo is an Intha village whose population lives mainly off the land, growing peanuts, tomatoes, garlic, sugarcane, rice and vegetables. This walk is not only extremely pretty, with traditional bamboo houses on either side but also has good views across cultivated fields to Inle Lake and the Shan Hills behind. You walk through the village and then climb uphill, passing a monastery, to reach the small Pa O village of Ywa Thit renowned for its weaving of bamboo baskets. From here you may admire the stunning view of Inle Lake and the Shan Hills before descending to the village of Alae Myaung and back to the lakeshore and your boat. This walk takes around 2-2½ hours with 200m/650ft of ascent.

Alternatively you could go by boat to visit Inthein village on the western side of the lake. Access to this area is via a long channel leading inland from the main lake. The journey here is particularly scenic and during later afternoon you may well see farmers bringing their oxen, or buffalo down to the water to cool off. Above the jetty and small village stands a partly ruined pagoda complex (Shwe Inn Thein Paya), reached via a long covered walkway. There are good views from the top and you can descend via an alternative route, bringing you back to the village through a mature bamboo forest.

Overnight: Hotel Maine Li Or Similar, Inle Lake

Day 14 - Fly from Heho to Yangon. Afternoon walking tour.

Today you have a final boat trip across the lake to the small town of Nyaung Shwe. Here a vehicle will meet you to take you the short distance to Heho Airport (25 km - 1 hour). It is then around a one hour flight back to Yangon. After checking in to your hotel your guide and driver will take you to the main downtown area in time for lunch.

In the afternoon you will have a walking tour round some of the historic downtown area of Yangon, beginning at the river front. Facing the river are some of British Rangoon's most impressive colonial era buildings including, the Myanmar Port Authority, the General Post Office and the nearby Strand Hotel. Across the road, the banks of Ayeyarwaddy River are a hive of activity with porters loading huge sacks of rice, street vendors, trishaws and ferry passengers all going about their daily business. Moving on you'll enter Chinatown where unpaved streets are lined with old wooden shuttered houses and shop fronts. Here you'll see Chinese medicine shops and the colourful vegetable, fruit, fish and meat markets. A short distance beyond lies the Indian Quarter, where the small side-roads are full of shops selling Indian spices and ingredients used in cooking. Then you walk down Shwe Bontha, perhaps the most photogenic of all the city centre streets, with its leafy sidewalks, pavement tea-shops and fine buildings. This is the area where gold merchants buy and sell in a local version of a stock exchange. Walking through Mahabandoola Garden, you'll see Sule Pagoda and City Hall before walking north to Bogyoke (Scott) Market. Your walk will end at a café here, with time for those who wish to finish any last minute souvenir shopping in the market before your waiting driver takes you back to your hotel. If there was insufficient time on Day 2 to make the visit to Shwedagon Pagoda this afternoon's walk will be shortened slightly in order to allow for a visit today instead.


Overnight: Inya Lake Hotel Or Similar, Yangon

Day 15 - Depart Yangon and fly to London.

After breakfast you will be transferred to the airport for your overnight flight to London.

Overnight: In flight

Day 16 - ARRIVE UK

Today you will arrive back in the UK.
Map
Map Key
Airport
Point of interest
Mountain Peak
Day walk in this area
Flights
Internal Transfers
Trek
---
2018
| Dates | Availability | Land Only | Flight Inclusive from |
| --- | --- | --- | --- |
| Sat 24 Nov - Sun 9 Dec 2018 | Available | £2545 Book | £3195 Book |
2019
| Dates | Availability | Land Only | Flight Inclusive from |
| --- | --- | --- | --- |
| Sat 23 Feb - Sun 10 Mar 2019 | Restricted | Contact us | Contact us |
Hold your place
Not quite ready to book? Why not call us on 0044 (0)1453 844400 to hold a no obligation place while you make up your mind?
Optional supplements
Insurance
No Surcharge Guarantee
No surcharges will be applied to your holiday after you book. Prices on this website are updated regularly. The Flight Inclusive holiday price, or Land Only holiday price, will be confirmed to you at the time you make your booking. There will be no surcharges after your booking has been confirmed.
Flight inclusive holidays
The 'flight inclusive' holiday prices shown on this website are based upon our preferred airlines and the best priced economy class fares we are able to secure at the time of publication.
We will be able to advise on fares with alternative airlines, upgrades to Business Class, and the options for flights from regional UK airports, please contact us for more details.
Loyalty discount
Find out more
What's included
An English speaking Burmese leader throughout
Economy class return air fares from the UK (flight inclusive option) and UK Departure Tax
All internal flights and hotel/airport transfers
Hotel Sule Shangri La or similar in Yangon on bed & breakfast on twin-share basis
All road transport by private vehicles
Outside of Yangon, comfortable hotel accommodation on full board, twin-share basis.
Lodge or home-stay accommodation where specified
Sightseeing where specified
A Mountain Kingdoms kit bag
What's not included
Travel insurance
Visa fees for Burma
Lunch and evening meals in Yangon
Tips
---
---
Review your holiday
Reviews
Read holiday reviews by Mountain Kingdoms travellers.
Overall score: 5.0 (Based on 5 reviews)
Stunning countryside 28/11/2015
All of it was perfect. So well organised. A great balance between basic living in the homestays and the luxury of a hot shower and toilet with a seat in hotels and lodges. The boat rides across Inle lake came as an unexpected surprise. The trekking went through stunning and varied countryside. Nyi Nyi the guide was awesome. Outstanding subject knowledge, sense of humour, very very kind and caring, astute to the individual needs of the people in the group. Hugely professional and conscientious. A true Buddhist. Thank you very much for providing a trip to the remote world in Chin.
Ms D, London
Chin Hills and Kalaw trek 28/11/2015
Really good holiday, packed a lot into the time. Both treks were lovely and Nyi Nyi is an excellent guide.
Dr T, Wiltshire
attention to detail was excellent 18/11/2012
The guides were all good. What I enjoy about travelling with Mountain Kingdoms, are the interesting locations, attention to detail and tourism with a conscience.
Mr S, London
Extraordinary region 20/04/2012
The culture of the Chin Hills is unique and it felt a real privilege to visit such an extraordinary region. The lovely Kalaw to Inle trek took us through gorgeous rolling countryside, past tea gardens and fields of vegetables and flowers, interspersed with occasional forested ridges.
Ms S, Wiltshire
Memorable experience
An excellent trip. We had extraordinary exposure to village life and remote people. We had an excellent and memorable experience.
Mr K, South Gloucestershire
---