/
Holiday
/
Carpathian Mountains Transylvania Trek Romania
Bucharest, Romania | Walking & Trekking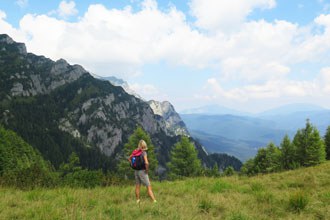 Grade:

?

Vigorous / Strenuous

Vigorous: Suitable for enthusiastic hill/mountain walkers.

Strenuous: Suitable for fit individuals who have regular experience of mountain walking.

Find out more...

Vigorous / Strenuous

Duration: 8 days from the UK
On trek: 6 days
Flight inclusive from £1770, Land only from £1495
Unspoiled wilderness trekking in Romania's Southern Carpathian mountains with stunning scenery from first step to last.
Highlights
Trek on quiet but challenging trails with 1,000m ascents and descents most days
Observe the traditional Romanian way of life, little-changed for centuries
Ascend Vanatarea lui Buteanu, 2,500m, one of the highest peaks in the Fagaras Mountains
Visit mysterious Bran Castle, the historic inspiration for the fictional home of Count Dracula
Stay in village guest houses and small hotels, and enjoy delicious, home-cooked food
Explore the cobblestoned town of Sibiu with its imposing city walls and mighty defence towers
Reviews
This trip has all the ingredients for the perfect walking holiday. With superb, challenging walking, fantastic alpine scenery, characterful home-stays with great home-cooked food for a closer insight into rural Romanian life, good hotels, and an evening out in the beautiful, culturally rich town of Sibiu.
Niki Morgan, Mountain Kingdoms
Next
As the legendary home of Count Dracula, the Carpathian Mountains have a dark mysterious image but the reality couldn't be more different. Welcome to a region of superlative alpine scenery, charming mountain villages and wonderfully hospitable people. In these rural areas little has changed for centuries; you will see small summer lodges built for the hay harvest, sheep paths through forest and meadows, and shepherds riding on donkey carts.
Romania is home to one of the largest remaining areas of pristine forest on the continent, with deep forest covering more than a quarter of the country. Bears, wolves and lynx thrive here, the highest concentration of large carnivores anywhere in Europe. Trekking through two regions of the Carpathians – the Bucegi Natural Park and the Fagaras Mountains – you will enjoy bucolic scenery of emerald green valleys nestled between foothills, and ascend through swathes of ancient forest to wild crags, dramatic peaks and precipitous gorges. In the summer, the forests are a riot of colour and birdsong whilst the meadows are alive with a flamboyant carpet of colourful wildflowers, and all around are signs of a way of life seemingly forgotten by time.
The trekking on this trip is stunning, challenging and rewarding, with ascents of around 1,000 meters most days, often with a summit as your goal. The walking around Sinaia, Bran and Margura is delightful, with superb views at every turn. In the Fagaras Mountains it becomes craggier and more dramatic, with extensive rocky ridges. There is only one night where you don't have access to your kit bag so you have to take/carry the bare essentials with you on Days 2 and 3.
Accommodation is a mix of good standard hotels in towns, a simple mountain chalet for one night, and attractive comfortable guest houses in the villages. Staying for some nights in guest houses gives you a unique insight into the way of life of Romania's rural population, and you will find the owners to be the perfect, warm-hearted, friendly hosts. They will also cook your evening meals and give you a hearty breakfast in the morning so you are suitably fuelled for your day's hike.
There is plenty of cultural and historic interest on the holiday, and your expert guide will bring it all to life for you. No visit to historical Transylvania would be complete without a stop at imposing Castle Bran, the legendary home of Dracula, and your last night is spent in the beautiful, culturally rich town of Sibiu.
For anyone looking for meaty walking on quiet trails, but with scenery every bit as stunning as the Alps in Western Europe, this is definitely the trip for you.
---
At a glance
Grade:
Vigorous / Strenuous
Duration: 8 days from the UK
On trek: 6 days
Max. Altitude: 2,507m/8,225ft, Vanatarea lui Buteanu Peak, Day 6
Guaranteed to run for a minimum of 4 clients
Maximum group size: 12
Land only joining city: Bucharest
Accommodation types: Hotels, Guesthouses
Meal arrangements: 7 x breakfasts, 6 x lunches, 3 x dinners.
Itinerary overview
| Day | Activity |
| --- | --- |
| 1 | Fly from London to Bucharest. Drive to Sinaia. |
| 2 | Trek from Sinaia to Bucegi and down to Pestera. |
| 3 | Trek to Batrana Peak and descend to Bran. |
| 4 | Visit Bran Castle. Trek to Magura Peak and descend to Magura. |
| 5 | Walk up to Piatra Mica Peak and return to Magura. |
| 6 | Drive to Balea Lake. Ascend Vanatarea lui Buteanu, 2,500m. |
| 7 | Trek the Balea Lake Circuit and Doamna Valley.Drive to Sibiu. |
| 8 | Drive to Bucharest airport. Fly to London. |
| | |
Leader: Local Leader, Romania
Our Carpathian Mountains holiday will be led by a very experienced and qualified Romanian Mountain guide who speaks excellent English.
Guides include, Andrei, a professional mountain guide whose passions are rock-climbing, ski-mountaineering, walking, history, cooking and many more!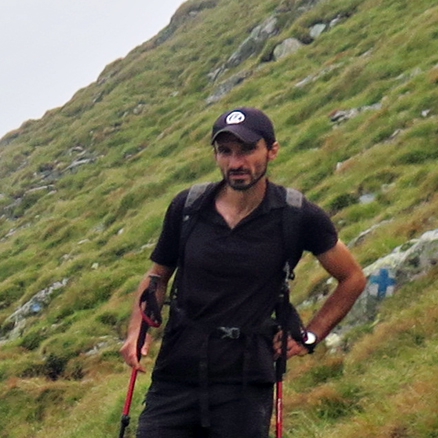 ---
Holiday Itinerary
Day 1 - Fly from London to Bucharest. Group transfer to Sinaia 1½ - 2 hours.
There is a single, timed group transfer from the airport to your hotel in Sinaia. The drive takes 1½ - 2 hours to Sinaia, a lively attractive skiing resort, with stunning architecture. There are beautiful views of the Bucegi mountains and surrounding forests. The town is home to a 17th century monastery, formerly a royal family residence and German neo-Renaissance castle - Peles Castle. Commissioned by King Carol I in 1873 and completed in 1883, the castle served as the summer residence of the royal family until 1947. Its 160 rooms are adorned with the finest examples of European art, Murano crystal chandeliers, German stained-glass windows and Cordoba leather-covered walls.
Overnight: Hotel Rina Or Similar, Sinaia
Day 2 - Trek from Sinaia to Bucegi Plateau, 1,900m (and extension to 2,200m), and down to Pestera, 1,600m – 6-7 hours.
From your hotel you begin walking uphill. You soon leave the road taking a well defined stony path, which zig zags up through the forest. It's a pleasant walk through a mixture of fir and beach trees. Eventually, after about an hour of climbing, you emerge into the open hillside where you'll see the royal sheepfold. You continue upwards on a well marked trail on open hillside until you reach the plateau. You'll see a hotel here which is where Romania's sports teams head for altitude training. There is a giant cross on top of a hill which was built after WWI. No doubt you will find a suitable spot on the plateau to stop for lunch. There are great views to be had of the surrounding mountains, dramatically steep limestone cliffs, and you can see back down to Sinaia.
You continue to ascend slightly until you reach the conglomerate outcrops known as the 'Sphinx' and 'Babele' (the Old Ladies). This is a popular spot for Romanians to visit and most come up by cable car. You descend for 1½-2 hours, first on the open hillside, and then through mixed forest, until you reach Lalomita River Valley and your accommodation. On this day you will not be supported by a vehicle so you'll need to carry what you need for your overnight stay, which will just be a change of clothes and minimal toiletries.
Total ascent/descent on walk: 1,200m ascent, 600m descent.
Overnight: Hotel Pestera Or Similar, Pestera
Day 3 - Walk to Batrana Peak, 2,200m, and descend to Bran - 7 hours.
You leave your hotel and begin ascending on a winding trail, past sheep enclosures and meadows towards a waterfall. You continue climbing the western ridge of the Bucegi Massif until you reach Batrana Peak at 2,200m, marked with a small cairn. You'll see a refuge just below. There are excellent views here of the surrounding mountains, valleys and meadows, dotted with neat haystacks and wooden huts for storing hay. Your route is an ancient passage for shepherds and their flocks and you will see sheep being shepherded up the mountain, as this way of living is still very much alive. During the time of the Austrian-Hungarian Empire, this was also a smugglers route. In front of you lies Bran Country, with a landscape shaped by millennia of pastoral life and traditional habitation.
You start descending along the big limestone and granite walls and then into the woods, heading towards Bran village where you will spend the night.
Overnight: Bran Chalet Or Similar, Bran
Day 4 - Visit to Bran Castle. Walk to Magura Peak, 1,350m, and descend to Magura - 4-5 hours.
Today you start the day with a visit to Bran Castle, also known as Dracula's Castle. Author Bram Stoker never actually visited Romania. Instead he is believed to have created his imaginary castle, home of fictional character Dracula, from an 1865 book on Transylvania which describes Bran. The origins of the real Bran Castle date back to the early 13th century and the Teutonic Knights who erected a citadel there to defend the southeastern border of Transylvania. Today an aura of mystery still surrounds the conical towered castle which is dramatically situated on a rocky outcrop, and there is plenty to explore, inside the museum and out.
Castle visit over, you start your walk, climbing towards the village of Magura. The trail weaves north and south of an ascending ridge, from sunlight to shade, from hay meadows to wild forest, up to Magura Peak. A quick descent brings you to this dispersed typical mountain village where you'll stay in a guest house.
Total ascent/descent on walk: 700m ascent, 500m descent.
Overnight: Guest House In Magura
Day 5 - Walk up to Piatra Mica Peak, 1,800m, and return to Magura - 7-8 hours.
Your walk today starts by leaving Magura village and descending for half an hour to the first of the gorges. You walk through the spectacular Zarnesti Gorges, a narrow limestone passage leading up to the wooded slopes of Piatra Craiului mountains. You then cross a patch of virgin forest opening into the meadows at the feet of the craggy eastern side of the Northern Ridge. You then ascend through green meadows to Curmatura Hut (1,450m) for around two hours. This is a lovely hut, nicely decorated inside and with a terrace with a great view of surrounding meadows and soaring limestone cliffs.
After a stop for tea at the Curmatura Hut and a well-earned rest, you continue to climb Piatra Mica Peak at 1,800m, 350m above the hut. This is initially on a good trail to a viewpoint just above the Crapauturii saddle, and then there is a steeper rocky section which involves a short scramble with a fixed chain for assistance. The summit is marked by a giant metal cross and there are fabulous views from here. It's a fine place to stop for lunch, weather permitting. It takes about 3-4 hours to reach here from Magura. You then have a fairly steep, rocky descent through the forest for 400m until you reach Zanoaga Meadow and its old sheepfold. A steep, winding descent through the woods brings you back to the start of the gorges. You then have a short sting in the tail - a half an hour ascent to take you back to the start of your walk at Magura.
Overnight: Guest House In Magura
Day 6 - Drive to Balea Lake. Walk in the afternoon to Vanatarea lui Buteanu, 2,507m – 4 hours.
This morning you will drive to Balea Lake, a popular spot for hikers with stunning mountain scenery. In the winter it becomes a ski resort for expert skiers and snowboarders with off-piste skiing on the longest slope in the Carpathians. It's accessible by road in summer and by cable car in the winter. Here you are in the extremely impressive and dramatic Fagaras Mountains, the highest range in the Southern Carpathians. Romania's highest mountain here is Moldoveanu Peak at 2,544 although this won't be your objective today. Instead, in the afternoon, you will ascend a spectacular 2,500m rocky peak called Vanatarea lui Buteanu. The scenery is craggy and impressive here and there is an extensive rocky ridge. You descend on a well-worn trail towards Balea Lake where you will stay at the simple Cabana Paltinu hotel.
Total ascent/descent on walk: 500m ascent, 500m descent.
Overnight: Cabana Paltinu, Lake Balea
Day 7 - Balea Lake Circuit and Doamna Valley walk - 6–7 hours. Transfer to Sibiu - 70 km.
After breakfast you climb to Capra Saddle and then Iezerul Caprei Peak, walking a circuit of the upper glacial circ of Balea. You complete the tour with wonderful views of Wallachia to the south and Transylvania to the north, following the main ridge of Fagaras massif up to Paltinu peak and then down Doamna Saddle. Here you start a 1,000m descent to the tranquil Doamna Valley. Once you reach the treeline you make a short climb to swap to Balea Valley where the transport is waiting to take you to Sibiu.
Total ascent/descent on walk: 500m ascent, 1,300m descent.
The medieval city of Sibiu is one of the cultural highlights of your trip. Together with Luxembourg it was the European capital of Culture 2007 and its wealth of museums, architectural treasures and cultural objectives is not to be missed.
Overnight: Am Ring Hotel Or Similar, Sibiu
Day 8 - Group transfer to Bucharest 5-6 hours. Flight home.
After breakfast today you will drive back to Bucharest airport, and fly home.
---
2022
| Dates | Availability | Land Only | Flight Inclusive from |
| --- | --- | --- | --- |
| Sat 16 Jul - Sat 23 Jul 2022 | Available | £1495 Book | £1770 Book |
| Sat 3 Sep - Sat 10 Sep 2022 | Available | £1495 Book | £1795 Book |
2023
Hold your place
Not quite ready to book? Why not call us on +44 (0) 1453 844400 to hold a no obligation place while you make up your mind?
---
Optional supplements
Single Room Supplement
From £235
Insurance
No Surcharge Guarantee
No surcharges will be applied to your holiday after you book. Prices on this website are updated regularly. The Flight Inclusive holiday price, or Land Only holiday price, will be confirmed to you at the time you make your booking. There will be no surcharges after your booking has been confirmed.
Flight inclusive holidays
The 'flight inclusive' holiday prices shown on this website are based upon our preferred airlines and the best priced economy class fares we are able to secure at the time of publication.
We will be able to advise on fares with alternative airlines, upgrades to Business Class, and the options for flights from regional UK airports, please contact us for more details.
Booking your holiday
For the majority of our holidays, a deposit payment of £300.00 per person is required to secure your place(s), however a small number of holidays require a higher deposit - please refer to the holiday itinerary for more details. If the holiday departs within 60 days, a deposit of £750.00 per person is required.
Book now!
Book your small group holiday securely online – click the 'Book' button next to your chosen departure or visit our How to Book page
Complete and return a Booking Form available to download here.
Call us on +44 (0)1453 844400 and one of our travel specialists will talk you through the booking process.
What's included
An experienced English-speaking Romanian guide
A single timed group transfer to/from Bucharest airport at the start and end of the holiday
Accommodation in good quality hotels and guest houses on a twin share basis
All breakfasts and picnic lunches, plus three evening meals
Entrance fee to Bran castle and guided visit of Sibiu
Luggage transportation on every day except Days 2 and 3
Economy class return air fares from the UK (if booking our flight inclusive option)
Carbon offsetting with the Ecoan Tree Planting Project (for clients taking our flight inclusive option)
The option to attend one of our pre-trip meets in the Cotswolds
A free Mountain Kingdoms Water-to-Go bottle
What's not included
Travel insurance
Items of a personal nature
Four evening meals
Locally paid bar bills and laundry
---
---
---