What's included
A Sherpa leader/s
Economy class return air fares from the UK & UK departure tax (flight inclusive only)
All internal flights and hotel/airport transfers
Good standard hotel accommodation in Kathmandu (4 star) and Pokhara, bed and breakfast, twin share basis
Kathmandu sightseeing tour
All road transport by private vehicles
Free use of a good quality down jacket, sleeping bag and liner (supplied in-country)
All meals on trek including tea and coffee
An evening fill up of your water bottle with drinking water
Morning 'bed' tea on trek
A free high-quality Mountain Kingdoms kit bag
Trek staff and full porterage
Sherpa/porters properly insured and equipped
Park fees
The opportunity to attend a pre-trip meet in the Cotswolds
and much more...
Call our
friendly team
Annapurna & Everest Panorama Trek
Walking & Trekking
Nepal, Annapurnas, Everest Region | Walking & Trekking
Grade: Moderate ? Moderate
Duration: 17 days from the UK
On trek: 11 days
Private Departures Available
Flight inclusive from £2,970,
Land only from £2,195
Book now or call 01453 844400
Two short tea house treks amidst the breathtaking scenery of Nepal's two most famous mountain ranges
Highlights
Trek in both the Annapurna foothills and the heart of the Everest region
Take in the stunning views of numerous Himalayan giants including Everest and the 'Fish-Tail' - Machapuchare
Enjoy our full service tea house trekking experience with many extra touches of comfort
Relax in a 4-star hotel in Kathmandu and tour the city sights
The Annapurna massif and Everest's Khumbu valley are home to some of the most celebrated treks in the world. This exciting new trip offers the chance to explore both areas on one moderately graded holiday, with excellent acclimatisation and our renowned full service tea house trekking experience.
Flying west from Kathmandu, we first complete a five-day trek in the Annapurna foothills, taking in the classic sunrise/sunset views of Machapucchare (Fishtail) and the Annapurna massif from Poon Hill, 3,210m/10,531ft. The scenery here is a mix of deciduous woodland, farmed terraces and open valleys scattered with small settlements.
After time to relax in lakeside Pokhara and a night in Kathmandu, we fly to Lukla for a six-day trek in the Khumbu. This is the home of the Sherpa people and we'll stay in their capital, Namche Bazaar, before trekking on for great views of Everest from Thyangboche Monastery, 3,870m/12,697ft. A magnificent climax to a great trekking holiday. Here, on the October departure, we join the Mani Rimdu festival celebrations, a magnificent climax to a great trekking holiday.
We can also offer the Annapurna & Everest Panorama Trek as a private holiday for a minimum of two people sharing. Prices vary by season but start from £2,360 per person (land only). International flights available from £700. Contact the office for further details or to book your private departure.
Call 01453 844400 or Email us
---
At a glance
Grade: Moderate
Moderate
Duration: 17 days from the UK
On trek: 11 days
Max. Altitude: 3,863m/12,674ft, Thyangboche, Day 12
Guaranteed to run for a minimum of 4 clients
Maximum group size: 12
Land only joining city: Kathmandu
Accommodation types: Hotels, Tea Houses
Festival:
The October departure attends the Mani Rimdu festival at Thyangboche Monastery.
Meal arrangements: Bed and Breakfast in Kathmandu and Pokhara, all meals are provided elsewhere.
Itinerary overview
| Day | Activity |
| --- | --- |
| 1-2 | Fly to Kathmandu. |
| 3-4 | Fly to Pokhara in the Annapurnas. Drive to Birethanti. Trek to Ulleri and Ghorepani. |
| 5 | Climb Poon Hill, 3,210m/10,532ft, Trek to Tadapani. |
| 6-7 | Trek to Birethanti via Ghandruk. Drive to Pokhara. |
| 8 | Morning at leisure in Pokhara. Fly to Kathmandu. |
| 9 | Fly to Lukla in the Everest region. Trek to Chumoa. |
| 10-11 | Trek to Namche Bazaar and Kyanjuma. |
| 12 | Trek to Thyangboche. Visit monastery. October departure attends Mani Rimdu Festival. |
| 13-14 | Trek to Monjo and back to Lukla. |
| 15-17 | Fly to Kathmandu. Sightseeing tour and time at leisure. Fly to London. |
Leader: Local Leader, Nepal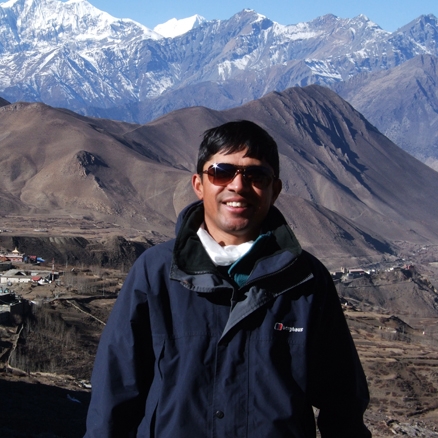 Whether it's a cultural tour, gentle walking holiday or strenuous trek, our holidays in Nepal are led by professionally-trained English speaking leaders. They have an intimate and expert knowledge of the history, culture and nature of Nepal.
They will be sure to provide you an unforgettable experience in their wonderful country of Nepal.
---
Annapurna & Everest Panorama Trek Itinerary
Day 1 - Fly London To Kathmandu

Fly overnight from London to Kathmandu.

Overnight: Overnight Flight To Kathmandu

Day 2 - Arrive Kathmandu.

On arrival in Kathmandu you will be transferred to the Shangri-La Hotel. Kathmandu is a wonderful mixture of the ancient alongside the modern - crowded bazaars still throng with colourful ethnic peoples today as they have for past hundreds of years while roads are crowded with cars, roaring motorbikes and buses belching out black smoke; ancient temples and crumbling shrines sit alongside modern offices, picturesque palaces slowly sag into dereliction while Buddhist stupas gaze over the bustling scene with their all seeing eyes. Meanwhile in the tourist hub of Thamel you will find restaurants and bars, shops and internet cafés. Although this is a crowded, noisy and polluted city, it is also fascinating, friendly and vibrant.

Tonight, you may choose to eat at the hotel, or you could head off into Thamel to one of the famous restaurants there, such as Rum Doodle Restaurant, a place frequented by trekkers and climbers alike, with pride of place given to a board with the signatures of many Everest summiteers.


Overnight: Shangri La Hotel, Kathmandu or Similar

Day 3 - Fly to Pokhara. Drive to Birethanti. Trek to Ulleri, 2,070m/6,830ft - 4-5 hours.

You will be met at your hotel and taken to the airport for your short flight to Pokhara. This is a spectacular and exciting flight in its own right passing over the Himalayan foothills, with views of the Annapurna and Manaslu ranges on your right. On arrival at Pokhara Airport, you will meet your trekking guide and make the short 1-1½ hour drive north, towards the foothills of the Annapurna range.

After completing formalities at a trekkers' check point in Birethanti, you start your trek northwards alongside the waters of the Bhurungdi Khola. A long ascent lies ahead, frequently on stone steps (Stephen Bezruchka's book says that it is 3,767 steps) but there is plenty of time to enjoy the scenery too. Firstly, the trail ascends gradually up the valley through a series of small hamlets. There are a few points alongside the trail to sit and take a break above the falls and swirling waters of the river, or at a friendly tea shop. After passing through Hille, 1,520m/5,016ft, you reach Tirkhedunga where you use a suspension bridge to cross a tributary. Now begins the final steeper part of the ascent (some 500m/1,650 feet) to reach your overnight halt in Ulleri. The path twists its way back and forth up the hill, but the steps make it a straightforward ascent.


Overnight: Tea House

Day 4 - Trek to Ghorepani, 2,775m/9,105ft - 4 hours.

It is a shorter day's trekking today, but uphill all the way. Above Ulleri, the landscape changes and you will leave the cultivated terraces behind as you enter a forest of oak and other deciduous trees. You will pass through the small settlements of Banthante and Nyathante, doubtless stopping for refreshment here, or at one of the other wayside tea houses popular with trekkers. Finally, you will reach the ridge-top settlement of Ghorepani, 2,775m/9,105ft. This is a large village with numerous tea houses and a small number of shops selling snacks, postcards and maps. There is plenty of time this afternoon to relax, or take a stroll to enjoy the views looking north up the deep valley of the Kali Gandaki and the mountains to the north. If you have both the energy and the inclination, you may wish to make a walk up nearby Poon Hill to catch the sunset.

Overnight: Tea House

Day 5 - Climb Poon Hill, 3,210m/10,532ft, and back - 1½ hours. Trek to Tadapani, 2,540m/7,620ft - 5 hours.

At sunrise you can climb Poon Hill to see the mountains turn pink - one of Nepal's classic views. It takes about 45 minutes to one hour to make the ascent. Although it will be warm work making the climb, remember to take your down jacket, as once you reach the top to take pictures and sit and marvel at the scenery you will soon notice the cold morning air. Then you will return to your tea house for breakfast before setting off on trek once more. From Ghorepani, the trail gradually climbs eastward through forests of oak and rhododendron. Breaking through the trees onto a small grassy outcrop you are rewarded with yet more magnificent views, including Machhapuchare (Fishtail peak) which you will have seen from a distance in Pokhara.

Keeping the height you have gained you trek to a point at 3,030/10,000ft, before descending to a pass at Deurali, 2,960m/9,770ft. From Deurali the trail becomes steeper as you follow a mountain stream down a gorge complete with small plunge pools and waterfalls. As you approach Banthante the descent becomes gentler and you will arrive at a tea house in time for lunch. From Banthante, you continue downstream to a corner, descending into a side valley to cross a small stream and then it's the last climb of the day amongst trees to reach Tadapani, 2,540m/7,620ft. Tadapani actually means "far water" and is so named because of the half hour or more walk required by the villagers to reach their best source of water.

Overnight: Tea House

Day 6 - Trek to Ghandruk, 2,012m/6,600ft 3-4 hours. Afternoon at leisure.

There are two routes to Ghandruk from Tadapani, both taking you steeply downhill through fine,atmospheric forest. However there is plenty of time to complete today's walk so you'll be able to take sufficient time and care to avoid any slips. After just 3-4 hours you descend through the outskirts of Ghandruk and descend through the winding village streets to your lodge for the night.

Ghandruk is a huge Gurung village set at just over 2,000m/6,600ft. It is in fact the second largest Gurung village in Nepal and is a confusing cluster of closely-spaced, slate-roofed houses. There are neatly terraced fields situated both above and below the town. It is wonderfully easy to get lost in the network of narrow alleyways while trying to trek through the village. All around are clues to the village's connections with the Gurkha people and soldiers. (Ghandruk is a major recruitment centre for the famous Gurkha soldiers) The women of Ghandruk maintain a local industry of weaving traditional Nepalese rugs.


Overnight: Tea House

Day 7 - Trek to Birethanti, 1,065m/3,494ft - 4 Hours. Drive to Pokhara.

Your final morning's trekking in the Annapurna range leads you down from Ghandruk back to Birethanti. Along the way you will pass through the settlement at Kimche before descending to the banks of the Modi Khola. An hour or so of further trekking close to the river brings you to the suspension bridge that leads you back to Birethanti.

You will complete your final ACAP formalities in Birethanti and then rendezvous with your transport for the drive back to Pokhara. You should arrive in Pokhara by lunchtime. The rest of the day is then yours to relax by the lakeside to or explore Pokhara Town. The hotel pool will doubtless be an attraction for some whilst the many book and gift shops will tempt others into the odd souvenir purchase.


Overnight: Shangri La Village Hotel, Pokhara or Similar

Day 8 - Morning at leisure in Pokhara. Fly to Kathmandu.

It is well worth getting up early to see sunrise on the mountains - the moment when the first flush of pink hits the peaks is stunning. You may ask reception at the hotel to arrange an early morning call for you so that you do not miss this.

The morning will be free to relax in Pokhara, either at the hotel or you may venture out into Pokhara Town. Along the lake side are numerous bars and places to shop for souvenirs as well as internet cafes. There are also some nice walks in the area, or you could visit the Tibetan camps at either Hyenja or Devis Falls - at Devis Falls (which is the closest) be sure to take a look at the strange nearby gorge and rock formation as well as the cute Tibetan kids in the kindergarten. Here you may also watch carpets being woven, or elderly Tibetan ladies spinning, or dying the wool. There are good opportunities here to shop for souvenirs.

You will take an afternoon flight back to Kathmandu where you will be met upon arrival and transferred to the hotel.


Overnight: Shangri La Hotel, Kathmandu

Day 9 - Fly to Lukla, 2,804m/9,199ft. Trek to Chumoa, 2,820m/9,252ft - 4½-5½ hours.

This morning you will be transferred back to the airport for the flight from Kathmandu to Lukla. This is one of the most spectacular flights in the world. As you fly east, the snow line of the Himalayan range to the north will be on your left, with the rugged foothills of Nepal immediately below and stretching away to the south on your right. Lukla is situated high above the river Dudh Koshi on a shelf at 2,800m, and arriving there is a unique experience because the runway is on a slope and there is a difference of almost 60 metres between its lower and upper ends which all makes for an interesting landing. On arrival you can have a cup of tea while your trek staff retrieve your baggage. From the airstrip you will head north-west, through the village of Lukla and descend to the Dudh Khosi River at Phakding, 2,652m. The path leads upstream along the valley, through areas of conifer trees and several more small villages. Another 2-3 hours walking will bring you to Chumoa, 2,743m, a small and picturesque village of about 25 houses located below Thamserku Mountain, 6,618m, and close to the entrance to the Sagarmatha (Everest) National Park.

Overnight: Tea House

Day 10 - Trek to Namche Bazaar, 3,445m/11,303ft - 6 hours.

A principal benefit of walking as far as Chumoa on the first day is that you can walk up the steep hill to Namche when fit and fresh in the early morning. Shortly after leaving Chomoa you cross the Monjo Khola and continue to the park gates of the Sagarmartha National Park where you complete entry formalities. You then walk on alongside the river to arrive at the confluence of the Imja Drangka and the Nangpo Drangpo, which combine to form the Dudh Khosi. Crossing the river on a high bridge, you start the steep climb to Namche. Near the halfway point up the hill, if the sky is clear, your first views of Everest and Lhotse come into sight. You then continue the climb, less steeply now, to Namche.

Namche is the largest and most prosperous village in the Khumbu. Thamserku, 6,618m, and Kwangde, 6,224m, loom to the east and west and the sacred mountain Khumbila (5,707m) dominates the skyline to the north behind the village. The narrow streets at its centre are a mixture of traditional and modern, with Sherpa homes mingled with cafes, handicraft shops and shops selling or renting trekking and climbing equipment, foodstuffs and vegetables, tennis shoes and Tibetan boots. Your first trek, in the Annapurna range, will have given you valuable acclimatisation, but don't be surprised if after the exertion of the climb and the rise in elevation, you feel a little tired and head-achey here. You will feel better after a cup of tea and a rest.


Overnight: Tea House

Day 11 - Trek to Kyanjuma, 3,500m/11,483ft - 5-6 hours.

This morning you climb steeply out of Namche, past the high airstrip at Syangboche and continue over the top of the ridge before descending to Khunde, 3,840m/12,672ft. The trail then descends again to Khumjung, with chortens forming a dramatic frame to a view of Ama Dablam, 6,696m, and Kangtaiga, 6,779m, flanked by the towering heights of Sagarmatha (the Nepalese name for Everest), Lhotse and Nuptse. You might have time on the way to visit the ancient gompa situated in a grove of trees near Khumjung. As you descend from the village, first through walled fields and then through moss-covered rhododendron forest, watch out for blood pheasant and beautiful Impeyan pheasant scratching in the undergrowth. Just out of Sangnasa is Kyanjuma where you will stay overnight.

Overnight: Tea House

Day 12 - Trek to Thyangboche, 3,860m/12,664ft - 5-6 hours. Visit monastery. October departure attends the Mani Rimdu Festival.

This morning you descend through forests of rhododendron and blue pine to the village of Trashinga - watch out here for the Tibetan traders selling their wares alongside the trail - they are very jolly ladies! You descend further to cross the Dudh Kosi at Phungithanga with its water driven prayer wheels and then climb through beautiful forests to reach Thyangboche, the main monastery of the Khumbu area, situated on a high saddle.

Thyangboche lies on the forested ridge at the base of Kangtaiga and this position affords panoramic views of the main peaks of Khumbu including Everest, Lhotse and Ama Dablam. It may be cloudy by the time you arrive in the early afternoon, but should normally be clear first thing in the morning, so it will be well worthwhile getting up early for the sensational views. There should be time this afternoon to visit the monastery. Remember that a small donation is expected when you visit monasteries.

Mani Rimdu Festival
The October departure of this holiday coincides with the Mani Rimdu Festival, which takes place at Thyangboche. Those travelling on this departure will leave Kyanjuma early to reach Thyangboche in time to witness some of the festivities on arrival in Thyangboche and before departure for Monjo, the following morning. The festival is governed by the Tibetan calendar and the dates vary quite a bit each year. The festival consists of nine days of ceremonies and meditation, concluding with a special blessing ceremony given by the re-incarnate lama of Thyangboche to the public, after which there is a day of masked dances and celebration. The masked dances and various mystical ceremonies are performed primarily to dispel evil spirits and to pass on 'merit' to those attending. Long Tibetan horns blare, drums beat, black hat dancers twirl and the whole event has a magical ambiance. Each day of the festival is interesting in its own right and besides the masked dances there is the making of a sand mandala, construction of butter tormas (symbolic offerings made of coloured butter and barley flour), and a fire puja. Please be aware that the 'running order' of the festival (and even the dates) sometimes change due to the whim of the Gods and the inclination of the Sherpa people!


Overnight: Tea House

Day 13 - Trek to Monjo, 2,800m/9,186ft - 6 hours.

You will probably be woken in the early hours, while it is still dark, by the sound of horns and cymbals as the monks have their first prayers of the day. You will have time to enjoy the views and to visit the monastery in the morning if you did not go yesterday.

From Thyangboche you descend to the river at Phungithanga and then climb up through pine forest to reach the Tibetan traders at Tashinga and then a short ascent to Kyangjuma.

From Kyanjuma you take a delightful undulating trail with some of your last high altitude mountain views of the trek, looking across to the summits of Thamserkhu and Kangtaiga. You reach a corner in the trail and then will find Namche below you. You descend into Namche before making the knee crunching descent back down to the valley. The warmer climate should offer a good opportunity to shed a layer or two. You will still have wonderful views, and the chance to relax in warmer valley surroundings. Trek back down the Dudh Kosi valley for a short way past the checkpoint at Jorsale to Monjo. Walking poles will be a big help.


Overnight: Tea House

Day 14 - Trek to Lukla, 2,804m/9,199ft - 5 hours.

Most people head towards Lukla with a heavy heart. There is something very special about the setting, the villages and the people of the high Khumbu hills and valleys and these memories will help you up the deceptively long, final climb into Lukla.

The trail to Lukla follows the main trail as far as Chablung, and then turns off above the village of Chaunrikharka towards Lukla. There are signs beyond the stream at Chablung pointing you in the direction of Lukla. The broad trail, leading uphill to the left, climbs steadily past a few bhattis and the school, then through scrub forests above the school and houses of Chaunrikharka. After a steep final climb there is a collection of houses and bhattis in Tamang Tole, a new settlement a short distance from the airport. As you approach the airstrip the houses and hotels rapidly proliferate. On arrival you can finally relax and enjoy a celebratory beer.


Overnight: Tea House

Day 15 - Fly to Kathmandu. At Leisure in Kathmandu.

Today you make the early morning flight back to Kathmandu from the Lukla airstrip. Please note that flights into Lukla are sometimes delayed due to weather conditions either in fog-bound Kathmandu, or windy Lukla; be reassured that our staff in Lukla and in Kathmandu will be doing everything possible to minimise the inconvenience caused if this happens. Your patience in the trying circumstances, which can occur, will be greatly appreciated. Your final day of leisure in Kathmandu does of course provide a valuable 'cushion' against missing your flight home to the UK should the Lukla flight be delayed.

On arrival in Kathmandu you will be met and transferred to the Shangri-La Hotel. The afternoon is free to do your own sightseeing or just to relax at the hotel.

Overnight: Shangri La Hotel, Kathmandu

Day 16 - Half day's sightseeing tour in Kathmandu.

This morning there is a half-day guided walking tour. Your transport will drop you at Kathmandu Durbar Square with its many temples and palaces, and from here you will walk to the 'monkey temple' at Swayambhunath, visiting Asan Tol, Kathmandu's busy main bazaar, and Thamel en-route. The afternoon is free for some last-minute shopping or a bit more sightseeing.

Overnight: Shangri La Hotel, Kathmandu

Day 17 - Fly to London.

Transfer to the airport for your flight back to London.
Map
Map Key
Airport
Point of interest
Mountain Peak
Day walk in this area
Flights
Internal Transfers
Trek
---
2019
| Dates | Availability | Land Only | Flight Inclusive from |
| --- | --- | --- | --- |
| Fri 29 Mar - Sun 14 Apr 2019 | Available | £2195 Book | £2970 Book |
Hold your place
Not quite ready to book? Why not call us on 0044 (0)1453 844400 to hold a no obligation place while you make up your mind?
Optional supplements
Single room Kathmandu & Pokhara
From £230
Insurance
No Surcharge Guarantee
No surcharges will be applied to your holiday after you book. Prices on this website are updated regularly. The Flight Inclusive holiday price, or Land Only holiday price, will be confirmed to you at the time you make your booking. There will be no surcharges after your booking has been confirmed.
Flight inclusive holidays
The 'flight inclusive' holiday prices shown on this website are based upon our preferred airlines and the best priced economy class fares we are able to secure at the time of publication.
We will be able to advise on fares with alternative airlines, upgrades to Business Class, and the options for flights from regional UK airports, please contact us for more details.
Loyalty discount
Find out more
What's included
A Sherpa leader/s
Economy class return air fares from the UK & UK departure tax (flight inclusive only)
All internal flights and hotel/airport transfers
Good standard hotel accommodation in Kathmandu (4 star) and Pokhara, bed and breakfast, twin share basis
Kathmandu sightseeing tour
All road transport by private vehicles
Free use of a good quality down jacket, sleeping bag and liner (supplied in-country)
All meals on trek including tea and coffee
An evening fill up of your water bottle with drinking water
Morning 'bed' tea on trek
A free high-quality Mountain Kingdoms kit bag
Trek staff and full porterage
Sherpa/porters properly insured and equipped
Park fees
The opportunity to attend a pre-trip meet in the Cotswolds
What's not included
Travel insurance
Visa fees
Lunch and evening meals in Kathmandu
Tips
---
---
Review your holiday
Reviews
Read holiday reviews by Mountain Kingdoms travellers.
Overall score: 5.0 (Based on 6 reviews)
Annapurna & Everest Panorama Trek
Annapurna and Everest trek 10/03/2017
What we enjoyed about travelling with Mountain Kingdoms was that it was well organised.
Mr D S, Devon
Annapurna & Everest Panorama Trek
We loved it! 10/04/2015
Thank you for organising our trip of a lifetime to Nepal - we loved it!
Mr & Mrs W, London
Annapurna & Everest Panorama Trek
Superb! 07/04/2013
It was a holiday and experience of a lifetime; I look forward to another trip. Sirdars made the experience extremely interesting with their willingness to share the knowledge about their country. Superb!
Mr W, Staffordshire
Annapurna & Everest Panorama Trek
Excellent Sherpas 07/04/2013
Very well organised - gave us confidence. Excellent Sherpas who made us feel cared for, friendly office staff, a really good combination of two treks, was ideal for a first visit to Nepal.
Mr & Mrs M, Cambridgeshire
Annapurna & Everest Panorama Trek
Trip of a lifetime 19/10/2012
Thank you for making our dreams come true Ð a trip of a lifetime.
Mr & Mrs B, Bath
---