Vaughan does Paris
Scaling the heights ......55,120, 55,121 ..... Less steps this week following a few days with my sons in Paris but nevertheless got plenty of exercise tramping around monuments and up and down Metro station stairs. My middle son set the standard by insisting on taking two steps at once! Time prevented us taking the stairs to the very top of the Eiffel Tower but we did use them to reach the first stage where we spotted this interesting reference to how the tower's height (324m) compares to buildings in other countries.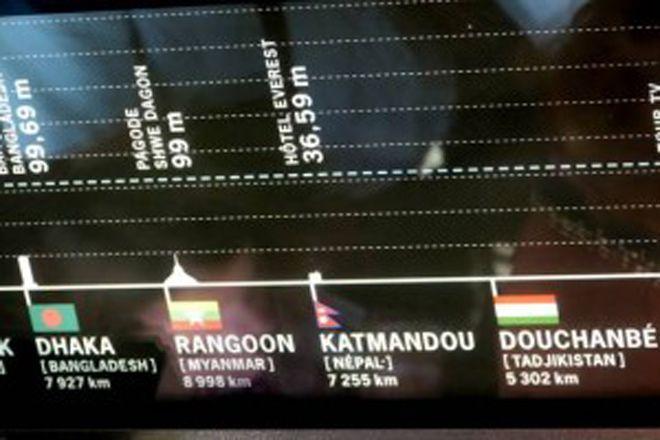 Hotel Everest off the scale and Kathmandu just 7,255 km away! Photo courtesy of V Sydenham

You'll have gathered by now that I like my numbers so here's a couple more. The highest point on the Ama Dablam base camp trek is 4,576m above sea level - just over 14 Eiffel Towers high and only 235m lower than Mont Blanc, Europe's highest mountain.As soon as I returned from France I sent off my Nepal visa application. As I need my passport again in early September I've had to use a specialist visa application service to ensure a rapid turnaround (CIBT as recommended by Mountain Kingdoms). Normally you should allow up to 4 weeks for the process.Mountain Kingdoms clients are entitled to a useful 15% discount at Cotswold Outdoor so I'll be paying them a visit this week to pick up any remaining bits of equipment and clothing I need. There are also several other retailers where MK clients can get discounts. The trip dossier suggests a calculator may be useful for currency conversions but as I'm an accountant I think I'll rely on my grey cells for that! The current rate is around 140 Nepalese Rupees to the Pound so a rough rule of thumb would be to divide the Rupee price by 1.5 to get to an approximate price in Sterling.