Introducing Mountain Kingdoms Cycling Tours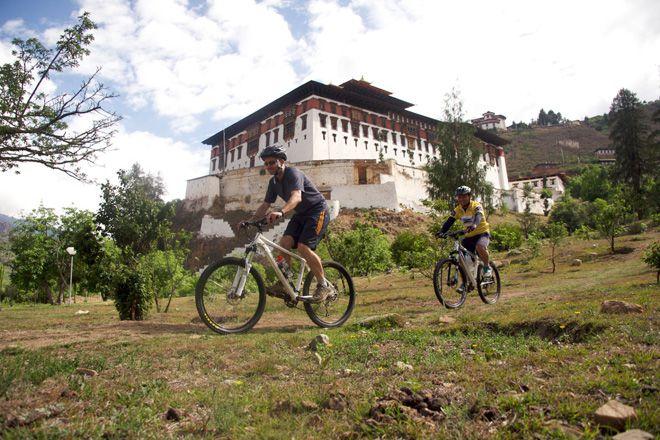 Cultural Cycling Tour of Bhutan. Photo courtesy of J Davies
Operations Manager, Jim Davies is passionate about bikes, so we knew it wouldn't be long until he convinced us to include adventurous cycling tours to our brochure and website! So, new for 2014 we have introduced three exciting cycling tours – two of these will take place in Bhutan.
These two routes combine excellent cycling with the opportunity to see lots of culture, people and places of the 'Kingdom of the Thunder Dragon' with all the sights and sounds that travelling by bike allows.
Jim went out to research the Cultural Cycling Tour of Bhutan in May 2013: "There were many highlights to this trip, the walk up to Taktsang (Tigers nest) Monastery, the first glimpse of Trongsa Dzong perched on it's rocky outcrop with prayer flags blowing in the wind and the fantastic cycling along farm roads to reach remote villages to name just a few, but one of my favourite memories of this trip has to be when we cycled up to Chimi Lahkhang, the Monastery dedicated to Drukpa Kuenley (the Divine Madman). We were met with the sight of young monks relaxing near the end of the day, upon seeing us it wasn't long before they were up and cycling around on our bikes, with the older monks helping the younger ones to stay balanced and have a go, it was a lovely moment and just one of the amazing memories that I will take away from this fantastic trip."
You can take a look at some of Jim's photos of this trip on our website
Our expertise in the office: Jim Davies, Operations Manager
Cycling has been Jim's passion for the past 20 years; he has travelled far and wide with his bike to countries such as Cuba, Chile, New Zealand, America, Sardinia and Ladakh. He has worked as a cycling guide for ten years and in that time has organised and guided countless cycling holidays all over the globe. Jim has now bought his expertise to Mountain Kingdoms and he is very excited about this fantastic trip the Kingdom of the Thunder Dragon.
Please feel free to contact Jim to discuss this holiday on 01453 844400 or email jim@mountainkingdoms.com.