Everest 60th Anniversary Celebrations - day six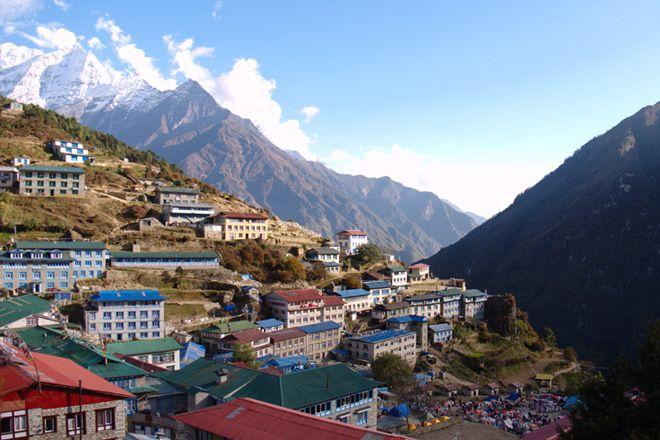 Namche Bazaar. Photo by Walker
MK on trek to Everest: The group will have a free day at Namche Bazaar. This day is built in to aid acclimatisation, which is so important when trekking at altitude. Perhaps they will take a walk up to the Sagarmartha National Park Museum, browse Namche's shops, or take in the mountain views over a cup of hot lemon.
60 years ago:
When Hillary and Tenzing made the successful ascent, a coded message was sent back to Namche Bazaar by runner, where the message was send by telegram to the British Embassy in Kathmandu. Today, technology has improved – now there is broadband internet at Base Camp!
Did you know that yaks are used to transport goods in the Everest region, including your trek gear?
MK client, Hermione Roff, was inspired to write a book on her trek in Nepal. Her comical tale of two yaks on trek in Nepal, Nak & Yak, is aimed at children aged 3-7 years, and is beautifully illustrated. You can purchase a copy from our office for £8, including postage. £5 from every book sale goes to the Nepali Children's Trust. See http://www.nepalichildrenstrust.com for more information on the trust, which was set up in 2005 by another MK client, Fran McGowan. Registered charity number 1111279.
The mighty Mount Everest is well known as the highest mountain in the world – 8848m / 29,029ft. The 29th May marks the 60th anniversary of the first ascent of Everest. To celebrate this occasion, we will be updating facebook, our blog and our website with news, photos and interesting facts about Everest, so remember to check back soon, or 'like' us on facebook to join in with the celebrations.